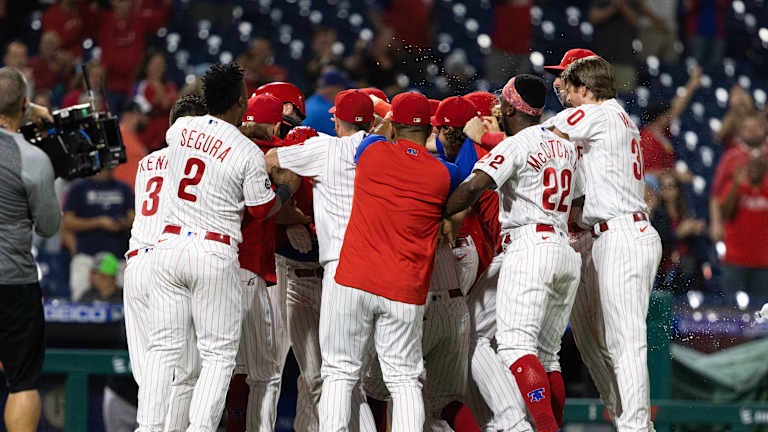 Realmuto's Walk-Off Triple Powers Phillies Past Orioles in Extras
The Philadelphia Phillies came within 2.5 games of first place in the NL East after a J.T. Realmuto walk-off triple versus the Baltimore Orioles on Tuesday
The Philadelphia Phillies desperately needed a win on Tuesday night against the worst team in baseball. The Baltimore Orioles shutout the Phillies on Monday in the middle of a pennant race while the Atlanta Braves were able to make ground in the National League East as they defeated the Arizona Diamondbacks, 11-4.
Simply put: Tonight was a must-win for the Phillies. Unfortunately, Philadelphia's bats were once again quiet for a majority of the game and the Orioles struck first after a Ramon Urias RBI-single in the fourth.
The most excitement through the first five innings for the Phillies was a spectacular catch by J.T. Realmuto behind home plate in the third for the second out of the inning.
Thankfully, Andrew McCutchen was able to keep the Phils in the fight with a sixth inning double that scored Realmuto to tie the game up. For the first time in 14 innings, Philadelphia had life. 
NL MVP favorite Bryce Harper had another great night at the plate, going 2-4 with a double and an intentional walk. However, he inexplicably tried to tag home in the eighth, but was easily thrown out at home, ending the rally. 
After pitching a scoreless ninth, Philadelphia closer Ian Kennedy trotted back out for the 10th with the game tied 1-1. Thanks to the man starting on second in extra innings rule, Baltimore was able to get a run across. 
Kennedy was able to limit damage to just one unearned run to allow the top of the Phillies order to come to the plate in the bottom of the tenth, down 2-1. 
Ronald Torreyes started the bottom of the tenth on second, with Odúbel Herrera at the plate. Herrera grounded out sharply to the shortstop for the first out. Jean Segura came to the plate and uncharacteristically struck out on three pitches that were far off of the plate.
Harper, next up to bat, was wisely intentionally walked. So it would be Realmuto who was the Phillies last hope. 
With the game and the season on the line, Realmuto hit a two-run triple to right field for a walk-off victory and to bring the Phillies within 2.5 of first place in the NL East. It was much closer of a game than it should have been, but a win is a win.
Final Score: Phillies 2-1 Baltimore
What's Next?
Zack Wheeler (14-9, 2.83 ERA) takes the mound for the Phillies on Wednesday as he will face off against Keegan Akin (2-10, 6.93 ERA) in the rubber match. Philadelphia will need to come away with a win if they hope to keep within striking distance of the Atlanta Braves.
---
Make sure to follow Inside the Phillies on Facebook and Twitter!