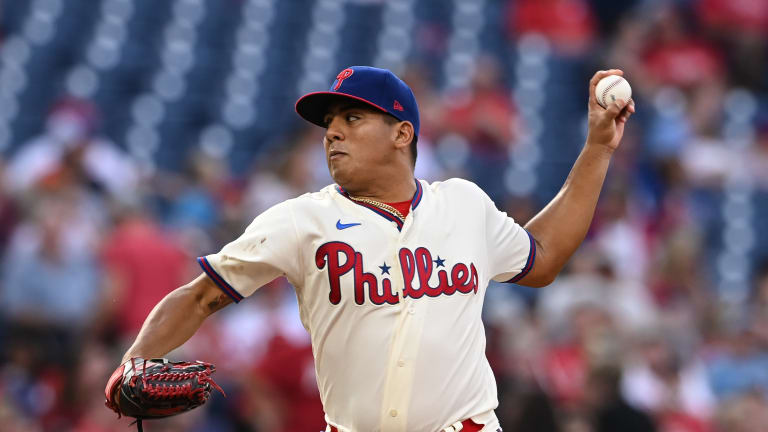 Suárez Throws a Gem as Phillies Inch Closer in NL East
Ranger Suárez threw a Maddux as he led the way for a fifth-straight Philadelphia Phillies win.
At this point in the season and entering Saturday's matchup just 1.5 games back in the National League East, every contest is considered a "must-win" game. While the Sand Diego Padres can help the Philadelphia Phillies by defeating the Atlanta Braves this weekend, the Phillies have to take care of their own business.
On Saturday afternoon they did just that, and in impressive fashion. With the bullpen spent, especially the high-leverage relievers, Philadelphia needed starting pitcher Ranger Suárez to go deep into the ball game.
Suárez stepped up and fired nine shutout innings and needed just 97 pitches to do it, a classic "Maddux" performance. It was the first time Suárez threw nine innings in his professional career. 
The offense was able to help pick Suárez up thanks to a Matt Vierling solo shot in the third inning to get the scoring started. Bryce Harper continued his torrid hot streak just a batter later and he sent a towering shot into the trees in centerfield to bring the score to 2-0.
In the sixth, Philadelphia was able to add an insurance run thanks to Brad Miller's RBI-single. 
The defense played well behind Suárez during his masterpiece so there was never really a threat of the Pirates launching a comeback at any point in the game. And the offense did just enough to make it feel like the game was never really close.
With the bullpen receiving an unexpected off day, they will be expected to compete tomorrow in what has now become the "bullpen" game every fifth day. Suárez' performance could not have come at a more opportune time.
Currently, the Phillies sit one game back in the National League East race behind the Braves, who are playing the Padres this evening.
Final Score: Phillies 3-0 Pirates