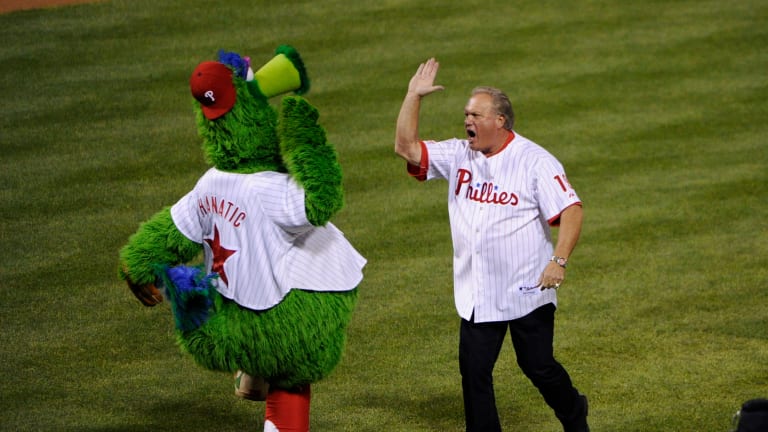 Phillies Legends: Greg Luzinski
Known for towering homers and driving in runs, today we dive into the 15-year career of Greg Luzinski.
Greg Luzinski was drafted at the ripe age of 17 with the 11th overall pick in the 1968 MLB draft by the Philadelphia Phillies. No Phillies scouts ever saw him play in person, they drafted him based on high school footage alone.
Luzinski quickly rose through the minor leagues and was even the first Reading player in Eastern League history to drive in 100 runs in a season. He made his Major League debut as a pinch-hitter in 1970 but only played in eight games that year. It was more of the same in 1971 until Luzinski finally got his role as an every day starter for the final 27 games of the season.
In September of 1971, Luzinski connected on his first MLB home run and even ran a 10-game hit streak. In his first month as a big leaguer, he batted .300 with 3 home runs and 15 RBIs. He was immediately labeled as untouchable that offseason and the Phillies had the utmost confidence in their stud of an outfielder.
Luzinski went on to play with the Phillies for nine more seasons and the best was yet to come. He played 11 of his 15 years with the Phillies slashing .281/.363/.489 with an .852 OPS. He smacked 1,299 hits, drove in 811 runs, and sent 223 balls over the fence with Philadelphia.
Luzinski's legendary career couldn't be summed up with a few stats but here are some of his greatest career achievements:
1980 World Series Champion
Finished top-10 in MVP voting four times
1,221 defensive games played in left field - 43rd all time
1,839 putouts from left field - 70th all time
79 sacrifice flies - 99th all time
1972 was Luzinksi's first full season in the Majors. He was a starter on Opening Day that year in Chicago against the Cubs. Luzinski grew up in Chicago and was fortunate enough to have his entire family attend the game in a 4-2 Phillies victory that Luzinski homered in.
His success from 1972 continued to 1973 and Luzinski was becoming a household name in Philadelphia. His 1974 season was let down from injuries so he only played half the year (85 games) but he made a mighty resurgence in 1975.
1975 was the first of Luzinski's four consecutive years as an NL All-Star. He led the league in RBI (120), total bases (322), and intentional walks (17) all while hitting 34 homers.
It was the 1977 season that Luzinski put up his best numbers. 39 home runs, 130 RBIs, and a .309 batting average. All three were his career bests, but he still came in second for MVP behind George Foster who had an insanely good year with Cincinnati.
Luzinski would continue his greatness even through the disappointing 1979 season for the Phillies and in 1980 he would become a World Series Champion. There was an uncanny amount of drama that took place behind the scenes in 1980 and Luzinski would be traded before the 1981 season to the Chicago White Sox but he will always be part of the group that won the first ever World Series for the Philadelphia Phillies franchise.
Luzinski's game slowly faded away in Chicago and despite receiving MVP votes in two of his four seasons with the team, he never got back to his vintage numbers. His final season with the White Sox was 1984 and though he received interest from other teams for the 1985 season he felt it was time to retire.
Luzinski of course made the Phillies Wall of Fame and through his dazzling home runs and World Series victory, he earned his spot as a Phillies legend.
More From SI's Inside The Phillies:
---
Make sure to follow Inside the Phillies on Facebook and Twitter!