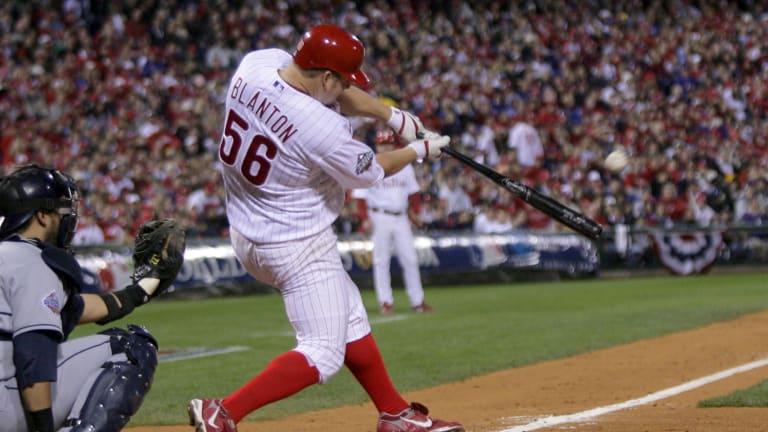 This Day in Phillies History: October 26
On this day in 2008, the Philadelphia Phillies won Game 4 of the World Series.
13 years ago, Philadelphia Phillies starter Joe Blanton hit a solo homerun in Game 4 of the 2008 World Series in a 10-2 Phillies win.
As you can tell by the score, the Phillies got a lot of offense going in the game, but Blanton's homer was the most memorable.
For the first few innings, Philadelphia was slowly tacking on runs. Pat Burrell's bases loaded walk in the first made it 1-0, and Pedro Feliz's RBI-single in the third made it 2-0.
But Ryan Howard broke it open in the fifth, launching a three-run homerun to left field to make it 5-1 in favor of Philadelphia.
Blanton would allow two solo homers to Carl Crawford and Eric Hinske, but that's all the Tampa Bay Rays would get.
Blanton's homer came in the fifth off of Edwin Jackson, making it 6-1. But the Phillies didn't stop there.
In the eighth, Jayson Werth hit a two-run blast to left center field and two batters later, Howard hit another homerun, a two-run shot, to make 10-2, Phillies.
Philadelphia won Game 4 to put themselves up 3-1 in the World Series, meaning they were only one win away from their first championship nearly 30 years.
Game 5 was scheduled for the following day, October 27. Should be quick and painless, right?
More From SI's Inside The Phillies:
---
Make sure to follow Inside the Phillies on Facebook and Twitter!