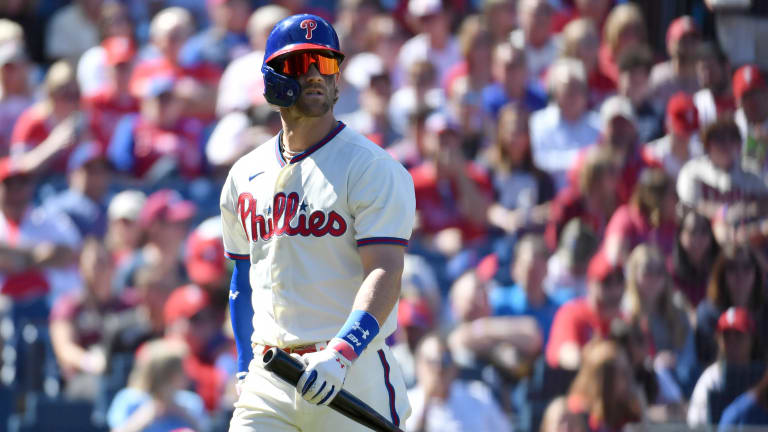 Despite Missing Postseason, Harper Should Still be the MVP Frontrunner
Bryce Harper should win the National League MVP despite missing the postseason.
Today marks the end of the 2021 regular season. It also marks the end of Bryce Harper's National League MVP campaign. For many MVP voters, it is a pre-requisite that the team the MVP comes from has to make the postseason. 
There are instances when that doesn't occur and the winner comes from a club that missed the postseason. It happened in 2006 for Ryan Howard when he was with the Philadelphia Phillies. 
It should happen in 2021 for Harper as well.
There are only a few players that could truly compete with Harper for the award. The first is San Diego Padres shortstop Fernando Tatís Jr, and the other is Washington Nationals outfielder Juan Soto. Both, in any given year, could have won the award for their performance this season. However, Harper has just been too good.
If we apply the same argument used above to both of these players, they are also on teams that missed the postseason, and by a much larger margin than the Phillies. 
Harper carried this Philadelphia team on his back this season and was one of just a few bright spots on the roster. He had a historic second-half and one of the best offensive seasons any Phillie has ever had. 
His slash line of .308/.427/.612 is incredible. His 35 homeruns were majestic. But, it's his attitude and desire to win that are most the impressive. He was and is a leader, even when the going got tough for the team.
It were his individual performances that gave the Phillies a chance to make the postseason just as recently as the penultimate series of the season against the Atlanta Braves. Yes, he all but disappeared for said series, but he can't do it all. And yet, he almost did.
The MVP award takes into account the actions of the player on the field. But Harper's influence off the field was just as crucial to any success the Phillies had this season on the field. 
Despite missing the postseason, Harper should earn NL MVP honors, and quite frankly, it shouldn't even be a matter of debate.
---
Make sure to follow Inside the Phillies on Facebook and Twitter!