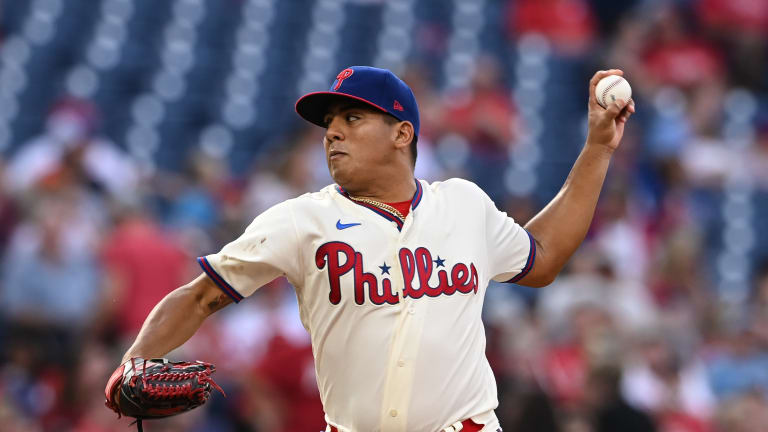 Ranger Suárez is Vital to the Phillies' Success in 2022
Ranger Suárez's success in 2021 doesn't appear to be an anomaly, so the Phillies must exploit that. If they want make the playoffs in 2022, the starting rotation will need to rely heavily on Suárez.
It's fair to say Ranger Suárez is an elite pitcher. The 26-year-old Venezuelan was a force during 2021 in all roles that were thrust upon him. From long relief, to setup, to closer and even starter, Suárez answered all doubts regarding his reliability and effectiveness.
Now, Suárez may be the lynchpin for the Phillies success in 2022. Lacking almost any cheap, young talent besides Suárez, Philadelphia will require consistent performances from the young lefty.
Value on the margins is important for all successful professional sports clubs and Suárez seems to be the Phillies only reliable major piece who has yet to hit arbitration. While the Phillies would like value out of players like Matt Vierling and Alec Bohm, they have yet to prove themselves worthy of high expectations.
Suárez, on the other hand, had the lowest ERA of any pitcher with over 100 innings pitched in 2021. His ERA was 1.36; Carlos Rodon, second on that list, had an ERA of 2.37. Suárez also posted MLB's lowest HR/9 rate, second lowest LD%, and third lowest GB%. If these peripheral stats explain one thing, it's that he is an expert at inducing outs.
Unfortunately, if Suárez doesn't continue to produce at a similar level, or runs into injury trouble, the Phillies could face disaster. As it currently stands, the Phillies rotation runs Zack Wheeler, Aaron Nola, Suárez, Zach Eflin, and Kyle Gibson.
That could be a formidable rotation, but if one of those players misses any portion of the season, the Phillies have no depth to replace them. And given Eflin's history of knee problems and his current injury situation, it seems likely the Phillies may be short-handed on Opening Day.
Thus Wheeler, Nola, Suárez and Gibson will all need higher-level performances to compensate for whoever fills Eflin's role. Wheeler, Nola, and Gibson are all established pitchers with a history of success at the big-league level, but Suárez has been mostly untested outside of 2021. Though he's played four seasons with the Phillies, he only has 173.2 IP to his name.
However, if Suárez can have even a fraction of his success in 2021, the Phillies rotation could be the best it's been since 2011. The rotation at present is a chain, and the rest of baseball will be looking for a weak link. If Suárez can't hold up, the Phillies might break, but if each member of the staff holds true, the Phillies could be the strongest team in the NL East.
More From SI's Inside The Phillies:
---
Make sure to follow Inside the Phillies on Facebook and Twitter!