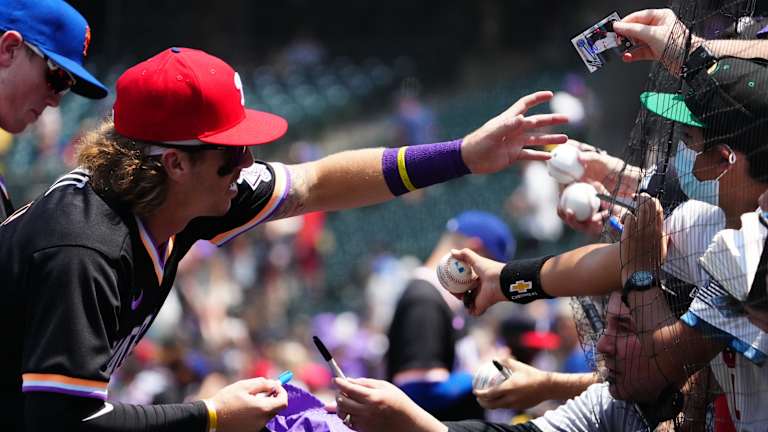 Who are the Phillies Top-10 Prospects Heading Into the Offseason?
With the Philadelphia Phillies minor league system's season coming to a close, we take a look at the organization's top-10 prospects.
The Philadelphia Phillies season is coming to an end and that means the majority of their minor league affiliates have also wrapped up their campaigns.
This season has seen some shakeup in the top prospects list as the Phillies trade with the Texas Rangers saw the departure of pitcher Spencer Howard, and the arrival of Hans Crouse.
Additionally, there were some breakout seasons from some players that saw them move up the board in our staff's eyes here at Inside the Phillies. 
Here is our top-10 prospects list:
10. Matt Vierling, OF
Vierling made his major league debut this past season in June before being sent back to the minors. However, when he has played, he has showed promising potential, and is currently serving a vital role for this Phillies team that is actively trying to end a decade-long playoff drought. 
In 2021, Vierling has slashed .345/.291/.483 in 64 plate appearances. He hits the ball hard, but he hasn't been able to translate it into actual power for homeruns. That will come with time and it appears that Vierling could play an even larger role on the big league club in 2022. 
9. Casey Martin, SS
We are a little higher on Martin than other publications, but it is for good reason. Martin split his time this season between single-A and high-A baseball. He played well in single-A, but as soon as he got promoted, the 22-year-old started to struggle. 
Growing pains are expected and next year will be a telling year in his development.
8. Yhoswar Garcia, OF
The Venezuelan is an exciting, dynamic, and athletic player. Signed for $2.5 million in 2019, Garcia was finally able to make his professional debut in the United States this season in Clearwater. He hit .229/.299/.271 in 70 at-bats, but one only need look past the slash line to see his talent.
Garcia projects as a leadoff-type hitter who has some pop in him as well. His athleticism could give him the staying power needed to develop into a contributing member of the big league club in the future.
7. Ethan Wilson, OF
Selected with the 35th pick of the 2021 MLB draft out of South Alabama in July, Wilson was assigned to Clearwater a month later. In his first 107 professional at-bats, Wilson hit .215/.282/.374 with three homeruns. 
Wilson has a ton of power, but his strikeouts have held him back at the plate in terms of controlling the at-bat. Additionally, Wilson's speed is a cause for concern, but his power tool could help him overcome the weakness.
Wilson will need to cut down on strikeouts (he had 25 in 107 ABs), in order to see his stock as a prospect rise.
6. Francisco Morales, RHP
Morales' 2021 season didn't go exactly the way he had hoped as he pitched 83 innings in AA with a 6.94 ERA. He did get promoted to AAA Lehigh Valley where he has pitched five innings. 
His slider-fastball combination was effective at the lower levels, but the step up in competition after an entire season on the shelf in 2020 has proved to be a difficult transition. 
Still, he should be able to figure it out and his stuff projects well at the upper levels. It will just take some growing pains in the meantime. 
5. Andrew Painter, RHP 
The right-hander was Philadelphia's first pick in the 2021 MLB draft. He was then assigned to Clearwater where he has thrown just six innings, but has not allowed an earned run.
Painter's fastball tops out around 97 mph and his changeup is advanced for this stage in his development. He has the talent and skillset needed to impress next year during his first full season of professional baseball.
4. Johan Rojas, OF
Rojas was signed out of the Dominican Republic in 2018 for just $10,000 and it seems the Phillies may have struck gold. Rojas has impressive defensive capabilities, along with his .280/.339/.421 that he has hit for this season spread between the low-A and high-A leagues. 
During spring training, Philadelphia manager Joe Girardi raved about Rojas' defense and believes he projects well as a potential major leaguer.
"He's a plus-plus defender. He's a plus runner," Girardi said. "He has the chance to be a special player. I believe so. I believe there's Gold Glove potential there."
Rojas could be on the fast track as long as his development continues to keep pace.
3. Hans Crouse, RHP
Crouse was part of the trade with the Texas Rangers that saw Spencer Howard go to Texas in exchange for pitchers Kyle Gibson and Ian Kennedy. Crouse immediately slotted into the top tier of prospects for the Phillies.
Crouse has changed his game in the last few seasons after suffering elbow injuries. His fastball which used to be in the upper 90s has slowed a tick, but he is able to locate it better. He also has a good changeup to help as a shutout pitch.
Crouse made his major league debut on Sept. 26 against the Pittsburgh Pirates. Despite allowing a homerun with his first major league pitch, he was able to bounce back and complete three innings while only allowing the one run. 
2. Bryson Stott, SS
Stott has risen up the prospect rankings this season as he was promoted to Double-A Reading and Triple-A Lehigh Valley. He played the majority of games at shortstop, but he did experiment with third base for five games at Reading. 
The infielder has hit for .306/.397/.548 over three levels in 2021 and hasn't slowed down during his short time with the Iron Pigs. Stott very well could see major league playing time in 2022, perhaps even as a regular.
1. Mick Abel, RHP
The right-hander is the general consensus top prospect in the Phillies' system, and for good reason. 
Abel was the top high school pitching prospect when the Phillies drafted him in the 2020 MLB draft. Abel has had to make some adjustments during his first season as a professional in 2021, but his fastball, which tops out at 99, and his advanced slider, make for a deadly combination. 
While he still has a ways to go to get to the majors, Abel is seen as the future of Philadelphia's rotation by many. However, the organization will need to right their wrongs of the past in terms of developing pitchers to truly harness Abel's potential. If they succeed, Abel could be a workhorse for the big league club for seasons to come.
---
Make sure to follow Inside the Phillies on Facebook and Twitter!