Houston Texans the next team to be featured on HBO's Hard Knocks, more
Houston Texans about to find out first-hand what' it's like to be featured on HBO's Hard Knocks.
Three years ago Houston Texans owner Bob McNair was in the office of HBO Sports president Ken Hershman on a fact-finding tour about what it was like for NFL teams to appear on HBO's Hard Knocks.
Now McNair is about to find out first-hand.
The Texans have been selected to be featured on the well-regarded and long-running television series that takes viewers inside an NFL training camp. A sports television source confirmed the news on Wednesday morning. Credit goes to Houston Chronicle NFL writer John McClain and ESPN NFL writer Tania Ganguli for initially breaking the news.
Fox Sports president discusses Bill Simmons, U.S. Open broadcast, more
The Texans, who have never been featured on the series, will bring some interesting storylines to the series, including the comeback of the injured defensive lineman and last year's No. 1 overall pick Jadeveon Clowney, a quarterback competition between Ryan Mallett and free agent signing Brian Hoyer and Defensive Player of the Year J.J. Watt being ... J.J. Watt. The loss of Andre Johnson means third-round pick Jaelen Strong has a chance to get significant targets this year if he impresses in camp. Look for him to be featured.
Last year's Hard Knocks: Training Camp With the Atlanta Falcons averaged 3.6 million viewers per episode, making that series the third most-watched season since 2005 behind the Jets and Dolphins. The show launched with the Baltimore Ravens in 2001, followed by the Dallas Cowboys in '02. The series took a couple of years off before resuming with the Chiefs in 2007. That was followed by the Cowboys (2008), Bengals ('09), Jets ('10), Dolphins ('12), Bengals ('13) and Falcons ('14). "We are thrilled to partner with HBO and NFL Films to give fans unprecedented access to our team and organization," McNair said, in a statement. "The Hard Knocks documentaries do a tremendous job of displaying how an NFL team prepares for the upcoming season. We look forward to showcasing the Houston Texans to a worldwide audience."
About 30 Hard Knocks staffers work onsite during the filming, and a half-dozen in the crew will spend seven weeks in total with the Texans. Staffers work 12-to-14-hour days, and often clock 100 hours per week. The crew typically shoots 300 hours of film for each 55-minute program. In 2013 I embedded with the Hard Knocks crew in Cincinnati for two days for an MMQB story. The production staff is truly impressive to watch. This year's series will premiere Aug. 11 at 10:00 p.m. ET/PT. 
NFL TEAMS ON HARD KNOCKS
NFL Teams on Hard Knocks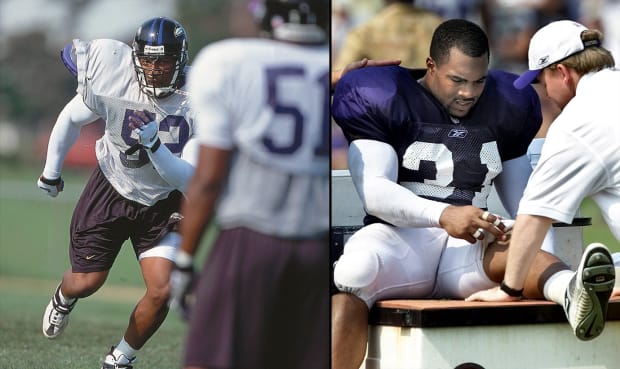 The Noise Report
1. Sports Business Daily media reporter John Ourand reported that Matt Millen has left ESPN for Fox Sports.
2. On Wednesday ESPN named Chris Connelly as the Interim Editor-in-Chief of Grantland. He ostensibly replaces Bill Simmons. Connelly is a longtime contributor to E:60, Outside the Lines, and ABC News, and joined ESPN in September 2001 after more than a dozen years at MTV, where he was a host and interviewer and correspondent for MTV News. ESPN PR declined to make Connelly available for an interview. In a statement, Connelly said, "Bill Simmons had the vision to create Grantland, and his leadership, ideas, and inspiration made it singularly great. I'm looking forward to helping the writers, editors, and producers on this amazingly talented staff create more of the outstanding work for which they've rightly become known."
2a. The SI Media Podcast is now on iTunes: Episode 1: Adam Schefter of ESPN and Rachel Nichols of CNN. Episode 2: Verne Lundquist of CBS Sports. Episode 3: Rebecca Lowe of NBC Sports.
2b. The Columbia Journalism Review on what to expect from the SI Media Podcast.
2c. Thanks to Slate's "Hang Up And Listen" crew for the podcast invite.
3. The man most responsible for ESPN's noxious "Embrace Debate" philosophy—as well enabling Skip Bayless's decade-plus of hockey goonery—started work last week at Fox Sports 1 as the boss of programming, marketing and scheduling for Fox Sports 1 and Fox Sports 2. How much does Fox Sports president Eric Shanks expect Jamie Horowitz, the former ESPN-er and NBC News executive, to change Fox Sports Live and studio programming?
"I don't know what the expectations as far as changing specific things but what I will say is that Jamie is the leader of the team charged with the future programming vision is for Fox Sports 1, whether it is changes to existing shows or coming up with a programming vision that continues to move forward," Shanks said. "We want to start to identify achievable goals and start to put some wins on the board. Our live events  are clearly putting wins on the board and the overall network is up something like 30 percent from last year. I think that Jamie's unique skills will start to put some wins on the board in other areas."
Horowitz had a successful run drawing viewers to ESPN2 and worked hand in hand with ESPN's research department to convince the higher-ups to focus on debate-oriented programming. He happens to be a very nice guy in person, which proves that the Devil often comes with a smile in sports television.
"I think debate was a means to an end—which was winning," Shanks said. "Jamie was tasked with making ESPN2 compete with ESPN and debate was a means to an end. I think the end game was ratings. That's the same end game here. What that mix of programming is and his creative vision is, I don't know. But we all have the same goal. 
ESPN management (in all departments) has long looked the other way on First Take, from Stephen A. Smith's domestic violence takes to Bayless's on and offline goonery of LeBron James—as long as the money train flowed to a day part that previously struggled to make big dough. If given the same paradigm, based on his answer, Shanks will also play ball with Horowitz's brand of asshattitude.
"I don't think there is a sports media company on the planet that doesn't take criticism for something," Shanks said. "If you believe in it—whether that's how you cover a sport, who you have on pregame or the studio, you have to be willing to take criticism and you have to be willing to take chances. The category that was created around ESPN 2 clearly took a lot of heat but does not take merely as much heat as it does today because it performed."
3a. ESPN Radio's Colin Cowherd tells the About Sports Radio podcast that his show makes $18-$20 million per year for ESPN and that he thinks AM sports radio will be dead in five years.
4. The Robert F. Kennedy Center for Justice & Human Rights recently recognized The New York Times bestselling book Strong Inside, which tells the story of Perry Wallace, who in 1966 enrolled at Vanderbilt University and became the first African-American basketball player in the Southeastern Conference. The author, Andrew Maraniss was is a former basketball SID at Vanderbilt University and was the first-ever media relations manager for the Tampa Bay (Devil) Rays in inaugural season of 1998. A link to buy the book is here.
5. Great work by The New York Times on the FIFA officials indicted on corruption charges including stories hereand here.
5a. Here's SI's Grant Wahl on what's next for the investigation.
5b.Here's Bloomberg's Inside Report of the FIFA arrests in Zurich.
5c. If you have not seen the E:60 investigation of FIFA czar Sepp Blatter, do so here.