Roundtable: Who should be the next coach of the Oklahoma City Thunder?
Kevin Durant and Russell Westbrook need a new head coach. Who should Oklahoma City hire?
SI.com will periodically panels its basketball experts during the 2015 NBA playoffs and ask them a pressing question about the league. Today's topic, the head coaching vacancy of a team that narrowly missed the postseason, the Oklahoma City Thunder.
With Kevin Durant and Russell Westbrook in tow, the Thunder's coaching job is one of the most coveted in the league. The gig recently became open after Oklahoma City elected to part with longtime stalwart Scott Brooks earlier this month after seven seasons (and just one trip to the Finals). Who will GM Sam Presti tab next?nbsp;OKC reportedly opened talks with Florida coach Billy Donovan this week and is also eyeing Spurs assistant Ettore Messina. With a host of intriguing candidates on the table, we asked our NBA experts...
Who should coach the Thunder?
Lee Jenkins: Tom Thibodeau
If the relationship between Thibodeau and the Bulls is truly beyond repair, the Thunder should wait for him. Thibodeau's hard-driving style may wear on players after four or five years, but all that matters in Oklahoma City is next year. Thibodeau has proven in Chicago that he can bond with a ball-dominant point guard, develop a two-way star, and build a defense around a hyper-active big man. The ingredients in OKC are different, but Thibodeau's impact could be similar on Russell Westbrook, Serge Ibaka, and a handful of young players. Key for Thibodeau is remaining cautious with Kevin Durant and proving, through a championship next June, there is no better place for him. 
• MORE NBA: Playoff coverage | Schedule | Grades | Awards | Finals picks
Chris Mannix:Mike Malone 
For the record: Canning Scott Brooks was a mistake. Brooks' weaknesses were always, mysteriously, amplified over his strengths, which were considerable. But qualifications for a new coach for a title-ready team should include experience, which is why Mike Malone would be my pick. Malone had Sacramento, a perennial doormat, trending upward last season before DeMarcus Cousins's illness sabotaged the first half of the season and an overreaching owner decided he wanted a more fan-friendly style and fired him. Malone is a smart, defensive-minded coach who built a decent offense, albeit briefly, in Sacramento around Cousins. He has years of experience as a top assistant and did more with the Kings than anyone since Rick Adelman. Billy Donovan is a trendy pick, and he's probably the front-runner. But the track record for college coaches in the NBA is not encouraging; Malone is the safer choice. ​
• MORE NBA: Thunder gambling on brighter future without Brooks
Ben Golliver:Billy Donovan
I'm really intrigued by the Donovan chatter. Clearly, an established relationship with GM Sam Presti is a good starting point. To me, the Thunder have two needs from this position. First, they need a coach with instant credibility—the type of credibility that can sell Kevin Durant and Russell Westbrook on the team's ability to win immediately and make the most of their primes. Second, they need a coach that has a strong enough personality to carry the organization in a worst-case scenario that sees Durant and/or Westbrook leaving in free agency over the next few years. 
With Scott Brooks out, Kevin Durant's future in OKC depends on Sam Presti
​​​​I think Donovan does a solid job of addressing both of those needs. His resume includes multiple NCAA titles, a number of deep postseason runs, and a tradition of winning at Florida that extends for more than a decade. That success has made him a household name, and yet he still seems to have the fire (he's only 49) to embrace the challenge of taking his game to the pro level. Donovan shouldn't need to "sell" Durant and Westbrook on himself, only his systems—and that is an important distinction after seven seasons with a familiar, trusted face in Scott Brooks. 
Donovan's extended success at Florida makes him an ideal fit to be the face of the Thunder if their superstars do decide to leave down the road. Boston drew up the blueprint for this approach when it hired Butler's Brad Stevens; that hire gave Celtics fans a personality to trust in and demonstrated a firm commitment to a long-term rebuilding process. The risk in hiring a current assistant coach or a retread NBA head coach is that it could create the need for a second coaching change if things don't go according to plan and the superstars bail. Presti doesn't seem like the type of executive who wants to churn through coaches, and Donovan could fit as a guy capable of being both a "win now" guy and a "figurehead" presence down the road if needed. I liked Danny Ainge's outside-the-box thinking in tabbing Stevens and I think a similar approach could work here.
Phil Taylor: Phil Jackson
Does this sound familiar? A team that hasn't quite been able to get over the hump despite the presence of a few once-in-a-generation superstars hires a Zen-influenced coach who shows them the path to enlightenment, i.e., the NBA title. It's exactly what Jackson did with the Kobe/Shaq Lakers, and Oklahoma City, with Kevin Durant and Russell Westbrook, has all the pieces necessary for him to to it again. Yes, Jackson said he wasn't up to coaching the Knicks because of his age and health, but these aren't the Knicks. Durant and Westbrook could make him feel young in a hurry. It'll never happen, but the move would make just as much sense for Jackson as it does for the Thunder. Getting the most out of elite talent is what he does best, as he did in Chicago and L.A., not building a team from the bottom up, as he's rather clumsily attempting to do as the Knicks' president. Jackson and OKC would be perfect for each other—a team looking for its first championship and a coach looking for a fitting last act. 
• MORE NBA: What should NBA do about Hack-a-Shaq problem?
Matt Dollinger: Ettore Messina 
The Billy Donovan experiment seems like a risky play for a team all-in on 2015-16. If I'm the Thunder, I hone in on Ettore Messina and try and poach him from the Spurs. The four-time Euroleague champion might not be willing to leave San Antonio if he's been promised the reins post-Popovich, but a chance to coach Durant and Westbrook would likely be too paramount to turn down. We've sen Popovich disciples succeed in the NBA before (Mike Budenholzer, Steve Kerr, Monty Williams, etc.) and Messina also possesses a wealth of knowledge from a successful coaching career in Italy. With David Blatt paving the way for other Euro coaches, Messina could be a more widely accepted candidate. He'll be able to draw on his experiences from helping lead the Spurs to the 2015 title (spoiler alert) and he'll be able to install an offensive system that leaves Brooks ball in the stone ages. Messina might not be as splashy of a hire as Donovan, but nothing the Spurs ever do is splashy, and that seems to be working out just fine.
• MORE NBA: SI's 2015 NBA playoff coverage: Results, analysis more
DeAntae Prince: Mark Jackson
While the Thunder need to hire a tactician who can capitalize on the transcendent talents of Kevin Durant and Russell Westbrook, the most important criteria for the team's next coach is the ability to convince both stars to stay in town. In the interim, the priority is ensuring that Durant remains in Oklahoma City past the final year of his contract. Beyond that, the team needs to secure Westbrook and Serge Ibaka, who become free agents in the summer of 2017. The next coach of the Thunder will be forced to operate within a tight two-year window based on that timeline. 
Mark Jackson might be the best candidate to handle such a job.  He is experienced and recently used a three-year stint to pull the Warriors up from the West's cellar to their first 50-win season since 1993-94. Jackson does have his faults, but he possesses the ability to generate relationships with players and establish trust that extends beyond basketball. This was evident after Jackson's players stood behind him when he was replaced in Golden State. There were many others within the Warriors' front office who were happy to see Jackson go, but the Thunder have strong leadership in Sam Presti.
• MORE NBA: SI's best NBA stories from 2014-15
Jeremy Woo: Jason Kidd 
Maybe I'm biased after witnessing Milwaukee's impressive first-round performance first-hand. Maybe (OK, probably) this isn't anywhere near the realm of possibility. But maybe, just maybe, Kidd will jump ship for the second straight summer and join another team. Kidd is one of the NBA's brightest young minds and the opportunity to coach Durant and Westbrook could be too tantalizing to turn down. After seeing how Kidd has mixed and matched lineups and looks, coupled with a relatively laissez-faire​ Bucks offensive scheme, the fit makes a lot of sense. He would shore the Thunder up on the defensive side of the ball as a team (well, maybe not Dion Waiters) while empowering personnel far more worthy of playmaking freedom than his current group. Call it wishful thinking, but bringing in Kidd, once a superstar in his own right, provides a sharp, relatable mentor for Durant and Westbrook who has the chops to take OKC back to the Western Conference finals. 
GALLERY: Rare photos of Thunder's Russell Westbrook over the years
Rare Photos of Russell Westbrook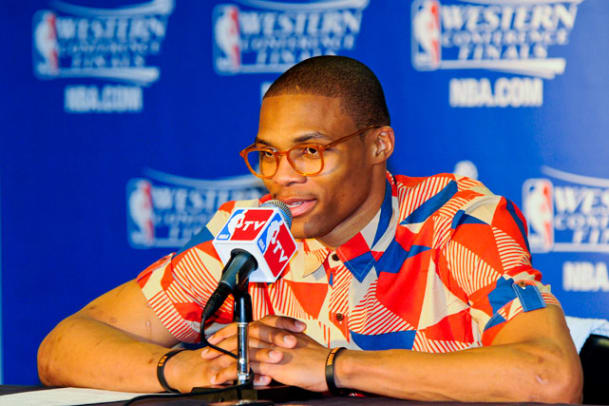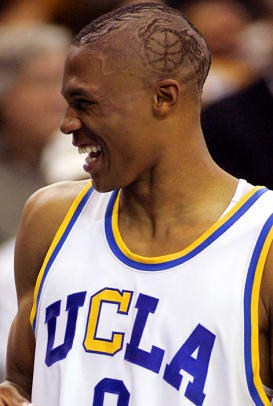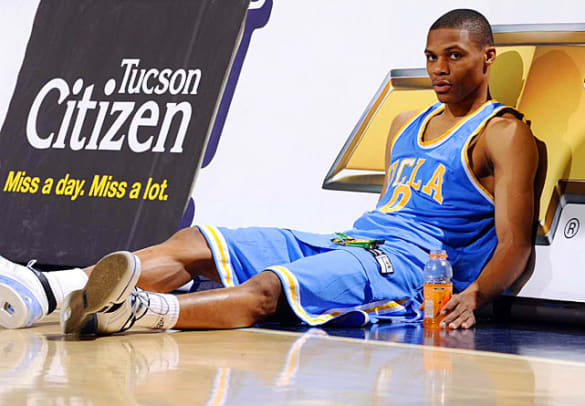 ​​