Watch: Matthew Dellavedova appears to go for low blow on Draymond Green
Matthew Dellavedova starred in Game 3 of the NBA Finals, but not without a little controversy. 
Matthew Dellavedova starred in the Cavaliers' dramatic 96–91 victory against the Warriors in Game 3 of the NBA Finals on Tuesday, but not without a little controversy. 
Dellavedova scored a playoff career-high 20 points on 7-of-17 shooting, but he was also caught once again toeing the line between being a physical player and a dirty one. As the Warriors' Stephen Curry brought the ball down the court early in the first quarter, Warriors forward Draymond Green hit Dellavedova with a hard screen, which may have included a little elbow jab for good measure. Dellavedova, a former rugby player, responded with a blow to the back of Green's left knee, which could have ended much worse than the quick dust-up it ended up being.
This isn't the first time that Dellavedova's physicality has stuck out this postseason. After the Hawks' Al Horford was ejected for throwing a retaliatory elbow at the Cavs' feisty point guard in Game 3 of the Eastern Conference finals, a number of Hawks players, including DeMarre Carroll, questioned whether Dellavedova was dirty.Dellavedova​​ was involved in the play that ended Kyle Korver's season after the two went after a loose ball. And earlier in the postseason, Chicago's Taj Gibson was ejected for kicking Dellavedova after the two were battling for rebounding position in Cleveland's Game 5 victory over the Bulls. In both situations, Dellavedova​​ escaped without penalty. 
Though Dellavedova may have earned a bad reputation with opponents, Cavaliers teammate LeBron James doesn't believe it's warranted, and vehemently defended his point guard earlier this postseason. "This is my teammate, and this is a guy that goes out and works his tail off every single night and people are trying to give him a bad rap," James said after the game. "He doesn't deserve it, and I don't like it."
–Daniel Friedman
GALLERY: Sports Illustrated's best photos from Game 3 of the NBA Finals
SI's Best Photos From Game 3 of the NBA Finals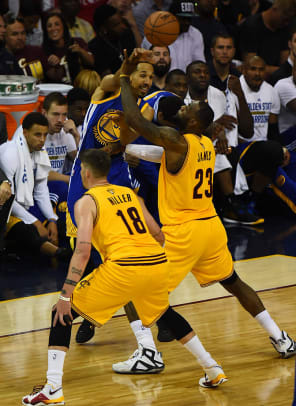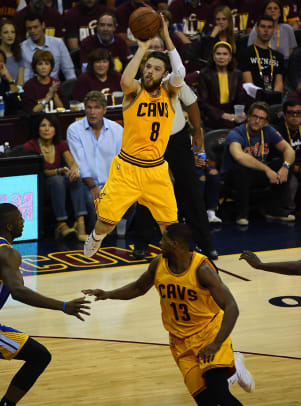 ​