Can Anthony Bennett's NBA career be saved after buyout with T-Wolves?
Anthony Bennett has yet to shed the bust label. Now with the Timberwolves releasing him, t's time to figure out what's next for the 2013 NBA draft No. 1 pick.
The Timberwolves' decision to release Anthony Bennett after reaching a buyout agreement this week was a humbling slap in the face, a warning sign about his future professional prospects, and a necessary step toward a badly needed third chance, all rolled into one.
Bennett, the 22-year-old Canadian forward who was selected No. 1 overall by Cleveland in 2013 before being traded to Minnesota last summer, is going where no bust has gone before. Greg Oden, the oft-injured No. 1 pick in 2007, made it through all four years of his rookie deal and even signed on for a fifth year in Portland, despite missing three of those five years due to injury. Hasheem Thabeet, who looked like a mistake almost immediately after he was taken No. 2 overall in 2009, didn't arrive at his third professional team until midway through his third season. Even Kwame Brown (No. 1 in 2001) and Darko Milicic (No. 2 in 2003) had smoother starts to their careers, as the former lasted four years in Washington before moving on, while the latter wasn't traded until midway through his third season in Detroit.
When taking the wide-angle historical view, it's stunning how quickly Minnesota gave up on him, and even more stunning that there wasn't a trade market for his services. Yes, Bennett was set to earn $5.8 million next season on the third year of his rookie-scale contract, a hair above the mid-level exception and far more than his play to date has warranted, but he was a 2012 McDonald's All-American who earned multiple individual honors during his one year at UNLV and made history by becoming the first Canadian to be selected No. 1 overall. Players rarely crater from "coveted" to "cast-off" this rapidly, especially when there isn't a significant career-altering injury or major off-court red flags to consider.  
• CAULDRON: NBA's breakout stars | GOLLIVER: Top comebacks for 2015–16
Zooming in, though, the Timberwolves' decision is easier to digest, even if their overall handling of Bennett was misguided and illogical. Bennett played poorly last season, so poorly that he wasn't going to be in position to have his $7.3 million contract option for 2016–17 picked up this fall. Looking ahead, Minnesota has a number of preferable options at his position and multiple youngsters with higher ceilings to develop. With 2015 No. 1 overall pickKarl-Anthony Towns, EuroLeague MVPNemanja Bjelica, and a "healthy" Kevin Garnett joining an already murky frontcourt, Bennett's agent was smart to push for a buyout. There's no sense in languishing on the bench for a team that hasn't made the playoffs since 2004, has struggled to keep up with modern basketball trends, and has its hands full bridging the gap between its young core and its aging pieces.
Timberwolves president/coach Flip Saunders got more use out of Bennett as a way to sell the Kevin Love trade ("We got two No. 1 picks!") than he ever did on the court. Minnesota's dysfunctional, injury-ravaged 16-win season would have been a tough environment for any young player, but especially one who dealt with everything from asthma to shoulder and knee problems as a rookie. Bennett was, more or less, set up to fail: the Timberwolves lacked a true point guard once Ricky Rubiowent down with injury, they didn't have a rim protector to provide cover defensively, and they struggled mightily to find anything resembling cohesion on offense (ranking No. 26) and defense (ranking No. 30). And fail he did.
Ticking off Bennett's statistical production amounts to kicking a man while he's down, but the numbers are the numbers. As a rookie in Cleveland, Bennett's 6.9 PER was the worst all-time among No. 1 overall picks, by far, and that mark ranked fifth-worst among 337 qualified players that season. That year, his -0.4 Win Shares were the third-fewest of any player to log at least 650 minutes and his -5.25 Real Plus-Minus ranked sixth-worst among all power forwards and centers. Things didn't really get any better in Minnesota: he ranked 64th among power forwards with an 11.4 PER, his 0.3 Win Shares were the ninth-fewest among players with at least 850 minutes played, and his -6.99 Real Plus-Minus was the worst mark posted by any frontcourt player. In Cleveland, he averaged 4.2 points and 3 rebounds while posting a -6.1 net rating, which is bad. In Minnesota, he averaged 5.2 points and 3.9 rebounds, and his -16.5 net rating and 113.2 defensive rating were the worst marks among all NBA players with at least 55 appearances.
• PRINCE: Signing Garnett, Miller solidifies Wolves' off-season
To boil this down: by any of the most popular measures, Bennett ranked as one of the least effective players in the NBA in both his rookie and sophomore seasons. Here's a handy rule of thumb to measure the scope of Bennett's struggles: Remember how Draymond Greenhelped transform the Warriors into NBA champions? His net rating was +16.5. So, Bennett and his -16.5 net rating amounted to the equal and opposite of that impact. In a perverse way, that's kind of impressive. It's no easy task to be as damaging as Green is helpful.
Nowhere to go but up, right? The path forward for Bennett involves building on his few bright spots and finding ways to fix, or work around, his many limitations.
Within the carnage last season, Bennett provided a few glimpses of the athleticism and power that made him 2013's top overall pick in the first place. His signature contributions came in the form of rim-rattling dunks. There's a heat-seeking vibe to Bennett when he finds himself with a free path to the basket. All of a sudden, the anxiety and tentativeness that define his overall play melts away, and he looks genuinely free and ferocious.
There's a lot of pop and burst in dunks like those, and you can almost see the pent-up frustration being transferred from his brain, through his body and to the rim. This is the Bennett some might remember from his days as a prep standout, when he physically dominated the competition, winning plays with brute strength and activity.
Unfortunately, there are only so many free paths to the basket in any given game, and Bennett doesn't bring much else to the table offensively right now. Lacking the size to be a dominant power forward and the speed to be a capable small forward, Bennett is trying to split the difference by becoming a stretch four. His decision to shed significant weight prior to the 2014–15 season was a good one, but that was only a modest first step. Right now, his overall offensive game is Swiss cheese: He's not comfortable handling the ball or making moves off the dribble, he lacks passing instincts when he faces the hoop, he tends to disappear among longer arms and bigger bodies when he enters the paint, and he doesn't draw fouls or scrounge up many second-chance points. 
The Timberwolves seemed to understand at least some of these limitations, and they tried to simplify the game for him by taking advantage of a shooting stroke that often looks quite smooth. Right decision, wrong execution. Bennett was deployed primarily as a pick-and-pop guy outside the elbows, where he launched lots and lots of long twos (the least-desirable shots in basketball). While Saunders seemed to be treating Bennett like LaMarcus Aldridge, opponents were happy to treat him as Anthony Bennett.
Even with defenders gifting him open look after open look, and even with many of his opportunities coming in no-pressure garbage-time situations, Bennett connected on a measly 30.8% of his midrange shots. These bricks weren't a minor annoyance, they were the centerpiece of his game: 53.5% of all of his attempts came on midrange shots, compared to just 7.7% on three-pointers.
This is frustrating for so many reasons: Saunders expressed an aversion to three-pointers at the beginning of last season, Minnesota went on to rank dead last in three-point attempts, and Bennett jacked a ton of very long twos from just inside the arc at the top of the key while at the same time attempting just six corner threes all season.
Here, a team's poor general philosophy worked directly against the development of one of its young players. Any team with the slightest understanding of analytics, or even just arithmetic, would never let Bennett repeat this performance, choosing at the very least to trade a good chunk of his bad long jumpers (long twos) for better long jumpers (corner threes). If Bennett is picking and fading to set up most of his offense, anyway, he might as well be spacing toward a portion of the court that will actually draw some defensive attention and generate more valuable attempts.
• GOLLIVER: Top 50 NBA games for 2015–16 | VAULT: Bennett vs. Giannis
As ugly as Bennett's shot distribution and performance charts are, his defensive tape is even worse. Needless to say, he didn't accidentally stumble into his horrific 113.2 defensive rating, as it was directly influenced by his stumbling through countless pick-and-rolls and awkward closeouts. Indeed, it's possible to imagine Bennett as a stretch four on offense, at least if you squint. It's much harder to see his position defensively.
Crucially, Bennett trusts his feet less than most people trust door-to-door solicitors. That's a big, easily exploitable issue because he is usually stuck chasing perimeter-minded big men through high screens or showing hard on guards outside the three-point line, as Minnesota often asked him to do. Despite the weight loss, he just doesn't move well laterally, even against attackers who start from a standstill.
Other weaknesses compound this core problem. Bennett is prone to leaving his feet in response to fakes. He isn't long or imposing enough to remain in the paint while leaving the chasing to another big. He doesn't compensate for his physical limitations through headiness or high-effort overachieving.
Guards generally waste little time putting Bennett into pick-and-rolls, and they practically lick their lips once he switches. In some cases, they don't even really need to turn the corner on him to get to the hoop. They can just walk down the middle of the street.
In other cases, they are able to generate clean step-back looks knowing that Bennett will be back on his heels, ceding space.
Again, Minnesota wasn't doing him any favors. It's tough to watch tape of Bennett showing hard on a guard 30 feet from the hoop and then running into his own teammate as he tries to recover back to his own defensive assignment. It's tough to watch him out on islands against talented scorers without meaningful help behind him. It's tough to watch him survive two high pick-and-roll scenarios, only to die on the third because of miscommunication with his other young teammates.
Smarter teams would use him in a more conservative fashion defensively so as not to hang him out to dry repeatedly. They would also certainly try to protect his backside with a strong interior presence, as is the general custom for most defensively challenged perimeter fours. 
But the blame game won't help Bennett going forward. He needs to hold himself more accountable, and that means admitting that he was often passive, late to react and, in some cases, simply lazy last season.
There were far too many times when he looked like someone who hadn't yet internalized the sobering fact that the NBA's 30 GMs might simply move on without him, draft position be damned. Bennett's next coach will need to be ready to offer many pieces of advice and points of correction, but "Wake up!" shouldn't be one of them. 
Bennett's margin for error going forward is very slim, and he was wise to proactively free himself from the Timberwolves in search of greener pastures. Forecasting his best-case scenario is tricky. It's difficult to see him ever being able to defend the small forward position at anything close to a replacement level, and his lack of playmaking ability makes it even harder to stuff him in as a three. Asking him to hold his own on the block, as a traditional four, is a tougher sell now that he's lost weight and isn't playing against high schoolers. Trying to use him as a five, in smaller lineups, would be an invitation for opponents to compile uncontested layups and dunks.
By process of elimination, that makes him a stretch four, almost certainly in a reserve capacity. Bennett could get there, but he will need to develop a reliable three-point stroke, substantially better defensive footwork, and—most importantly—a consistent motor that will allow him to become an energetic presence who makes use of his physical gifts, rather than a pedestrian. Absent any one of those improvements, and Bennett's twisting NBA journey could soon be headed off a cliff. 
Photos: The biggest draft busts in NBA history
Biggest NBA Draft Busts Of All Time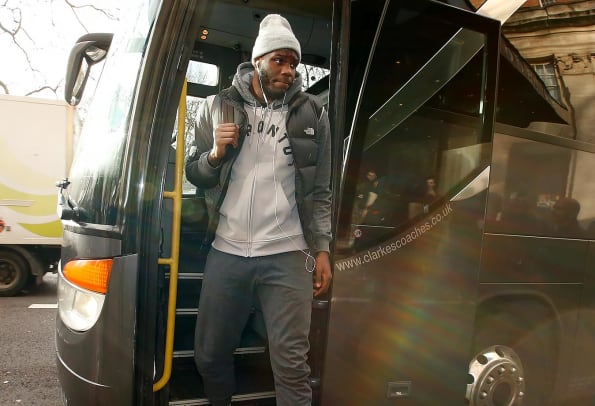 ​