Draymond Green takes on starring role in Warriors' decisive Game 2 win
Draymond Green's excellence exposed the Cavaliers in yet another decisive Golden State victory. 
Your teams on the go or at home. Personalize SI with our new App. Install on iOS (iOS or Android).
If Draymond Green is a "system player," every team in the league should be scrapping its playbook to run that system. There is no better small-ball rim protector in the league, no better playmaking big, and exceptionally few better suited to handle the vastness of a fluid, constantly evolving role. What the Warriors need of Green can change dramatically on a possession-to-possession basis. Still he somehow seems suited for all tasks, including—most improbably—that of Golden State's impromptu go-to scorer in Game 2 of the NBA Finals.
The structure of Cleveland's defense was built using Green's shooting as an acceptable tradeoff. Bigs would play off of Green in the middle of plays or rotate away from him without much urgency to recover—largely in an effort to play the percentages and hope that his continued shooting might break Golden State's natural rhythm. Instead Green responded with five three-pointers en route to a 28-point, seven-rebound, five-assist outing that challenged the Cavaliers in their commitment to such a structure. Playing the percentages seems almost a moot point when doing so still results in a blowout, as was the case in what became a dominant 110–77 win for the Warriors.
Every shot Green made from beyond the arc was worth much more than three points. Those shots, for one, exposed the limitations of Cleveland's rotations. Even those possessions in which LeBron James was meant to run out and challenge Green beyond the arc ended poorly; regardless of whether Green was left completely open or merely wide open, those made shots at the end of a defensive stand tend to erode the trust and energy that goes into playing defense in the first place. One make is allowable, even inevitable. Each that followed wore on the Cavs' spirits while sending Oracle Arena into a frenzy. 
• MORE NBA:Warriors dominate overmatched Cavaliers in Game 2 blowout
Those makes only amplify the pressure on the Cavs to get every single defensive detail right. There isn't much evidence to suggest they're capable. Cleveland's dominant postseason to this point was largely the product of a substantial disparity in talent and a tremendous all-around offense. Cleveland's current scheme applies pressure to Stephen Curry and Klay Thompson and then fails to rally possessions to completion. It's a style demanding of the Warriors in that it forces them to make an early read on the fly. Once out of trouble, Golden State is playing with a 4–on–3 advantage from its angle of choice. At the point where so much is being done to protect against Curry and he still goes 7–for–11 from the field (including 4–of–8 from three), one can begin to categorize a defense as fundamentally flawed.
Contrast that with the way that Warriors defenders fly around the floor and you have the margin of this series. There have been so many possessions between Games 1 and 2 in which the Cavs make three or four consecutive, productive passes against a rotating defense. The end result would be an open look against most any team in the league. Golden State, somehow, is on top of it—with a long-armed defender contesting what should be an open three or Green defending at the basket at a level ridiculous for his height. The frustration in LeBron James proved palpable. Very rarely do we see a player of James's caliber overwhelmed, yet there seems no other way to describe his desperate drives into traffic and the seven uncharacteristic turnovers that resulted.
See 23 classic SI photos of Warriors All-Star Draymond Green
SI's Best Photos of Draymond Green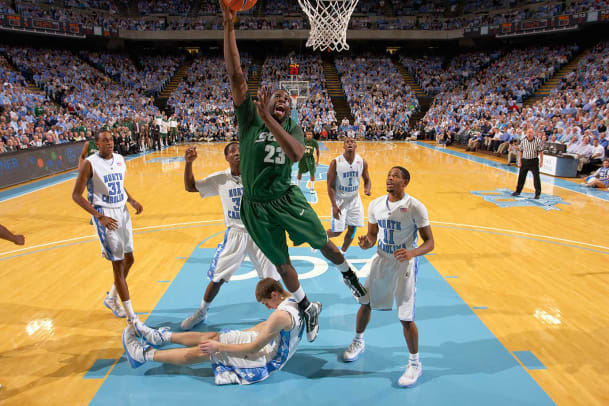 To make matters worse for Cleveland: Midway through the second quarter, Kevin Love as Harrison Barnes rose up from behind him for a rebound. No foul was called on the play (the resulting action actually produced an and-one finish for Draymond Green), but the collision sent Love to the floor in a heap. He remained on the court after a timeout, then collected himself to play the last final five minutes of the quarter before returning for the second half. Love lasted another two minutes before he checked himself out of the game due to dizziness, according to a release from the Cavs, and only then was he removed to take part in the league's concussion protocol. Considering the blunt force of the hit and its overt visibility, it's a bit shocking that Love played even a second of basketball before undergoing testing.
• MORE NBA:Green is silencing his doubters | Cavs' issues are growing
#http://www.120sports.com/video/v182381606/warriors-get-easy-game-2-win
Cleveland adapted its rotation by running even smaller than usual—effectively replacing Love in its small-ball lineup with Iman Shumpert. There is no dimension of small-ball in this series that serves the Cavs' interests; an increase in tempo and floor spacing stands to benefit the team that moves the ball and covers ground more effectively, two advantages claimed decisively by the Warriors. Those dynamics bore out in a vicious third-quarter run completely absent of Curry's heroics. Golden State's firestarter exited the game with 8:41 remaining after picking up his fourth foul. From then on, the Warriors made careless mistakes with the ball, scrapped through possessions looking for scorers, and still outscored the Cavs, 25–15. 
Given the events of the first two games, one must legitimately doubt whether Cleveland can win even the minutes of this series in which the reigning two-time MVP rests. If that's not damning evidence as to the lopsided state of these Finals, what could be?