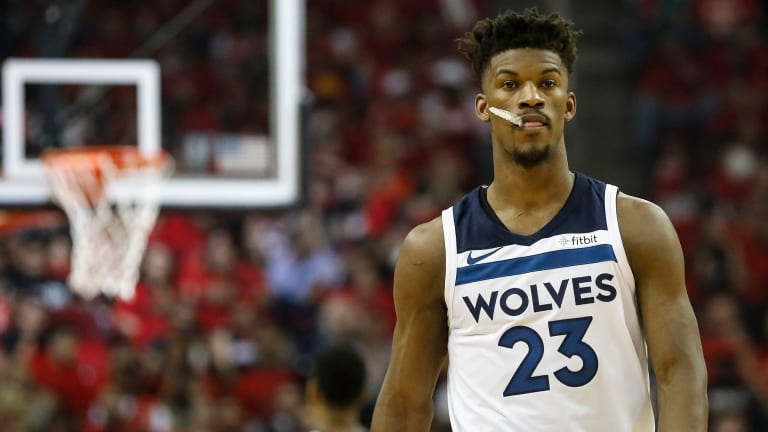 Report: Jimmy Butler Requests Trade From Timberwolves, 'Most Determined' to go to Clippers
Jimmy Butler wants out of Minnesota.
Jimmy Butler has requested a trade from the Minnesota Timberwolves, according to Shams Charania of The Athletic. Butler reportedly informed Tom Thibodeau of his desire on Tuesday. Jon Krawczynski of The Athletic added that Thibodeau has been resistant on the idea of dealing Butler.
Later on Wednesday night, Wojnarowski reported that Butler is "most determined to find a way" to the Clippers. Butler is reportedly interested in partnering with a second star, considering the Clippers have two max contract slots available in summer free agency.
Butler, 29, provided the Timberwolves a list of three teams with whom he would listen to possible contract extension offers. Wojnarowski reported the Brooklyn Nets, Los Angeles Clippers and New York Knicks are the three teams on Butler's list. All three are capable of signing him with their respective max cap space. 
The max contract that the Timberwolves could offer Butler could be worth five years and $189 million. If he opted to sign elsewhere, he could receive four years and $140.6 million. In July, Butler reportedly turned down a four-year extension worth $100 million.
• There Are No Winners in the Jimmy Butler Saga
Butler is among the possible stars for next year's free agent class, which could include Kevin Durant, Kawhi Leonard, Klay Thompson and Kyrie Irving.
Last season, Butler averaged 22.2 points, 5.3 rebounds and 4.9 assists.
Timberwolves training camp is set to begin on Tuesday.