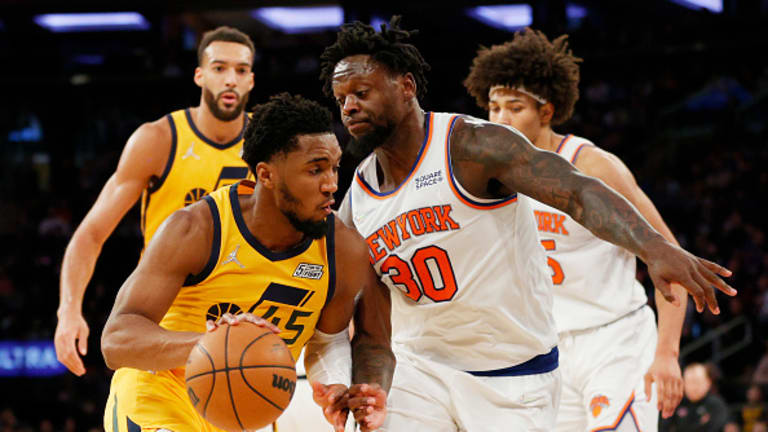 What Does a Donovan Mitchell Trade Look Like for Knicks?
If the New York Knicks are going to pry Donovan Mitchell away from the Utah Jazz this offseason, it won't be cheap.
It's no secret that big changes are on the horizon for the Utah Jazz after they lost to the Dallas Mavericks in the first round of the NBA playoffs last week. The pairing of star guard Donovan Mitchell and big man Rudy Gobert seems to have run its course, and one of the two could be on the move soon.
It's also no secret that the New York Knicks are interested in Mitchell if he ends up being the big piece Utah decides to move. Rumors have swirled for months, and Knicks executive William Wesley was spotted sitting courtside with Julius Randle for Game 1 between the Mavs and Jazz in Dallas — a move that ruffled feathers of some "prominent" Jazz people.
With that being said, though, trading for Mitchel won't be cheap, no matter how much either side wants each other. Mitchell still has three full years left on his current contract worth approximately $98 million.
Although his first-round performance against Dallas showcased some flaws in his game — Jalen Brunson torched him to the tune of 27.8 points per game on nearly 50 percent shooting — Mitchell is still a dynamic young talent. That, paired with Utah having long-term contractual control, means the Knicks will have to pay up if they want to pry him away.
So what exactly does a feasible trade package for Mitchell look like? Most trade hauls for young star players include some combination of picks, young prospects or other winning pieces depending on how much of a rebuild is being planned for. Here's what we're thinking:
Knicks receive: Donovan Mitchell
Jazz receive: Julius Randle, Immanuel Quickley, NYK's first-round picks in 2022 and 2024 (top-5 protected), first-round pick swaps in 2023 and 2025
If Utah does decide to move on from Mitchell instead of Gobert, it would be interesting to see a Randle-Gobert frontcourt pairing going into next season. Quickley would also bridge the gap a little bit from losing Mitchell in the backcourt.
This trade gives the Jazz enough incentive to part with Mitchell, not only due to draft compensation, but also by getting some pieces in return to avoid going into a full-blown rebuild as well. 
On the Knicks' side of things, the motivation is simple — do you want a star point guard playing in Madison Square Garden next season? If the answer is "yes," you pay the premium price now, then worry about building around your new star afterwards.