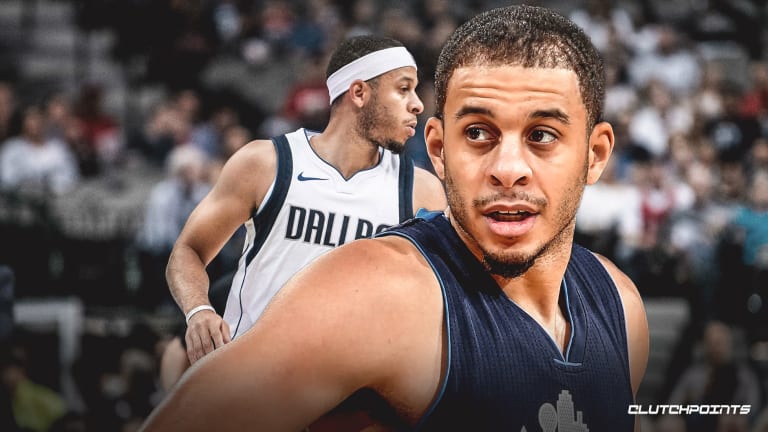 Second-Time Seth: Curry likes his Mavs - and Porzingis is the reason why
Second-Time Seth: Curry likes his Mavs - and Porzingis is the reason why
DALLAS - Seth Curry is back with the Dallas Mavericks, signing a four-year, $32 million deal for his second go-around in Dallas. ... and hoping success and good health is more easily achieved the second time around.
"I like our team," Curry told ESPN Dallas 103.3. "We're confident in what we have and it's just putting the right pieces around Luka and KP.''
That is indeed the challenge for a Dallas team that, when Seth was last a part of things around here, finished just 33-49.
That year, though, Curry was a revelation, turning out to be a crafty steal by the Dallas front office of a guy who was considered by many to be just a G-Leaguer before a strong season finish in Sacramento.
In Dallas, Seth ended up playing in 70 games (starting 42 of them) and averaging 12.8 points, 2.7 assists, 2.6 rebounds and 1.1 steals over 29 minutes per game while shooting 48.1 percent from the floor, 42.5 percent from three-point range and 85 percent from the free-throw line.
To start 2017-18, coach Rick Carlisle declared that Curry would likely become a starter ... but then a leg injury sidelined him for the entirely of yet another poor season, record-wise, for the Mavs.
He was a free agent last summer and due in part to some personal issues in DFW -- not related to any conflict with the Mavs themselves -- he bolted to Portland, where he was a successful contributor off the bench for the contending Blazers.
This past season, Curry appeared in 74 contests and scored 7.9 points across 18.9 minutes a night while making 45.6 percent of his field-goal attempts, 45 percent of his long-distance tries and 84.6 percent of his foul shots.
Is he now ready to become a Mavs starter again?
Fortunately, the first-team candidates for Dallas are stronger than they were during his previous swim through town. That 2016-17 club featured an aged Deron Williams, JJ Barea and Devin Harris as always, but then a host of tryouts and call-ups and experiments, including point guards Pierre Jackson, Quinn Cook and Johnathan Gibson.
This year's Mavs are not planning to win just 33 games again.
Delon Wright is being penciled in as the first-teamer at the point. But Luka Doncic (plus an ab or two) is of course the most qualified point guard, no matter where he plays. Luka, though offers "Interchangeable Man'' skills that allow him to plan any spot. If Dallas opts for a larger and more defensive-oriented lineup, Delon and Luka can start in the backcourt, and a forward like Dorian Finney-Smith or Justin Jackson can be the fifth starter. Want more offense? Seth can start in the backcourt (in theory, Tim Hardaway Jr. is also a scorer) and Luka can be the 3.
"We have a lot of options going forward as far as how to make our team better,'' said Curry.
But there's another guy who promises to make this season something better than a repeat of 2016-17.
"We have KP, who hasn't played in a couple of years so you kind of forget about him, but he's as good as it gets when it comes to pickups this offseason,'' Curry said of big man Kristaps Porzingis, the restricted free agent who re-upped with the Mavs for five years and $158 million. "He's young (23) and he's already one of the best in the league.''
Curry, 28, remains best-known as the brother of superstar Steph of the Golden State Warriors. That program is on a different plane than this one, obviously. But "I like our team'' is a fitting approach to Mavs basketball in July ... especially with Seth helping Luka and KP push the Mavs to avoid a repeat from Curry's down time here.