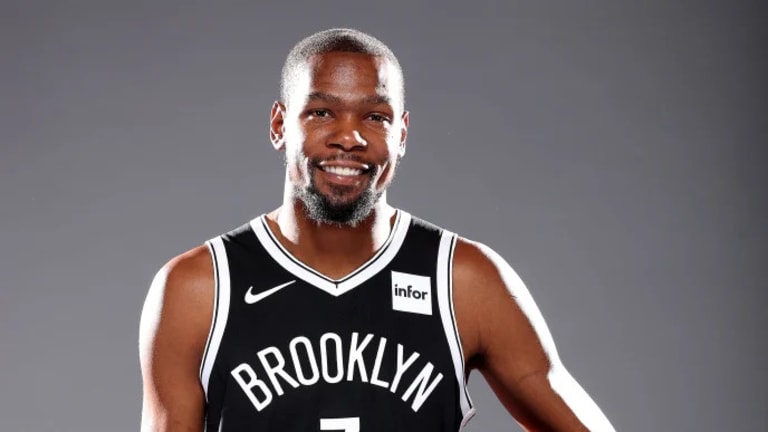 Kevin Durant debates validity of NBA Analytics with fans on Twitter
Durant Gets in Twitter Back and Forth About Analytics Being Used in NBA
Kevin Durant has spoken about his true feelings about the pervasive usage of analytics in the National Basketball Association. 
The small forward, who will not play in the 2019-2020 due a torn Achilles he suffered back in June, is one of the best shooters in the game. He is also one of the best mid-range shooters in the entire league, and is unhappy with the current state of the NBA that says a three-pointer is the holy grail of basketball shots.
Durant, as he is prone to do periodically, found himself engaged in a Twitter back and forth about how analytics should, or should not be, used in the NBA. 
Durant's main premise was that analytics should not be accepted as the only way to play basketball in today's day and age. The perennial All-Star said the player's on the court actually playing the game should take the best shot, not exclusively a three-pointer, regardless of how many points that shot is worth.
The argument for shooting three-pointers with reckless abandon is that three is worth more than two. While this may be mathematically correct, it does not always hold up during the course of a basketball game. 
In the 2018-2019 season, no team averaged less than 25 three-pointers attempted per game. The leader last season was the Houston Rockets who averaged more than 45 attempts from deep. 
Durant's argument has begun to pick up steam in basketball circles. Basketball fans understand that a wide-open shot should never be passed up, and a team that is  below-average from long-range should work the ball inside in order to get a higher percentage look. 
Durant said the mid-range shot, the most lethal shot in his repertoire, is dying in the NBA because the league is turning into a three-pointer or lay up dependent game. He maligned the lack of any middle ground. Durant intimated that mid-range shots are essentially being forbidden by front offices for all 30 teams.
The final argument by Durant is that the NBA is a make or miss league, and players should feel confident they could make any shot they take, and should not be subjected to a mandate to shoot three-pointers if that is not where they are most comfortable.
The small forward is fed up of having to look at graphs, and analyze numbers, when having a conversation about the sport of basketball. He wants the players on the court to have more autonomy regarding the shots they are taking while on the court, and not become slaves to graphs.