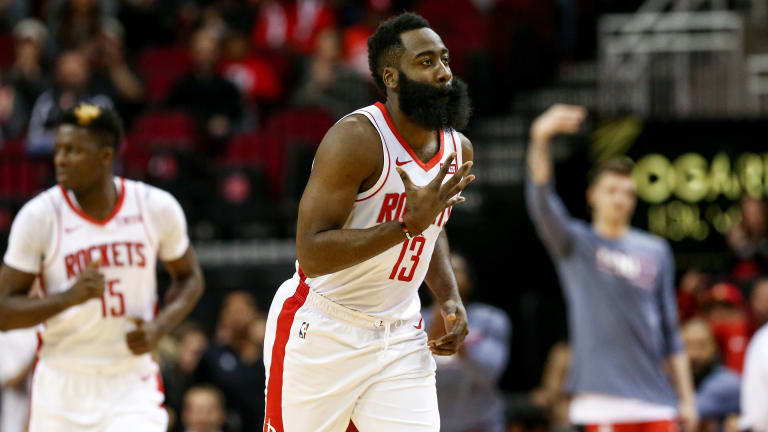 James Harden Carries Rockets With 47 Points in Win Over Clippers
James Harden's 47-point explosion gave the Rockets their first win against a team over .500 on Wednesday as Houston defeated Kawhi Leonard and the Clippers 113-92. 
Wednesday's victory wasn't Houston's prettiest offensive effort of the year–not unexpected against Leonard and Patrick Beverley–though James Harden's 17 fourth-quarter points were enough to lead Houston to a win over the Western Conference contender. The Rockets have the most wins of any team in the West aside from the Lakers. They've now won five straight. Wednesday marked a key step forward as Houston eyes the Western Conference crown.
Here are three takeaways from Wednesday's victory. 

Harden Shoulders the Load
Clippers head coach Doc Rivers had no delusions about the Clippers' task ahead when speaking to the media pregame on Wednesday. 
"[Harden] is just so comfortable in what he does," Rivers said. "He's literally seen every coverage, but at the end of the day, if it turns back into an iso, there's probably never been a better player in history in 1-on-1 situations."
Rivers' comments quickly proved prescient on Wednesday. Harden torched Los Angeles for 14 points in the first quarter, ending the evening with 47 points on 12 of 26 shooting. He feasted on isolation attempts early on, taking advantage of switches freeing him from Beverley and Leonard. A 40-point night appeared in store early on.
Los Angeles altered its coverage on Harden beginning in the second quarter. The Clippers doubled Harden at nearly every opportunity, blitzing the pick-and-roll to prevent switches and isolation situations. The formula was largely effective in the second and third quarters, as Harden was held to just 3-10 from the field. But the two-time scoring champion shook loose in the fourth quarter.
Harden torched the Clippers for 17 points in the fourth quarter, largely disregarding the defensive coverage sent to him by Los Angeles. Harden split traps and beat bigs around the corner. When he did find himself with a rare isolation, The Beard pounced.
Harden's teammates shot just 35% from the field and 24% from three on Wednesday. Yet even the Rockets' worst shooting nights can be overcome by the the game's top offensive force.
"It's just one of those nights where I couldn't make a shot. ... nobody could hit a shot, and [Harden] just took it over himself," Austin Rivers said postgame. "Superman sometimes has to put on his cape or whatever, that's kind of what he did tonight."
Beverley, Rockets Chippy Throughout
Beverley spent the first five years of his career in Houston from 2012-17, establishing himself as a fan favorite due to his unmatched defensive intensity. Beverley is the NBA's premier pest, and he brought his antics back to the Toyota Center on Wednesday night.
The Arkansas product hounded Harden for much of the evening, and the pair got tangled up on multiple occasions throughout the evening. Beverley and the Clippers defense forced six turnovers against Harden on Wednesday, but Beverley fouled out midway through the fourth quarter, leaving Harden largely unburdened as he carried Houston down the stretch.
Harden noted Beverley's propensity for annoyance postgame, but was largely supportive of his former teammate. 
"I've played with him for a couple years so I know Pat," Harden said postgame. "He competes his butt off, that's why he's in the position that he's in now. I'm proud of him, but tonight was one of those nights."
Russell Westbrook wasn't as kind in his assessment. 
"Pat Bev trick y'all, man, like he playing defense. He don't guard nobody, man," Westbrook said postgame. He just running around, doing nothing."
There appears to be no love lost between the former rivals. Westbrook will get his next chance to battle Beverley soon as the Rockets face the Clippers at the Staples Center on Nov. 22
Capela Feasts, Leaves Late
Clint Capela had the strongest night of any non-Harden Rocket on Wednesday. He scored 12 points and gobbled up 20 rebounds, becoming the first Houston player since Moses Malone to have three straight 20-rebound games. But Capela's strong effort became secondary in the fourth quarter.
Capela collided with Clippers forward Jamychal Green on a layup attempt from Green midway through the fourth quarter. He then laid on the floor for roughly a minute, holding his face before being helped to the locker room by the Rockets' medical staff. 
The 25-year-old was examined by the Rockets following the victory, though he has not been diagnosed with a concussion. More information on Capela's injury will likely come on Thursday.  
Up Next: vs. Pacers on Friday
The Rockets will host Malcolm Brogdon and the Pacers before a brief trip north to Minnesota to close the week. Indiana has remained competitive without Victor Oladipo, entering Wednesday night sixth in the East at 7–4. Tyson Chandler and P.J. Tucker will have their hands full if Capela is unable to play. Indiana has one of the league's most dynamic frontcourt duos in Domantas Sabonis and Myles Turner. 
Tip-off from the Toyota Center is slated for 7 p.m. CT.