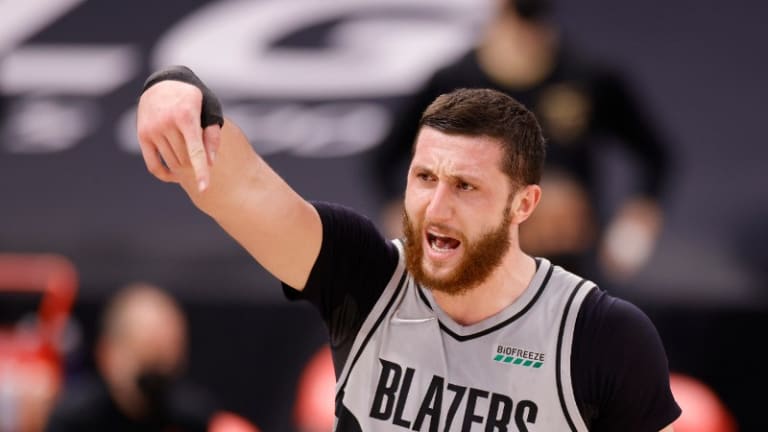 Jusuf Nurkic's Goal? Winning Defensive Player of the Year
If Jusuf Nurkic had been injured, he might garner at least passing Defensive Player of the Year consideration right now.
If Jusuf Nurkic had been injured, he might garner at least passing Defensive Player of the Year consideration right now.
The notion that Jusuf Nurkic would single-handedly plug the Trail Blazers' porous defense seemed hopelessly optimistic when he was sidelined for 10 weeks. Portland owned a 117.0 defensive rating as he finally returned to the lineup on March 26 – not just second-to-last this season, but the second-highest mark in league history.
Swapping Enes Kanter for most any starting-caliber center would be a defensive upgrade, and Norman Powell is indeed a better on-ball and help defender than the departed Gary Trent Jr. Preseason expectations of Robert Covington and Derrick Jones Jr. helping the Blazers establish a respectable defensive baseline had already been proven wrong, though. Portland's amped-up activity and aggression schematically only exacerbated unavoidable problems presented by Carmelo Anthony's lagging foot speed and the collective size deficit of its star backcourt.
Maybe a one-man defense like Rudy Gobert or Joel Embiid could take the Blazers' defense from historically bad to at least good enough. But Nurkic, having played a grand total of 25 games in two calendar years? There just wasn't much more than blind positivity suggesting he'd provide the difference Portland really needed defensively.
But six weeks since Nurkic's return, he's done that and plenty more, propelling the resurgent Blazers to fifth place in the West. And after staking a forceful, winning claim as one of basketball's top defenders on Wednesday night opposite Gobert, about to become the fourth player ever to be a three-time Defensive Player of the Year, Nurkic confidently announced his plans to win that hardware going forward.
"I'm trying to put together a season I can stay healthy, be in shape, and do all the right things so I can be Defensive Player of the Year. That's my goal in this league, and I really think like I'm capable of that," he said following Portland's crucial win over the Utah Jazz.
It's not hollow talk. The numbers indicate Nurkic would garner consideration for defense's top individual honor this season if he hadn't missed 32 straight games with a broken wrist.
Portland's defensive rating with Nurkic on the floor is 107.8, per NBA.com/stats, equal to third-ranked Utah. The Blazers allow 10.8 fewer points per 100 possessions when he mans the middle, in the 98th-percentile among all players league-wide, according to Cleaning the Glass. 
Nurkic is 16th in luck-adjusted Defensive RPM, per NBAshotcharts.com; the only teammate joining him in the top-50 is Robert Covington. He's one of seven players in the league – alongside ultra-disruptors like Matisse Thybulle and Nerlens Noel – with steal and block rates this season above 1.9 and 3.8, respectively, according to data compiled at Stathead Basketball.
The Bosnian Beast has been an absolute monster defensively when he's been on the floor in 2020-21. He's already proven the masses who doubted the scope of his impact on one of the league's worst defenses wrong. The next step for Nurkic on his path to Defensive Player of the Year is staying healthy, confirming his outstanding performance on that side of the ball can be duplicated over a full season.
Better yet, at least for the Blazers? Doing it under the playoff pressure cooker in coming weeks.
"It's a great thing when you can impact the game in so many ways, and that's why I feel people underestimate [me] sometimes," Nurkic. "I really feel I'm the best defensive player on this team, and that's what I'm trying to do."