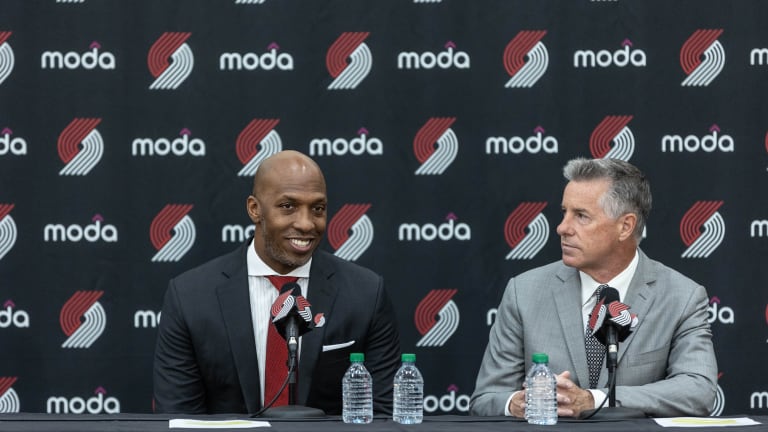 The Blazers' 'Thorough' Investigation of Chauncey Billups Was a Sham
Portland's investigation into Chauncey Billups didn't include contact with his alleged victim, per OPB.
Neil Olshey, reading from a prepared statement, opened Chauncey Billups' introductory press conference by addressing 1997 rape allegations against the Trail Blazers' new head coach.
"We took the allegations very seriously, and we treated them with the gravity that they deserve," Olshey said.
Billups, the 2004 NBA Finals MVP and a five-time All-Star, suited up for seven different teams throughout his 17-year playing career. Once it was finished in 2014, ESPN quickly made him a fixture of its television coverage, paving the way for Billups to join the LA Clippers as a commentator in 2019. He transitioned to the Clippers' bench as a rookie assistant under good friend Ty Lue less than a year later.
Nine separate professional sports entities, at least, vetted Billups before the Blazers conducted their own investigation of the accusations against him. Nevermind that Portland, by Olshey's own admission, didn't hire an independent firm to dig into the alleged incident until already offering Billups the job. Ignore the league-wide open secret—recently confirmed by Becky Hammon—that Olshey earmarked Billups as the Blazers' next coach long before officially parting ways with Terry Stotts on June 4, too.
As Olshey told it, the existence of prior investigations into the Billups allegations meant Portland didn't need to do its own. The Blazers merely went that extra mile because the franchise believed reports of violence against women stand apart from basketball.
"Even though other NBA organizations, business partners, television networks, regional networks, have all enthusiastically in the past and present offered Chauncey high-profile positions with their organizations," Olshey read, "we wanted to make sure we had our own thorough process because some things are just bigger than basketball."
Pretty much everything Olshey and the front office did following his opening remarks on June 29 revealed that wasn't true. 
No, the public—including countless Portland fans across the globe who've been the victims of sexual assault or domestic violence against women—didn't need to know the "unbelievable ways" in which the 1997 incident "shaped" Billups. And no, any details of the Blazers' internal investigation into the alleged rape beyond Olshey's assurances wouldn't be shared outside team walls.
"That's proprietary, Sean," Olshey replied to Bleacher Report's Sean Highkin when asked to expound on the probe. "You're just gonna have to take our word that we hired an experienced firm that ran an investigation that gave us the results we've already discussed."
Less than two weeks later, in-depth reporting by Conrad Wilson and Tony Schick of OPB has confirmed what Portland's dismissive response to questions about Billups' past suggested. 
The team's "thorough" investigation into the allegations against Billups didn't include contacting Jane Doe, his alleged victim. Investigators didn't reach out to her attorney, Margaret A. Burnham, who was handpicked by President Joe Biden this year to join the Civil Rights Cold Case Review Board. 
One of the reasons why Portland was comfortable concluding its inquiry without hearing directly from Doe or her representatives? Perhaps due to foreknowledge that Doe hasn't recanted her accusations.
"We stand by the allegations," Burnham, still Doe's attorney 23 years later, told OPB.
Even the current and former district attorneys in Middlesex County, where the incident allegedly took place, didn't hear from the Blazers. So much for a "thorough" investigation, let alone the veracity of Olshey's "word." 
It's clear now that Portland's investigation into the allegations against Billups was a sham.
What does that mean for his future with the Blazers? Nothing, probably. Billups signed a five-year contract with Portland, and billionaire Jody Allen has been accused of sexual assault in the past, too. It would be shocking if Billups wasn't the Blazers' coach for the foreseeable future.
But someone must answer for Portland's flagrant disregard for Jane Doe and the many survivors of sexual violence who call(ed) themselves Blazers fans. Every day Olshey remains in Portland is one that will make their lives harder.
There's no fixing this disaster. Its stench will linger in Rip City for years and years to come, no matter what Billups and his team do on the floor. The sooner Olshey is gone, though, at least the sooner it will be for the Blazers to acknowledge the damage they've already caused and will continue to inflict.
[Conrad Wilson and Tony Shick, OPB]