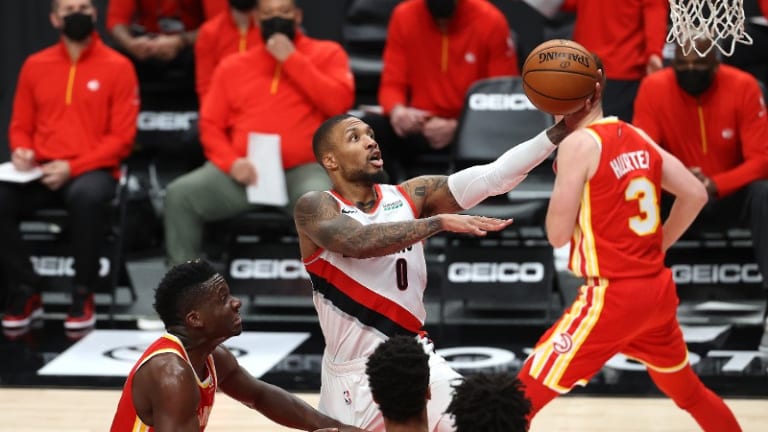 Blazers Come Up Short Against Hot-Shooting Hawks
Portland tried to keep up with Atlanta, but couldn't quite match the home team's shot-making.
Portland tried to keep up with Atlanta, but couldn't quite match the home team's shot-making.
The resurgent Trail Blazers have finally lost their first game on a gut-check road trip. At least they seemed to avoid further injury as their winning streak comes to a close.
Portland fell to the Atlanta Hawks 123-114 on Monday at State Farm Arena, ultimately failing to keep pace with the home team's red-hot shooting from beyond the arc. The loss pushes the seventh-place Blazers to 36-29, still within a game of both the Los Angeles Lakers and Dallas Mavericks in the standings.
Damian Lillard put forth another MVP-caliber effort, dropping 33 points and eight assists on just 19 field goal attempts – all in the first three quarters – to help his team largely stay within striking distance. He again exhibited verve and burst athletically that was lacking for most of April, physical wear and tear that was the result of several nagging injuries. 
Rip City held its collective breath on two different occasions Monday, when Lillard tweaked his shooting elbow in the first half and had his foot stepped on midway through the fourth quarter – contact that caused him to immediately grab at his ankle and call for assistance from team trainers. Lillard, thankfully, didn't suffer a serious injury; he was able to stay in the game after a TV timeout. 
Why Terry Stotts left his most indispensable player on the floor as Portland trailed by 15 with barely six minutes left is anyone's guess. In that vein, it's a good thing Atlanta quickly scored the next five points, causing Stotts to wave the white flag and empty the Blazers' bench early.
C.J. McCollum added 20 points for Portland, but absent his recent efficiency. Norman Powell had 15 points on 14 shots, never quite getting it going after a promising start. Carmelo Anthony scored 15 points off the bench, four of them coming in historic fashion when he was fouled on a made three-pointer, passing Elvin Hayes for tenth on the NBA's all-time scoring list.
That triple was one of 17 for the Blazers, who shot a stellar 41.5 percent from three. The problem is that the Hawks went 20-of-41 from three, with Bogdan Bogdanovic and Danillo Gallinari knocking down seven each – the majority of which came off direct passes or initial action from Trae Young.
Portland proved helpless to contain Atlanta's franchise point guard off the dribble, letting him regularly crease the paint, draw help defenders and make the right pass from there. The Blazers' effort and intensity defensively occasionally waned on the second leg of a back-to-back, but rough individual defense at the point of attack was the bigger reason for their inability to string together stops.
Winning this game was always unlikely. Portland provided plenty of reason for optimism, too, most significantly strong performances from Lillard and Jusuf Nurkic. As long as pain in Lillard's left foot doesn't linger, a hard-fought loss to a quality foe like Atlanta could very well be a blip in the Blazers' late-season turnaround.
Next up: at Cleveland Cavaliers on Wednesday, 4:30 p.m. (PST)