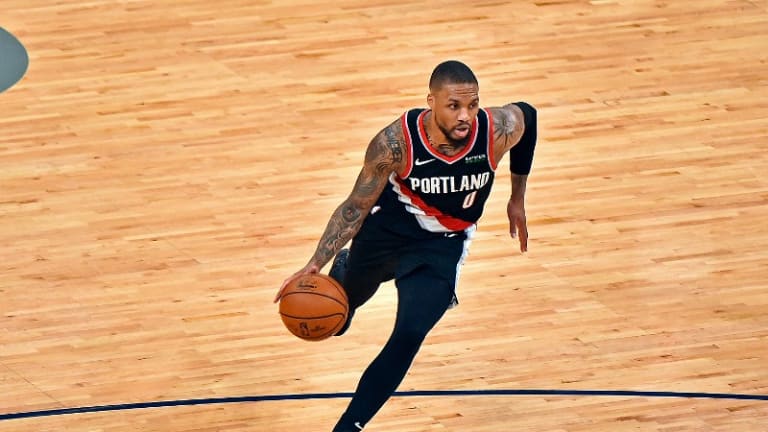 Damian Lillard Dominates Second Half In Blazers' Win Over Nets
Portland wins its third straight behind Damian Lillard's best performance in weeks.
Portland wins its third straight behind Damian Lillard's best performance in weeks.
It's too early to say for sure that the Trail Blazers have turned their season around. But the way Damian Lillard dominated the second half at Barclays Center, there's certainly more reason than ever to believe his team is finally trending the right direction at exactly the right time.
Portland beat the depleted Brooklyn Nets 128-109 on Friday night, taking their third straight game after losing five in a row. The Blazers, 35-28, now sit a half-game back of the Dallas Mavericks for sixth in the Western Conference – the cut-off between the play-in tournament and a first-round playoff series.
Lillard dropped 32 points and nine assists against Brooklyn, shaking off an early collision at the rim that left him grabbing his midsection to put together his best offensive performance in weeks. He eclipsed 30 points and shot over 50 percent from the field for the first time since April 2nd. 
Lillard helped break open a close game after intermission, scoring 16 of his 22 second-half points in the third quarter alone, He went 8-of-13 from beyond the arc, the majority of those triples coming in the second half – many of them from deep.
Lillard was hardly the only Blazer playing with some extra verve and intensity on Friday. As noted by team reporter Casey Holdahl, Portland had more dunks against the Nets – 24th in defense and playing without a pair of key defenders, by the way – than it did in each of the previous 15 April games combined.
Jusuf Nurkic, awesome again with 23 points (9-12 FGs) and 11 rebounds in just 25 minutes, rumbled down the lane for a slam. Norman Powell, who scored 19 points on 6-of-13 shooting, got up for a powerful two-footed jam off a pass from Lillard. Dame got another cutting backdoor after Nurkic found him with a slick bounce pass.
The Blazers' most surprising and most memorable dunk, though? Undoubtedly this tip dunk from Carmelo Anthony, who in typically fitting fashion followed his own miss.
Anthony had 18 points off the bench for Portland, with Anfernee Simons adding 10. C.J. McCollum was the Blazers' only rotation player who didn't get comfortable offensively, scoring 10 points on 12 shots.
Portland shot 51.6 percent overall, went 16-of-36 from three and 18-of-20 from the line. Brooklyn, by contrast, labored 42.1 percent shooting and just 31.7 percent on threes, Kyrie Irving unable to lift his team's offense absent Kevin Durant and James Harden.
"Around this time is when you want to be kinda getting into form, and be playing your best basketball. We didn't set it up that way; we've been terrible for awhile. But it's starting to feel like we're starting to put it together at the right time of the year."
Three consecutive road victories – no matter who's playing for the opposition – certainly suggest as much, and so does the Blazers' aggression and communication on both sides of the ball. 
Their biggest test of the trip so far comes on Sunday.