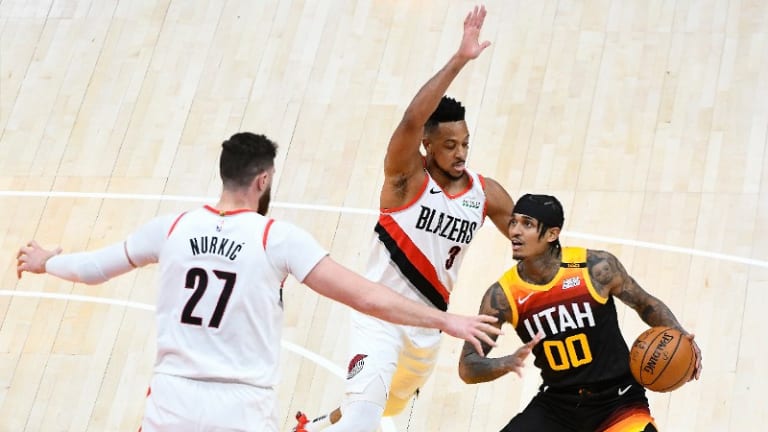 Portland Smothers Utah For Convincing, Crucial Road Win
The Blazers dominated at times defensively against the short-handed Jazz, winning the first leg of an arduous back-to-back.
The Blazers dominated at times defensively against the short-handed Jazz, winning the first leg of an arduous back-to-back.
Notes, analysis, observations, clips and more from the Trail Blazers' convincing 105-98 win over the Utah Jazz on Wednesday at Vivint Smart Home Arena.
Jusuf Nurkic played one of the best games of his career despite going 3-of-14 from the field. Rudy Gobert, about to become the fourth player ever to win Defensive Player of the year three times, played a huge role in Nurkic's labors around the rim, not to mention the Blazers' overall struggle to finish. Portland was terrified of Gobert, and rightfully so. But there's a case to be made that Nurkic was the best defender on the floor Wednesday regardless, one forcefully supported by the box score. Three steals and four blocks actually are eye-popping enough totals to convey just how dominant Nurkic was defensively. He accounted for an endless amount of the same subtle plays that make Gobert such an impactful defender, too, affecting both man and ball in pick-and-roll to shutoff pathways to score. Joe Ingles got nowhere the several possessions he went at Nurkic on the perimeter after switches. The Bosnian Beast really was a monster against the Jazz, rising to the occasion when his team needed him – not just because Portland was streaky on offense, but due to the gravity of its last three games. The Blazers enter Thursday's tilt with the Phoenix Suns at fifth in the West with two games left to play, still controlling their own destiny, and Nurkic's play is the most significant among many reasons why.
It's misleading to champion Portland's defense – even Nurkic's individual brilliance – without mentioning Utah was absent its two best offensive players. The Jazz were often left with nowhere to go sans Mike Conley and Donovan Mitchell, sorely lacking any semblance of off-dribble burst and one-on-one creation beyond Jordan Clarkson. Trent Forrest being pressed into action alone made life much easier on the Blazers; they literally left him alone beyond the arc at times, and treated Miye Oni with similar disrespect away from the ball. Switching across five positions was a much more palatable option, or maybe even just an option at all, because Utah's star guards were sitting. Portland amped up its energy and activity defensively after a slow start, playing passing lanes and swiping at dribbles with as much aggression as it has all season. Nurkic wasn't the only standout; he had a lot of help defensively. But in a game of this magnitude and intensity, especially, the Jazz were fighting uphill on offense from when the starting lineups were announced.
The Blazers, out of sync offensively early, came alive during the second quarter, when C.J. McCollum and Carmelo Anthony got working in a two-man game that briefly seemed unstoppable. Whether Anthony was popping for threes, McCollum was stopping short for pull-up twos, Anthony got a size mismatch in the post, or McCollum was splashing step-back triples, the Jazz had absolutely no answer. Not involved in that action? Gobert, stationed near the rim as two of basketball's preeminent shot-makers worked their magic at the top of the floor. Portland knew it would need to subsist even more on tough jumpers with Gobert in the middle, and ultimately got it done. Kudos to not just McCollum, Anthony and Damian Lillard, but also Terry Stotts for a gameplan that embraced the Blazers' strengths and minimized the Jazz' biggest one.
Another feather among the many in Stotts' cap on Wednesday? An elevator-doors action for Lillard on the game's opening possession that netted a missed open triple. 
Lillard shrugged off an ugly shooting start, including an air-ball pull-up two, to finish with 30 points and six assists on 10-of-20 shooting. He often played backseat to a hot McCollum, letting the game come to him while fending off dogged individual defense from Royce O'Neale. Lillard, like always, was at the top of Utah's scouting report, and Quin Snyder would probably be at least somewhat pleased with his team's effort against one of basketball's most dangerous playmakers. He didn't even shoot the ball all that well. None of it mattered. Lillard is that good, and in that much of a groove at the perfect time.
Anthony was huge off the bench, dropping 18 points on 7-of-13 shooting. His dagger, off-dribble 20-footer over Gobert late in the fourth quarter, right in front of the Jazz bench, put Portland up 16 and caused Quin Snyder to waive the white flag. Still, shameless ball-hogging sequences like the one below are just unacceptable at this point of the season. Let's hope 'Melo drops them in the playoffs.
Portland committed just five turnovers on Wednesday, forcing 10. In a game played at an absolute snail's pace, that possession advantage really matters – especially due to Utah winning the battle on the offensive glass 15-9.
Nurkic has been awesome as a playmaker recently, adding a much-needed wrinkle to the Blazers' offensive attack. Assist totals be damned, he wasn't quite so impactful with the pass against the Jazz. Well, except on this pinpoint, 80-foot baseball pass to streaking McCollum.
Next up: at Phoenix Suns on Thursday, 7:00 p.m. (PST)