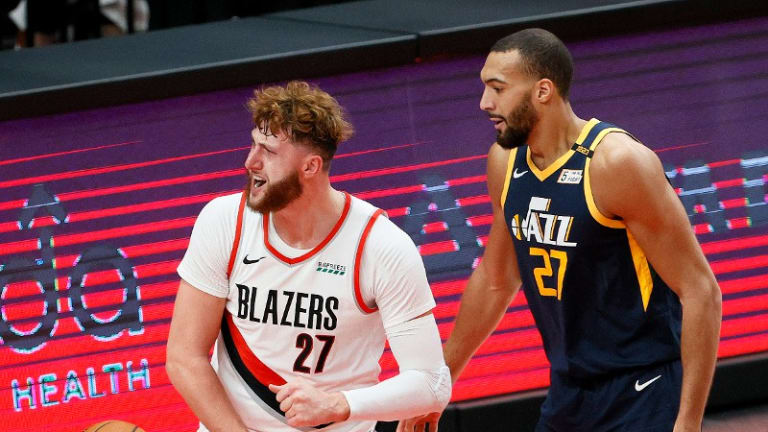 Pregame: The Jazz Won't Go Quietly Without Donovan Mitchell and Mike Conley
Utah is without its star guards against Portland, but has plenty to put up a tough fight in a huge game for both teams.
Utah is without its star guards against Portland, but has plenty to put up a tough fight in a huge game for both teams.
Opponent: Utah Jazz (50-19 overall, 6-4 last 10 games)
Offensive Rating: 116.7 (fourth)
Defensive Rating: 107.7 (third)
Net Rating: +9.0 (first)
Where: Vivint Smart Home Arena (Salt Lake City)
When: 6:30 p.m. (PST)
Broadcast: ESPN
Point Spread: Utah -1.5
Moneyline: Utah -118, Portland +100
Over/Under: 234.5
Injuries/Health
Utah: Mike Conley (out), Donovan Mitchell (out), Juwan Morgan (out)
Portland: Zach Collins (out), Nassir Little (questionable)
Primer: Mike Conley and Donovan Mitchell have made a convincing case as the West's best backcourt this season, but that hardly means Utah is just as toothless without them as Portland would be sans Damian Lillard and C.J. McCollum. The quick-hitting, egalitarian, ball-screen heavy offense implemented by Quin Snyder is nearly as ingrained a part of the Jazz's identity as their one-man system on the other side of the ball.
Utah is 6-2 since April 28, when Conley joined Mitchell on the sidelines. The Jazz's best win over that timeframe came against the Jamal Murray-less Denver Nuggets. They've mostly beaten up on inferior competition otherwise, with the exception of a loss to the Golden State Warriors on Monday.
But Utah's success of late without its star guards is backed up by season-long numbers, too. Lineups absent Conley and Mitchell boast an impressive +8.2 net rating, per Cleaning the Glass, accomplished by a 117.4 offensive rating and 109.2 defensive rating. Even units without Rudy Gobert as well possess a positive net rating, a testament to the Jazz's consistency and commitment to scheme.
Still, Gobert is Utah's two-way linchpin, with or without Conley and Mitchell. Creases in the defense caused by his imminent threat as a roll man aren't quite as wide or readily available when Joe Ingles and Royce O'Neale are running ball screens and dribble hand-offs, but Gobert's length, footwork and touch around the rim have made him tough to stop regardless. His sky-high field goal percentage is actually slightly better this season when Conley and Mitchell are off the floor, per NBA.com/stats.
The other end is where Gobert provides unmatched value, en route to a third Defensive Player of the Year award in four seasons. His rim-protecting bonafides need no explanation; there isn't a more intimidating or effective presence at the basket than Gobert. He's been more adept than ever this season sliding his feet on the perimeter and switching onto guards, too.
Don't expect Snyder to pull his switch card with Gobert on Wednesday, though, at least not against Lillard and McCollum. He'll save that for when the Jazz need it most in the playoffs. As a result, expect the Blazers to put Gobert in ball-screen action over and over, yielding lanes to the rim for rollers and release valves on the opposite side of the floor. This is a shot, for instance, Jusuf Nurkic has been finishing consistently of late.
Ingles, short-handed Utah's best playmaker, has taken the mantle from Jordan Clarkson as the presumptive Sixth Man of the Year. But it's the latter, now below league-average in true shooting after a hot start to the season who will be sopping up most of the usage normally reserved for Conley and Mitchell – a potential win for Portland. 
Don't sleep on Bojan Bogdanovic, either. His 48-point outing against the Nuggets wasn't a total outlier; Bogdanovic has scored 20 or more points in every game Conley and Mitchell have missed since late April.
Bottom Line: Utah, the league's highest-volume three-point shooting team, relies even more on the long ball without Conley and Mitchell, per Cleaning the Glass. If Portland can come close to matching the Jazz from beyond the arc, it should produce enough offense elsewhere to get another huge win.