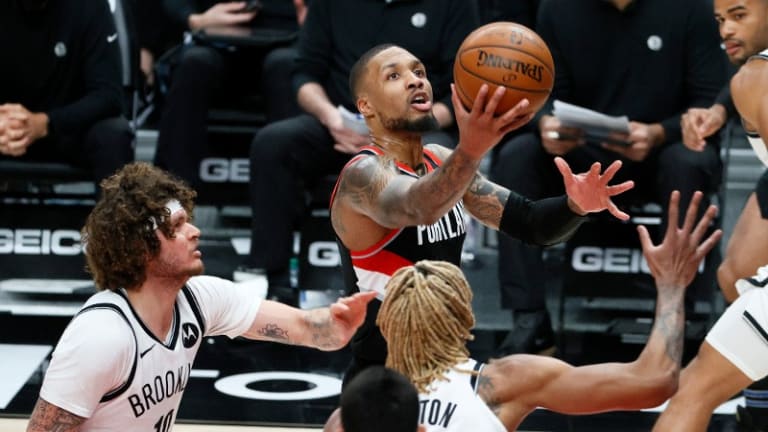 Pregame: The Nets Are Still Plenty Dangerous With A Single Superstar
Kyrie Irving may be the only superstar on the floor for Brooklyn Friday night, but Portland can't get complacent either way.
Opponent: Brooklyn Nets (43-20 overall, 7-3 last 10 games)
Offensive Rating: 117.4 (first)
Defensive Rating: 112.9 (24th)
Net Rating: +4.4 (seventh)
Where: Barclays Center (Brooklyn)
When: 5:00 p.m. (PST)
Broadcast: NBA TV
Point Spread: Portland -1.5
Moneyline: Portland -120, Brooklyn +102
Over/Under: 241
Injuries/Health
Brooklyn: Bruce Brown (out), Nicolas Claxton (out), Spencer Dinwiddie (out), Kevin Durant (questionable), Blake Griffin (questionable), James Harden (out), Kyrie Irving (questionable)
Portland: Zach Collins (out)
Primer: No one in Rip City needs a reminder of the team-wide success a single star can drive in Steve Nash's system with the Brooklyn Nets. 
James Harden dropped 25 points and 17 assists on the Trail Blazers on March 23rd, leading his team to 116-112 win despite playing without Kevin Durant and Kyrie Irving. Not even major shooting struggles kept Harden from maximizing the Nets' offense sans his fellow superstars. Brooklyn put up a 119.6 offensive rating against Portland, comfortably better than their league-leading season-long mark, even though Harden missed all seven of his threes and barely managed more points than field goal attempts.
Harden won't play on Friday night, still sidelined by a right hamstring injury he suffered in early April. Less than 24 hours after exploding for 42 points and 10 assists in a romp over the Indiana Pacers, Kevin Durant is likely out, too, resting on the second night of a back-to-back.
Nash said after Thursday's game he's hopeful Kyrie Irving, dealing with a groin injury, will play against Portland. Irving isn't quite on the all-time plane of offensive impact reserved for Durant and Harden, but his otherworldly shooting and ball-handling ability still makes him an extremely tough cover in the Nets' heliocentric attack.
Brooklyn has scored 120.8 points per 100 possessions when Irving is on the court without Durant and Harden, per Cleaning the Glass, an elite number. His usage in those circumstances? A massive 33.2 percent, according to NBA.com/stats. 
Irving isn't especially efficient flying solo, and though his assist numbers skyrocket, he's not the one-man table-setter of Harden and lacks the size to make some simple passing reads that are available to Durant. He presents a major challenge to Portland in one-on-one defense, though, as well as ball-screen situations. 
Expect the Blazers to extend their defense further up the floor than normal. This might be another game Terry Stotts goes out of his way to avoid matching Enes Kanter's minutes with the opposing point guard's, instead opting to go small with Rondae Hollis-Jefferson at nominal center when Jusuf Nurkic needs a blow.
The most interesting potential rotational wrinkle to watch for Portland? Whether Derrick Jones Jr., who notched a DNP-CD in the Blazers' last game, gets off the bench to tangle with Irving. He's no full-fledged stopper, obviously, but his length, quickness and active hands still make Jones Portland's best option against a perimeter wizard like Irving.
Bottom Line: The Blazers have caught another injury break, set to face an opponent missing stars. If those last two dominating wins really marked a turning point, Portland should have enough to beat a depleted, tired Nets team.