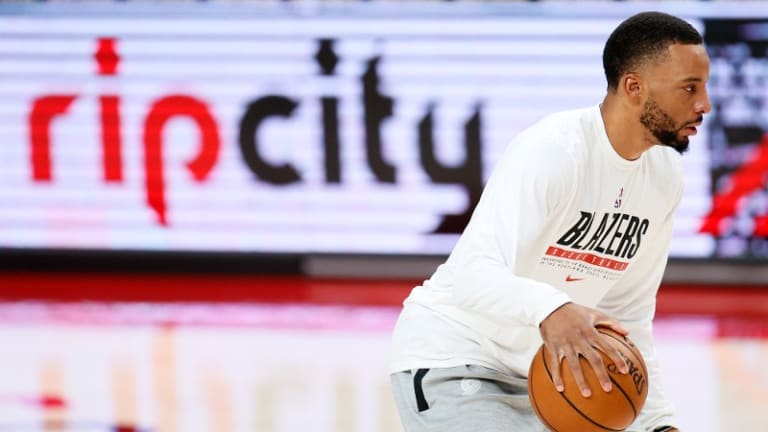 Blazers Approved To Allow Fans At Moda Center Beginning Friday
A slight decline in COVID-19 case rate means Portland will allow fans at Moda Center later this week.
A slight decline in COVID-19 case rate means Portland will allow fans at Moda Center later this week.
The Trail Blazers' game against the Los Angeles Lakers on Friday isn't just their biggest of the season, but perhaps the most important single matchup of 2020-21 league-wide. Good thing for Portland, then, that it seems poised to have some semblance of real home-court advantage for the first time since last March.
The Blazers have been approved to allow 10 percent capacity at Moda Center beginning on Friday, the team announced.
Ticket presales begin Thursday morning, and will be offered to a select group of interested fans, including tenured season-ticket holders and families of players. Among other measures dedicates to stopping the spread of COVID-19, attending fans will be required to wear a mask while not eating and drinking, as well as successfully complete a mandatory health screening on the Trail Blazers mobile app.
John Canzano of The Oregonian first reported the news on Tuesday, also noting that Portland is expected to extend its capacity to 20 percent of the normal maximum allowed at Moda Center come the postseason.
The Blazers are one of just three NBA teams yet to play in front of home fans this season, along with the Chicago Bulls and Oklahoma City Thunder. The Bulls are slated to allow fans at United Center beginning Friday, too, while the Thunder announced in March that Chesapeake Energy Arena would be empty for the duration of the 2020-21 season.
The change comes less than a day after Damian Lillard made headlines by complaining on Twitter that Moda Center was one of the league's only arenas yet to be approved for fan attendance. C.J. McCollum then chalked up the Blazers' backwards home-road records to only playing in front of fans away from Rip City, with Lakers veteran Jared Dudely also bemoaning Portland's competitive disadvantage compared to other foes.
While there's been rampant speculation on social media that pressure provided by Lillard's tweet prompted Governor Kate Brown to ease restrictions at Moda Center, an unexpected and minuscule dip in patients hospitalized with COVID-19 is the actual reason for the change. Oregon's rate of coronavirus hospitalizations in the last seven days grew by 14.9 percent, a hair less than the 15.0 percent that had mandated Multnomah County – home to Moda Center – and others be moved to "Extreme Risk" levels, per The Oregonian. 
The Blazers and Lakers are locked in a heated battle with the Dallas Mavericks to finish sixth in the West, thus avoiding the play-in tournament. Portland currently sits a game back of both teams in the standings, with Friday's highly-anticipated deciding the head-to-head tiebreaker between the Blazers and Lakers.