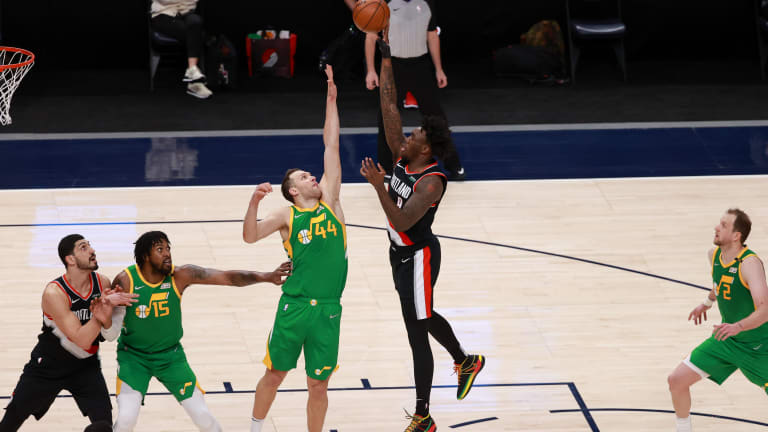 Blazers Decide There's 'No Need' for Nassir Little to Play Summer League
The Athletic's Jason Quick reports that Nassir Little won't play for the Blazers in Summer League after impressing in practice.
Summer League action seemed the perfect opportunity for Nassir Little to prove himself to the Trail Blazers' new coaching staff while stretching his wings offensively. But the rising third-year wing's performance in the lead-up to Las Vegas apparently left Chauncey Billups and company so impressed they don't need to see any more.
According to The Athletic's Jason Quick, Portland has pulled Little from its Summer League roster, deciding there's "no need" for him to suit up in Sin City after his play in practice this week.
Little, the No. 25 overall pick of the 2019 draft, took significant yet easily overlooked strides as a sophomore, beset by an inconsistent nightly role in Terry Stotts' rotation. He averaged 4.6 points and 2.7 rebounds in 13.3 minutes per game over 48 appearances, shooting 46.7 percent overall 35.0 percent on threes—the latter of which was the most encouraging sign of his development.
Following a red-hot start that made him the league's most accurate, if low-volume, three-point shooter, Little cooled off as the season wore on. Still, he took a completely new approach to leveraging the arc in 2020-21, confidently stepping into triples from all over the floor when left open and attacking aggressive close-outs as defenses adjusted.
At 6-foot-5 with a ridiculous wingspan and sturdy frame, Little possesses the raw defensive tools needed to make an impact as a multi-positional defender when Chauncey Billups goes small. The Blazers' newfound commitment to ball and player movement offensively is a good fit for Little's quick decision-making and vertical pop around the rim, too.
Watching Little test his limits as a primary scorer and on-ball creator was going to be Portland's biggest draw in Las Vegas. But with high-flying second-round pick Greg Brown and two-way rookie Trendon Watford on the Summer League roster, the summer Blazers still offer plenty of intrigue for team die-hards—despite the puzzling inclusions of Michael Beasley, Kenneth Faried and, to a lesser extent, Emmanuel Mudiay on the roster.
Portland tips off Summer League play on Sunday against the Charlotte Hornets at 3:00 p.m. (PST) on ESPN3.