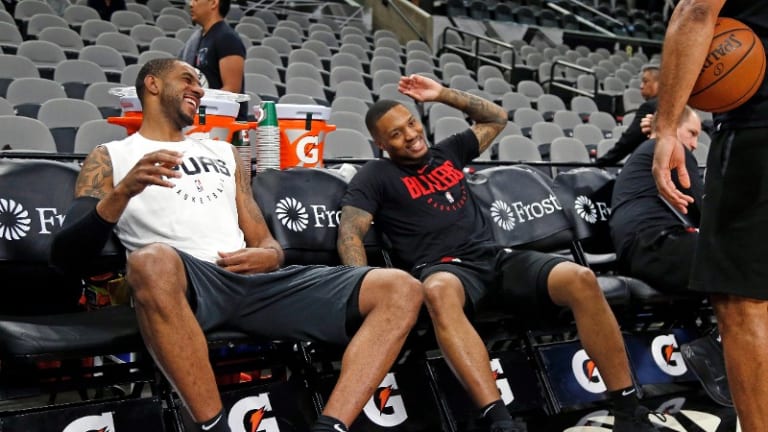 Damian Lillard Calls For Blazers To Retire LaMarcus Aldridge's No. 12
On "Jalen and Jacoby," the Blazers' franchise player made a compelling case for his former teammate in Rip City.
On "Jalen and Jacoby," the Blazers' franchise player made a compelling case for his former teammate in Rip City.
It wasn't more than a few hours after LaMarcus Aldridge announced his sudden retirement that Portland's most powerful voice weighed in on his local legacy.
During a Thursday morning appearance on Jalen and Jacoby, Damian Lillard called for the Trail Blazers to raise his former teammate's jersey to the Moda Center rafters, retiring Aldridge's number along with those of other franchise legends.
"It's time for the Trail Blazers to retire No. 12," Lillard said. "He had an amazing career in a Trail Blazers uniform. I think everyone was expecting him to return, he ended up leaving, and it was kinda like people felt some type of way about it. But there's no denying the kind of career he had in Portland and what he meant to this city. So I think that's the proper respect, to retire that jersey because of who he was and what he did for this organization."
Aldridge, the second overall pick of the 2006 draft, played nine of his 15 NBA seasons in Portland. He was named an All-Star four times during his tenure with the Blazers, leading the team to five playoff berths.
Aldridge sits high atop franchise leaderboards in several statistical categories. He ranks first all-time in rebounds, third in points, fourth in minutes and fifth in total games played.
Terry Stotts, Aldridge's coach for three seasons, credited the seven-time All-Star for the Blazers' success during the early part of his tenure in Portland.
"My second and third year, we overachieved primarily because of him and what he brought to the table," Stotts said on Thursday. "...My first three years, he was the foundation."
Aldridge, obviously, boasts the statistical resumé of a player deserving to have his jersey retired, and the eye test of his time with the Blazers speaks for itself. Bill Walton and Clyde Drexler rank above him in Portland's all-time player hierarchy, but no other player throughout team history has an open-and-shut case as being better and more impactful than Aldridge.
The problem? His surprise departure for the San Antonio Spurs still leaves a bitter taste in the mouths of many fans, despite Aldridge and Lillard mending their frayed relationship in recent years. They even talked publicly about teaming up together again before Aldridge parted ways with the Spurs last month.
Time heals wounds, and Lillard's opinion is a factor that certainly won't go overlooked. Neil Olshey praised Aldridge on Thursday, too, calling him "one of the best players in the history of the franchise."
Will all that be enough for the Blazers to make Aldridge the 11th player in team annals to have his number retired? As Lillard said, it would definitely be "the proper respect" for a player of Aldridge's influence and caliber.