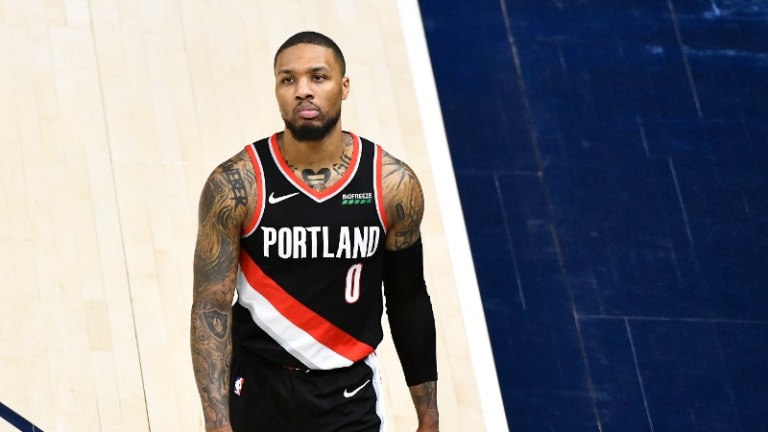 Damian Lillard Out Versus Spurs With Right Hamstring Issue
The Blazers' franchise guard has been dealing with right leg issues for weeks.
The Blazers' franchise guard has been dealing with right leg issues for weeks.
UPDATE: Just over 90 minutes before tipoff, the Blazers announced that Lillard will miss Friday's game against the Spurs with right hamstring tendinopathy.
PREVIOUSLY: C.J. McCollum has been fully healthy for weeks, and Jusuf Nurkic seems to be turning the corner. Regardless, the Trail Blazers may not be at full-strength against the San Antonio Spurs.
Less than four hours before tipoff, Portland announced that Damian Lillard's status for Friday night's game has been updated to questionable due to right hamstring tendinopathy.
Lillard wasn't previously on the Blazers' injury report. 
On March 26th, as Nurkic returned to the lineup and Norman Powell made his Portland debut, Lillard sat out against the Orlando Magic with lingering soreness in his right knee. He's played every game since, and a few days later expressed optimism about his health while detailing his list of nicks and pains this season.
"Against New York I got kneed in my right knee," Lillard said on March 31. "Then against OKC, at OKC, I got kneed in my left knee. It was like a bruise on both of my quad tendons...It was kind of limiting my movement, it was limiting how I dip into my jumpshot...I think the second game against Dallas, I got kneed in that same spot again...And then the Miami game, at the end of the game I got kneed in my right one again."
Lillard seemed to avoid any further injury in Tuesday's loss to the Boston Celtics despite banging knees with Jayson Tatum while trying to stymie a fast break. Though both players were in obvious pain after their collision, each ended up staying in the game, guiding their teams to a thrilling finish.
Is Lillard's hamstring tendinopathy connected to that specific incident? Maybe not, but either way it's safe to say his state of weeks-long discomfort is playing a part in his potential absence on Friday night. The recklessly breakneck pace of this condensed regular season, especially in conjunction with the inordinate offensive load Lillard has shouldered, is surely a contributing factor, too.
If Lillard is unable to play against San Antonio, expect Terry Stotts to shift C.J. McCollum to point guard and re-insert Anfernee Simons in his rotation.
Portland and San Antonio tipoff at 5:30 p.m. (PST).