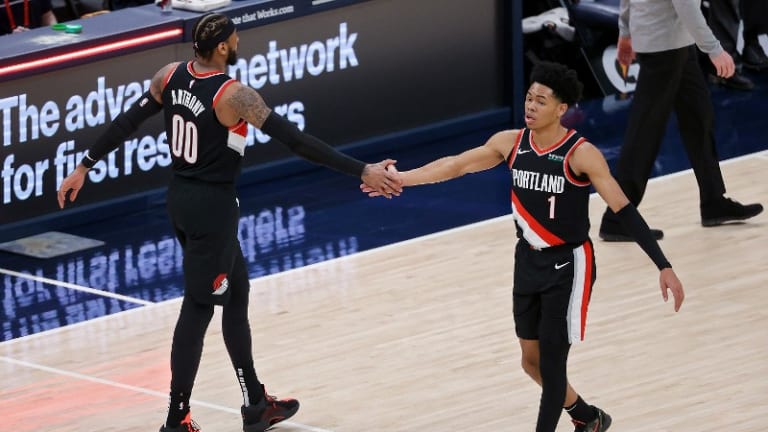 Damian Lillard Wasn't Surprised By Anfernee Simons' Record-Tying Night
Anfernee Simons' nine threes weren't a shock to Damain Lillard, who still belives in his teammates' potential.
Not even Damian Lillard has been on the scorching-hot shooting binge Anfernee Simons enjoyed on Tuesday night. The third-year guard drained his first nine three-point attempts in the Trail Blazers' blowout win over the Indiana Pacers, coming within a single make of setting a new NBA record.
Simons' tenth and final triple, a heat check he copped to after the game, was off the mark, robbing him of a singular place in league record books. Considering how much he's improved this season and the unwavering belief a player like Lillard has in him, though, it may be only a matter of time until Simons writes his own history again.
"I'm his biggest supporter," Lillard said of Simons. "I just got a lot of confidence in him. I know how talented he is, I know how much ability he has, and when he gets in those positions I'm just always trying to encourage him to keep going. Don't be shy, don't worry about what people might think."
Outside of Portland, there's a sense that Simons hasn't taken the strides in 2020-21 the team has long expected of him. He's getting fewer minutes than last season, after all, and hasn't done enough on either end to own a permanent, no-brainer spot in Terry Stotts' rotation.
The dunk-contest winner has just 18 makes in the restricted area, too, shooting a below-average 52.9 percent on those attempts. His overall 38.4 percent mark on twos ranks second-lowest in the NBA among players who have notched at least 800 minutes this season, per Stathead.
Needless to say, that's not exactly the resumé of a youngster primed for stardom. But the eye test has been far more favorable to Simons this season, both offensively and defensively, and his long-range shooting ability was living up to pre-draft expectations even before Tuesday's barrage.
Lillard certainly doesn't seem to be discouraged about Simons' development, either.
"The level of talent that [Simons has], and the ceiling that he has and how good he can he, we've got to allow him to grow into that and I think moments like tonight play into that," he said.
Consistency has been Simons' biggest problem since late December. We'll find out on Wednesday night if his breakout performance against Indiana helps him find it in the Blazers' most important game of the season.