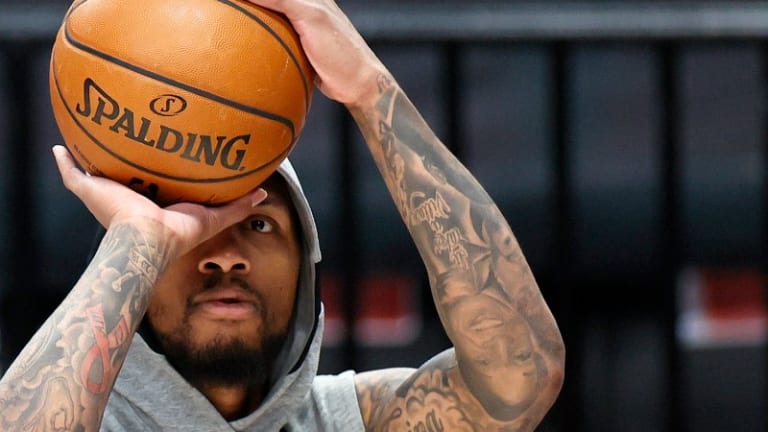 At 2019 All-Star weekend, Damian Lillard teased a potential collaboration with J. Cole. One full album release and multiple singles including high-profile features later, Dame D.O.L.L.A. has yet to appear in a song with the Dreamville rapper – well, at least on their own original track together.
On "p u n c h i n ' . t h e . c l o c k," the fifth offering from J. Cole's highly-anticipated new album The Off-Season, distorted audio of Lillard's most iconic interviews serve as the intro and outro.
After dropping 61 points – his second straight game of 50-plus –with the Trail Blazers' back against the wall in a win over the Dallas Mavericks last August in the NBA bubble, Lillard, who dominated the fourth quarter, was asked how badly he wanted the victory. His instant-classic answer plays over the first 20 seconds of "p u n c h i n ' . t h e . c l o c k."
"It ain't nothin' I want more. Ain't nothin' I want more. I told you when I first came here, I said 'I ain't come here to waste my time.' I came here...they gave us a chance to get in like we asked for, and that's what we here to do. Job still ain't done, but I said, 'You know what I'm here for.'"
Cole saves the final portion of "p u n c h i n ' . t h e . c l o c k" to immortalize the most memorable moment of Lillard's career: His game-winning 35-footer over the outstretched arms of Paul George to send the Oklahoma City Thunder packing from the 2019 playoffs. 
On the post-game interview podium, Lillard was asked how he summoned the energy to launch off the dribble from near halfcourt in the final moments of a hard-fought elimination game. 
"A lot of times, those situations are handled way before the time comes. In the summer I think when you truly prepare yourself, with training and conditioning and things like that, when you cheat yourself, you fail in those moments, You crash. When you really put the time in, whether will people see it or whether people will know it or not, it will always come to light."
Lillard, not to mention C.J. McCollum, certainly didn't seem to mind Cole sampling him on The Off-Season.
Cole is currently in Rwanda, prepping for his debut on Sunday with the Rwanda Patriots in the inaugural game of the Basketball Africa League. The 36-year-old tried out for the St. John's University basketball team as a walk-on before turning to music full-time. 
Cole's inclusion in the Basketball Africa League, at least on the surface, seems as much like a publicity gimmick as it does an indication of his current ability on the floor. But if he summoned the relentless work ethic and unwavering confidence that's propelled Lillard to superstardom while training for his basketball comeback, Cole is almost bound to prove he belongs come Sunday.