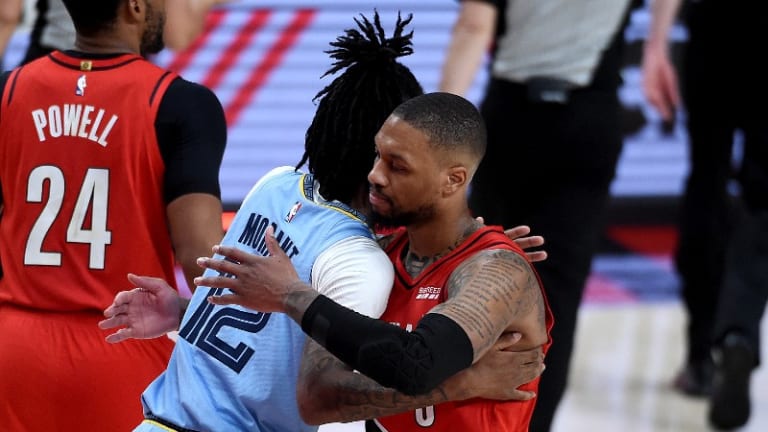 Mutual Respect Between Damian Lillard and Ja Morant Keeps Growing
After Wednesdays' game, Ja Morant went out of his way to praise Damian Lillard for paving the way.
There's no love lost between the Portland Trail Blazers and Memphis Grizzlies. Just because on-court chirping and a year of jockeying in the standings have made their teams basketball's newest rivals, though, hardly means there isn't loads of mutual respect between Damian Lillard and Ja Morant.
After Portland's statement win over Memphis on Wednesday, Morant went out of his way to pay Lillard tribute on Twitter, acknowledging the small-school beginnings that will tie them together forever.
Morant played two seasons at Murray State before the Grizzlies selected him with the second overall pick of the 2019 draft. Lillard, of course, was a four-year player at Weber State prior to the Blazers plucking him with the sixth pick of the draft nine years ago.
The adulation Morant and Lillard hve for each other has long been established. In February, Lillard named his Memphis counterpart as his favorite young star to watch.
Lillard isn't the only star in Portland's backcourt to share mid-major beginnings with Morant. C.J. McCollum does, too, a two-time All-American at Lehigh leading up to the 2013 draft, where the Blazers took him tenth overall.
After the play-in game last August, when Morant racked up 35 points while fighting like hell to bring his team back from an early double-digit hole, Lillard and McCollum spoke glowingly of the Grizzlies' budding superstar. Morant shared the love on social media, appealing to their similar experience as small-college stars, prompting McCollum to express support for him again.
Games between Portland and Memphis may only grow more contentious going forward, a virtual guarantee if they meet under play-in stakes again come May. Regardless, the bond between their mid-major leaders seems bound to persist – paving the way for more under-recruited NBA success stories to come.