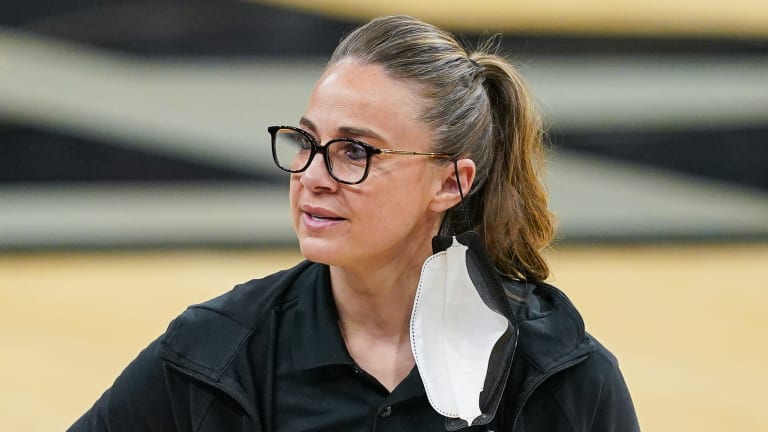 Report: Blazers' Background on Becky Hammon 'Not Complimentary' of Coaching Abilities
The Blazers reportedly didn't hire Becky Hammon as coach partially due to intel from the Spurs casting doubt on her coaching abilities.
It's abundantly clear by now that the Trail Blazers' coaching vacancy was always Chauncey Billups' to lose. Still, ownership's supposed push for Becky Hammon undoubtedly would have been more fruitful if Portland's vetting process yielded better intel on the league's most high-profile female assistant coach.
According to Bleacher Report's Jake Fischer, the Blazers' background info on Hammond from the San Antonio Spurs cast doubt on her ability to manage "day-to-day coaching responsibilities"—concerns also voiced by other personnel league-wide.
Hammon impressed Portland officials and was generally liked among Blazers staffers, sources said. But when Portland reached out for intel from San Antonio figures, the background on Hammon was not nearly as complimentary pertaining to various aspects of day-to-day coaching responsibilities. That sentiment has been echoed by sources around the league. 
Why Hammon's chair has continued moving closer and closer to Gregg Popovich's on San Antonio bench despite her apparent deficiencies as a coach is anyone's guess. 
She was hired as an assistant with the Spurs in 2014, then promoted to the "front of the bench" in 2018. In December, Hammon became the first acting female head coach in league history when Popovich handed her the keys after getting ejected early in a loss to the Los Angeles Lakers.
It's impossible to separate Hammon's gender from the reported collective notion that she lacks what it takes to thrive as a head coach. Her time on San Antonio's bench speaks for itself, and unlike the coaching resumé of South Carolina women's coach Dawn Staley—another woman Portland considered to replace Terry Stotts—makes her one of the most objectively qualified NBA head-coaching candidates in all of basketball. 
Maybe Hammon's breadth of strategic knowledge still needs expanding. Maybe her interpersonal coaching skills are best suited for an assistant's role. This latest reporting, coupled with her inability to land a lead job in previous offseasons, at least allows for those possibilities.
But gender biases are built-in everywhere, let alone the hyper-macho world of major professional sports. Until Hammon finally gets the chance to coach her own team—an expectation her job title with San Antonio certainly suggests she deserves—critiques of her ability to do so must be taken with a grain of salt.
[Jake Fischer, Bleacher Report]