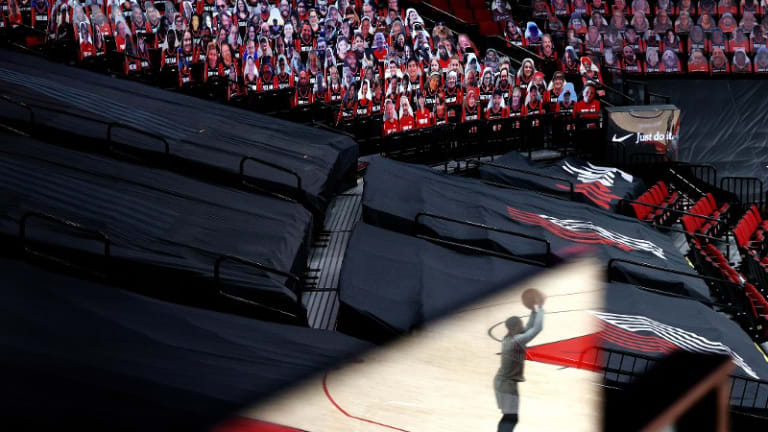 Report: Blazers Could Allow More Fans At Moda Center With 'Vaccinated' Sections
Reading the tea leaves makes it clear that Portland believes it can extend its capacity at Moda Center for playoff games.
Other than the Oklahoma City Thunder, the Trail Blazers were the last team in the NBA to play in front of home fans this season. 
Portland kicked off opening Moda Center at 10 percent capacity on May 7 with a signature win over the Los Angeles Lakers, and won its next three games in Rip City to finish the regular season an unblemished 4-0 at home. Needless to say, the Blazers would love the opportunity to play in front of more than approximately 1,900 fans for their first-round series against the Denver Nuggets, one many analysts consider a tossup.
The bad news? The original presale for playoff tickets scheduled for Thursday has been pushed to next week. The good news? As The Oregonian's Brad Schmidt notes, that could be a sign of Portland anticipating additional fans being permitted to Moda Center for postseason games as restrictions in Multnomah County potentially loosen.
More reason to believe Moda Center's current 10 percent capacity will increase going forward? The Blazers' TicketMaster site revealing what appear to be options for "Vaccinated" and "Unvaccinated" sections for upcoming home games.
Damian Lillard received widespread credit for Moda Center opening up to fans in the first place. His tweet lamenting that Portland was the only team in the NBA not to play in front of fans came 24 hours prior to Governor Kate Brown re-classifying Multnomah County below "Extreme Risk" for COVID-19, after its rate of virus hospitalizations came in at 14.9 percent – a hair below the established 15.0 percent threshold.
Lillard, of course, had no actual bearing on the Governor's decision. But if the Blazers indeed have separate sections for vaccinated fans going forward, expect C.J. McCollum to get some undue praise, too.
While watching the instant-classic play-in game on Friday night between the Lakers and Golden State Warriors, he quipped about the idea of a vaccinated section on Twitter. 
The Lakers welcomed 6,022 fans to Staples Center for another bout between LeBron James and Steph Curry, at 32 percent capacity largely due to including seats for vaccinated patrons.
It bears mentioning that Moda Center's adjusted capacity likely wouldn't near McCollum's hope of 15,000 fans even if it made space for vaccinated sections. Every little bit of home-court advantage helps, though. Even a slight increase in capacity could be the difference between Portland winning and losing a home game to Denver, extra crucial with the third-seeded Nuggets holding home-court advantage.
Keep an eye on this situation as it continues unfolding. In a series most believe will go six or seven games, it could be a major swing factor – especially considering how loud Rip City denizens gets for the playoffs.
[h/t Brad Schmidt, @paintnpdx]