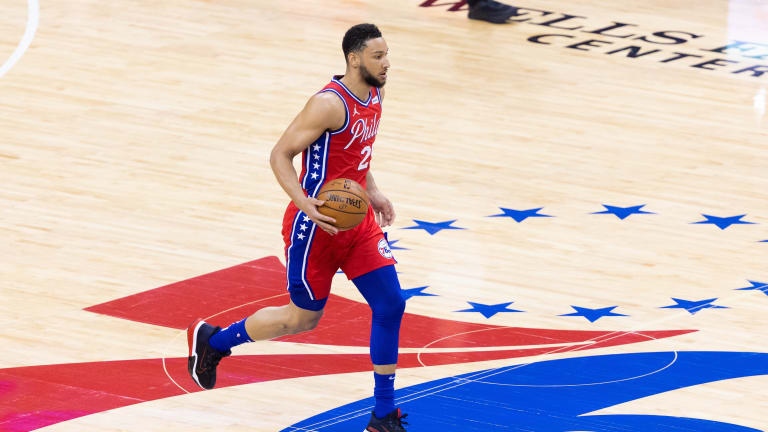 Report: Sixers 'Hope' to Trade Ben Simmons on Draft Night
Jason Dumas of Bleacher Report reports that the Sixers hope to trade Ben Simmons on draft night. What does that mean for Portland?
Jason Dumas of Bleacher Report reports that the Sixers hope to trade Ben Simmons on draft night. What does that mean for Portland?
The Philadelphia 76ers appear to have reached their tipping point with Ben Simmons. Well, at least if Daryl Morey receives the king's ransom he's reportedly seeking in exchange for the former No. 1 overall pick.
According to Jason Dumas of Bleacher Report and KRON 4 News, the Sixers have hopes of trading Simmons during Thursday's NBA draft.
The writing's been on the wall for Simmons' future in Philadelphia since the Eastern Conference Finals, when his complete unwillingness to even try and score in the halfcourt sunk the Sixers offensively in a disappointing loss to the underdog Atlanta Hawks. 
Though Philadelphia quickly backtracked on pointed, post-series critiques of Simmons, recent reporting indicates the relationship between team and player is beyond repair. The Sixers initially talked a big game about a collaborative plan for offseason training this summer, but have purportedly been unable to reach Simmons in recent weeks.
The Blazers quickly emerged as betting favorites to acquire Simmons in wake of Philadelphia's elimination from the playoffs, netting the former Rookie of the Year in a prospective swap for C.J. McCollum. Portland has been hesitant to embrace significant roster turnover even in the aftermath of Damian Lillard's mandate for change, however, and early reporting suggested a deal centered around McCollum wouldn't meet the Sixers' asking price.
That's only been further confirmed in the interim, with Philadelphia reportedly seeking a trade package for Simmons comparable to the haul the Houston Rockets got from the Brooklyn Nets in exchange for James Harden. 
According to Matt Moore of The Action Network, Morey responded to the Toronto Raptors' interest in Simmons with a counteroffer that would have sent Kyle Lowry, Fred Van Vleet, O.G. Anunoby and the No. 4 overall pick to the City of Brotherly Love. Masai Ujiri, predictably, rejected those parameters, but they nevertheless provide insight into the type of hard bargain Philadelphia is driving in Simmons discussions. 
The worst kept secret in basketball is that the Sixers have eyes for Lillard, but it'd be stunning if the Blazers dealt the best player in franchise history before turning over other stones of team-building. Neil Olshey should certainly stay apprised of Simmons' situation on draft night regardless of Philadelphia's obvious preference for Lillard over McCollum. 
But if Simmons changes teams on Thursday, odds are he lands somewhere other than Rip City, leaving the Blazers with one less major trade avenue to take as Lillard's frustration bubbles.