What the numbers mean: Ranking all 32 teams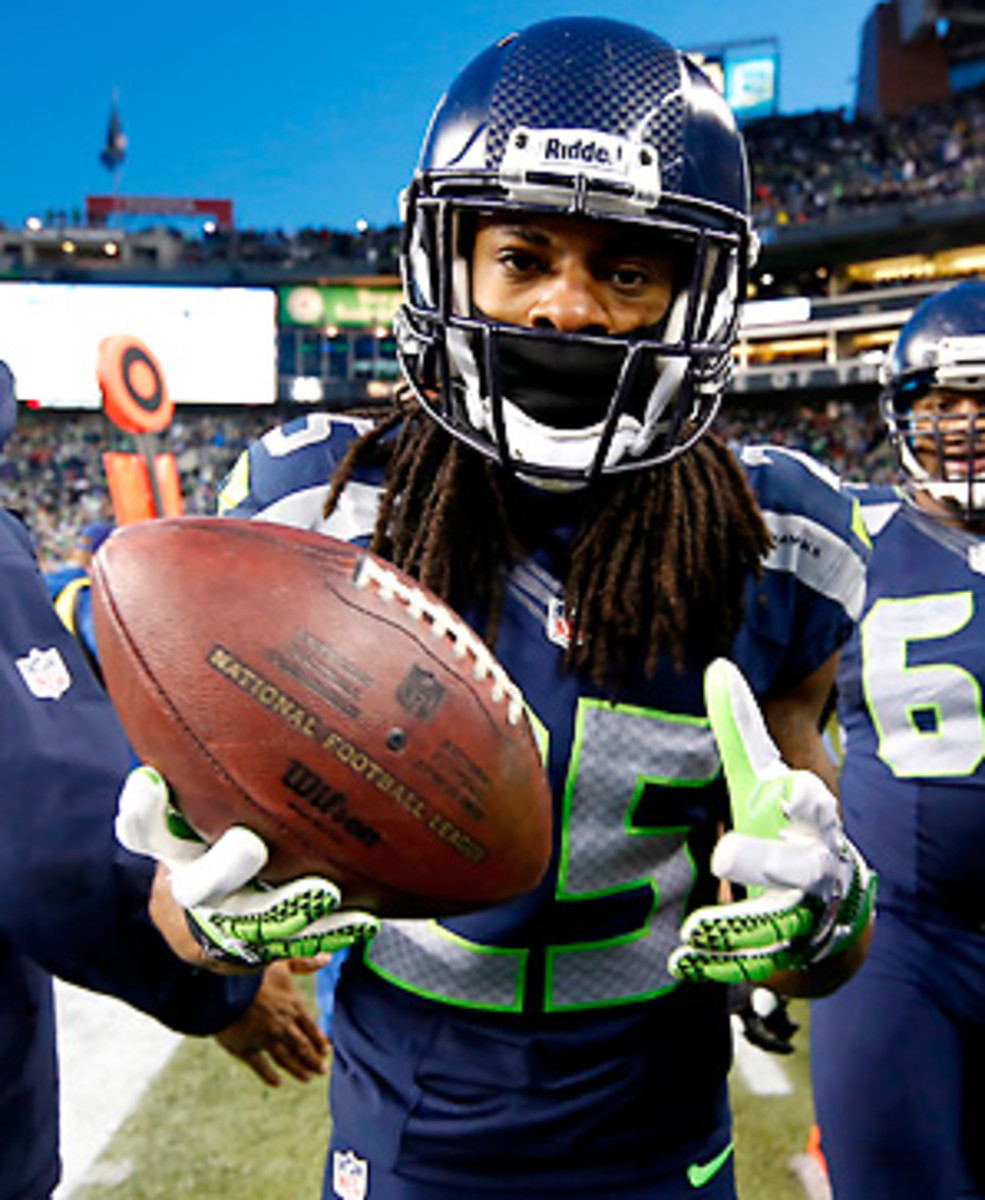 The Seattle Seahawks are the best team in football heading into the playoffs -- at least according to the Cold, Hard Football Facts Quality Stats Power Rankings.
We do our rankings a little bit differently than most. It's not based upon the untrustworthy old eye test or our opinions of how teams measure up to each other. It's based only upon empirical evidence: we rank every NFL team across the board in each our Quality Stats, those stats that have a direct correlation to winning football games.
The team with the highest average is No. 1; the team with the lowest average is No. 32.
The top teams have a habit of going to and winning Super Bowls, including the 2009 Saints and 2010 Packers. The 2011 Texans, No. 1 in our Quality Stats Power Rankings, appeared statistically destined to win the Super Bowl before Matt Schaub was lost for the season, handicapping the team heading into the postseason.
The top seven teams, and 10 of the top 12 teams, are in the playoffs this year. The Vikings and Colts are the only outliers.
Top-ranked Seattle looks deadly on both sides of the ball, but is not without its weakness: the Seahawks went 8-0 at home but just 3-5 on the road. They'll have to negotiate at least two road games, and probably three, to make an appearance in New Orleans.
BYRNE: WHO'S ENTERING PLAYOFFS WITH MOMENTUM?
1. Seattle Seahawks (11-5) -- The Seahawks are the total package right now: No. 9 in scoring offense and No. 1 in scoring defense, powered by the best pass defense of any playoff team (71.8 Defensive Passer Rating). Seattle also boasts 5 wins over Quality Opponents, the most in the NFL this year.
2. Denver Broncos (13-3) --Peyton Manning wasn't just good in 2012, he was better than ever. His 37 TD passes and 105.8 passer rating were the second-best marks of his career, behind only his then-record 49/121.1 he produced in 2004.
3. Green Bay Packers (11-5) -- The Packers are No. 1 for the third straight year in Passer Rating Differential, the "Mother of All Stats." Twenty-six of 72 NFL champs (36 percent) since 1940 finished No. 1 in PRD. Green Bay finished No. 1 in PRD In 1961, 1962, 1965, 1966, 1996 and 2010 and won championships all six seasons.
4. San Francisco 49ers">49ers (11-4-1) -- Opposing QBs averaged 5.27 yards per pass attempt against the 49ers defense, lowest in the NFL. San Francisco's dangerous offense averaged 5.20 yards per rush attempt, second only to the Vikings.
5. Atlanta Falcons (13-3) -- The Falcons enjoyed a soft schedule, with just three games against Quality Opponents, fewest in the NFL. But they dominated those teams (Broncos, Redskins, Giants) by an average score of 28.3-12.7 -- best differential against Quality Teams in 2012.
6. New England Patriots (12-4) -- The Patriots quietly boast the No. 3 scoring offense in NFL history (557 points) and led the league with 25 rushing touchdowns. Defensively, New England forced 41 turnovers, second in the NFL (Bears) and 10 more than the next best among playoff contenders (Seahawks, Falcons, Redskins).
7. Houston Texans (12-4) -- A Texans defense that looked dominant early in the year fell apart down the stretch. Houston surrendered 331 points in 2012 -- the same exact number as New England's oft-criticized defense (9th).
8. Chicago Bears (10-6) -- It's been the same story in Chicago for decades: a strong defense paired with an offense that just couldn't keep pace. The Bears forced 44 turnovers and scored 10 defensive touchdowns, most in the NFL. The Chicago offense ran for 11 TDs.
9. Cincinnati Bengals (10-6) -- Second-year batterymates Andy Dalton and A.J. Green generate the headlines. But the team's best young player may be third-year DT Geno Atkins (12.5 sacks). The Bengals finished the season No. 4 on the Defensive Hog Index and No. 5 at forcing Negative Pass Plays (sacks, INTs).
10. Washington Redskins (10-6) -- Robert Griffin III and Alfred Morris provided arguably the best rookie tandem of offensive playmakers in NFL history. RGIII topped the NFL in Real Quarterback Rating (99.9) and was second in Real Passing YPA (7.2). Morris was No. 2 in rushing yards (1,613) and rushing TDs (13).
11. Pittsburgh Steelers (8-8) -- Pittsburgh did not top 24 points scored even once in November or December and finished the season No. 22 in scoring offense (21.0 PPG) -- the third-lowest rank in franchise history (No. 24 in 1989; No. 28 in 1998).
12. Baltimore Ravens (10-6) --Joe Flacco is a playoff-caliber quarterback: the Ravens have reached the postseason all five season he's been at the helm. But he's not a Super Bowl-caliber QB: the Ravens are No. 14 in Real QB Rating, No. 15 in Real Passing YPA and No. 16 in Offensive Passer Rating.
13. New York Giants (9-7) -- New York's widely respected defensive front was a disaster in 2012: No. 22 on the Defensive Hog Index, No. 28 in run defense (4.60 YPA), No. 30 in third-down defense (42.4%). The Giants finished No. 6 in scoring offense (26.8 PPG) and No. 12 in scoring defense (21.5).
14. Carolina Panthers (7-9) --Cam Newton and the Carolina offense took a big step back in 2012, while the defense took a big step forward: the 2011 Panthers were No. 5 in scoring offense and No. 27 in scoring defense; the 2012 Panthers No. 18 in each category. The difference? A mere one game better in the standings: 6-10 last year, 7-9 this year.
15. St. Louis Rams (7-8-1) -- The Rams might have made the postseason, if they only faced the 49ers each week (1-0-1 in two overtime games). The 2012 Rams ranked 25th in scoring offense (18.7 PPG) -- the team's highest rank since 2006. Kurt Warner's not walking through that door, Rams fans.
16. Minnesota Vikings (10-6) -- Thanks to Adrian Peterson's MVP-caliber performance, the Vikings are one of the rare teams in history that made the playoffs with a great running game and bad passing game (No. 22 in Offensive Passer Rating). They also did it against tough competition: nine Quality Opponents (4-5) was the most faced by any playoff team (tied with Green Bay).
17. New Orleans Saints (7-9) --Drew Brees led the NFL in passing touchdowns (43) for the second year in a row and fourth time in five seasons. He also topped 5,000 yards for the third time in his career -- his 5,177 the third-most in history. Too bad Roger Goodell destroyed the team's playoff hopes.
18. Miami Dolphins (7-9) -- Paging Dr. Shula. Dr. Don Shula. Miami finished No. 27 in scoring offense (18.0 PPG) in 2012 and has enjoyed a Top 10 scoring offense just once since Don Shula retired after the 1995 season. Shula fielded a Top 10 offense 18 times in 26 seasons.
19. San Diego Chargers (7-9) -- Norv Turner, the Lazarus Man of NFL coaches, was finally fired after yet another disappointing season at the helm of the Chargers. He somehow survived 15 seasons as a head coach despite a losing record (114-122-1). Those 122 losses are the most in history by a coach with a losing record.
20. Arizona Cardinals (5-11) --Cardinals seven-on-seven drills must have been awfully ugly: Arizona finished the year No. 1 in Defensive Passer Rating (71.2) and No. 32 in Offensive Passer Rating (63.1). Super Bowl-caliber defense; Buffalo Wild Wings Bowl-caliber offense.
21. Dallas Cowboys (8-8) -- Blame Tony Romo all you want. He's not clutch. But defense has been the problem for years in Dallas. The big-name Cowboys defense forced just 11 quarterback turnovers this year. Only the pathetic 2-14 Chiefs (7) were worse. Peyton Manning and Tom Brady would go 8-8, too, with the same lack of defensive support.
22. Indianapolis Colts (11-5) -- The Colts have had the statistical profile of a loser all year long, but clutch play has propelled the team to an 11-5 record and the playoffs. The Colts rank in the Top 10 in just two of 20 CHFF Quality Stats. Andrew Luck leads a unit that is merely No. 27 of 32 teams in Offensive Passer Rating.
23a. Tampa Bay Buccaneers (7-9) -- Tampa's 22-17 win over the chillin' top-seeded Atlanta Falcons was the team's first December victory since 2010.
23b. New York Jets (6-10) -- Tim Tebow's career Real Quarterback Rating of 81.2 would have been 14th in the NFL this year and better than the rating posted by four of 12 playoff teams. It's also 26.9 points higher than Mark Sanchez's pathetic 55.3 Real QB Rating in 2012. It's worth noting that teams that post a higher Real QB Rating went 218-37 (.855) in 2012 -- the highest "Correlation to Victory" of any stat in football -- and 45-3 (.938) from Weeks 15 through 17. Nice job, Rex.
25. Buffalo Bills (6-10) -- The Bills dished out big bucks in the offseason to defensive ends Mark Anderson and Mario Williams. Buffalo finished No. 30 on the Defensive Hog Index and fielded the worst run defense in franchise history (4.96 YPA). The best run defense in franchise history: the 1964 Bills went 12-2, surrendered just 3.04 YPA and won the AFL championship.
26. Cleveland Browns (5-11) -- The Browns topped 300 points (302) for just the third time since returning to Cleveland in 1999. Worth noting that the Patriots topped 500 points for the fourth time since 2007. It's like they play two different sports in Cleveland and Foxboro.
27. Detroit Lions (4-12) -- Wide receiver is easily the most overvalued position in football, and maybe in all of sports. We call them Shiny Hood Ornaments: they glisten and sparkle, but don't really help the engine run any better -- at least not without an elite QB. Just ask the 2012 Lions: Calvin Johnson set an NFL record with 1,964 largely meaningless yards. He scored just 5 TDs for a 4-12 team that averaged 23.2 PPG (17th).
28. Tennessee Titans (6-10) -- The Titans posted the worst defense in the NFL in 2012 (471 points allowed) -- and the worst defense in franchise history. They surrendered more than 30 points in eight of 16 games and more than 50 twice.
29. Oakland Raiders (4-12) -- The Raiders were one of three teams that failed to beat a Quality Opponent (0-5) in 2012. The others were San Diego (0-5), Buffalo (0-6) and Kansas City (0-6). Not the type of company you want to keep.
30. Jacksonville Jaguars (2-14) -- The Jaguars, like the Lions, were hypnotized by a Shiny Hood Ornament wide receiver in the mistaken belief they can make a bad quarterback better. No. 5 overall pick Justin Blackmon had a nice rookie season (64 catches, 865 yards, 5 TD) -- but the Jaguars were no better on offense in 2012 (15.9 PPG) than they were in 2011 (15.2 PPG). Jax finished No. 28 in Real Passing YPA, No. 28 in Offensive Passer Rating and No. 29 in Real QB Rating.
31. Philadelphia Eagles (4-12) -- The Eagles were the most inefficient team in football: No. 31 in Scoreability (offensive efficiency) and No. 32 in Bendability (defensive efficiency) -- each a sign of how poorly the team played in situational football, a direct reflection on the quality of coaching.
32. Kansas City Chiefs (2-14) -- The 2011 Chiefs scored 212 points, the fewest in franchise history. The 2012 Chiefs one-downed them, scoring 211 points (13.2 PPG). Even in the nine-game, strike-shortened season of 1982, the 3-6 Chiefs scored 176 points (19.6 PPG). \n