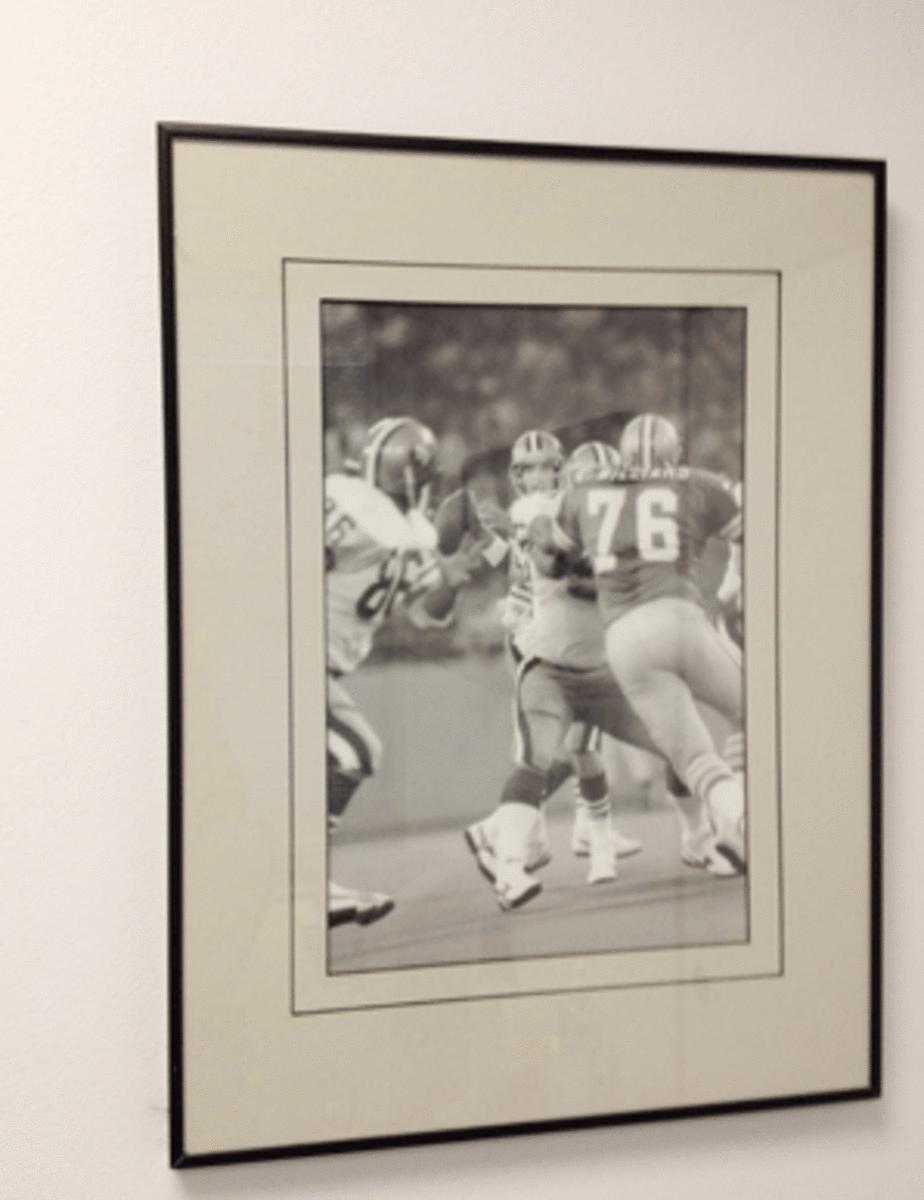 The throw is perfectly placed, the way all of Joe Montana's seemed to be back then. Low and away from the defense, it floats toward John Frank, who cradles the ball with his one good arm before being driven to the turf. Above him, the giant scoreboard clock at Joe Robbie Stadium counts down. With less than three minutes remaining in Super Bowl XXIII, the 49ers">49ers trail the Bengals 16-13.
Everyone remembers what happened next. Montana coolly leading the team down the field, pointing out John Candy in the crowd. Roger Craig churning his knees for a first down. And, most famously, John Taylor leaping through the back of the end zone with 38 seconds left to finish a remarkable 11-play, 92 yard drive.
If you're not a 49ers fan, however, you may not remember Frank's role in the game. How he caught two passes, made a number of key blocks and played with a fractured left hand. How he was the second to greet Taylor after the touchdown, wrapping him in his thick arms. How he was frozen in time by a photographer, thrust into the air by 49ers lineman and good friend Harris Barton, arm upraised in joy. But that's okay. That's how Frank wants it.
That day, January 20, 1989, should have been the pinnacle of Frank's career. After all, he was the starting tight end for the best team in football and had just won his second Super Bowl ring. At 26 years old, he was making $357,500 a year and due to make more. He was a fan favorite, beloved for his ferocious blocking and hard-nosed play. The quintessential "gamer," he'd played with broken ribs, a concussion and, now, a fractured hand. A year earlier, he was selected for the All-Madden team. Blonde and handsome, he was also quite popular among the women of San Francisco. He was, by all accounts, living the dream.
Frank wasn't so sure, though. That week, after the game, he drove back to his apartment south of the city. As his teammates celebrated, he mulled his future. Within a few months, he would make a decision that Bill Walsh would plead with him to reconsider. Steve Young would do the same. But for Frank, there was no going back. At age 27, in the prime of his career, he quit football.
Viewed in hindsight, his decision isn't entirely shocking, knowing what we know now about the toll professional football exacts on the human body. In 1989, though, things were different. This was an age when players worried mainly about knee injuries, not dementia. There were no long-term studies on concussions at the time, no media exposes. The idea that a starting tight end for a Super Bowl champion would quit the game seemed inconceivable, especially to Frank's teammates.
Then again, none of them understood the stakes like he did. None of them were training to be a doctor.
*****
To understand Frank's unique perspective, and how he came to be disillusioned with the game, you have to understand his history. How he grew up playing two-hand touch games on the streets of the Carlton neighborhood of Pittsburgh, an undersized quarterback trying to outhustle the older, bigger kids. How his family didn't allow him to play organized football until he was 10 years old, and even then he says he had to forge his parents' signature the first year ("Is this really what you want to do?" his mother, Barbara, asked). And how, once he did begin playing, the family's attitude changed -- or at least that of his father. Alan Frank had been a standout basketball player and the Pirates had offered him a minor league contract, which he turned down to go to law school. Now, in his son, he saw talent.
Alan pushed John relentlessly, hiring a track coach, breaking down game tape with him and drilling him daily. It worked. John was all-state at Mt. Lebanon High, then went to Ohio State, where he set school records for receptions and yards by a tight end while maintaining a 3.9 GPA as a chemistry major. In 1984, he was drafted in the second round by the 49ers. At 6-foot-2 and 225 pounds, he was smaller than most tight ends but made up for it with effort. His first year, he started two games and caught seven passes while making his mark as a blocker.
Frank loved football, but he had a second, unlikely passion: medicine. He loved the rigorous nature of science, and dreamed of one day becoming an orthopedic surgeon. So, during his second year in the NFL, he began taking med school classes at Ohio State during the offseason. Frank would arrive on campus a few days after football season, wake at 6 to do conditioning work, lift weights in the afternoon and spend 10-12 hours a day studying. The going was slow. Normally an excellent student, his grades suffered.
Meanwhile, as the years passed, Frank became increasingly disillusioned with the NFL. Some of it was what he saw as a mercenary attitude. When players went on strike in 1987 and some crossed the picket line, Frank felt like it was a wake-up call. "There were star players that I was teammates with, but I still had a boyish worship of these players," he says. "We voted as a team to stay out, and we were out. Right, Joe? Right, Roger? Right, Ronnie? Right, Jerry? We're out. Then they started to go back and I was like, really? I lost all my naivety."
Part of it was his father's troubles. In 1986, Alan became the target of an investigation and was convicted of tax evasion. He was eventually sentenced to six years (John was not implicated in the case). The man who had molded John -- with whom he'd watched the Immaculate Reception at a ski lodge, cheering wildly, who'd always been there for him -- was out of his life.
In the end, though, it was the brutality of professional football, and the culture surrounding it, that bothered John the most. In particular, he lived in fear of a cervical spine injury, the catastrophic neck injury suffered by Darryl Stingley, Devon Walker, Eric LeGrand and many others (the National Center for Catastrophic Sport Injury Research at the University of North Carolina documented 269 such injuries across all levels of football from 1977 to 2006). It was, Frank says now, "the monster looming under the bed."
On a larger scale, the more Frank learned in med school, the more he detested how teammates were treated as replaceable parts, and how to speak of injuries was to be seen as weak. "This is the way football is," he said at the time, in an SI story written by Jill Lieber. "If someone dislocates his shoulder on the practice field, the coaches just move the drill. If your good friend goes down, you can't go over, pat him on the head and hand him a cup of water." Steve Hirsch, Frank's roommate at Ohio State and a good friend, remembers how each time he spoke to Frank, his friend seemed to lose more faith. "I understood," Hirsch says now. "They treated him like a piece of meat."
Frank's response was to play angry. "The year after the strike, I didn't really care," he says. "I stopped being defensive about what position I was on the team. I'm like I don't care, they could cut me tomorrow, I've had it. I was just mad, I was mad at everybody. I wasn't protecting myself, I didn't care." He remembers one instance in particular, when the 49ers were playing against the Rams in Anaheim. As the team waited to take the field before the game, sequestered in the tunnel, the Rams cheerleaders stood nearby. As the wait dragged from one minute to five minutes, some of Frank's teammates began chatting up the cheerleaders. Frank turned around, full of rage. Get the hell out of here! he yelled at the cheerleaders. Leave us alone!
The response was immediate. "They ran like rabbits," Frank says. "They scurried, they crawled up into their pom-poms, I was such a jerk."
And here of course is the cruel bargain of football: The nastier Frank got, the more unhappy he became, the better he played. His first four seasons, he'd been an important part of the team, a blocking tight end and special teams ace. By 1988, he was the starter. He'd also become one of those wild-eyed men you see on close-up TV shots, the ones consumed by the game. In the first game of the season, a linebacker crashed into his left side in the first quarter, injuring Frank's ribs. He stayed in the game and caught two touchdown passes. Afterward, in the locker room, Bill Walsh gave him the game ball.
The next day, Frank's side was killing him. The team doctor inspected him and, according to Frank, told him he could play. "I'm like, 'Don't you want to get it x-rayed?" Frank says. "Can't you lacerate your spleen or kidney? This doesn't seem like a good idea to me, doc."
Knowing what he knew about anatomy, Frank decided to get a second opinion. He went to a Palo Alto clinic and got a CT scan. It showed three broken ribs. "In football, that's not really a show stopper," Frank says. "You wrap it up, maybe take an injection." But when Frank took the scan to his own doctor, he was mortified. "He said, 'Wow, half your flank is fractured.'" Upset, Frank returned to the 49ers and told the team doctor he wasn't playing. "I was appalled that my injury wasn't taken more seriously," he says. "It's not that the doctors were dismissing the severity of the injury. They were dismissing everything about it. Now my eyes were wide open and I started to see what's going on here. That had more impact on my decision to not play than the real risk of more serious internal injury."
Still, Frank sat out only two games before returning. The team needed him, after all. Then, in the fourth game of the season, against the Lions, he hit the turf after making a block and a mass of players landed on his left hand. It sounded, Frank remembers, like he cracked all his knuckles at once. He ran to the sideline, his hand numb. After getting an x-ray at the stadium, Frank said the 49ers trainer told him team doctors could put his hand in a cast and he could still block in the second half. Frank looked at the images on the x-ray and disagreed. The fracture looked serious. That's when he did something players rarely did: He refused to enter the game. "Maybe they took me seriously because I was a doctor [in training]," he says. "I don't know what the dynamic is between the coach, medical staff and a less informed player."
The experience left Frank cold. Later, he would look back at that moment as the one that made him realize just how "barbaric "the sport was.
After he had surgery on the hand, though, a funny thing happened: almost immediately, he began to miss the game. "I couldn't wait to come back," he says. At the same time, he became more jaded about the culture. When his teammates were injured, he visited them in the hospital. When he had his tonsils out in the 11th grade, dozens of people visited him. But here he was, a starter on the Super Bowl champions, and no one thought to visit him in the hospital, so accepted were such injuries.
When Frank did return, six weeks later, he resumed his high level of play, becoming Montana's preferred third-down safety valve and finishing the season with 16 catches for 195 yards and three touchdowns in seven regular-season games.
Even so, he was already leaning toward retiring by the time the Niners made the Super Bowl. Then, he watched Bengals nose tackle Tim Krumrie suffer a gruesome compound fracture of his left leg early in the game. Seeing the injury replayed on the big screen at Joe Robbie Stadium, his teammate, and friend, Tom Rathman said, "Wow! Look at that!" Frank couldn't.
In late February, after the Super Bowl victory, Frank told Walsh he intended to retire. Walsh wouldn't accept it. He had the coaching staff flood Frank with phone calls, then convinced Rathman to do the same. Offensive line coach Bob McKittrick called and pleaded with him, saying the team didn't have a tight end. Frank said he'd seen the new kid, Brent Jones, in passing drills. You won't have a problem, Frank said.
"He can't block his way out of a paper bag," McKittrick replied. "Trust me on this one," Frank said. "He'll learn."
Not long after, Dwight Clark called with a message from Mr. DeBartolo: He'll pay for the rest of your med school if you don't retire, Clark said. It seemed like a thoughtful, generous offer. Until Frank did the math. "I think in-state tuition was $5K a year, maybe $20K total," Frank says. "I realized how little that was financially."
In April, Frank formally announced his retirement in a 15-minute press conference. That fall, he went back to med school full-time. By 1992, he had earned his medical degree from Ohio State and was accepted for an Ear, Nose & Throat (ENT) residency in Chicago. He treated sick children, dealt with life-threatening injuries. "I was saving the world and I couldn't get enough of it," he says. When NFL Films made an upbeat segment about his career switch in the 1990s, Frank's story was painted as quirky and inspiring. In a 12-minute piece, there was only one brief mention of his injuries and no mention of how they impacted him.
*****
Now it is the fall of 2012. Frank emerges from a hallway in his midtown Manhattan office and shakes my hand. He's wearing scrubs with khakis, brown topsiders and wire rim glasses. He is 50 years old but doesn't look it. His hair is blonde and close-cropped, and he's thin and fit. He plays basketball in Riverside Park, jogs in the morning and swims regularly. He says his knees are great. Other than a long ridged scar bisecting the back of his left hand, there is no indication that he was once a pro football player -- no limp, or hitch or cane or gnarled knuckles. Of late, he's incurred more damage -- a broken ankle and two broken fingers -- playing pickup basketball.
After working in an ENT practice and serving a fellowship at Columbia in New York, Frank was inspired by one of his mentors to move from head and neck surgery to become a hair restoration surgeon. He now runs his own practice, the Anapelli Hair Clinic, with a principal office in New York. He enjoys the precision of the work and the ability to make people happy. Though the field once conjured images of doll-plugs and hucksters, a lot has changed. Frank is board-certified in ENT and hair restoration, speaks often at conferences and is an assistant professor of clinical otolaryngology at Columbia University's College of Physicians and Surgeons.
He has, from outside appearances, distanced himself from his former life. The Anapelli ads and marketing materials contain no mention of his 49ers days and his receptionist tells me that, "maybe a quarter of the people who come in" know Frank's football background. "Sometimes he'll wear his ring," she says before correcting herself. "His rings, that is. If you ask nice, he'll let you see them." In the half dozen offices and patient rooms I visit, I see only one poster from his football days, in his personal office, and the photo is telling: an out-of-focus Frank mid-pass route with his back turned on the camera. In focus, behind the line of scrimmage, is Joe Montana, readying to throw the ball. "I like it because you can see Joe's eyes," explains Frank, before pausing to add, almost absent-mindedly, "I think I broke my foot on that play."
It has been 24 years since Frank made his decision to leave the game. While he is happy with his second career, he remains conflicted about the game he left. When I first asked if he had regrets, in a previous phone conversation, he said the only one was that playing football, "set me back a couple of years academically." As to whether he misses the game, he says, "I guess it's a funny thing, you never really know what the void is, what the void feels like. So, I guess I miss that, but you know, who's to say that it's not a healthy thing not to be competitive?"
Frank says he doesn't miss the money or the fame. What he misses is the bond with his teammates. "That's irreplaceable," he says. It's this camaraderie, he believes, that makes it so hard for people to leave the game. Some of his most vivid memories are of teammates trying to let go. Freddie Solomon, replaced by Jerry Rice in the starting lineup at the end of his career, standing behind the team on the sideline during practice, quietly crying. Dwight Clark in the stands at Pro Player Stadium watching press day during Super Bowl week, despondent. At the time, Frank was running onto the field along with Steve Young, and both noticed it. "From his body language, you could tell this was a very sad, frozen person," Frank says of Clark. "Steve and I looked at each other and said, 'We never want to be in this position.' You finish the game, get out and never look back. So I did my best to do that."
Even so, Frank says he still dreams about football. There's always an element of anxiety. He's offsides. He's late for the game. He has stage fright. He's panicking. "I don't know what they mean," he says of the dreams. "I need an interpreter." When I ask if Frank ever has positive football dreams, he shakes his head no.
To see Frank today, healthier than most 50 year old, is to believe that he got out of the game just in time. And indeed, he feels lucky. Frank can remember suffering five concussions in his life, but he never thought much of them at the time, "I had the proverbial bell rung." Now, as he says, "I cringe every time I see someone get a concussion."
And yet, even with all his history with injuries, he doesn't believe football is inherently dangerous. "Except for that cervical spine injury, the human body is so remarkable, it can come back from most football injuries," he says. "I don't quite understand some of these older players, the legendary ones who are crippled and have a hard time walking. I just felt like being in football was probably more beneficial to your long term health because there was so much aerobic and anaerobic exercise. It's a lifestyle of moving and I think that's just so healthy for people." (And indeed, two recent studies by the National Institute for Occupational Safety and Health found that football players outlive the general population, partly because of lower cancer rates, which could be due to a lower rate of smoking).
It is not the game of football that is necessarily dangerous, Frank believes now, but the culture. "I'm an advocate of the rules changes and safety precautions of the NFL," he says as we walk through his office. "The area where I think it's lacking is in the long term health. In my opinion, that's more of a psychological issue. In football, once you've reached a certain level of status and acclaim, it's very difficult to equal that in something after football."
Hirsch, his Ohio State roommate and now an ENT doctor in Columbus, Ohio, sees this often. A track star at Ohio State, Hirsch became friendly with a number of players who went on to become pro players. He sees something in all of them. "Every football player I've known except for John would give anything to have one more play, one more Sunday, and that's including Chris Spielman," says Hirsch, referring to the Lions pro Bowl linebacker who retired with a neck injury. "John made a brave decision, and I think a wise one, but I'm sure there are a lot of players who'd disagree with it."
Frank knows this. He refers to the game as "addictive" and wonders about how it changes a man's perspective. "Football players are conditioned to respond to situations and communicate in situations and navigate through life physically through contact or no contact, by a physical response more than an intellectual response." The result, he says, is "a dynamic where you have an athlete who's sensationalized and put on a pedestal and it's the greatest thing you're going to do your whole life." It's a powerful drug, and he remembers being in the grip of it. "We were faced with the ultimate injury on a routine basis, a cervical spine injury, but we looked past it, "he says. "If someone had said, you're not going to play with your kids when you're 50. I don't think that would have deterred me. I enjoyed the sport so much."
Our conversation is interrupted by a call from upstairs, and I accompany Frank as he sees a patient. His demeanor is gentle but confident, even as the patient is effusive about Frank's work. While warm, Frank maintains an emotional distance. He is the same way in our conversations. I can tell it's an effort for him to talk about his feelings about the game, and he says it's been years since he has. It's not a topic he discusses with his friends, or his wife or family. He's tried to leave it behind.
When Frank's finished with his patient, we head to his administrative office. It is small and furnished with a desk, three chairs and little else. There's a laptop and a bottle of water on the desk, a couple folders and a calculator. In the corner is a container of pasta. It's John's night to bring home dinner supplies for his wife and two young children.
Frank's son is now four, and John knows a decision may one day loom. The boy will know his father was a professional football player, and he may want to follow in his steps. Here is a game that gave Frank so much -- purpose, dedication, camaraderie, wealth -- and yet one he turned his back on. Though that's not really it. To talk to Frank is to get the impression he feels he escaped football in some ways. It leads to the inevitable question: How would he feel about his son one day playing the game?
There is a long pause. For more than a minute, Frank thinks. When he finally answers, he begins by saying that he hopes his son will retain his sensitivity, no matter what. That he will understand that there are goals larger than sports but that they teach valuable lessons. "To get the secrets, it comes with a price," he says. "You don't know that you're getting those secrets, you feel like you're getting the glamour and a paycheck, but it's those intangible moments. You don't need to be in the NFL to have those moments."
As an example, Frank talks about the time a legendary coach in high school told him to lift up a goal post and, after Frank tried in vain, the coach said "that's the effort you should put forth on every play" and how that stuck with him. He talks about little moments at Ohio State, and with the 49ers and how more than anything, what he felt out there from his teammates was one thing: "Love."
It is those moments that Frank now treasures, that inform the man he's become. He understands the dangers of the sport better than most, saw how President Obama said if he had a son he might not let him play football. He knows that players only get bigger and stronger. Still, Frank wonders, is it fair to deprive his child of the opportunity to have his own moments? "If you don't let them play organized football, what would they be missing?" Frank says, frowning. "They're so interested in it. Is it because they sense that there are some valuable lessons to be learned? Surely they don't. I have a 4 year old and when he's 8, he's going to want to know what it is. Surely it's not because he wants a million dollars. He doesn't have bills to play, he doesn't have credit card statements, he doesn't get that. He doesn't want to get girls, he doesn't want to be the guy on the town. So what is it?" Frank pauses, a man of science trying to pin down the allure of an unscientific game.
It reminds me of something he said earlier, when I asked if he'd been successful in his goal of getting out of football and never looking back. "As much or more than anybody I know," he'd said. Then Frank had stopped for a second and looked down at his hands. "But I'm still working on it."