San Diego Chargers 2013 Offseason Preview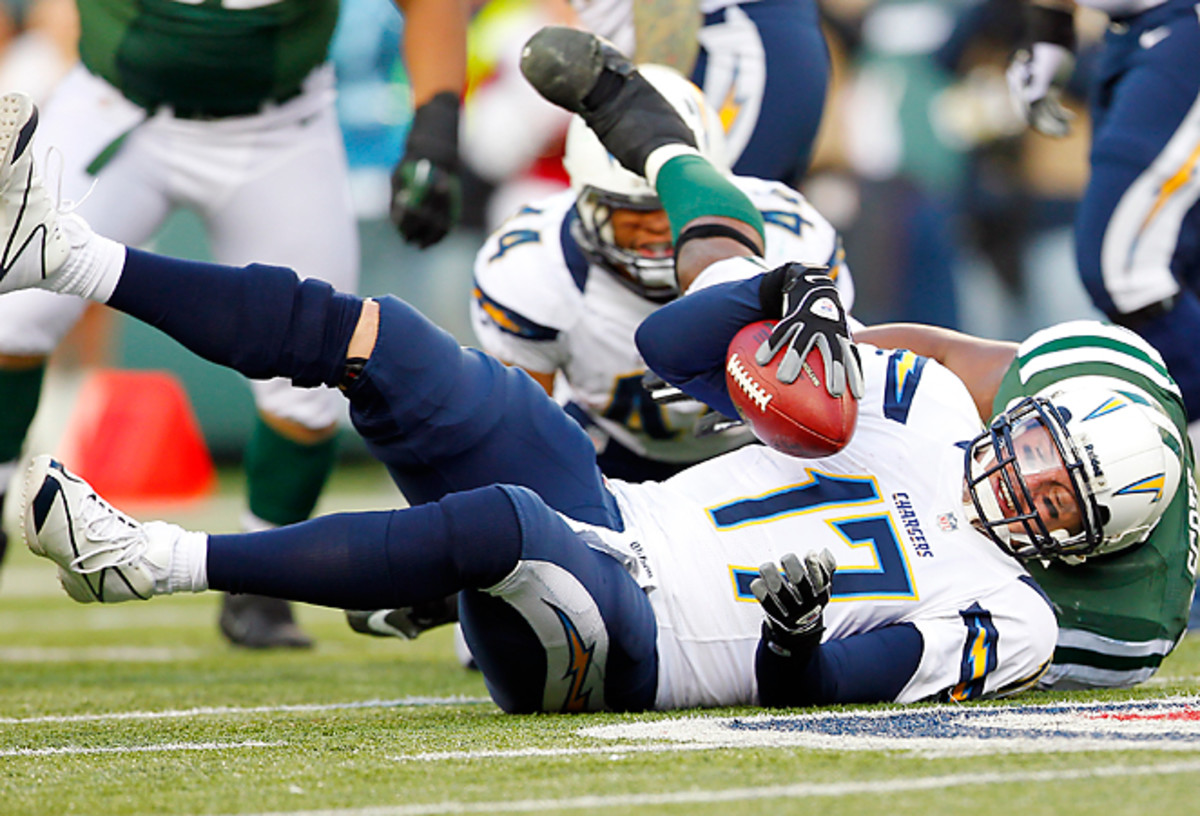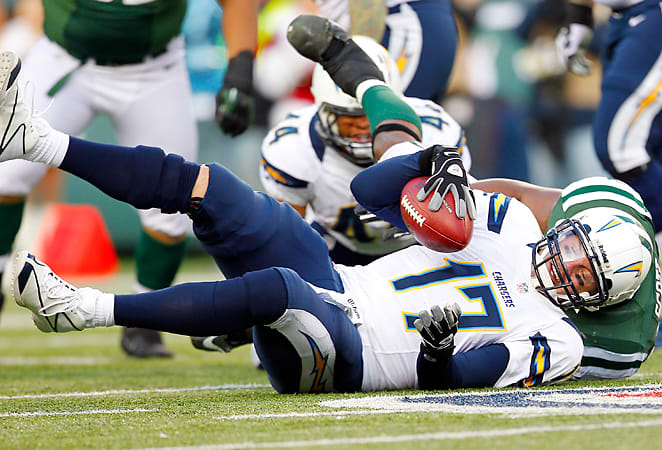 SI.com is laying out offseason road maps for all 32 teams as they start their journey for the Lombardi Trophy -- two teams per day, from the teams that need the most work to contend in 2013 to the ones that are in pretty good shape. See them all.
2012 Record: 7-9 Key Pending Free Agents:Shaun Phillips, OLB; Antoine Cason, CB; Quentin Jammer, CB; Tyronne Green, G; Louis Vasquez, G; Vaughn Martin, DL; Nick Novak, K. List of Draft Picks (pending compensatory picks): 1 (11), 2 (45), 3 (76), 4 (107), 5 (138), 6 (171), 7 (202). Available Cap Space: $8.7 million GM/Coaching moves made: Fired general manager A.J. Smith and coach Norv Turner and replaced them with Tom Telesco and Mike McCoy, respectively.
2012 Season Recap
The season was a metaphor for Norv Turner's tenure as head coach. San Diego started well (it won its first two games), hit a rough patch (it lost seven of eight), regained its legs down the stretch (it won three of its final four), but ultimately came up short (it missed the playoffs for the third straight year).
The only positive for most Chargers fans was that Turner and general manager A.J. Smith were fired after the season. Turner took a lot of heat for the club's collapse over the last few years, but Smith was equally culpable because of his unwillingness to pay market price for his star free agents and his inability to restock the roster with quality picks through the draft. The latter took a heavy toll on quarterback Philip Rivers, who struggled to pick up the slack.
After throwing 13 interceptions just once in his first four seasons as a starter, he has done it each of the last three seasons. His 47 turnovers over the last two years trail everyone but Mark Sanchez (52). Part of his problem was the constant drain of playmakers, including running backs Michael Turner (2008), LaDainian Tomlinson (2010) and Darren Sproles (2011) and wide receiver Vincent Jackson (2012), and the injury-related retirements of linemen Kris Dielman and Marcus McNeill.
The defense also was inconsistent under first-year coordinator John Pagano. It held six opponents to 17 points or fewer, but also allowed six to score 27 or more, including three that scored at least 30 (two other clubs reached the 30-point plateau, but did so via a pair of touchdown returns). The unit had 11 sacks against the Jets and five against the Ravens, but in six other games it was limited to one or no sacks.
Stat To Feel Good About
110. Points scored off takeaways. The total ranked seventh-best in the league and was a dramatic improvement over the preceding season, when the Chargers scored just 58 points after an interception or fumble recovery.
If It Ain't Broke ...
It tells you the depth of the issues facing the Chargers that the best thing about last season was the kicking of Nick Novak. He came off the street to replace the injured Nate Kaeding and converted on each of his 33 PATs and went 18 of 20 on field-goal attempts; both misses were from 50 yards or longer. He also was strong on kickoffs, ranking sixth in opponents' averaged starting position (20.5 yards). On 19 occasions opponents started inside their 20-yard line, and no return advanced beyond midfield. If it sounds like I'm reaching, well, it's because I am.
Troubling Stat
55.6. San Diego's touchdown percentage in goal-to-go situations. The outcome of games often comes down to a team's ability to cross the goal line, and only four teams were worse in goal-to-go situations than the Chargers.
Must Fix It
The key to succeeding in goal-to-go situations starts with the line. San Diego's unit struggled last season, although it wasn't helped by predictable play-calling. First-year general manager Tom Telesco must upgrade the blocking, both in terms of moving out defenders and protecting in play-action situations. He also has to find a bruising back who can get the tough yards. The coaching staff was afraid to give the ball to Ryan Mathews because of his tendency to put it on the ground. In fact, Mathews attempted just TWO carries in third-and-1 or fourth-and-1 situations. That's unacceptable for a featured back -- and even more of an issue for an offense that turned over the ball on 11.1 percent of its goal-to-go opportunities, third highest in the league.
More On The To-Do List
1. Improve the offensive line, which includes finding players who can be counted on to suit up each week. The lack of depth and constant shuffling -- and suspect talent -- was among the reasons Rivers was sacked 49 times, second-most in the league, and felt pressure in the pocket even when there was none.
2. Find a running back to push or replace Mathews. The former No. 12 pick has been a disappointment since the team traded up in the first round in 2010 to draft him as the successor to Tomlinson. However, issues with injuries, fumbles and pass protection have kept him from reaching his potential. In fact, San Diego's four runs of 20-plus yards tied for the league low.
3.Upgrade the secondary. San Diego surrendered 28 touchdown passes last season, tying for eighth-most in the league. It also had the seventh-worst opposing passer rating (92.5) for attempts of 21 yards or longer. With both starting corners on the market as unrestricted free agents, look for multiple new faces at this position.
What We'll Be Saying In July
Many of the core players will be back -- safety Eric Weddle, QB Philip Rivers, wide receiver Malcom Floyd, center Nick Hardwick, defensive linemen Corey Liuget, Kendall Reyes, and linebacker Donald Butler -- but there also will be an infusion of new faces, particularly along the offensive line and in the secondary.
I expect the Chargers to bring in a running back as protection and motivation for Mathews, and also begin the process of phasing out/replacing tight end Antonio Gates, whose liabilities as a blocker become more glaring as his statistics as a receiver decline. They also should strongly consider releasing wideout Robert Meachem if he refuses to accept a pay cut. Meachem was their big-money free agent last season, but he failed to live up to expectations after arriving from New Orleans. Vincent Brown, who missed last season because of an ankle injury, likely will start opposite Floyd.
Although the team isn't a handful of savvy personnel moves from challenging for the division, the likelihood of the Chargers overtaking the Broncos in the AFC West is slim. Departing coach Norv Turner said at his exit news conference that the team would not make the playoffs in 2013. It might be one of the few correct calls he made in his final years in San Diego.
SEE ALL OF SI.COM'S OFFSEASON PREVIEWS