Top 25 Power Running Backs Of All Time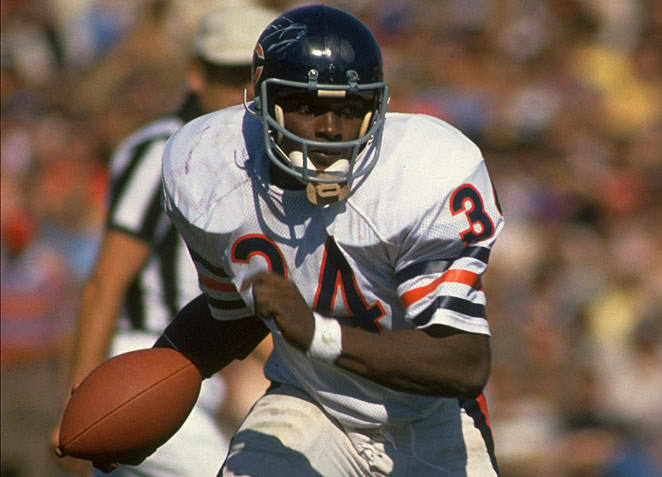 Selecting the greatest "power backs" in NFL history is an inherently difficult task because of one main problem: How do you define a power back?
Does that phrase call to mind someone like a Lorenzo Neal, perhaps the greatest blocking fullback ever, who accumulated minimal rushing yards? Or how about a Natrone Means, a plodding 245-pound behemoth with 5,000 career yards? Maybe the mention of "power backs" even brings around the thought of William "The Refrigerator" Perry plunging over the goal line in the Super Bowl.
For the sake of the top 25 list to follow, "power back" refers to a player who inflicted as much or more punishment on defenders as he received. This is not a ranking of the greatest all-time backs, though many of the names you'd include there are in the mix here as well.
This is an appreciation of those who opted not to run out of bounds, lest they give up an extra yard or two. The top 25 power backs in NFL history.
25. William Andrews
Had Andrews' career lasted longer than six seasons, he may have left a more prominent legacy. As it was, Andrews topped 1,300 yards rushing in three seasons, while doing it all out of Atlanta's backfield -- he also finished with 277 receptions. He was equally adept at blocking or running the ball.
24. Eric Dickerson
The 13,000-yard rusher's reputation was built more on speed than power -- Dickerson sometimes stepped out of bounds to avoid a hit, and last year encouraged Adrian Peterson to start doing the same. But he also had three seasons with 379 carries or more (including 404 in 1986), and his highlight is chock-full of defenders simply bouncing off his rock solid frame.
23. Bo Jackson
A career that ended far too quickly. For parts of four NFL seasons, Jackson was a highlight-reel play waiting to happen, a perfect blend of speed and strength. Another star on this list who always seemed to pick up extra yards after being hit.
22. Adrian Peterson
How tough is Peterson to bring down? He had 1,019 yards after contact in 2012, a number that alone would have ranked him 16th in the league in rushing. Consider Peterson a finesse back at your own risk.
21. Marshawn Lynch
His playoff touchdown run against the Saints, complete with a ridiculous stiff arm of Tracy Porter, might be one of the greatest power plays in NFL history. People often forget that Lynch is just 26 -- some of his best years may still be ahead of him.
20. Craig "Ironhead" Heyward
The guy's nickname was "Ironhead" ... that's enough, right? Standing at an imposing 260 pounds (give or take a few over his career), Heyward mashed his way to nearly 6,000 total yards while playing for five teams.
19. Herschel Walker/Tony Dorsett
Walker's career is indelibly linked to Tony Dorsett -- Dorsett's final two seasons in Dallas coincided with Walker's arrival. Of the two, Walker was the bigger and stronger back, weighing in at 30 pounds more than Dorsett. It's hard to remember him ever falling without breaking at least one tackle.
18. Jamal Lewis
From an individual standpoint, it did not get any better for Lewis than his 2,066-yard 2003 season. Plenty capable of ripping off a big run -- he had six touchdowns of 63 yards or longer in his career -- Lewis is better remembered as a lower-the-shoulder type of back.
17. Marcus Allen
The Raiders' legend still sits No. 12 all-time in yards rushing, so it's easy to forget that he often lined up at fullback when Bo Jackson was around. "You can't arm tackle him ... he's hard to bring down one-on-one," former NFL defensive back Manu Tuiasosopo told the Associated Press, just six games into Allen's career. Allen would prove those words quite true over his 16-year stay in the NFL.
16. Mike Pruitt
Maybe one of the most underappreciated players in NFL history, Pruitt still sits in the league's top 50 for career rushing yards. Pruitt, looking more like a tight end or a linebacker than a running back, topped 1,000 yards rushing four times from 1979 to 1983.
15. Eddie George
In the top 25 all time for yards rushing (10,441), George averaged 341 carries during his eight seasons with the Oilers/Titans. He simply wore down defenses with his consistent touches.
14. Mike Alstott
Take your pick between Alstott, San Francisco's Tom Rathman, Dallas' Daryl Johnston and others as the prototypical short-yardage fullback. Alstott made a career crushing defenders near the line of scrimmage, and he still managed to chalk up more than 5,000 career yards.
13. Jim Nance
Long before the Patriots had Tom Brady slinging the football all over the field, they (then the Boston Patriots) had Nance, a bruising fullback who twice led the AFL in rushing, in 1966 and '67.
12. Bill Brown
An All-Big Ten fullback at Illinois, Brown brought that toughness to the NFL. There, he fought his way to nearly 6,000 yards rushing and led the league in carries in 1966 (251). He earned his nickname, "Boom Boom."
11. Christian Okoye
Weighing in at 250 pounds, Okoye led the league in rushing in 1989 with 1,480 yards. "Tackling him is like getting hit by a train," Chiefs linebacker Dino Hackett told People magazine in '87. "I'm glad he's on our side -- he scares me."
10. Jerome Bettis
Of course "The Bus," that 250-pound bowling ball of a man, is on this list. Bettis rushed for more than 13,000 yards in his career, while scoring 91 touchdowns on the ground. Who knows how many bruises he left on defenders, plowing between the tackles.
9. Franco Harris
Harris and the Pittsburgh Steelers were perfect for each other, both cut from the blue-collar mode. The 230-pound Harris topped 1,000 yards rushing in eight different seasons and won four Super Bowls in the Steel City.
8. Jim Taylor
For eight seasons in Green Bay, with Vince Lombardi calling the shots, Taylor was a wrecking ball on the ground. He twice led the league in carries and, in 1962, scored 19 touchdowns to go with 1,474 yards, both NFL-bests.
7. Walter Payton
The former Bears running back was so incredible in the open field, gliding through defenders as he swung the football out away from his body, that it's easy to forget how violently he ran. But Payton never shied from contact and, in most cases, he lowered his shoulder and delivered a blow. Payton only sits this low here because he had such a dynamic repertoire that driving through defenders was only a small part.
6. John Riggins
Riggins played 14 years in the NFL, his first five with the Jets. It's his time with the Redskins, though, that cemented him as one of the all-time greats. From swigging beers with teammates after practice -- the "5 o'Clock Club," as it was known -- to leaving defenders in his wake on Sunday, Riggins was a throwback football player if there ever was one.
5. Marion Motley
One of the greatest players ever produced by the short-lived All-American Football Conference, Motley weighed in at more than 230 pounds, wore No. 76 and also played linebacker. He was a mountain of a man.
4. Bronko Nagurski
Arguably one of the best two-way players in football history -- so good, in fact, that college football's Bronko Nagurski Trophy is awarded annually to the nation's best defensive player. "A monster," Nagurski's former teammate, Sid Luckman, once told Sports Illustrated's Paul Zimmerman. "The neck, the hands. They measured him for a championship ring in 1943, when he made his comeback, and his ring size was 19 1/2."
3. Larry Csonka
During a game against the Buffalo Bills, Csonka was called for unnecessary roughness ... while he was running the football. The Dolphins' bruiser delivered a forearm shiver to the Bills' John Pitts, drawing a flag. Csonka steamrolled his way to 8,000 career yards.
2. Earl Campbell
Now, Campbell is one of the poster boys for the rigors of an NFL career, struggling to walk as numerous injuries have ravaged his body. But during his playing days, the 230-pound back was an unrivaled physical specimen, a ball-carrier nearly impossible to bring down without multiple defenders.
1. Jim Brown
One of the all-time greats, no matter the criteria, Brown was the total package as a running back -- quickness, vision, toughness and any other positive trait you want to throw out there. And, oh yeah, he was not afraid to go between the tackles and drive the ball down defenders' throats.