It's All About How You Market Yourself
There's a difference between 'me time' and 'we time' in the NFL, and the goals of building strong brands often don't align between players and teams. Just look at what's happening with Vernon Davis and the 49ers
In my many years on both sides of the negotiating table in the business of football, I always referred to this time of year as "me time" in the NFL. With only a five-month season, more than half of the league's calendar year is consumed with matters off the field. Once removed from the "we time" of the season, players often revert to a natural default setting of "doing what's best for me and my family" rather than doing what's best for the team. Often encouraged by a "whisper crew" of various advisors and sycophants, this is the time of year for various levels of player discontent to emerge, often financially related.
Players exhibit various degrees of "me time" from the relatively harmless skipping of voluntary team activities to higher levels of disobedience by missing mandatory minicamps or even training camp. Their goal, one that is usually unsuccessful, is to create enough of a level of angst from the team to draw a reaction. Most teams, however, simply do not engage.
One player who has been using his "me time" in an interesting way this offseason is 49ers tight end Vernon Davis. He has been visible in various roles, including this week as a guest columnist for he MMQB, while in his self-described role as "CEO" of his own brand. Davis is admirably and keenly aware of a time in the not-so-distant future "when football inevitably dumps me" and he is taking steps to prepare for that inevitability.
Brand building
We are at an interesting time in self-expression, especially for professional athletes in team sports. Their individual brands may be more followed, though they may not always align with their team brands.
Davis is certainly a part of the 49ers brand—he says he "bleeds red and gold"—but that is not the brand he is promoting this offseason. He has chosen to skip the team's offseason workouts, forfeiting a $200,000 workout bonus by refusing to accept team perceptions that "voluntary" actually means "mandatory." Davis raised the stakes with the team's (truly) mandatory minicamp this week by holding out. Despite earlier comments that his actions were not necessarily about his contract, it appears his refusal to attend is about, well, his contract. And as readers of this space know, it's always about the money.
Juxtaposed against Davis's absence were Colin Kaepernick's recent comments upon signing his extension; he left money on the table so the 49ers could sign other players. Whether sincere or not, Kaepernick presented a team-first mentality (on a team friendly contract) while Davis exhibits a low rumble of NFL player civil disobedience.
It's All About How You Market Yourself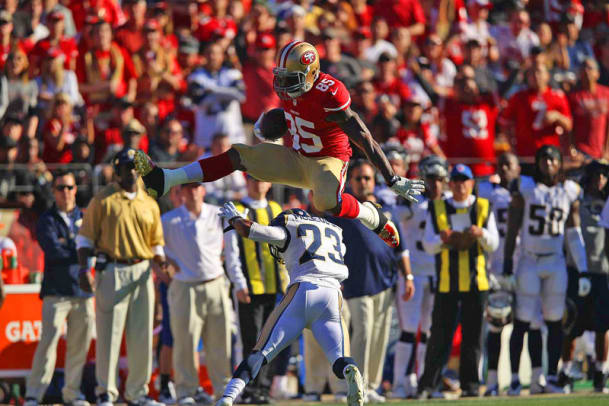 Fantex
Davis has also put his brand up for sale to the public through Fantex, a "brand building company that purchases a minority interest in an athlete's brand and works to increase the value of this brand." Davis secured a $4 million "bonus" from Fantex for 10% of his future "brand income."
In the first month of the offering, Fantex sold 421,000 shares of "Fantex Vernon Davis" at $10 per share, and recently announced its first dividend payment (70 cents per share) to be made on August 18, which, according to a Fantex press release, is "the first time Vernon Davis is anticipated to take the field in the 49ers' inaugural pre-season game at the new Levi's Stadium." Two comments about that sentence: 1) there are a lot of brands mentioned there: the 49ers, Levi's and, of course, Davis; and 2) the language that Davis "is anticipated" to play in the preseason is interesting and indicates the conversation about holding out was part of the Fantex discussions.
Many have asked for my thoughts about Fantex. Having spent nine years in Green Bay's front office, I compare the investment to buying Packer stock that, at $250 per share, has no transferrable value or potential dividend (like Fantex, the Packers provide several disclaimers). While some question, or even mock the investment, countless Packer "owners" consider it their most prized possession.
Beyond prospectuses, disclaimers and legalese, Fantex is selling emotion to "fan investors" who find it cool and fun if not cautious and prudent.
Vernon's Vault
While the Fantex transaction is questionable for shareholders, it is prudent for Davis, who has received his third "bonus" in his career—two from the 49ers and one from Fantex.
After getting a lucrative rookie contract as the sixth pick in the 2006 draft in the old rookie compensation system, Davis received his "big contract" in 2010—a six-year deal worth $37 million, with $23 million guaranteed. That contract now has reached its later years, with 1) the guarantees having expired and 2) Davis now in his 30s.
Davis will likely receive another contract in his career, but it is hard to forecast continued top-tier earnings. The 49ers are as aggressive as any team in the NFL in amassing draft picks and developing a pipeline of young ascending players to take on future starting roles. It would be naïve to think that, despite his talent, the team is not preparing for Davis' eventual ouster. And although publicly supportive, the 49ers' management may be privately shaking their heads at Davis's "brand" not exactly running on a parallel track with the 49ers' brand.
Meanwhile, whether knowing this or not, Davis has made a constructive hedge against the possibility of reduced football earnings. Fantex presented a "bonus" that, while it is less than players in their prime receive on second contracts, it is still more than what most players receive on third contracts (if there even is a third one).
With a $40 million valuation on future earnings, Davis had to make that deal. There will be income opportunities for Davis outside of football, but those are speculative without quarterback-level brand recognition, even with his admirable brand building this offseason. Davis and his representatives know this, thus the hedge with Fantex.
In the NFL labor equation, the leverage always shifts to the team following the expiration of a player's short-term guarantees. It happens to even the best players, including the talented Davis, who is now taking steps to elicit a financial response from the 49ers—a response that I do not see coming.
The business of football always wins. There is no stronger brand out there.