Inside the bitter betrayal that still fuels the Patriots-Jets rivalry
Excerpted from PARCELLS: A FOOTBALL LIFE Copyright © 2014 by Bill Parcells and Nunyo Demasio. To be published by Crown Archetype, an imprint of Random House LLC, on October 28. Available wherever books are sold and at Amazon.
On the afternoon of Monday, Jan. 3, 2000, Bill Parcells announced his resignation from the Jets to the public, becoming the first head coach in franchise history to step down with a winning record: 30–20. He informed reporters that his defensive coordinator, Bill Belichick (whose contract from three years earlier ensured that he would take over whenever Parcells decided to leave), was empowered to make all football decisions, while Parcells himself would stay on as a confidant and consultant. And although the contract language lacked preciseness regarding ultimate authority, Parcells, still technically director of football operations at a $2.4 million salary, vowed not to overshadow Belichick. Big Bill insisted that the Patriots' interest in hiring Little Bill -- they had sent a fax requesting permission to interview him -- was no factor in the development, although it certainly seemed to accelerate matters.
Meanwhile, Belichick appeared to embrace his new duties, scheduling his first "family meeting" with director of player contracts Mike Tannenbaum and discussing preparations for free agency with director of pro personnel Scott Pioli. Late that afternoon, president Steve Gutman and Parcells sat in on Belichick's meeting with the head trainer to discuss injured players.
• NFL Power Rankings: Week 7 | Coaching hot seat after six weeks
A couple of hours later, at roughly 6 p.m., Parcells was in the coaches' locker room when Belichick walked in and asked Big Bill to revisit New England's interview request. Startled by the query, Parcells reminded Belichick of his apparent eagerness only a day earlier to finally take over. Belichick countered that uncertainty about the Jets' changing ownership -- the estate of longtime owner Leon Hess, who had died the previous spring, was weighing competing bids from Johnson & Johnson heir Woody Johnson and Cablevision founder Charles Dolan -- was giving him second thoughts. The remarks angered Parcells, who warned Belichick that the club wouldn't allow him to interview with the Patriots or any other team.
Having spent 14 of his 19 NFL seasons under Big Bill, Little Bill believed that given the circumstances, his mentor owed him the opportunity to look into New England's attractive job opening. Belichick was apparently drawn to the possibility of being a GM and head coach under a familiar owner like Robert Kraft, as opposed to working for a neophyte owner like Johnson or Dolan with Parcells hovering in an unclear position of authority. Parcells reminded Belichick about his contract, noting that Hess had paid the heir apparent a king's ransom during the previous offseason. Parcells ended the conversation by stressing that if Belichick bailed out of his contract, the organization intended to seek compensation.
Parcells recalls, "He made a deal and then tried to get out of it. A deal's a deal. You want out? You're going to pay. Simple."
Despite the testy exchange, Parcells assumed that his lieutenant had been merely exploring his options. But Belichick's behavior changed dramatically the next morning, several hours before a 2:30 p.m. press conference that had been scheduled to introduce him as the Jets' new coach. Belichick appeared nervous and agitated while interacting with colleagues, which was odd for an ex–head coach groomed to guide the Jets. In Tuesday's staff meeting Belichick couldn't keep his hands from shaking. He ended the caucus early, telling his coaches that he would get back to them to reschedule.
Parcells taped his weekly TV show with Phil Simms and returned to his office in Hempstead, N.Y., at roughly 2:15 p.m. About five minutes later Belichick swung by to deliver a bombshell: The new head coach intended to use his introductory press conference to announce his resignation.
Parcells was surprised though not quite shocked, given Belichick's recent behavior. Still, the Jets' chief seethed, and he reiterated that the club would bar Belichick from interviewing elsewhere, placing him in coaching limbo.
Week 7 NFL picks: Who will win Thursday night's Jets-Patriots clash?
Minutes before his press conference, Belichick passed by the offices of several colleagues to give them a heads-up. He spotted Gutman standing by his doorway after the team president had caught wind of the shocker. Belichick handed Gutman a loose-leaf sheet of paper containing three handwritten sentences. The first line read, "Due to the various uncertainties surrounding my position as it relates to the team's new ownership, I have decided to resign as the HC of the NYJ." Stunned and angry, Gutman followed Belichick to the auditorium to hear more details of the surreal switcheroo. Parcells remained in his corner office down the hall, already working on a short list of candidates to replace Belichick.
Wearing a dark-gray suit, light-blue shirt and navy patterned tie, Belichick took the podium. The 47-year-old removed several sheets of paper from the left inside pocket of his jacket. Reading a script that included the first line from his resignation letter, Belichick astonished a full house of journalists and TV cameramen. His statement ran for 25 minutes in a voice that occasionally cracked. He often gestured with his hands as sweat glistened on his brow.
Belichick said, "The agreement that I made was with Mr. Hess, Bill Parcells and Mr. Gutman, and that situation has changed dramatically. And it's going to change even further." He noted that the franchise had been expected to find a new owner by Dec. 15, 1999. "There are a lot of unanswered questions here," he told reporters. "I have been concerned about it since Leon Hess died."
Bill Parcells and Bill Belichick Through the Years
1995
The New York Jets and New England Patriots play the first of their two rivalry games on Oct. 16, reminding everyone of the relationship between Bill Parcells and Bill Belichick and the bitter betrayal that still fuels the rivalry. Here are some photos of the duo.
1986
1991
1995
1995
1984
1984
1990
1995
1997
1998
1999
1999
2003
2003
2006
[pagebreak]
Belichick also revealed a detail from his private conversation with Parcells the previous day: "[Parcells] told me, 'If you feel that undecided, maybe you shouldn't take this job.' I took Bill's words to heart -- thought about it last night." Belichick evaded questions about his coaching future while expressing contentment about the opportunity to spend more time with his wife, Debby, and their three children. Nonetheless, he conceded that he had hired a noted sports-labor attorney, Jeffrey Kessler, to extricate him from his contract.
After Belichick departed the auditorium, Gutman took the podium. The team president tried to make sense of the organization's losing two head coaches within 24 hours, a period that included perhaps the strangest resignation in sports history. Referring to Belichick, Gutman said, "We should have some feelings of sorrow and regret for him and his family. He's obviously in some inner turmoil."
***
The partnership between Belichick and Parcells had held together well during their sole season under Kraft, with the Patriots in 1996, but the relationship had regressed during three seasons with the Jets. Despite Belichick's substantial growth in the NFL under Parcells and a guaranteed position as head coach, he ached to prove himself without his primary mentor and occasional tormentor. As Gang Green overcame a disastrous start in '99 -- they lost six of their first seven games and finished 21st in yards allowed -- Parcells' words had been as harsh as ever.
Further complicating their partnership, the Jets' organization contained a so-called Cleveland mafia: employees who had worked under Belichick when he coached the Browns from 1991 through '95. The group, which included Parcells' son-in-law, Scott Pioli, seemed more loyal to the heir apparent than to the incumbent chief. After Hess' death, members of the coterie quietly realigned themselves with Belichick. Offensive coordinator Charlie Weis, who was not part of the Cleveland crowd, also started getting closer to his future boss. The dynamic created tension between the ex-Browns contingent and coaches who had deep ties to Parcells, like quarterbacks coach Dan Henning. So Belichick's resignation upended the organization well beyond the head coaching position.
First Down/Fourth Down: Fisher, Ryan in trouble; Carr impresses
A few hours after his announcement, Belichick filed a grievance with the league office seeking freedom to interview with other teams. The Jets countered by sending the NFL copies of his contract. The next day commissioner Paul Tagliabue faxed every club that until a final ruling was made, Belichick remained unavailable for employment consideration without the Jets' consent. The back-page headline of the New York Post mocked, Belichicken: Jets Better off without Quitter. Another headline punned, Belichick Arnold. Belichick recalls, "I knew I did the right thing, and I didn't know where my career was going."
The Jets couldn't postpone the Senior Bowl or NFL free agency because of their internal dysfunction, so on Tuesday, Parcells conducted an emergency staff meeting, outlining steps the organization would be taking in the coming weeks. While showing zero desire to reclaim head coaching duties, Parcells withheld his thoughts about a replacement. When the meeting ended, Weis lingered to seize a private moment. Making sure no colleagues lurked within earshot, Weis implored Parcells to pick him as the new head coach.
"I can do this job. I'm your guy."
Parcells, though, was already targeting a colleague he had valued since the late 1960s and with whom he had worked for at two colleges and three NFL teams. By lobbying zealously, Weis was jeopardizing his spot on any new coach's future staff, so Parcells firmly rebuffed the offensive coordinator he had elevated from wideouts coach in '97, cutting the conversation short.
***
On Jan. 11, Robert Wood Johnson IV won the right to purchase the Jets for $635 million, the third-highest price ever paid for a professional sports team. The new owner's football jones stretched back several decades. While attending the University of Arizona, Johnson copublished Touchdown, a guide for Monday Night Football, which dissolved after three issues. During his late 20s, he had coveted the Tampa Bay Buccaneers as an expansion team. Hours after winning the Jets' bidding war, Johnson telephoned Parcells to introduce himself.
Taking the call with Tannenbaum in the room, Parcells remarked, "Congratulations. Being in pro football is not for the well-adjusted."
Johnson replied, "That's good, because I'm not well-adjusted."
Parcells shared Johnson's riposte with Tannenbaum. At least their new owner had a good sense of humor. Or was he being serious?
Johnson and his football chief soon met for a brief discussion about Belichick. The owner agreed with Parcells that the Jets shouldn't free Belichick without obtaining at least a first-round pick in return. Their follow-up meeting was wide-ranging, with Johnson sharing his vision for the franchise. He implored Parcells to return to the sideline, but the director of football operations declined. Johnson expressed an inclination to conduct a leaguewide search for a top candidate, but Parcells insisted on continuity for a team only one season removed from an AFC Championship Game appearance. Parcells suggested promoting linebackers coach Al Groh, a talented disciplinarian with strong ties to Parcells. The hard-nosed assistant's only experience as a head coach had come at Wake Forest from 1981 to '86, and based on his 26–40 record at the ACC school, Groh seemed like an improbable choice for an NFL job. Nonetheless, Johnson deferred to the franchise's mastermind.
[pagebreak]
***
Belichick's grievance hearing came on Thursday, Jan. 13, at the Times Square headquarters of Skadden, Arps, the NFL's counsel. Weis and Parcells were required to appear in the 38th-floor office after Kessler, Belichick's attorney, named them as witnesses along with his client. With Tagliabue present for the 9:45 a.m. start, the opposing groups sat across from each other at a conference table. Each side made 15-minute opening statements. Then Kessler called Parcells as the first witness for a Q and A that lasted 45 minutes.
Weis was next, and his testimony jolted Parcells even more than Belichick's resignation. During four minutes of questioning, Weis supported Kessler's main argument that Parcells had no intention of ceding true authority to Belichick. The offensive coordinator claimed he had overheard Parcells telling Gutman that Belichick wouldn't quite gain the power he was contractually due. Parcells had known that Weis would testify but never imagined him speaking so forcefully on Belichick's behalf. Henning recalls the situation: "Bill [Parcells] decides to go with Al; Belichick can't coach for a year. Charlie [Weis] realizes that he has nothing. So that's when he goes and thinks that he can get Belichick out of trouble by putting Bill [Parcells] in trouble."
• Challenge friends and win big in our weekly fantasy football game
Weis' NFL coaching career began in 1990, when Parcells hired the New Jersey high school coach to an entry-level position with the Giants. Impressed by Weis' offensive acuity over the years, Parcells had promoted him multiple times with the Patriots and the Jets. Parcells could only conclude that now Weis was ingratiating himself with Belichick, hoping for a position in New England.
The grievance hearing ended after seven hours, and a ruling was expected within a week. Weis returned to his office the next day; incensed, Parcells immediately banned his offensive coordinator from the premises: "Charlie, you need to get your s--- and leave the building." Watched closely by Jets employees, Weis took a few minutes to gather some items before scuttling out of the building. Moments after he exited, the team packed up the rest of his belongings and shipped them to his home.
Parcells says, "I've told many coaches that friendship and loyalty is going to be more important than ambition. Some guys don't realize that until after they're done. I don't bear any animosity toward Charlie. I can say that with a straight face because I know what he is. When somebody shows me what he is, I usually believe it. His actions back then don't bother me anymore."
Fantasy football Week 7 stat projections
On Jan. 21, Tagliabue ruled for the Jets: Belichick had breached his contract by quitting. The league prohibited him from coaching in 2000 without the Jets' consent or compensation. Tagliabue's explanation echoed a ruling he issued in 1997 when Parcells wanted to bolt New England while still under contract.
Three days later the Jets named Groh their new head coach, with a four-year contract averaging $800,000. The 55-year-old promoted Henning to offensive coordinator and hired Mike Nolan (who would become the 49ers' head coach in 2005) as defensive coordinator. Other notable additions included tight ends coach Ken Whisenhunt (now the Titans' top man) and secondary coach Todd Bowles (coordinator of the Cardinals' defense, No. 3 against the rush in 2014). On the day of Groh's official elevation, Belichick made a last-gasp attempt to overcome Tagliabue's ruling by filing an antitrust lawsuit in federal court against the Jets and the NFL.
***
On Tuesday, Jan. 25, a federal judge denied Belichick's request for a temporary restraining order, ruling that his Jets contract was valid. Accepting the futility of his situation, Belichick withdrew his antitrust lawsuit. The development gave the Jets the clear upper hand in any potential negotiations with teams interested in Belichick and prompted Parcells to consult Woody Johnson about brokering a deal with Kraft and the Patriots for Belichick's services.
Parcells found the notion distasteful given his acrimonious divorce from Kraft; the two hadn't spoken since the week following the 1997 Super Bowl. Nonetheless, Parcells knew a deal would benefit both sides. Furthermore, talks would signal a truce in what Parcells termed the "border war" between New England and New York.
So that day Parcells telephoned Kraft's office. When the owner picked up, Parcells said, "Hello, Bob -- this is Darth Vader."
Kraft laughed, easing some of the tension.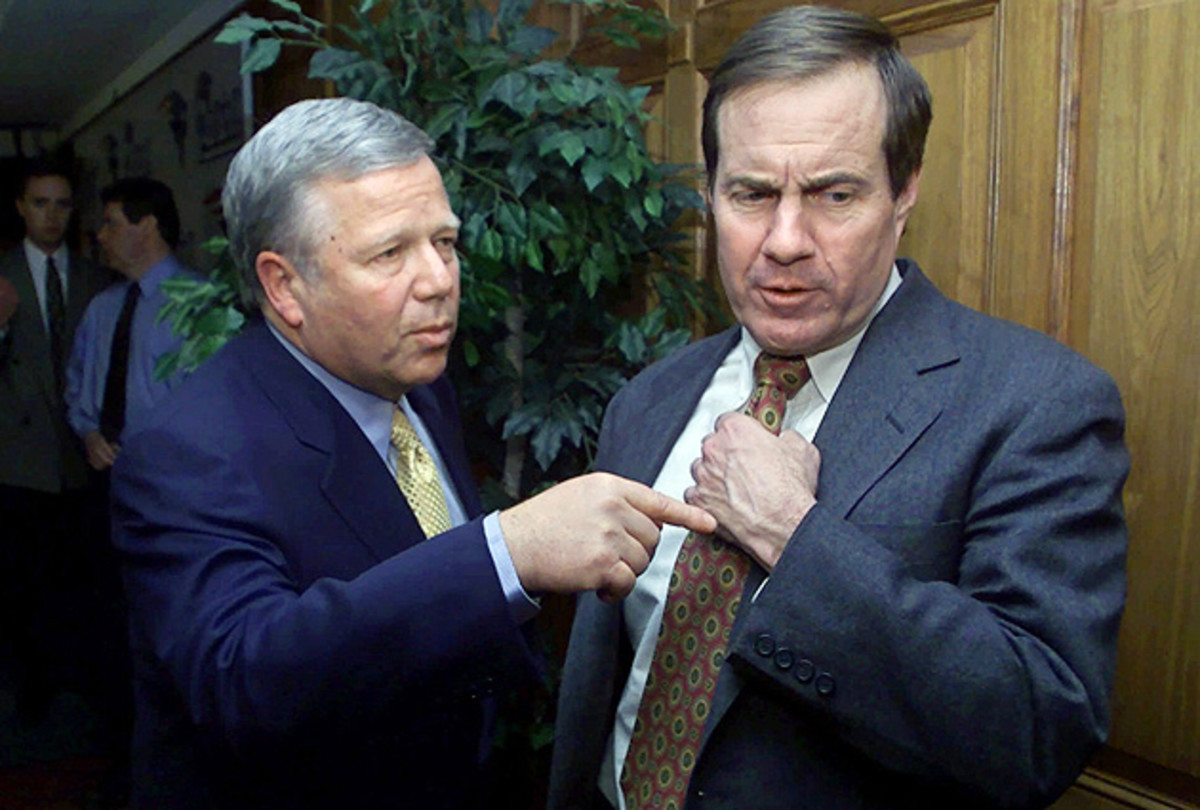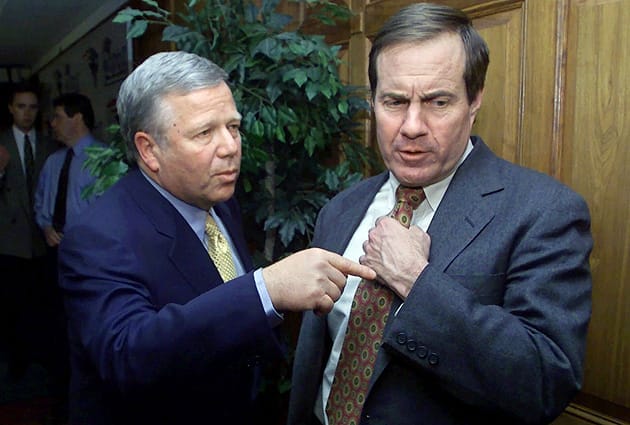 When his nemesis broached the possibility of a resolution involving Belichick, the Patriots' owner was immediately receptive. Before going further, however, Parcells expressed regret for some of his actions in New England. Kraft responded by conceding that his inexperience as an NFL owner had exacerbated the situation.
Getting down to business, Parcells informed Kraft that the Jets would allow Belichick to coach New England in exchange for draft-pick compensation. Kraft offered a third-round pick in 2000 and a fourth-rounder in '01. Parcells quickly countered that a deal required at least a first-round selection in 2000. The conversation ended after 40 minutes, with plans for further talks in the morning.
In their next session Kraft increased his offer to a second-round pick in 2000 and a third-rounder in '01, but Parcells insisted on a first-round selection. The two men hung up politely without a deal. Later that afternoon Kraft interviewed Jaguars defensive coordinator Dom Capers for more than four hours; Parcells expected New England to hire him as their new head coach, leaving Belichick in limbo and the Jets without compensation for his departure. But as Parcells headed to bed around 11 p.m., Kraft surprised him with a phone call.
"I'm going to make a decision here that I don't want to make," Kraft said, "because I want this guy as my head coach."
Parcells replied, "We can work this out. Let's do it."
Kraft agreed to relinquish New England's upcoming first-round pick if the teams exchanged lower-round selections in future years. Sealing the deal, the Jets' chief made an unusual suggestion: that a two-day window be placed on Belichick's Patriots contract negotiations to prevent him from holding either organization hostage. Kraft loved the idea.
Belichick was flabbergasted when Parcells called him at 7 a.m. to reveal the agreement he'd reached with Kraft, contingent on Belichick's signing a contract with the Patriots in less than 48 hours. Parcells also granted Belichick permission to hire two key Jets staffers with whom he shared links to the Browns: Pioli and defensive assistant Eric Mangini. After all but firing Weis, Parcells gladly allowed the banished coach to join Belichick, too.
Around 10 a.m., Kraft called Belichick to confirm the arrangement and start work on a contract. After hanging up, Belichick telephoned Mangini and Pioli about heading to New England. Within a few hours Belichick drove the two men to Foxboro Stadium, where he reached a handshake agreement with Kraft.
At 6 p.m. that day, the Patriots introduced Bill Belichick as their head coach, with more power over personnel decisions than Kraft, as a neophyte owner, had permitted Parcells. Belichick took the opportunity to reiterate that he had quit the Jets mainly because of the franchise's unsettled ownership situation at the time and Parcells' unclear role. Addressing the issue of escaping his mentor's shadow, Belichick noted that Parcells had also left a vast one in New England.
Parcells says of Belichick (with whom he later rekindled his relationship, after six years of silence), "At the end of the day, he didn't want to be the Jets' head coach. Then he expected me as the general manager to just say, 'OK, I'll get somebody else.' Well, eventually I did that. But I got compensation. I didn't begrudge Bill getting another job somewhere else. In fact, I'm probably the one that got it for him."
Reprinted from PARCELLS: A FOOTBALL LIFE Copyright © 2014 by Bill Parcells and Nunyo Demasio. To be published by Crown Archetype, an imprint of Random House LLC, on October 28.