Concrete Charlie: Chuck Bednarik was the NFL's last great two-way player
From the SI Vault: Chuck Bednarik helped the Eagles to their most recent title, in 1960, as one of the NFL's last two-way players.
This story originally appeared in the Sept. 6, 1993 issue of Sports Illustrated.
Chuck Bednarik was a stalwart at both linebacker and center for the 1960 NFL champion Philadelphia Eagles.
He went down hard, left in a heap by a crackback block as naked as it was vicious. Pro football was like that in 1960, a gang fight in shoulder pads, devoid of the high-tech veneer its violence has taken on today. The crackback was legal, and all the Philadelphia Eagles could do about it that Sunday in Cleveland was carry a linebacker named Bob Pellegrini off on his shield. Buck Shaw, a gentleman coach in this ruffian's pastime, watched for as long as he could, then he started searching the Eagle sideline for someone to throw into the breach. His first choice was already banged up, and after that the standard 38-man NFL roster felt as tight as a hangman's noose. Looking back, you realize that Shaw had only one choice all along.
''Chuck,'' he said, ''get in there.''
And Charles Philip Bednarik, who already had a full-time job as Philadelphia's offensive center and a part-time job selling concrete after practice, headed onto the field without a word. Just the way his father had marched off to the open-hearth furnaces at Bethlehem Steel on so many heartless mornings. Just the way Bednarik himself had climbed behind the machine gun in a B-24 for 30 missions as a teenager fighting in World War II. It was a family tradition: Duty called, you answered.
Classic Photos of Chuck Bednarik
Chuck Bednarik and Frank Gifford
Eagles at Giants, Nov. 20, 1960 | Philadelphia Eagles linebacker Chuck Bednarik celebrates after laying out New York Giants running back Frank Gifford at Yankee Stadium. The hit forced Gifford to temporarily retire from football.
Chuck Bednarik
The Ball bounces free as Chuck Bednarik hits New York Giants' Frank Gifford after Gifford caught a pass from George Shaw.
Chuck Bednarik
Chuck Bednarik, a two-way player for the Philadelphia Eagles, leaps toward an unidentified player from the Green Bay Packers.
Chuck Bednarik
Chuck Bednarik eyes New York Giants QB Charlie Conerly as he awaits the snap.
Chuck Bednarik
Chuck Bednarik with Green Bay's Paul Hornung (5) and Jim Taylor (31) after the 1960 championship game.
Chuck Bednarik
Chuck Bednarik standing on the sidelines bench during a game vs. the Pittsburgh Steelers at Forbes Field.
Chuck Bednarik
Chuck Bednarik hands his jersey and shoes to equipment manager Freddie Schubach after his last game so that they can be donated to the Hall of Fame.
Chuck Bednarik
A victorious Bednarik after winning the tiel game vs Green Bay.
Chuck Bednarik
Eagles head coach Nick Skorich and Chuck Bednarik during a game against Chicago.
Chuck Bednarik
Green Bay Packers blocker Jim Ringo and Chuck Bednarik chat before a 1960 game.
Chuck Bednarik
Bednarik jogs around the field prior to a practice in 1960 at Franklin Field in Philadelphia.
Chuck Bednarik
A referee talks with Chuck Bednarik his tackle on Frank Gifford at Yankee Stadium. Gifford (background) was knocked out and, because of this injury, did not play for 18 months.
Chuck Bednarik
Chuck Bednarik poses in a medieval knight's armor, lance and helmet in 1960 at Franklin Field in Philadelphia.
Chuck Bednarik
Chuck Bednarik
Chuck Bednarik and family
Bednarik is shown with with his family in their Abington, Pa., home in 1962. Left to right are; twins, Carol and Pamela, 7; Donna, 9; Jacquelyn, 20 months, Mrs. Bednarik and Charlene, 12.
Chuck Bednarik
Chuck Bednarik
Chuck Bednarik tackles Joe Morrison.
Chuck Bednarik
Bednarik walking off the field after the New York Giants.
Chuck Bednarik and Jim Brown
Chuck Bednarik tries to bring down Jim Brown at Cleveland Municipal Stadium.
Chuck Bednarik
Chuck Bednarik
Chuck Bednarik
Chuck Bednarik waves to the crowd at halftime ceremonies during a game against the Green Bay Packers on September 12, 2010 at Lincoln Financial Field in Philadelphia,
Chuck Bednarik
A 2011 portrait of Hall of Famer and former Philadelphia Eagle Chuck Bednarik.
Chuck Bednarik was 35 years old, still imposing at 6 ft. 3 in. and 235 pounds, but also the father of one daughter too many to be what he really had in mind -- retired. Jackie's birth the previous February gave him five children, all girls, and more bills than he thought he could handle without football. So here he was in his 12th NFL season, telling himself he was taking it easy on his creaky legs by playing center after all those years as an All- Pro linebacker. The only time he intended to move back to defense was in practice, when he wanted to work up a little extra sweat.
And now, five games into the season, this: Jim Brown over there in the Cleveland huddle, waiting to trample some fresh meat, and Bednarik trying to decipher the defensive terminology the Eagles had installed in the two years since he was their middle linebacker. Chuck Weber had his old job now, and Bednarik found himself asking what the left outside linebacker was supposed to do on passing plays. ''Take the second man out of the backfield,'' Weber said. That was as fancy as it would get. Everything else would be about putting the wood to Jim Brown.
Bednarik nodded and turned to face a destiny that went far beyond emergency duty at linebacker. He was taking his first step toward a place in NFL history as the kind of player they don't make anymore.
[pagebreak]
• SI 60: Read 60 of the best stories in SI history, and interviews with the writers
The kids start at about 7 a.m. and don't stop until fatigue slips them a Mickey after dark. For 20 months it has been this way, three grandchildren roaring around like gnats with turbochargers, and Bednarik feeling every one of his years. And hating the feeling. And letting the kids know about it.
Get to be 68 and you deserve to turn the volume on your life as low as you want it. That's what Bednarik thinks, not without justification. But life has been even more unfair to the kids than it has been to him. The girl is eight, the boys are six and five, and they live with Bednarik and his wife in Coopersburg, Pa., because of a marriage gone bad. The kids' mother, Donna, is there too, trying to put her life back together, flinching every time her father's anger erupts. ''I can't help it,'' Bednarik says plaintively. ''It's the way I am.''
The explanation means nothing to the kids warily eyeing this big man with the flattened nose and the gnarled fingers and the faded tattoos on his right arm. He is one more question in a world that seemingly exists to deny them answers. Only with the passage of time will they realize they were yelled at by Concrete Charlie, the toughest Philadelphia Eagle there ever was.
But for the moment, football makes no more sense to the kids than does anything else about their grandfather. ''I'm not one of the last 60-minute players,'' they hear him say. ''I am the last.'' Then he barks at them to stop making so much noise and to clean up the mess they made in the family room, where trophies, photographs and game balls form a mosaic of the best days of his life. The kids scamper out of sight, years from comprehending the significance of what Bednarik is saying.
He really was the last of a breed. For 58 1/2 minutes in the NFL's 1960 championship game, he held his ground in the middle of Philly's Franklin Field, a force of nature determined to postpone the christening of the Green Bay Packers' dynasty. ''I didn't run down on kickoffs, that's all,'' Bednarik says. The rest of that frosty Dec. 26, on both offense and defense, he played with the passion that crested when he wrestled Packer fullback Jim Taylor to the ground one last time and held him there until the final gun punctuated the Eagles' 17-13 victory.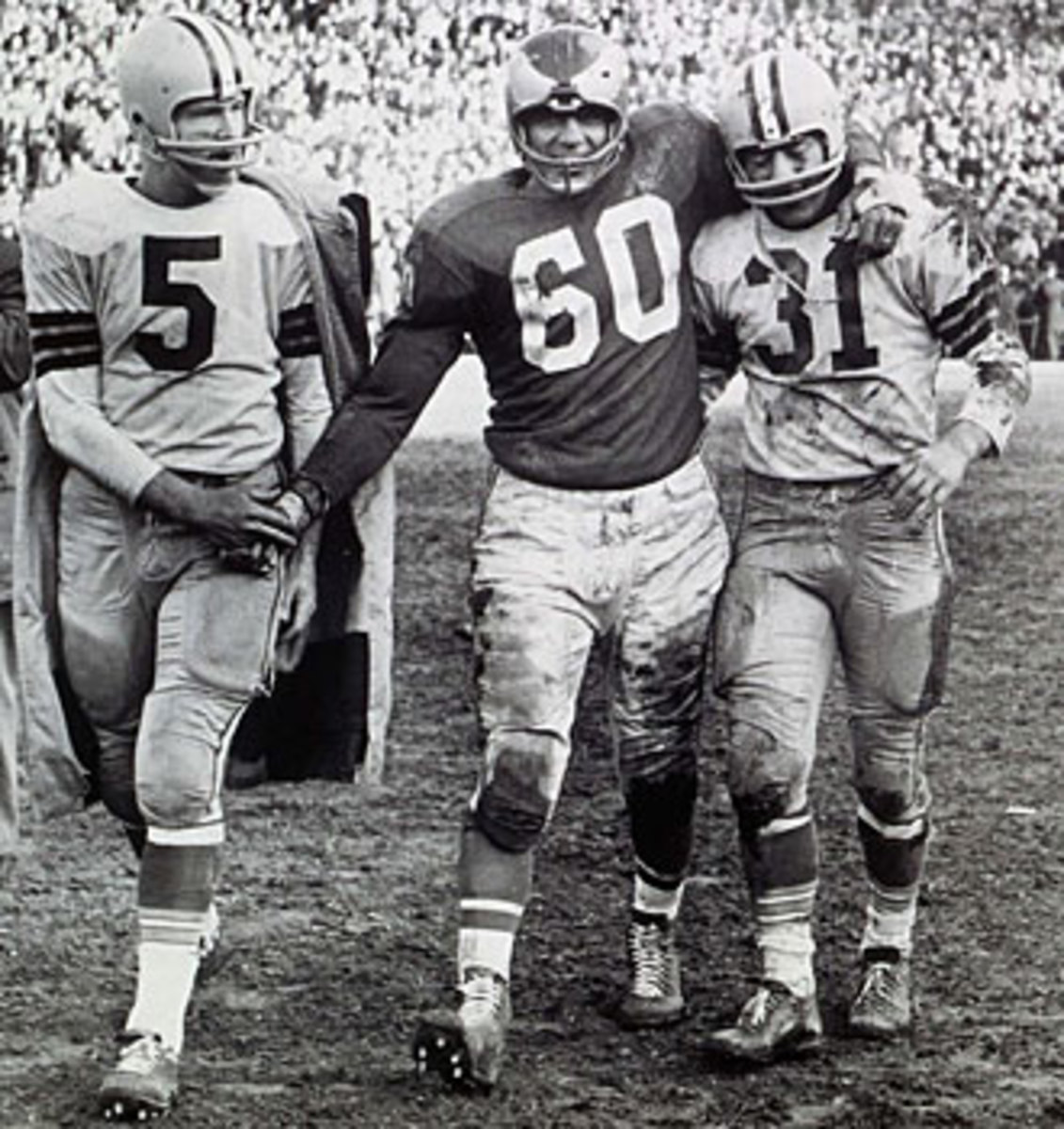 Philadelphia hasn't ruled pro football in the 33 years since then, and pro football hasn't produced a player with the combination of talent, hunger and opportunity to duplicate what Bednarik did. It is a far different game now, of course, its complexities seeming to increase exponentially every year, but the athletes playing it are so much bigger and faster than Bednarik and his contemporaries that surely someone with the ability to go both ways must dwell among them.
Two-sport athletes are something else again, physical marvels driven by boundless egos. Yet neither Bo Jackson nor Deion Sanders, for all their storied shuttling between football and baseball, ever played what Bednarik calls ''the whole schmear.'' And don't try to make a case for Sanders by bringing up the turn he took at wide receiver last season. Bednarik has heard that kind of noise before.
''This writer in St. Louis calls me a few years back and starts talking about some guy out there, some wide receiver,'' he says, making no attempt to hide his disdain for both the position and the player. ''Yeah, Roy Green, that was his name. This writer's talking about how the guy would catch passes and then go in on the Cardinals' umbrella defense, and I tell him, 'Don't give me that b.s. You've got to play every down.' ''
Had Green come along 30 years earlier, he might have been turned loose to meet Bednarik's high standards. It is just as easy to imagine Walter Payton having shifted from running back to safety, or Lawrence Taylor moving from linebacker to tight end and Keith Jackson from tight end to linebacker. But that day is long past, for the NFL of the '90s is a monument to specialization.
There are running backs who block but don't run, others who run but only from inside the five-yard line and still others who exist for no other reason than to catch passes. Some linebackers can't play the run, and some can't play the pass, and there are monsters on the defensive line who dream of decapitating quarterbacks but resemble the Maiden Surprised when they come face mask to face mask with a pulling guard.
''No way in hell any of them can go both ways,'' Bednarik insists. ''They don't want to. They're afraid they'll get hurt. And the money's too big, that's another thing. They'd just say, 'Forget it, I'm already making enough.' ''
The sentiment is what you might expect from someone who signed with the Eagles for $10,000 when he left the University of Pennsylvania for the 1949 season and who was pulling down only 17 grand when he made sure they were champions 11 years later. Seventeen grand, and Reggie White fled Philadelphia for Green Bay over the winter for what, $4 million a year? ''If he gets that much,'' Bednarik says, ''I should be in the same class.'' But at least White has already proved that someday he will be taking his place alongside Concrete Charlie in the Hall of Fame. At least he isn't a runny-nosed quarterback like Drew Bledsoe, signing a long-term deal for $14.5 million before he has ever taken a snap for the New England Patriots. ''When I read about that,'' Bednarik says, ''I wanted to regurgitate.''
He nurtures the resentment he is sure every star of his era shares, feeding it with the dollar figures he sees in the sports pages every day, priming it with the memory that his fattest contract with the Eagles paid him $25,000, in 1962, his farewell season. ''People laugh when they hear what I made,'' he says. ''I tell them, 'Hey, don't laugh at me. I could do everything but eat a football.' '' Even when he was in his 50's, brought back by then coach Dick Vermeil to show the struggling Eagles what a champion looked like, Bednarik was something to behold. He walked into training camp, bent over the first ball he saw and whistled a strike back through his legs to a punter unused to such service from the team's long snappers. ''And you know the amazing thing?'' Vermeil says. ''Chuck didn't look.''
He was born for the game, a physical giant among his generation's linebackers, and so versatile that he occasionally got the call to punt and kick off. ''This guy was a football athlete,'' says Nick Skorich, an Eagle assistant and head coach for six years. ''He was a very strong blocker at center and quick as a cat off the ball.'' He had to be, because week in, week out he was tangling with Sam Huff or Joe Schmidt, Bill George or Les Richter, the best middle linebackers of the day. Bednarik more than held his own against them, or so we are told, which is the problem with judging the performance of any center. Who the hell knows what's happening in that pile of humanity?
"Hut-Two-Three . . Ugh" A writer proves to be a Paper Lion at QB
​It is different with linebackers. Linebackers are out there in the open for all to see, and that was where Bednarik was always at his best. He could intercept a pass with a single meat hook and tackle with the cold-blooded efficiency of a sniper. ''Dick Butkus was the one who manhandled people,'' says Tom Brookshier, the loquacious former Eagle cornerback. ''Chuck just snapped them down like rag dolls.''
It was a style that left Frank Gifford for dead, and New York seething, in 1960, and it made people everywhere forget that Concrete Charlie, for all his love of collisions, played the game in a way that went beyond the purely physical. ''He was probably the most instinctive football player I've ever seen,'' says Maxie Baughan, a rookie linebacker with the Eagles in Bednarik's whole-schmear season. Bednarik could see a guard inching one foot backward in preparation for a sweep or a tight end setting up just a little farther from the tackle than normal for a pass play. Most important, he could think along with the best coaches in the business.
And the coaches didn't appreciate that, which may explain the rude goodbye that the Dallas Cowboys' Tom Landry tried to give Bednarik in '62. First the Cowboys ran a trap, pulling a guard and running a back through the hole. ''Chuck was standing right there,'' Brookshier says. ''Almost killed the guy.'' Next the Cowboys ran a sweep behind that same pulling guard, only to have Bednarik catch the ballcarrier from behind. ''Almost beheaded the guy,'' Brookshier says. Finally the Cowboys pulled the guard, faked the sweep and threw a screen pass. Bednarik turned it into a two-yard loss. ''He had such a sense for the game,'' Brookshier says. ''You could do all that shifting and put all those men in motion, and Chuck still went right where the ball was.''
Three decades later Bednarik is in his family room watching a tape from NFL Films that validates what all the fuss was about. The grandchildren have been shooed off to another part of the house, and he has found the strange peace that comes from seeing himself saying on the TV screen, ''All you can think of is 'Kill, kill, kill.' '' He laughs about what a ham he was back then, but the footage that follows his admission proves that it was no joke. Bednarik sinks deep in his easy chair. ''This movie,'' he says, ''turns me on even now.''
Suddenly the spell is broken by a chorus of voices and a stampede through the kitchen. The grandchildren again, thundering out to the backyard. ''Hey, how many times I have to tell you?'' Bednarik shouts. ''Close the door!''
[pagebreak]