NFL upholds Patriots QB Tom Brady's four-game suspension
NFL commissioner Roger Goodell handed down his ruling in Patriots' quarterback Tom Brady's appeal of his four-game suspension for his alleged role in the Deflategate scandal.
The NFL has upheld New England Patriots quarterback Tom Brady's four game-suspension, the league announced Tuesday.
NFL commissioner Roger Goodell said in his decision that "the evidence fully supports" allegations that Brady took part in a scheme to tamper with game ball during the AFC championship game and "willfully obstructed the investigation" by arranging for his cell phone to be destroyed. 
On May 6, attorney Ted Wells wrote in his report that "it is more probable than not that New England Patriots personnel participated in violations of the Playing Rules and were involved in a deliberate effort to circumvent the rules" and that it was probable that Brady "was at least generally aware of... the release of air from Patriots game balls."
• McCANN: What happens if Brady takes Deflategate suspensions to court?
On May 11, the NFL suspended Brady for the first four games of the 2015 season. The NFLPA filed an appeal on Brady's behalf on May 14. Brady's appeal was conducted over a 10-hour period on June 23. 
"The Commissioner's decision is deeply disappointing, but not surprising because the appeal process was thoroughly lacking in procedural fairness," Brady's agent, Don Yee, said in a statement provided to ESPN's Adam Schefter. "Most importantly, neither Tom nor the Patriots did anything wrong. And the NFL has no evidence that anything inappropriate occurred. The appeal process was a sham, resulting in the Commissioner rubber-stamping his own decision.​"
The NFL players' union issued the following statement: 
The Commissioner's ruling today did nothing to address the legal deficiencies of due process. The NFL remains stuck with the following facts:

The NFL had no policy that applied to players;
The NFL provided no notice of any such policy or potential discipline to players;
The NFL resorted to a nebulous standard of "general awareness" to predicate a legally unjustified punishment;
The NFL had no procedures in place until two days ago to test air pressure in footballs; and
The NFL violated the plain meaning of the collective bargaining agreement.

The fact that the NFL would resort to basing a suspension on a smoke screen of irrelevant text messages instead of admitting that they have all of the phone records they asked for is a new low, even for them, but it does nothing to correct their errors.

The NFLPA will appeal this outrageous decision on behalf of Tom Brady.
Dallas Cowboys DE Greg Hardy, who was suspended 10 games by the league for his role in a domestic violence issue, had an appeal of his suspension heard on May 28 and eventually had his punishment reduced to four games.
• Looking back: Major suspensions of the Roger Goodell era
GALLERY: TOM BRADY AND CONTROVERSY
Tom Brady and Controversy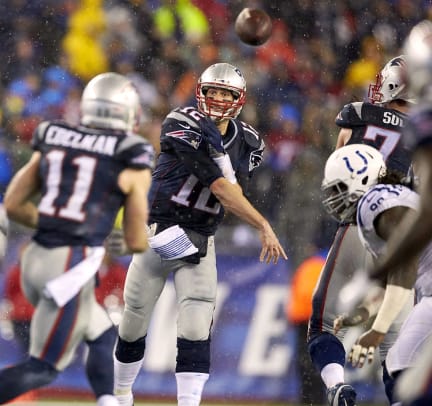 ​