Bill Belichick avoids questions about Tom Brady suspension
In a press conference Wednesday surrounding the NFL's upholding of Tom Brady's suspension, New England Patriots Bill Belichick had very little to say.
After Patriots owner Robert Kraft took a strong stance against the NFL's decision to uphold Tom Brady's suspension, New England head coach Bill Belichick followed with a brief, televised press conference of his own. Belichick largely avoided answering questions from reporters surrounding the circumstances.
Belichick took the podium and said he wouldn't be answering Brady-related questions, focusing nearly all of his answers on Patriots training camp, which begins on Wednesday. He repeated his stance in response to various queries from the media.
"We start training camp today," Belichick said. "We'll get ready for 2015 today."
He emphasized that the Patriots would be preparing for the season the same way they always do, regardless of Brady's suspension for the first four games of the season.
"We're gonna take it day by day," Belichick said. He made his stance clear by referring to the opinion Kraft shared minutes earlier. "You heard what Robert just said," Belichick said, refusing to discuss topics that he felt had "already been addressed."
"We're gonna continue to get the team ready for the 2015 season and that's what we're going to do."
• Robert Kraft: "I was wrong to put my faith in the league"
On Tuesday, the NFL upheld Brady's four-game suspension, which was originally handed down on May 11 for his alleged role in deflating footballs used in the AFC championship game against the Colts.
Tom Brady and Controversy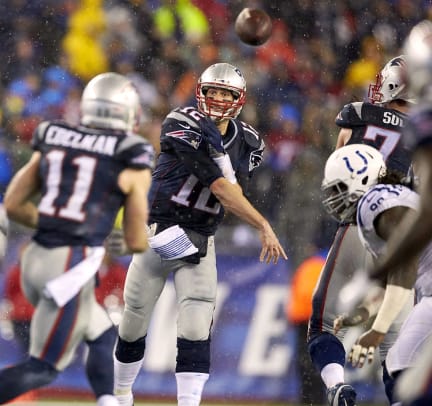 In his report, NFL commissioner Roger Goodell wrote that evidence found during the investigation "fully supports" the allegations that Brady "was at least generally aware of... the release of air from Patriots game balls." He added that Brady "willfully obstructed the investigation" by having his cell phone destroyed.
Brady countered with a statement of his own, saying he was "very disappointed" with the NFL's decision, and that he disagreed with the discourse surrounding the destruction of his cell phone. Brady's agent, Don Yee, added that he thought the appeal process was a "sham" because it lacked "procedural fairness."
"I did nothing wrong, and no one in the Patriots organization did either," Brady said in his statement
Under the terms of the suspension, Brady will be eligible to return on Oct. 18 against the Colts.
- Jeremy Woo and Erin Flynn