Calm Cam and the Indy Dolts
An inexplicable play call by Indianapolis against New England competed with a defining moment for Cam Newton and the unbeaten Panthers for top billing on a busy sixth Sunday of the NFL season. Plus the rebirth of the Dolphins defense, a Deflategate postscript, Week 6 awards and more
Week 6, NFL, 2015. Memorable for the worst coaching decision since Grady Little left Pedro Martinez in the American League Championship Series about 16 batters too long in 2003. And for two drives that will change the narrative on Cam Newton. Or should.
A heck of a day, and night. The Jets are 4-1, all the wins by double digits, and are better than anyone but Todd Bowles' mother expected. Seattle is 2-4, can't block anybody and had another of its weekly late-game defensive meltdowns. Pittsburgh's third-string quarterback, Landry Jones, beat a terrific defense, Arizona's. The Broncos limped out of Cleveland, bordering on apologizing for an overtime win and being 6-0. In Green Bay, Philip Rivers threw for 503 yards and the Chargers lost; Eddie Lacy ran for three yards and the Packers won.
Five unbeaten teams. Zero winless teams.
Chiefs, Ravens, Lions: 3-15.
Jets, Panthers, Falcons: 14-2.
• BRONCOS RUSH TO MANNING'S DEFENSE: Robert Klemko on the uncertain unbeatens in Denver
Soon, an unsatisfying explanation for the coaching play-call that took all the air out of Lucas Oil Stadium on Sunday night, ruining the drama in the Revenge Bowl. And break up the Dolphins, give the Coach of the Year award to Dan Campbell and take Miami's defensive roster off the side of a milk carton.
First, though, the Panthers had never won in Seattle, and Cam Newton had never beaten the Seahawks, and it sure didn't look like that was going to change with eight minutes left in the Pacific Northwest and Carolina trailing by nine on Sunday. But Seattle isn't Seattle anymore. And Cam Newton is better than you think.
* * *
The tale of two Cams
For quarterbacks, the important time of games is always late. Bill Walsh once said he wanted a quarterback whose heart rate would measure late in the fourth quarter what it measured in a Wednesday afternoon practice. That's the way Cam Newton played Sunday, when it got very late in the funhouse of CenturyLink Field, and the locals thought their recent bad fortune was about to turn, and the Seahawks were about to beat Carolina for the fifth time since Newton was drafted to win games such as this one.
"Calm," said tight end Greg Olsen. "No conversation, really. Just business. We know what we had to do. Cam knew. He just called the plays and we played."
Drawing a line of demarcation at the 52-minute mark of the game shows what happened with Newton's play at Seattle.
| | | | | | |
| --- | --- | --- | --- | --- | --- |
| Situation | Comp-Att | Yards | TD-INT | Rating | Led Panthers to... |
| First 52 minutes | 9-23 | 112 | 0-2 | 18.8 | 14 points |
| Last 8 minutes | 11-13 | 157 | 1-0 | 142.6 | 13 points |
***
"It would have been shame on me if I would have felt sorry for myself," Newton said.
Down 23-14 midway through the fourth quarter, Newton looked at his receiver group. Six pass-catchers would rotate in and out of the lineup on the last two drives, including three who had a total of 14 catches all season—Jerricho Cotchery, Ed Dickson and rookie Devin Funchess. Since Newton lost No. 1 wideout Kelvin Benjamin in training camp with a torn ACL, the receivers had been a crazy-quilt of new and vet. Catches by Dickson and Funchess on the first drive put the ball at the Seattle 33, and then Newton hit Olsen, his favorite target, with a seam route about 20 yards downfield, and it took two Seahawks to drag him down at the 1. Jonathan Stewart bulled in from a yard out, and Carolina was a touchdown away.
Carolina's defense stopped Russell Wilson (a familiar refrain for Seattle fans this year, a defense stopping Wilson and the line that has been tormenting him), and fortunately for the Panthers, Jon Ryan's 68-yard punt made it to the end zone. With 2:20 left, down 23-20, Newton took over at his 20-yard line. He completed five passes on this drive to five receivers, including a great third-down-conversion catch by Cotchery, with Newton facing a blitz. It was a wrestling competition between Cotchery and DeShawn Shead. Cotchery won.
• SECRETS OF DONUT CLUB: The MMQB goes deep inside a Vikings tradition like no other
Now it was Carolina's ball at the Seattle 26 with 37 seconds left. Down three. No timeouts left. Logic said take a shot or two downfield, then settle for the equalizing field goal and overtime. First shot: sending Olsen up the seam, similar to what Newton had done on the previous drive. And that was the call—though it almost cost Carolina five yards. "We were running out of time in the huddle because there was so much noise, and it was late coming in," said Olsen. "Cam called it really fast, and we basically sprinted out of the huddle—there was no time to do much except get the play off. You just snap it and try to make the most of it. My job there is to go off the line, explode into the secondary and don't predict what the defense will do—just run the route and get open."
An incredibly fortunate thing happened: Seattle's secondary was playing two different coverages on the play because the call from the sideline hadn't reached all 11 players, and the noise was deafening; this is the one time when the crowd noise actually hurt the Seahawks. "There was a lot of room," said Olsen. "I'm sure someone wasn't in the right spot."
•  NEW: Week 7 $2M fantasy league. First place wins $150K and top 90K teams win cash! Sponsored by FanDuel
The ball was perfectly thrown, hitting Olsen midway through the end zone. Accusatory fingers flew in the Seattle secondary, players pointing at each other. Like: I thought he was YOUR man! Touchdown. Carolina, 27-23.
Olsen found Newton on the sideline. "I wouldn't want to roll with anyone other than you," Olsen said
"This is probably as special a win as we've had," Olsen said. "Playing such a good team, in a great environment, it means a lot to get a win like this. During the week, we were careful talking about it. It's only one game, and even though they had our number and we really wanted to win it, there's a long way to go before it really means anything. But it's a monkey off our back, no question. And it means so much to the guys here, and to the coaches and to the front office. We do things the right way here. We've got good community guys, and great chemistry, and everyone pulling for the same thing. So getting this win, it's huge."
Carolina took control of the NFC South with the win. The Panthers have a defense that makes it hard for foes to breathe. And they have a quarterback who knows how to put some ugly series behind him, and play his best when the best is essential. The Carolina team that overcame Seattle in the fourth quarter is going to be a tough team to beat down the stretch.
* * *
Requiem for a very bad call
Observations after Patriots 34, Colts 27:
• It wasn't that close.
• Reasonable people can disagree, but the fake-punt attempt by the Colts is the dumbest play-call I've seen in 31 years covering the NFL.
• Two things would disturb me if I were a Colts fan, my team chasing the Patriots in what has become a seven-game losing streak against New England and a five-game Pagano Era Frustration Bender (Indy is 0-5 versus New England since Pagano took the coaching job, losing by an average of 24.6 points). First disturbing thing: When New England tries a zany-formation play, it works to perfection. When Indianapolis does, it looks like the team is coached by Jim Carrey. Last year the Patriots twice tried the odd formation with the ineligible receiver split wide right, and completed passes on both plays. Sunday night the Colts were down 27-21 with 16 minutes left, with a fourth-and-3 at their 37-yard line. They got into punt formation. Before the snap, nine Colts shifted wide right in a scrum, with safety Colt Anderson, for some reason, lining up under center. (The center, by the way, was wide receiver Griff Whalen. Whatever could go wrong? A wideout snapping to a safety, on the biggest play of the game?) The Patriots, confused initially, ended up with two players lining up over center, and three more nearby. At the snap, Anderson got plowed under, first by rusher/running back Brandon Bolden, as he tried to sneak, feebly, for the first down. Loss of one. Loss of hope. It took the Patriots six plays to travel 35 yards and score the insurance touchdown.
• PATRIOTS A STEP AHEAD: Brady's feet, McDaniels' brain best Colts' creative scheme
• Second disturbing thing: The decision by coach Chuck Pagano to install the play and to run it says to me that the Colts think they have only a ghost of a chance to win the game playing it straight. Maybe there's good reason for that. After the Colts led 21-20 at the half, Indy opened the second half with these six possessions: punt, punt, fake-punt debacle, punt, punt, turnover on downs. The only way we've got a chance is to draw up lottery-ticket plays. Is that what the Colts think?
• It's one thing to try some pie-in-the-sky play like that with a minute left, a desperate play for desperate times. But with 16 minutes left? With one of the best punters in the league, Pat McAfee, having a chance to pin New England inside its 20? With the Patriots having punted on two previous series? Just not smart.
• Pagano: "I take responsibility there. The whole idea there was, on a fourth-and-3 or less, shift to an alignment where you either catch them misaligned, they try to sub some people in, catch them with 12 men on the field. If you get a certain look, 3 yards, 2 yards, you can make a play. But again, we shifted over, and I didn't do a good enough job coaching it during the week. ... That's all on me. I take full responsibility on that, and I didn't do a good enough job getting that communicated to the guys. Obviously, it played in a huge factor in this loss."
• Sounds … interesting. But there was a flag on the play anyway. Illegal formation on the Colts. Even if the freaky thing somehow worked, it would have been flagged and five yards stepped off. And it's plausible after listening to Pagano that he never wanted Anderson to take the snap at all—but rather to try to draw New England offside or take the delay penalty.
• There's a third disturbing thing, as it turns out, about the fake punt: Punter Pat McAfee said they'd been working on the play since last year. Interesting: You've worked on a fake punt play since last year, and it's an illegal formation, and there's miscommunication and it fails embarrassingly.
• Did you notice how calmly the Patriots adjusted to Bizarro Formation? "I'm glad they did it," Julian Edelman said. "We got the ball back with great field position. We were alert. Our guys went to where we had to go." No panic. No rushing around, pointing here or there. They just got into position to defend whatever crazy thing was coming.
• If you're owner Jim Irsay, and you already were hesitant to give Pagano a lucrative extension last off-season, and you see your franchise look like the Keystone Cops in the game of the year, what kind of chance is there you'll give the coach a bigger extension post-season? There's only one chance: The Colts have to shock the world in the playoffs. And, probably, shock the Patriots … likely in Foxboro.
• Andrew Luck has to do more. He has to play better against the Patriots. If he's a franchise quarterback, and I believe he surely is, franchise quarterbacks can't go 0-5 against their biggest nemeses, completing 52.6 percent of one's passes with more interceptions (10) than touchdowns (nine).
• Colts in the Pagano/Luck Era versus the AFC South: 19-2.
• Colts in the Pagano/Luck Era versus all other teams: 20-19.
• The Patriots had to walk out of Lucas Oil Stadium early this morning thinking: Not bad. We put up 34 points on a team with a better defense than we've seen in Indy in years, we didn't even get Rob Gronkowski involved in the first half, we punted five times, we handed them seven points on an interception that bounced out of Julian Edelman's hands and into Mike Adams', and we couldn't hear ourselves think for three quarters because the place sounded like Seattle. Put those things together, and a seven-point win sounds fine.
• Now it could get interesting for New England: Next week the 5-1 Jets come to Foxboro, followed by the possibly resurgent Dolphins. A sweep of those games and the AFC East could be wrapped up by Halloween. Life doesn't change much when your coach is Bill Belichick and your quarterback is Tom Brady.
* * *
A postscript on ball inflation.
John Elway played 256 games in his NFL career, and he threw 7,901 passes. He never was concerned about the inflation level of the football he threw. But after the Tom Brady scandal erupted earlier this year, he was curious. He went to his equipment staff, and had footballs inflated to 13 psi, and 12 psi, and 11 psi, and he felt them and tested them himself.
"I mean, it's not that big a difference," said Elway. "It's hard to tell the difference. Not a big enough difference to have the attention on this that it's gotten. What I come down to is, does it really matter? Some guys like the ball a little softer. And if a guy likes a harder ball, that's fine too. We want the quarterbacks to be as successful as they can be, and we want them to give the fans the best entertainment they can. Who cares if a quarterback likes it at 10 and a half? If that makes him play better, fine."
Of course, Elway isn't alone in thinking the balls should be, within reason, left without regulation. But the fact is there are rules in the NFL, and the balls must be inflated between 12.5 psi and 13.5 psi when measured on gauges in the officials' locker room two hours before the start of games. Until the rules are changed, if they ever are, quarterbacks will have to use footballs at that pressure.
Not that it seems to matter to Brady. If the footballs used by Brady at home were ever tampered with, the record shows his performance at home over the years is remarkably similar to the performance on the road—where visiting teams hand over the balls to the officials and then to home-team ballboys independent of the visitors.
As for the effect of the off-season scandal on Brady's motivation this fall, Elway said: "The last thing you want to do is poke the bear. The bear got poked, and this is what happened."
* * *
The most interesting man in the (NFL) world today: Dan Campbell.
Remember last week in this space, when I asked interim Dolphins coach Dan Campbell if he had a message he wanted to deliver to Miami fans? "We're about to wake the sleeping giant," Campbell said, with more than a touch of Vincent Price in his voice. (Or Freddy Krueger, for you youngsters.)
And so what happened after the stunningly brutish 38-10 vanquishing of the Titans in Nashville Sunday, in the first game for which Campbell—who'd never been anything more than a position coach—was in charge of an entire team? Owner Stephen Ross handed him the game ball and said, "The sleeping giants have awoken."
Campbell—39, younger than Peyton Manning—accepted the game ball and said, with a touch of warning about keeping the pressure on foes for the next 11 games: "The sleeping giant is awake. But he can't take a nap!"
(Last metaphors about huge men dressed in teal, not at all drowsy.)
Miami had six sacks (six times as many as it had in the previous four games combined), ran the ball better than it had all season, swarmed around Marcus Mariota menacingly and got a verbal salvo from Tennessee coach Ken Whisenhunt for, in his view, purposely trying to hurt Mariota when defensive end Olivier Vernon hit the rookie QB low. And, in general, Miami finally looked like the team that Ross felt he paid for, even with the biggest star, Ndamukong Suh, still playing just a supporting role.
What I thought was great about Campbell's postgame talk to his team was that he recognized the practice-squad players and the backups whose job he has made it to give the starters a very tough week of preparation. Campbell is like one of his longtime mentors, Bill Parcells: You'd better practice hard and well or you won't be playing on Sunday. "We know what the model is now," Campbell preached after the game in Nashville. "We gotta go after each other again on Wednesday … offense versus defense."
The biggest star Sunday was defensive end Cam Wake. It's hard to get four sacks in a month. Wake got four sacks in the first half, and he and Vernon ratcheted up the heat on Mariota. After the game I asked Wake about what the past week with a new coach was like—and how that translated to Sunday's blowout.
"One word I'd use to describe it: fun," said Wake. "We're running, we're hitting, we're playing with enthusiasm, and we're carrying that enthusiasm over from the practices to today at the game. We had a great week of practice. I think Dan's a guy we have respect for because he's played the game, and he's played it recently. He knows how players feel. He knows how practice makes players feel. The respect is there for him, because he's got such passion for the game."
The Dolphins played with a fervor Sunday unlike they showed for much of the season's first four games under Joe Philbin. If you don't play with consistent abandon under Campbell, he's likely to yank you. It's too soon to judge any player in the system yet—and so we won't judge Wake or Ndamukong Suh on either end of the performance scale after one game—but Campbell will be judging.
"We're five or six games into the season," said Wake. (They're 2-3, actually.) "People made a big deal of how far we were behind in the last couple of weeks, but quite literally anything can happen the rest of the year. We could win the rest of our games and win the Super Bowl. Or we could lose them. It's up to us. No outcome's off the table for this team."
Tennessee is not a good team right now, to be sure. So Miami might have won this game with anyone coaching. But Campbell's influence showed up in the intensity of the play. Few teams will be more intriguing than Miami for the next couple of months.
* * *
Presented without comment.
Well, with a little comment.
I was looking at injuries across the league over the weekend and trying to come up with a metric or example of how eye-opening this spate of injuries this season has been. (And I doubt it's any different from what it has been in the past few years; it's just that when you're in the middle of it, you just shake your head at the sheer volume.)
I thought: I bet I could make a pretty good team, maybe even a Pro Bowl team, of guys who've missed time due to injury in the first six weeks of the season. Then I thought: I bet I could make one of those teams in the NFC East alone.
And so I did. What follows is a starting lineup of players from the NFC East who have missed time with injuries, or are on injured reserve or the physically-unable-to-perform list, with number of games missed in parentheses following the name. (In the case of Eagles and Giants, I have added tonight's game if they've been declared out, and not added it if there is a chance they will play.)
| | |
| --- | --- |
| OFFENSE | DEFENSE |
| WR Dez Bryant, DAL (4) | DE Robert Ayers, NYG (4) |
| T Trent Williams, WAS (1) | DT Stephen Paea, WAS (1) |
| G Ronald Leary, DAL (2) | DT Markus Kuhn, NYG (3) |
| C Kory Lichtensteiger, WAS (1) | DE Randy Gregory, DAL (4) |
| G Shawn Lauvao, WAS (3) | LB Junior Galette, WAS (6, IR) |
| T Will Beatty, NYG (6, PUP) | LB Kiko Alonso, PHI (4) |
| TE Niles Paul, WAS (6, IR) | LB Mychal Kendricks, PHI (3) |
| WR Victor Cruz, NYG (6) | CB DeAngelo Hall, WAS (3) |
| WR DeSean Jackson, WAS (5) | SS Duke Ihenacho, WAS (5, IR) |
| QB Tony Romo, DAL (3) | FS Mykkele Thompson, NYG (6, IR) |
| RB DeMarco Murray, PHI (1) | CB Dominique Rodgers-Cromartie, NYG (2) |
|   | Nickel Orlando Scandrick, DAL (5, IR) |
***
Except for Thompson, who was fighting for a job in training camp when he tore his Achilles, every one of the 22 other players is a solid starter, or, in the event of Scandrick, one of the best nickel corners in football.
* * *
So there's this podcast called 'The Season' …
I've become a fan of a podcast on the Columbia University football team. It's called "The Season," by a business reporter for New York public radio station WNYC, Ilya Marritz, commissioned by WNYC news director and Columbia grad Jim Schachter. Marritz had the idea that maybe he could come up with a series of pods something like the wildly successful "Serial." But Columbia football? The lovable losers with the 21-game losing streak entering the year?
Well, the streak is dead—Columbia beat Wagner 26-3 last week, ending the skid at 24—but "The Season" lives. Marritz is good at this because he's not a football fan at all, and can be irreverent when it's relevant. Such as when the coach, Al Bagnoli, who just came from Penn, says the looming game against his former school is no big deal, and not about the coaches. "Whatever you say, coach," Marritz said in this week's episode. It's unusual, me touting a podcast about college football. But it's about more—it's about turning around a loser, about the politics of athletics even at the Ivy level, about the students and the players and the scene. I like it. The MMQB's Kalyn Kahler asked Marritz about the pod. Some of his thoughts:
"I had been interested in doing a chapter storytelling project of some kind, inspired by 'Serial.' I kept saying, 'I'm not the guy for this, I don't know anything.' I had never watched a football game the whole way through until August. When 'Serial' happened, I remember having conversations with other radio people, like, 'Oh, everybody is going to want to do this.' And I don't think many people actually did try to do something similar. Frankly, it is really hard to generate strong ideas and then execute on them. I don't know whether I will feel that it's a success for quite awhile. I will say that I am having a lot of fun.
"It's a juicy story. The comeback means nothing unless you know how awful it was! Every underdog story has to begin with awfulness, right? I really like the challenge of dealing with the unpredictability of this. I am a little concerned that there isn't much left, that there might be not much suspense left in a few weeks. Their record at that point will be pretty much set, and we'll know that they aren't going to be Ivy League champions and so on. How do I keep the listener engaged right through to the end?
"I have been kind of disappointed [in the player reaction]. I don't think that they are listening. For these guys, football is a full-time job, school is a full-time job. It is a very different kind of person to interview from what I am used to. When you interview people in a team setting, and they are part of a community and you are outside of it, I'll notice that guys will sometimes get teased when they are talking to me. It's very gentle, but still."
Kahler asked Marritz: "Are you going to be sad when the season is over?"
Marritz said: "Yes. I am already sad."
* * *
Quotes of the Week
I
"We don't suck."
—Seattle free safety Earl Thomas, after the Seahawks blew a fourth-quarter lead for the fourth time in four 2015 losses, Sunday at home to Carolina.
II
"It's almost like a Zen-type feel here. It's calm, I feel like even playing football you have to be calm, and I kind of use that on the field."
—Jets cornerback Darrelle Revis, at the Whitney Museum of American Art in New York City, looking at a Jackson Pollock painting. He was interviewed by Armen Keteyian on 60 Minutes last night in an interesting piece detailing his work habits and his "Team Revis" support system. Never knew Revis was an art guy.
III
"I think it was done with the idea of trying to hurt our quarterback, and that's bull---- football. I thought it was BS."
—Tennessee coach Ken Whisenhunt, angry at Miami DE Olivier Vernon's low hit on rookie Titans quarterback Marcus Mariota, which left the quarterback with a slight limp the rest of the day.
IV
"I said, 'Hey, Steve, let me ask you a question. How many SEC championships can you win? Ten? Twenty? There's more to life than SEC championships, isn't there?' He said, 'I can get in my car right here and in 15 minutes I'll be at the beach.' I said, 'Hey, I can top that here in Green Bay. You can go out in your car and in 10 minutes you'll be at the beach. The difference is, the beach will be frozen.' "
—Former Green Bay GM Ron Wolf, explaining to Bob McGinn of the Milwaukee Journal Sentinel how he twice tried to hire Steve Spurrier to coach the Packers—in 1999, when Ray Rhodes got the job, and in 2000, when Wolf went with Mike Sherman. Said Wolf: "He wanted no part of Green Bay. I'm sure it was the lifestyle."
Steve Spurrier and Brett Favre. Now that would have been an interesting combo platter.
V
"What do you want to talk about? Let's talk about another college. Let's talk about North Texas. I know you have an obligation, and I understand that it's going to happen [when] we're not successful and we're not winning. I came from college, [so the assumption is] I'm going to go back to college. I hope someday to be like coach [Tom] Coughlin and win enough games where I can stay around long enough without speculation. I understand you have to ask the question, but I answered it the same way a year ago and I answered it the same way my first year here."
—Chip Kelly, to the Philadelphia media, on being asked if he has interest in the USC or South Carolina coaching jobs.
I didn't even know North Texas had a job opening. But I would add one point: I remember nine years ago when Nick Saban told me he was staying with the Dolphins and don't listen to the rumors, and a few days later he's on a plane to Tuscaloosa. I know the questions have to be asked, and I don't expect Kelly to leave for college football anytime soon. But it's not going to generate many fruitful answers.
VI
"Let's go Mets! … I cannot believe I uttered those words."
—Former Atlanta slugger Chipper Jones, a career nemesis to the Mets, on the Mets' pregame radio show on WOR Radio in New York on Thursday night.
VII
"Memorable. Exciting. Everything else will pale in comparison."
—Tom Cruise, using the men's room in Baton Rouge on Saturday night at LSU-Florida, asked his opinion of the LSU experience by fellow men's-room-user Ross Dellenger of The Advocate of Baton Rouge.
* * *
The Award Section
OFFENSIVE PLAYERS OF THE WEEK
Cam Newton, quarterback, Carolina.The biggest win of Newton's career came in what was essentially the NFC South title game late in 2013 against the Saints, when he drove the Panthers 65 yards in the final minute for the winning touchdown—and a playoff berth. Number two was Sunday. Fighting back after some adversity through three quarters, Newton led the Panthers on two 80-yard touchdown drives in the last eight minutes, masterly drives ending in a one-yard TD run by Jonathan Stewart and a 26-yard TD pass to Greg Olsen. For the game, I don't really care about his stats (20 of 36, 269 yards, one touchdown, two picks); I care about how great he was when the chips were down in the loudest road stadium in the NFL, against the team that Newton had never beaten.
• UNBEATEN AND OVERLOOKED: Talking football with Panthers' Olsen
DEFENSIVE PLAYERS OF THE WEEK
Cameron Wake, defensive end, Miami. The Dolphins had one sack in the first four games of the season. Wake had four sacks in the first half of game five Sunday at Tennessee. With a front seven playing with significantly more passion than it did under the previous coaching regime, Wake led the way with consistent pressure on a beleaguered Marcus Mariota.
Cameron Jordan, defensive end, New Orleans. Jordan had a career game Thursday night in the Saints' 31-21 victory over the previously unbeaten Falcons. He'd never had a game in his five NFL season in which he pressured the quarterback 10 times, but, according to Pro Football Focus, Jordan, in addition to his three sacks of Matt Ryan, had one quarterback hit and six significant pressures—and he did it against PFF's No. 1 rated offensive line entering Week 6. Jordan added six tackles, a forced fumble and a recovered fumble, in a game the Saints desperately needed.
SPECIAL TEAMS PLAYER OF THE WEEK
Chris Boswell, kicker, Pittsburgh.Kicking in what has been the most difficult stadium in the league to make long field goals, Boswell continued to show that the Steelers made the right decision in cutting the experienced Josh Scobee and signing the green Boswell last month. Boswell, who went undrafted out of Rice in 2014 and was in Giants camp this summer, was four-for-four on field goals on Sunday—from 47, 48, 51 and 28 yards—as the Steelers surprised Arizona at Heinz Field.
Michael Mauti, linebacker, New Orleans. With the most famous punt-blocker in Saints' history, Steve Gleason, in attendance at the Superdome on Thursday night, Mauti reprised Gleason's momentous 2006 punt block, also against Atlanta. Only this time Mauti did Gleason one better. Mauti blocked the Falcon punt at the Atlanta 4-yard line, scooped it up immediately and stumbled in for a touchdown. How fitting on a night the Saints feted Gleason. And how fitting for Mauti, who was in high school in New Orleans when Gleason made his block, and who considers Gleason a hero. That Gleason block happened nine years ago, and Mauti said post-game he was one of the lucky ones in the Superdome that night for the rebirth of the franchise in New Orleans. Cool story.
"That's what I've been dreaming about since I was sitting in that seat up there," Mauti said. "To live that out is something special."
As you can see, the New Orleans Times Picayunecaptured the moment perfectly. Actually, the paper captured two moments perfectly. Check out the front page of the paper on Friday, and the similarities between the blocks.
COACH OF THE WEEK
Dan Campbell, coach, Miami. Goes without saying that the Dolphins looked like a totally different team Sunday in the 39-year-old interim coach's first game as an NFL head man. A physically imposing team for the first time all season, Miami rushed for 169 yards; the Dolphins had averaged 69.3 yards rushing per game coming in. The Dolphins finally rushed the passer with ferocity, sacking Marcus Mariota six times after having just one quarterback drop in the first four games. There is no question that Campbell, being a former player and identifying with his men, hit the right tone for Miami coming out of the Joe Philbin era.
Joe Marciano, special teams coach, Detroit.This is a team award, really, after a superbly executed fake punt with the Lions down seven with 5:38 left in the fourth quarter of a tight game against Chicago. Credit to long-snapper Don Muhlbach for making an odd snap in punt formation; instead of snapping all the way back to punter Sam Martin, Muhlbach snapped it six yards back at an angle to upback Isa Abdul-Quddus. Perfect snap. Abdul-Quddus sprinted around left end, got two good seal blocks, and ran 30 yards downfield, the key play on a field-goal drive. Perfect design and execution.
Keith Butler, defensive coordinator, Pittsburgh.Playing against the most explosive team in football—Arizona, averaging 38 points a game coming in—Butler had manpower problems of his own. Pittsburgh was without linebackers Ryan Shazier and Jarvis Jones, and his secondary was beat up too. But the 25-13 victory was a masterpiece of defensive confusion against the smart Carson Palmer, and Butler deserves all the credit for that. The man who took over for the legendary Dick LeBeau is starting to make a name for himself with the surprisingly 4-2 Steelers.
GOAT OF THE WEEK
Chuck Pagano, head coach, Indianapolis. See the note earlier in the column. Unless you're an Indy fan, then you might want to skip. 
Pernell McPhee, outside linebacker, Chicago. With the Bears leading by four with 34 seconds to play, Matt Stafford dropped back on third-and-goal from the 12. He threw an incomplete pass, meaning Chicago was one play away from sealing the win, going to 3-3 and dropping rival Detroit to 0-6 ... except McPhee was whistled for roughing Stafford after the throw. McPhee's penalty—deemed controversial by some, but these eyes saw it the way the ref did—gave the Lions new life from the 6, and Stafford promptly hit Calvin Johnson for the go-ahead TD. McPhee's offensive teammates bailed him out with the OT-forcing field goal to end regulation, but the Lions would go on to win the game in the extra frame.
* * *
Stats of the Week
I
Six-game stats for the former and current New Orleans Saints starting tight ends:
| | | | | | | |
| --- | --- | --- | --- | --- | --- | --- |
| Player, Team | Targets | Rec. | Yards | Avg. | TD | 2015 Compensation |
| Jimmy Graham, Seattle | 40 | 29 | 344 | 11.8 | 2 | $8 million |
| Ben Watson, New Orleans | 33 | 25 | 266 | 10.6 | 2 | $1.5 million |
***
II
In a span known as The Nineteen Days Devonta Freeman Lay Waste to the NFL, the Atlanta running back went from a backup player to gaining 695 yards in less than three weeks. Add up his rushing/receiving yards from the four games in question:
| | | | | |
| --- | --- | --- | --- | --- |
| Date | Foe | Rush | Rec. | Total Yards |
| Sept. 27 | at Dallas | 141 | 52 | 193 |
| Oct. 4 | Houston | 68 | 81 | 149 |
| Oct. 11 | Washington | 153 | 44 | 197 |
| Oct. 15 | at New Orleans | 100 | 56 | 156 |
***
Totals: 462 rushing yards; 233 receiving yards; 695 total yards
In Adrian Peterson's 2,097-yard rushing season, his biggest rushing-receiving output in a four-game span was 727 yards … just 32 more than Freeman gained in his past four.
• THE GRIT TO TAKE ON THE WORLD: The MMQB profiles Freeman
* * *
Factoid of the Week That May Interest Only Me
I
When NBC went to commercial break after the Colts' bizarre fake-punt play that turned into a monumental failure Sunday night, the bumper music was "Misunderstanding," by Genesis. ("There must be some misunderstanding/There must be some kind of mistake.")
The back story: NBC's lead audio technician, Wendel Stevens, makes a playlist for the Sunday night games. "Misunderstanding" was not on the original playlist. After the botched fake punt Stevens quickly found it and put it on the air. 
II
Cardinals coach Bruce Arians spends time every Thursday morning educating his players on obscure rules and smart ways to handle once-in-a-season situations that the Cardinals may face some day. Three recent plays Arians put up on the big screen in the Arizona meeting room, and the lessons learned:
• Chicago scored a touchdown to go ahead 18-17 with 18 seconds at Kansas City, and the Bears went for the two-point conversion. Jay Cutler threw incomplete wide to the right of the formation on the two-point try, and even though Chiefs linebacker Justin Houston didn't get his hands on the ball, he was one step away from doing so—with an open field in front of him. Lesson to quarterbacks: Beware of throwing wide on two-point plays, because the defense can return it for two points. In this case, it would have cost Chicago the game.
•  NEW: Week 7 $2M fantasy league. First place wins $150K and top 90K teams win cash! Sponsored by FanDuel
• Cincinnati trailed by three in the final seconds of the fourth quarter against Seattle, trying to line up a field goal to force overtime. Andy Dalton ran and was tackled at the Seattle 13-yard line with 18 seconds left, no timeouts and down by three. The Seahawks' defenders did not hold Dalton on the ground; in fact, Bruce Irvin collided with Dalton and the quarterback went down with no one on top of him, though it was possible for Irvin or another 'Hawk to detain him slightly before he got up. Dalton sprung up. Both special-teams units ran onto the field. The field goal was made with two seconds left to tie the game. Lessons: To the defense, don't be so quick to free the quarterback when you know the offensive team has no timeouts left and is going to be hurrying to beat the clock with a field goal on the next play. And to the field-goal team, assemble at the sideline, ready to sprint out the way the Cincinnati field-goal team did. Seconds can cost a game.
• Seattle linebacker K.J. Wright batted the ball out of bounds illegally in the end zone in the waning seconds against Detroit. The foul wasn't called but should have been. The now-infamous play allowed Seattle to get possession of the ball at the 20 and run out the clock to win the game. Dumb play by Wright, because the back judge simply called it wrong, and the ball should have been awarded to Detroit at the half-yard line. Lesson: Know the rules. When you're the only player around the ball in the end zone, simply grab it or attempt to grab it, because if you possess the ball in the end zone and fall, or attempt to possess the ball in the end zone and it goes out of bounds, it will be your team's ball at the 20-yard line.
It's a smart way by Arians and his staff to use time and impress on your team the importance of knowing sometimes obscure rules that can make the difference in the outcome of a game.
* * *
Mr. Starwood Preferred Member Travel Note of the Week
On the last two days of US Airways' existence—I have made it a point only to fly US Airways if every other airline is absolutely unavailable, because it has been a Double-A carrier, at best—I was scheduled to fly it on four segments, back and forth to Roanoke, as I was going to visit the Arizona Cardinals as they practiced last week at The Greenbrier Resort, which is in the middle of nowhere in southeastern West Virginia, about 105 miles from Roanoke.
The first segment was LaGuardia in New York to Philadelphia, Thursday at 6 a.m., connecting with a flight to Roanoke at 8:25. At about 5:40, there was an announcement that departure would be delayed by a mechanical issue. Delay. Delay. More delay. At 6:35, this announcement: "If you have a connection in Philadelphia, we're not sure when this flight will leave, so you might want to visit our service desk and change your flight." Went to service desk. Only option on US Air to get me to the Cardinals so I could see the coaches and players post-practice: fly to National Airport in northern Virginia at 7 a.m., rent a car, drive 246 miles to White Sulphur Springs, W.Va. And so I did it. Pain in the neck, but I did it. Next morning: Roanoke to Charlotte, Charlotte to LaGuardia. The tiny puddle-jumper on the first leg smelled like my late grandmother's cedar closet, without the cedar. Mothballs. Ancient. But it got us to Charlotte.
The Charlotte-to-Laguardia leg was only 65 minutes late.
I'm sure US Airways has some quality employees and good people. But I won't miss it a bit.
* * *
Tweets of the Week
I
II
III
IV
V
The snarky, smart San Francisco columnist, on the absurdity of the traditional unwritten rules that are supposed to govern the behavior of players until the end of time. The Jose Bautista bat flip, for instance, after the biggest home run of his life.
VI
Basically, other than arm strength, Casserly's saying Manuel's bad at the most important characteristics of playing quarterback in the NFL.
* * *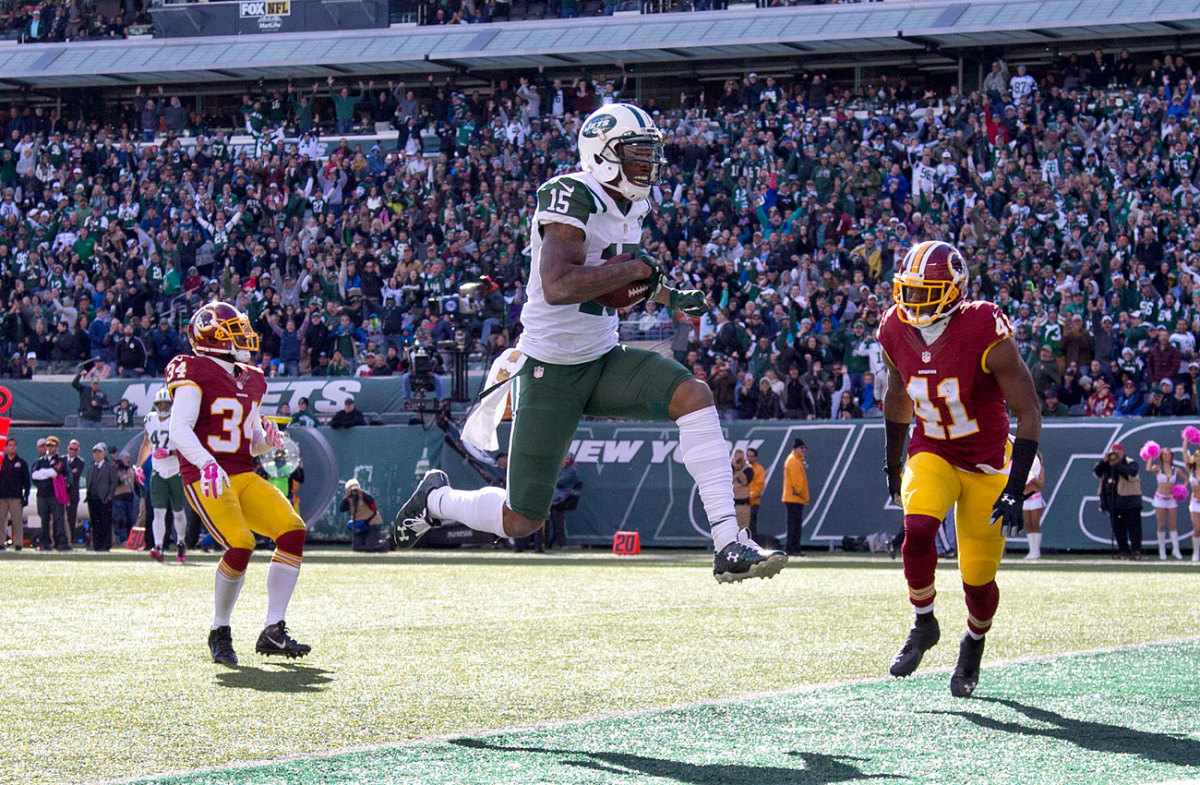 Ten Things I Think I Think
1. I think this is what I liked about Week 6:
a. The return of Luke Kuechly. Led all tacklers with 13 at Seattle in a game that might be a change agent for the Carolina franchise.
b. Miami responding to Dan Campbell. Hadn't scored a first-quarter touchdown all season, and the Dolphins drove the length of the field and scored four minutes into the game at Tennessee.
c. The season of rebirth for Brandon Marshall of the Jets. He's averaging—averaging—seven catches for 102 yards and a touchdown per game.
d. Pierre Garçon undressing the best corner in football, Darrelle Revis, on a first-quarter touchdown pass. Revis, it appeared, feared Garçon on the fade and so let him come inside, and the catch was remarkably easy.
e. Jacksonville's Tony Washington making a hustle play and downing a Bryan Anger punt at the Houston 1-yard line.
f. The heads-up tipped pick by Lawrence Timmons of the Steelers.
g. Brilliant catch and run by Jeremy Hill for a tough touchdown at Buffalo.
h. Gary Barnidge, the Cleveland tight end, showed his tough side in the deep corner of the end zone against Denver, winning a wrestling match to haul in a touchdown pass from Josh McCown.
i. Andy Dalton's high-arcing rainbow deep downfield that Marvin Jones wrestled from two Bills. Just a beautiful throw, and a physically impressive catch by Jones.
j. Jones, on the same drive, with a terrific effort to stretch the ball gymnastically across the goal line for a touchdown.
k. Brandon Marshall picking a pass off the carpet, making a couple of athletic moves, and scoring a 35-yard touchdown for the Jets.
l. Speaking of receivers making great, physical catches, how about Martavis Bryant hanging on to Landry Jones' first career touchdown pass at the back of the end zone against Arizona?
m. What a throw by Jay Cutler, hitting Alshon Jeffery in the back of the end zone with a high ball that only the receiver could have caught.
n. The first half of Washington cornerback Bashaud Breeland. His three takeaways in the first half at the Jets led to all 13 first-half Washington points. He recovered a fumble, stripped a Jets' ball-carrier and recovered that one, and then picked off Ryan Fitzpatrick with a diving play and runback. The best corner on the field, without question, on Sunday in New Jersey was all-world Darrelle Revis. In the first half, Breeland actually played better.
o. Excellent reversal by ref Craig Wrolstad in Denver-Cleveland, changing the late-fourth-quarter completion from Peyton Manning to Emmanuel Sanders when clearly Sanders didn't catch the ball cleanly and in-bounds.
p. Great stiff-arm by San Francisco fullback Bruce Miller on Ravens linebacker C.J. Mosley.
q. The Ravens extending the contract of Marshal Yanda. Despite the debacle of the team's season, Yanda is the Ravens' number two (behind Joe Flacco) cornerstone player.
r. Haven't heard of Kawann Short? The Panthers' defensive lineman sacked Russell Wilson twice in Seattle and was consistently part of Carolina's strong pressure.
s. Bruce Irvin. Key nine-yard sack late in Seattle.
t. And Jerricho Cotchery's invaluable third-down conversion catch, after a wrestling match with Seahawk corner DeShawn Shead, just before the TD catch heard 'round the Carolinas.
•  NEW: Week 7 $2M fantasy league. First place wins $150K and top 90K teams win cash! Sponsored by FanDuel
2. I think this is what I didn't like about Week 6:
a. Either Richard Sherman or Earl Thomas—the Seattle stalwarts of a great secondary—messing up the coverage on the winning Carolina touchdown catch by Greg Olsen. Olsen simply bisected the two great defenders and was wide open for Cam Newton.
b. Terrible call by ref Jerome Boger, not ruling a safety on a holding call in the end zone in Kansas City-Minnesota. If the hold begins outside the end zone, it's valid to not call a safety. But the hold appeared clearly to be all in the end zone. 
c. If that's a roughing-the-passer call, Arizona linebacker Markus Golden whacking Mike Vick in Cards-Steelers, my name is Frank Sinatra.
d. Speaking of bad calls, how can the officials call—and then NOT reverse—Detroit receiver Corey Fuller being pushed into a loose ball on a bouncing punt, then recovered by the Bears? Fuller was pushed in the back, and the ball inadvertently hit him in the leg, and the officials allowed the Bears to keep the recovered fumble. Bizarre. Wrong.
e. Illegal hands to the face should not be an automatic first down, by the way.
f. Know where you are near the sideline, Dexter McCluster. Having a foot out of bounds late in the first half probably cost the Titans a field-goal try before halftime in a game in which points were scarce for Tennessee.
g. Butterfingered Atlanta.
h. Amazing how bad the Chiefs look. Who saw this badness coming?
i. The dumb fair-catch interference play by Denver's Bennie Fowler.
j. Well, the Jarryd Hayne story was fun while it lasted. For the second time in the first six weeks of the season, Hayne fumbled a punt, and the 49ers are not good enough to hand away potential possessions once every three games because they like the former Australian Rugby League player's potential. It'll be interesting to see how coach Jim Tomsula handles the punt-return job going forward; Hayne stayed in the role after fumbling early against the Ravens. He also missed a blitz pickup in the backfield.
k. How do defenses continue to fall for the hard count of Green Bay quarterback Aaron Rodgers? Happened again Sunday with San Diego defensive end Ricardo Mathews.
l. Terrible interception throw off the back foot by Joe Flacco.
m. Stay onside, Trent Cole. Twice in the first quarter he jumped. Can't afford those mistakes in a game of Sunday night's magnitude.
3. I think you're blowing it, Johnny Manziel.
4. I think I'm empathetic with anyone who has a substance-abuse problem. But Manziel spent 87 days in a treatment center in the off-season. I'm sure he has pressure in his life (self-imposed and from the outside), but day-drinking and driving 90 mph on the berm of an interstate highway and having an altercation with his girlfriend are not signs that he's in a good place with his recovery from whatever addiction he was battling in the off-season. I've spent a total of maybe 40 minutes in my life with Manziel, so I can't say that I know him at all. But there's something about the way he plays football and his spirit that has me rooting very much for him—if not to show us he can play in the NFL, then at least to show us he can have a good life. Last week, speaking to Josh McCown, who is playing ahead of Manziel with the Browns right now, it didn't surprise me to hear McCown say, "I legitimately like Johnny. There's something very likable about him—he's fun to be around. I think he's got a really good chance to be a good quarterback in this league." Not if he's doing what he did last week.  
5. I think if I were Jim Irsay, and I had become convinced I wasn't going to sign Chuck Pagano long-term, I'd set up a very private meeting—maybe at a private home somewhere, or maybe at the Westin Detroit Airport, somewhere both men could go without anyone thinking it odd—with Jim Harbaugh after the season. At the very least I'd use an intermediary to find out what Harbaugh's price was, if he had one. Not that I'd expect Harbaugh, who played QB for the Colts in the '90s, to take the job.
6. I think Irsay might well be interested as much or more in Sean Payton, who has two years at something in the neighborhood of $8.5 million per year left on his New Orleans contract. But if the Saints' season blows up and they win four or five or six games—no sure thing, obviously, in the wake of an impressive 10-point win over the Falcons on Thursday—watch the future of Payton. It'll be uncertain.
7. I think Steve Smith is this generation's Michael Irvin. Smith, like Irvin, knows exactly how much hand-fighting contact with the corner he can get away with. That showed on Smith's 34-yard touchdown catch against the Niners down the left sideline Sunday.
8. I think a year from now, the feature ball-carrier for Seattle will be Thomas Rawls.
9. I think the Steelers are far better than I thought they'd be, and I credit four people: Defensive coordinator Keith Butler, who has been smart and innovative using different pieces for different pressures; Le'Veon Bell, with 497 rushing/receiving yards in the four games since he returned from suspension, and an excellent sense of when to take a chance in the open field and when to just take the two yards the defense is giving you; Antonio Brown, who is great when Ben Roethlisberger plays and important when he doesn't because the defense still pays so much attention to him; and Cam Heyward, he of the IRON and HEAD eye-black patches (in honor of his late father, Craig "Ironhead" Heyward), who has two tackles for loss and at least four quarterback hits or pressure of Carson Palmer on Sunday. He's become a great holder of the point and a divisive pressure player on the Steelers' front. This is a team that's doing more than just holding the fort while Roethlisberger is out; it's a team that can certainly compete with any other right now, even when a third-string quarterback like Landry Jones is playing. 
10. I think these are my non-NFL thoughts of the week:
a. Story of the week: William Powell of St. Louis magazine on the life and heartbreaking loss of new St. Louis Post-Dispatchcolumnist Benjamin Hochman. Such a heart-tugging story about what happens to a good person when the love of his life dies unexpectedly.
b. If you've lost someone dear to you, I strongly recommend Hochman's story. There is no deep secret to it, just that you've got to live. Powell does a great job telling the tale.
c. RIP, Dean Chance, who died of a heart attack in his Ohio hometown last week. He was one of baseball's truly feared pitchers of my youth. On Sunday, Oct. 1, 1967, the last day of the baseball regular season, three teams had a chance to win the American League pennant: Boston (91-70), Minnesota (91-70) and Detroit (90-70). Boston, my team, and Minnesota were playing at Fenway Park that afternoon. Detroit and California were playing a doubleheader in Detroit, game one starting an hour earlier than Twins-Sox. Detroit won the first game against the Angels, so in about the middle of the fifth inning at Boston, the Sox and Twins knew that the winner of their game could still face a one-game playoff if Detroit won the second game. Dean Chance, the Twins' ace, was beating Jim Lonborg, Boston's stud, 2-0 after five innings. There was every reason to fear Chance; he'd thrown a rain-shortened no-hitter against the Sox in August. He threw two no-hitters in August, for crying out loud. Big old farm boy with a great fastball. "Every time I see his name in the lineup," Mickey Mantle once told writer Maury Allen, according to The New York Times, "I feel like throwing up." In the bottom of the sixth, the Red Sox bunted and singled and wild-pitched Chance out of the game, and the Red Sox won 5-3, and the Angels knocked out Denny McLain early, and the Red Sox won the pennant, and a 10-year-old kid in Enfield, Conn., went to bed pretty happy that night. That's a long way around a Dean Chance tribute, but for a few years in the '60s he had a Kershaw-like presence.
d. And RIP, Kenneth D. Taylor, the Canadian ambassador to Iran made famous in the movie "Argo." Taylor hid six American embassy staffers in Tehran in 1979 after Iranian militants took over the American embassy, and he helped the six secretly escape the country, becoming a hero in America in the process.
e. Sam Farmer of the Los Angeles Times is a really good writer. This smart story caught my eye, and I loved the last word (also the last paragraph) of it.
f. Great newsy tidbit during Jays-Royals from Tom Verducci on FOX's ALCS Game 2 telecast: He said Toronto shortstop Troy Tulowitzki was using an eight-year-old glove that had gone beyond well broken-in and become far too floppy. "It's like playing shortstop with a buttermilk pancake," said Verducci. He said Tulowitzki was hoping the glove survived two more weeks. It will be interesting to watch whether the glove costs the Jays at some point in the postseason.
g. Wow, Christian McCaffrey. Save some of that for the NFL, or for The Big Game.
h. Interesting point raised by ESPN's Chris Spielman on Michigan-Michigan State: Every NFL scout is going to have the same question for Spartans quarterback Connor Cook, a good NFL prospect: Why were you not elected a Michigan State captain this season, your third as starting quarterback? Three other Spartans got voted captain ahead of him.
i. Stupid replay reversal in Michigan-Michigan State, with no clear view showing a Spartan runner, Trevon Pendleton, down at the half-yard line, but a touchdown called on the field being changed to the runner down at the half-yard line. That's why some people hate replay. It should only change a call when it's obvious, and that reversal was in no way obvious.
j. What an ending at Michigan. What a gut punch. Doubt Jim Harbaugh has had one wink of sleep in the past two nights.
k. Michigan State's only lead of that game came with the clock at 0:00 of the fourth quarter.
l. Michigan color man Dan Dierdorf (yes, that Dan Dierdorf) after the muffed Wolverines punt-turned-winning-touchdown-return on the last play of the game: "I am struggling to deal with what I just saw. Blake O'Neill mishandled the ball. He dropped the ball. All he had to do was fall on it. And instead, he tried to shovel to whomever. And flipped it right to Michigan State! … I'm not sure I've ever been involved with a football game that ended like that. I-I don't know that I've ever seen a game just handed to the other team like that. This stadium, every single person in here, is just sitting there, slack-jawed, not comprehending what we've just seen."
m. Rutgers-Indiana: 107 points, 1,223 yards. Rutgers: four touchdowns and a field goal in the last 18 minutes. Indiana: zippo.
n. Loved that "Sopranos"-style ESPN commercial—Jersey Turnpike, "Woke Up This Morning," song, Odell Beckham Jr., with the Gandolfini-like sly smile at the end—pumping up the Monday night game tonight.
o. Good camera work by NBC catching USC AD Pat Haden brought to a knee by illness on the sidelines at Notre Dame before the game.
p. Someone's got to do a psychological study on Marlins Man, the orange-jerseyed guy in the background at the baseball playoff games. Dave Hyde of the South Florida Sun-Sentinel wrote a cool column on him, finding scores of people Miami attorney Laurence Leavy (the Orange Guy) has taken to games, simply asking them one thing in return: Do something nice for someone else. Hyde said 68 people who had been guests of Marlins Man at a game emailed or called with their stories of Marlins Man's generosity.
q. It doesn't bother me, but I know why it bothers the casual fan baseball is trying to lure. Time between pitches, seventh inning, Jays-Royals, Saturday, David Price pitching, 3-2 count on Salvador Perez: 93 seconds.
r. Good to see you on "Saturday Night Live," Tracy Morgan.
s. Better to see you playing Bernie Sanders on "SNL," Larry David.
t. Coffeenerdness: Pumpkin spice latte: way, way, way too sweet.
u. Beernerdness: Had a pleasant beer Thursday evening at Devils Backbone (Lexington, Va.), a rustic, large, neighborly brew pub. A top-notch Hefeweizen was my choice—the Trail Angel Weiss. A bit like Pyramid's Hefeweizen, which is one of my favorites.
v. I would be in quicksand, communications-wise, without the Mophie.
w. That's a phone-charger, for those unaware. Fantastic product.
x. Welcome to the world, Wes Andrew Cormier of Sacramento, Calif.
* * *
Who I Like Tonight
Philadelphia 31, New York Giants 30. Extremely tough game to pick, even though the Giants come in quite beat up. Last week, in the last 10 minutes of the win over San Francisco, Eli Manning had 74- and 82-yard drives to a field goal and touchdown, respectively, and that was impressive enough. More impressive, I thought, was who was on the field with him. At several points I looked up and saw numbers 17, 18 and 19 as his wide receivers on the field: return-specialist and should-be fourth or fifth receiver Dwayne Harris (17); sixth-round rookie Geremy Davis (18) from UConn, with one career reception entering the game; and former practice-squad undrafted free-agent Myles White (19), with no career catches. It was those three, plus Shane Vereen and Larry Donnell, who were on the field mostly on the last drive. And with Reuben Randle and Odell Beckham Jr., bothered by hamstrings, and Victor Cruz still out, Manning will have to make do with less again … against a team that's won two of three, scored 39 last week, and looks like it's developing some chemistry in the Sam Bradford-led offense. I love the matchup, and the potential point-fest. I just think Philly's a little healthier and can probably pressure the quarterback better than New York.
* * *
The Adieu Haiku
Panthers felt dissed. So
they went west. Spanked Seattle.
Much respect to Cam.
• Question or comment? Email us at talkback@themmqb.com.