Who is Allen Robinson?
The second-year wideout is the first Jag to have a 1,000-yard season in 10 years, one of the NFL's hottest young stars and a sign of the offensive success to come in Jacksonville. Plus a look at what to watch in Week 14
Over the past two offseasons, the Jaguars have been transparent in their push for respectability on offense. After taking Blake Bortles third overall in 2014, Jacksonville has spent resources of all kinds in trying to build a functional support system befitting a promising young quarterback.
A round after taking Bortles, general manager David Caldwell took not one but two receivers—Marquis Lee and Allen Robinson, for whom he had to surrender a fifth-round pick. Allen Hurns was an unearthed diamond dug up as an undrafted free agent. Julius Thomas got $24 million guaranteed to replicate his Broncos role as a touchdown machine, and for his part, right tackle Jeremy Parnell got $14.5 million to help keep Bortles upright. Finally, new offensive coordinator Greg Olson—fresh off a coaching staff purge in Oakland—was brought in to helm the revamped offense and try to ensure that Bortles and his young receivers made strides in year two.
The hit rate on those moves is far from 100 percent—Hurns has supplanted Lee, and Thomas has been slow to emerge after missing the start of the season—but the objective still has been realized. As Bortles nears the end of his second season, there is hope surrounding the Jags offense for the first time in years. Steady improvement from the quarterback has played a part, but what's accelerated Jacksonville's development as much as or more than Bortles' strides is the emergence of a true star on the outside.
• MORE JAGS: Jacksonville has been downright offensive this season—if only its defense hadn't completely vanished
Allen Robinson was rarely named in conversations about the rookie receiver revolution last season, but to this point in his second year, the only member of the 2014 class doing more for his team is Odell Beckham Jr. Through 12 games, Robinson stands at 65 catches for 1,080 yards and 11 touchdowns, as the Jags prepare to face Vontae Davis and a Colts defense still bandaging up after being decimated by Pittsburgh. Robinson also did plenty of damage in his own right last week. In a 42-39 fireworks display no one expected, he caught 10 balls for 153 yards and three scores. Sadly, the box score doesn't have a row for drop-your-jaw-and-drool catches, but he had some of those too. The monster day made Robinson the first Jaguars receiver in 10 years—since franchise great Jimmy Smith—to surpass 1,000 yards in a season.  
• Play FanDuel risk-free this week. Win cash on your first entry or you get refunded! New users only. Sponsored by FanDuel
When Jaguars receivers coach Jerry Sullivan went to watch Robinson's workout at Penn State, he remembers standing off to the side as scouts scribbled down Robinson's results in the vertical leap. At 42 inches, it was clear Robinson was explosive, but what's fueled his jump from year one to year two is that it's far from all he is.
"He's not a mechanical guy or a straight-line guy," Sullivan says. "He can maneuver. He can play inside and outside. He's improved his route running tenfold."
On an 87-catch pace, Robinson has proved he's capable of making all sorts of different plays, a talent Sullivan claims is a product of a growing feel for how corners are approaching him at the snap of the ball. But the most significant change in production comes in how Olson is using him as a threat down the field. Last year Robinson's targets traveled 11.23 yards, the 35th-highest figure in the league. This year, it's jumped all the way to 15.11 yards per target. Only six receivers are being targeted deeper down the field on average, and when it comes to raw numbers, Robinson has seen 59 targets that flew at least 15 yards—that's six more than anyone else in football.
Being 6-3 and 220 pounds certainly helps when it comes to out-muscling measly corners for jump balls, but Sullivan says that both Robinson's location and his ball skills are on a level that simply can't be taught. He alludes to Robinson's time as a highly recruited basketball star at St. Mary's Prep in Detroit for sparking that knack for timing balls in the air, and even Robinson says that much like rebounding, the real work on jump balls happens before he even leaves the ground.
"I just try to put my body in a good position to make a play on the ball," he says. "That's where it starts. I trust my instincts on that."
The progression following a rookie season is paramount for anyone, and for Robinson, it was nearly derailed. After breaking his foot 10 games into last season, he spent most of the offseason rehabbing. It was work he stayed in Jacksonville to complete, and by sticking around, Robinson was able to spend even more time with fellow rookie standout Allen Hurns.
Jacksonville's receivers room is something of an NFL nursery. Journeyman Bryan Walters is easily Sullivan's oldest receiver, at the ripe age of 28. No one else is more than a month removed from his 24th birthday, and it's helped create a distinctive environment for both Sullivan and his players. "It's a good thing," Sullivan says. "They're all for each other. Nobody's ego gets in the way, and they've all been productive in their own ways." Sullivan has coached for 43 years, and he says that he has particularly enjoyed watching this crop make its incremental moves toward truly grasping football at this level. "It's a good group," Sullivan says. "We don't have anybody that's a pain in the ass."
He says that Robinson and Hurns are like "brothers," and as much as the familial feel between the Jags pass catchers has built a bond, Robinson sees practical value in Jacksonville's youth movement.
"With us playing so many rookies last year, we all got the experience of, "Oh yeah, we can play at this level," Robinson says. "Playing so much football down the stretch, we just gained the confidence in ourselves and each other. Coming into this season, we had already played those snaps."
• MAYS ON DALTON: What's behind the Bengals QB's 2015 emergence
Having a body of work at age 21 meant already having tape on which to reflect as this year's Jags dug into areas that called for improvement. Robinson's 48 catches last year may not have put him in the echelon of Beckham and Kelvin Benjamin, but Sullivan says they were invaluable in pushing Robinson to the place he is now. That place is status among the most exciting young players in the entire league, and it's a place the Jags have missed visiting for a long, long time.
* * *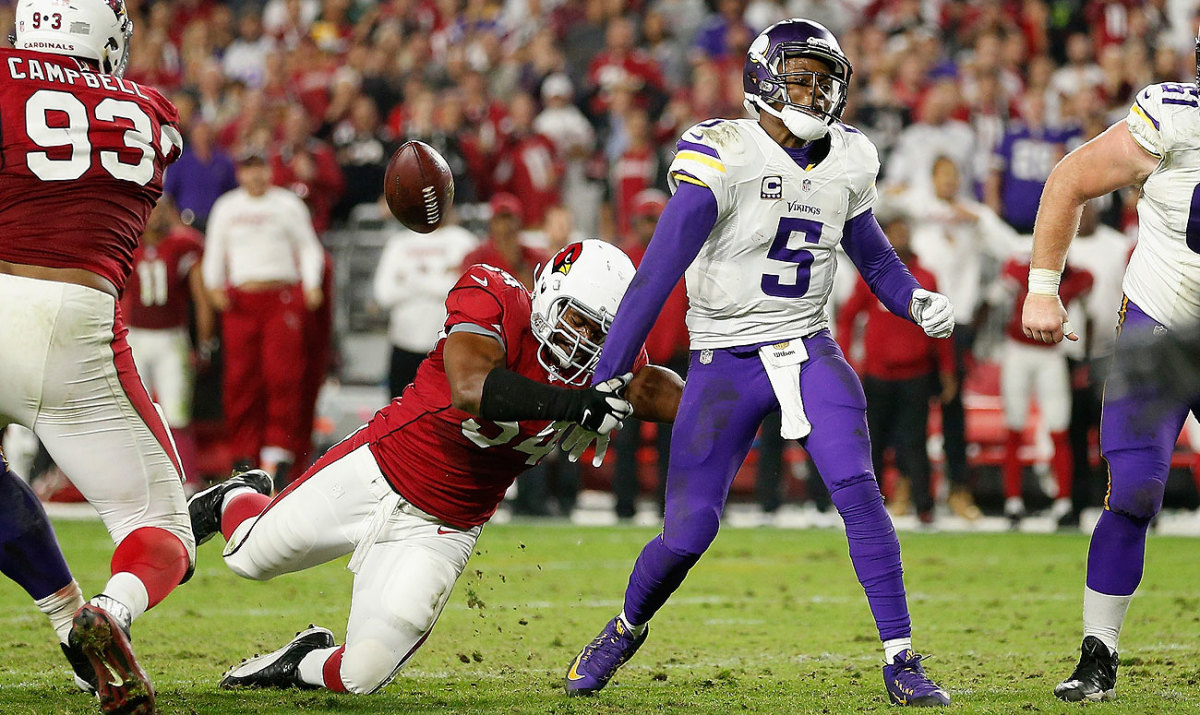 About Last Night
Cardinals 23, Vikings 20.
This was a game that went a full 60 minutes, but to boil down where the Cardinals and Vikings are at this moment, it's fair to distill last night to that final play.
Start with the left side of Minnesota's offensive line. Matt Kalil was a top-four pick in 2012, a surefire choice at a historically surefire position. The likely culprit in his struggles is injury, but his failings were on display on that deciding snap. His balance was off, his feet a tangle. 
What Dwight Freeney pulled off to seal Minnesota's fate is what he has done so many times. His inside spin is the ideal counter for any rush end, and no one has perfected it like him. Freeney is the latest out of the written-off-veteran-rusher bin from which Arizona has yanked useful players in recent years. Steve Keim has built a worthy reputation as one of the best GMs in football from pulls like that one.
Slowly, though, Keim's best move has become the one he made for Carson Palmer. A throwaway draft pick was traded for an MVP contender, and nothing about last night chews away at that. Palmer is on a higher level of QB consciousness right now, and the way he navigated the pocket all night was the surest sign of that. It's a feel Bridgewater lacked when it mattered most. At this point in the year, those small and quiet gaps are what make all the difference. 
• ONE IN A THOUSAND: After his 1,000th catch, Fitzgerald reflects on No. 1
* * *
Player to Watch this Weekend
Sammy Watkins, WR, Bills
Trading up in the first round is always a dangerous proposition. Even as Julio Jones morphed into an impossible-to-stick centaur for the Falcons, it was hard to ignore the dearth of talent for Atlanta that resulted from tossing a war chest of picks at the Browns. The Bills didn't pay a king's ransom for the chance to draft Watkins, but they paid a prince's, and giving up their 2015 first-rounder slapped a "Man, this had better work" feel to the Watkins tenure in Buffalo.
Recently, that choice is getting harder to hate. Watkins, with the help of capable downfield thrower Tyrod Taylor, has spent the past two weeks shoving secondaries into a wood chipper, with 267 yards and three touchdowns on an absolutely ridiculous 29.67 yards per catch. Coming out of Clemson, Watkins' most obvious skill was his ability to burn a defense horizontally, but lately it's his ability to present a vertical threat that's given Buffalo's offense a new dimension.
• DANCING THE SHADY BOUNCE: Insightful film study session with Bills' McCoy
That new dimension has come together with a few other factors to give the Bills an identity that would have been impossible to imagine coming into the season. Buffalo is currently pushing for a wild-card spot on the virtue of its offense. Imagine if I said that to you in August. You'd slap me. And I wouldn't be upset. The Bills are currently seventh in offensive DVOA and just 26th on defense, and a lot of unforeseen breaks have allowed it to happen.
Richie Incognito is playing the best football of his career, and the Bills' line has been better than anyone could have predicted. There's no better example of that than the difference between last year's game against J.J. Watt (nine quarterback hits) and this year's (his first game without a hit in four years). They'll get another test this week against an Eagles' pass rush that hit Tom Brady a dozen times last week.
A springy—when healthy—LeSean McCoy and a bullet-like Karlos Williams have helped the Bills' offensive surge. So has Taylor settling into the best version of the quarterback Buffalo could have envisioned. And the final piece is possibly the one that makes the Bills' offense the most dangerous. That's Watkins emerging as the exact type of weapon Doug Whaley needed him to be after he made his big move.
* * *
Line-Play Nerd-Out of the Week
Cowboys G Zack Martin vs. Packers DT Mike Daniels
It's a matchup between a player everyone has always known is great and a player no one does. Everything about Martin's path to the NFL meant he'd get more attention and recognition than most interior offensive lineman could dream. He went to Notre Dame (check). He was drafted by the Cowboys (check). He was taken by a team that already had a high-pedigree offensive line (check). And he was taken instead of Johnny Manziel (check).
That's not to say Martin didn't earn his spot as a Pro Bowler and a first-team All Pro as a rookie. He was excellent for the Cowboys and has been among the best pass-blocking guards in the league from the start. It's just to say some stats-less players have an easier road to name recognition than others.
• Play FanDuel risk-free this week. Win cash on your first entry or you get refunded! New users only. Sponsored by FanDuel
Mike Daniels was a fourth-round pick for the Packers in 2012. He played at Iowa, a school known more for offensive linemen than defensive ones. In four seasons he has just 18 sacks, including four so far this season. Daniels isn't a household name, but ask any of the guys ever tasked with blocking him, and they'll tell you he should be. As an observer, it seems like standing between Mike Daniels and the football for three hours is a patently miserable experience. He's explosive, uses his hands well and has a knack for making plays. But there are two main issues outside of all that. He's strong—like, really strong. And not compared to you and me. Compared to players lining NFL rosters. He's also unrelenting. Daniels has made a case the past two seasons to be considered the best defensive player on Green Bay's roster, and even against a top-flight interior on Sunday, a full day of watching him will show you why.
THE MMQB PODCAST WITH ROBERT MAYS AND ROBERT KLEMKO
* * *
Ten Things I'll Be Watching This Weekend
1. Will the change at the top mean anything for the Rams' offense? I'm guessing it won't, but any type of coaching change is always worth monitoring. Unfortunately for Jeff Fisher, replacing Frank Cignetti with Rob Boras as offensive coordinator doesn't mean the Rams get to replace Nick Foles with anyone better. Todd Gurley deserves better than this. 
2. Just how dominant this Seahawks' front four can be right now. It's hard to ignore the Seahawks' footsteps as they creep toward "Scariest Team in the NFC" status, and although Russell Wilson has a significant hand in that, Seattle's front four does too. As rookie Frank Clark has started to come on, the Seahawks are now capable of trotting out an Avril-Bennett-Clark-Irvin grouping on passing downs that's about as close as football gets to the Warriors' small-ball lineup of death.
3. How Derek Carr fares in his second go at the Denver defense. Raiders fans have to feel like they're playing with house money—and Michael Crabtree is now playing with real money—after the season Oakland has had offensively. But Carr making strides with his second look at Wade Phillips' crew would be a welcome sign that the progress isn't stopping.
4. Comedy Ryan Gosling. Balding, bloating Ryan Gosling from Blue Valentine and silent steering wheel-strangling Ryan Gosling from Drive make for one of the best actors working today, but I always enjoy when he loosens his tie a bit to have a good time. The Big Short hits theaters this weekend, and I have plenty of faith in Adam McKay, Gosling and others to put an absurdist scope over Michael Lewis' vital look at the financial crisis. I've also watched the trailer for Nice Guys about 74 times this week. Ryan Gosling and Russell Crowe playing moronic detectives in a '70s noir directed by the guy responsible for Kiss Kiss Bang Bang? Please take my money.
5. Johnny Manziel vs. Blaine Gabbert. The layers of weirdness here are too many to recount. The aura of first-round pick status doesn't fade easy.
• THE CORRIDOR OF WOE: The Browns are a revolving door in a factory of sadness
6. Everything about Bengals-Steelers. Sunday will go a long way in determining the validity of my theory about Pittsburgh being the most dangerous team in the AFC. Given how Ben Roethlisberger, Antonio Brown and Martavis Bryant are playing right now, it sometimes feels like the Steelers' offense is unstoppable. The issue is whether Pittsburgh can stop the Cincinnati offense. A win for the Bengals would firmly put them in control of the AFC.
7. Delanie Walker. It's always nice to see a player fall into a situation suited to him. Walker was always an underrated player in San Francisco, and when it became clear that Marcus Mariota would be a force for the Titans, it finally seemed like Walker would have the chance to be too. That notion took a brief hiatus when Mariota went down, but in the five games since he's returned as the Titans' starter, Walker is averaging 6.4 catches and 87.8 yards per game while scoring three touchdowns. I'm glad you've finally found your bliss, Delanie.
8. Whether Atlanta's offense shows some signs of life. Many have speculated as to why the Falcons' offense has fallen into a rut of late, and Thursday, ESPN.com's Bill Barnwell did an excellent job of diagnosing the problem. In short: Atlanta receivers not named Julio Jones are nowhere to be found. Go read Barnwell. Always read Barnwell.
• Play FanDuel risk-free this week. Win cash on your first entry or you get refunded! New users only. Sponsored by FanDuel
9. Von Miller and mini-Von Miller. When Khalil Mack was coming into the draft, his best-case scenario—and the argument for why he should be the first player taken—is that he had a chance to be the next Von Miller. Those optimistic comparisons often fall short, but through a season and a half, this one seems dead-on. Mack was a run-stopping terror as a rookie, but in year two it's all come together for him as a pass rusher. With this pair, we're looking at two of the defenders who should haunt the league for seasons to come, and they'll share a field on Sunday.
10. The Bucs-Saints scoreboard. With the Vikings going down Thursday night, the Bucs have real, legitimate, not-at-all mythical playoff life. The loss puts Minnesota one game ahead of Tampa Bay in that column, and the way the Bucs' schedule has fallen, only two of their losses have come against NFC opponents. That gives them the crucial in-conference-record tiebreaker over the Vikings, with a much easier schedule than Minnesota has the rest of the way.
• Question or comment? Email us at talkback@themmqb.com.