A Year in Business of the NFL
With the regular season winding down, a look back at the 10 stories away from the field that shaped the 2015 NFL season
As it does every year, the NFL dominated sports news far beyond the coverage of its games. The games are the storefront of this $12 billion business; interest in what goes on inside league and team offices continues to grow. Let's look at the top 11 off-field stories from the year in a production that not only survives crisis after crisis, but thrives in doing so.
1. The alleged deflation of footballs by Patriots employees in last year's AFC Championship Game became the story of the 2015 offseason. In a correction from last year's lax Ray Rice investigation, the NFL commissioned a multimillion-dollar Wells Report as the basis for penalties levied against the Patriots and a four-game suspension of Tom Brady. Then came a true careful what you wish for moment in sports law annals: the NFL's decision to seek judicial endorsement of Brady's suspension from a New York district court, landing at the feet of one Judge Richard Berman. Berman chastised the NFL's disciplinary process and lack of notice to Brady and lifted the suspension. The decision added another court or arbitration scolding—following Ray Rice, Adrian Peterson, and Saints "bounties"—of Commissioner Goodell (and his army of lawyers). No matter; Goodell still holds dear to his CBA-sanctioned power, resistant to any suggestion of third-party intervention. We now await a March 3 appeal from the NFL to a higher court as the Deflategate drama of 2015 spills into 2016.
• BARGAIN-BIN BRADY: He has four Super Bowl rings and a legitimate claim to the title of 'greatest quarterback to ever play,' yet Tom Brady is compensated like a low-end journeyman starter.
2. L.A. is calling, and three NFL team owners—Stan Kroenke (Rams), Dean Spanos (Chargers) and Mark Davis (Raiders)—are heeding the siren song. After a 20-year absence from the country's second-largest market, the NFL now has not only one but two stadium solutions in L.A. Before the movers come, however, there is the sticky matter of these teams extricating themselves from their present markets. Final stadium financing proposals are due from city leaders of St. Louis, San Diego and Oakland on December 30; all three to this point have underwhelmed the NFL. I would expect all three owners to apply for relocation to L.A. when the window opens on January 4, and the politicking will then intensify toward an ownership vote in Houston on January 13. At this point neither the Chargers nor the Rams have the required 24 votes to move but each does have the required nine votes to block the other (as for the Raiders, they may be "encouraged" to work out a short-term arrangement in Oakland). Most importantly, this is (another) watershed moment for Goodell; he must cut through the present environment of owners stumping for votes and build consensus towards an outcome all owners support. The situation is, as they say, fluid.
• NEXT STOP: LOS ANGELES: The league is nearing a vote to decide which one (or two) teams will get to call L.A. home. Plus, the 'coaches v. quants' conflict, and the elimination of a nonsensical rule regarding draft picks.
3. Concussions and head trauma represent an important public health issue generally, but concussion dialogue resonates louder when the NFL is part of it. The NFL has had a positive trajectory since being chastised for its lax attitude in this area during 2009 congressional hearings, up to and including this year's addition of medical timeouts to further protect players. However, a handful of troubling incidents—such as Rams quarterback Case Keenum continuing to play when clearly compromised—continue to raise questions about team and league priorities, especially in the heat of competitive games. Now the movie Concussion brings a new round of inquiry into the NFL's alleged denial or misrepresentation about head trauma. The league is saying as little as possible about the movie, but if pressed will likely refer to a different era in NFL health and safety (not comforting to those who played in that era). Meanwhile, the NFL is in the final stages of settling a massive lawsuit from thousands of players from that era, a settlement that has no admission of liability. The concussion conundrum is here to stay, as we all figure out how to make an inherently violent game safer.
• WALKING AWAY FROM THE GAME: Is the spate of surprising retirements by 49ers players this offseason an outlier or the start of a trend? The league hopes it's the former because it's unprepared to deal with the latter.
4. Whether Daily Fantasy Sports (DFS) is "gambling" or not has become not only one of the biggest football stories of the year, but one of the biggest in business as well. The leaders in this space—FanDuel and DraftKings—used their extensive funding to gain extraordinary market share during the NFL's early season before states and regulators noticed, and now the scrutiny has ramped up. Goodell has distinguished the NFL's relationship from other leagues with equity stakes (NBA with FanDuel and Major League Baseball with DraftKings), yet 28 NFL teams have DFS sponsorship deals and two prominent owners (Robert Kraft and Jerry Jones) are DraftKings investors. The NFL has long maintained that any association with gambling threatens the all-important integrity of the game, but that tenet is now at issue as states and judges in places such as New York—home to NFL headquarters—deem DFS to be "gambling." There may be (another) uncomfortable conversation ahead between Goodell with Kraft (and Jones), current equity investors in "gambling" interests.
• THE NFL HAS A GAMBLING PROBLEM: With the Daily Fantasy Sports industry coming under heavy scrutiny from the government, it might be time for the NFL to rethink its conflicting stance on gambling.
5. NFL officiating continues to be a story for all the wrong reasons. As to better safeguards against human error, having full-time officials instead of seasonal ones would help, but that is a longtime issue with the NFLRA, the referees' union. Officials have resisted, in the 2012 collective bargaining negotiations and still today, foregoing second and, in some cases, first incomes. As with the 10-year players CBA, the eight-year referees CBA illustrates that we have a labor agreement yet certainly not labor peace. As for the inevitability of human error, it is time to take some of the "human" element out of it. Goodell has talked about the increased use of technology, and it is high time for that. For the sports league with the greatest revenues, the NFL needs to lead from ahead, not behind, in the use of innovative technology to improve officiating.
• THE OFFICIATING MESS:  Worse than ever, or just louder critics? The MMQB investigated…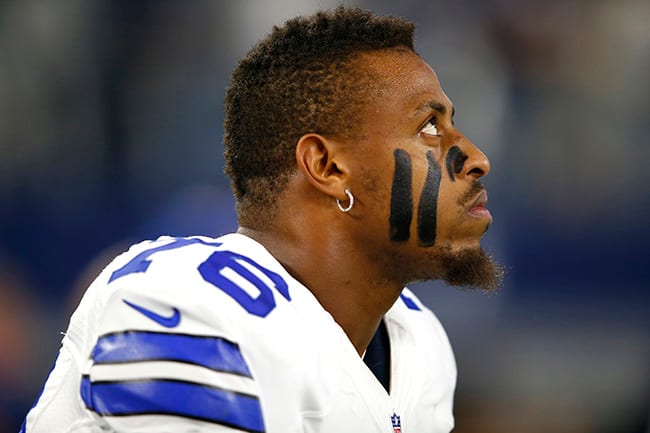 6. Greg Hardy is a living symbol of the league's past crises with domestic violence. Although the NFL increased sanctions at the league level in a new policy a year ago, it has not—and will not—go down the rabbit hole of advising teams on player personnel decisions. And while Ray Rice has been unable to find an employer, the Cowboys signed Hardy, the Seahawks drafted Frank Clark after a disturbing incident in college, and the Vikings upgraded Adrian Peterson's contract despite his troubling actions toward his child. As for Hardy, the Cowboys not only signed him but also enabled him through rationalizing a series of missteps and lack of self-awareness. Greater talent allows greater tolerance, but it is an upset that even the talented Hardy lasted through the season with the Cowboys. As to continued employment, I would think the Cowboys could name their price: I expect Hardy is toxic outside of Dallas.
• WILL ANYTHING THREATEN THE BOTTOM LINE?: Labor unrest. The concussion crisis. Deflategate missteps. Poor play. Poorer officiating. And yet, revenues and ratings keep growing.
7. Free agency had the usual cycle of a lucky few golden ticket winners followed soon thereafter by free agency musical chairs as players tried to find a seat before the money dried up. As to the power of being a free agent, Ndamukong Suh may not be "better" than J.J. Watt, and Byron Maxwell may not be a top-five cornerback, but they declined "early deals" with their incumbent teams and rolled the dice towards a jackpot. Also, as the usual trend with marquee free agents, teams making noise in March—Dolphins, Browns, etc.—will not be making noise in January. And if that is not enough of a cautionary tale on the perils of free agency, one only need look at the waiver wire every February when expensive free agents from the recent past are discarded by those same teams.
8. Another round of top-tier quarterback contracts were negotiated in 2015. The Steelers rewarded Ben Roethlisberger with an $87 million extension taking him through the decade. Philip Rivers signed a top-of-market deal despite reports that he would resist with a potential move of the Chargers (and Rivers' growing brood). Eli Manning managed to look "reasonable" signing a four-year, $84 million extension, as he could have leveraged the Giants for even more. Cam Newton signed for a conspicuous $67 million over the first three years, but imagine that number had he played out his contract this year? As for the most striking quarterback deal of 2015, that belongs to… Russell Wilson. While Wilson's three-year earnings are "only" $57 million, his launch point—salary before extension—was $1.5 million, more than $10 million less than all of the others. In this "new money" comparison, it is Wilson who received the most valuable deal of all.
• INSIDE RUSSELL WILSON'S DEAL: The breakdown of what it means for Wilson and his Seahawks supporting cast going forward (and the absence of a "Jameis clause."
9. Two coaches were shown the door by the middle of the 2015 season. In Miami, I always wondered about the fit between the understated Joe Philbin and owner Stephen Ross and Executive VP Mike Tannenbaum, both known to take big swings at name brands. And in Tennessee, Ken Whisenhunt's ouster—23 games into the job—illustrates increasing owner impatience with their teams, assets now all valued over $1 billion. Browns' owner Jimmy Haslam recently fired a coaching staff and executive team after one year, setting a new standard for impulsiveness. Now other owners are extending the same message to their leadership: they want results and they want them soon (if not now).
10. The increased power of Chip Kelly as both Eagles coach and head of player personnel happened on the first day of 2015 and has been talked about every day since. As readers of this space know, I am a fan of Kelly despite his flaws. I think of Kelly as a change agent in a profession that is stagnant, and think much of the criticism is from those with a but that's not the way we've always done things here mentality. Having said that, I do think both the trade for Sam Bradford without a companion contract extension and the opportunistic signing of DeMarco Murray illustrate the difficulty of a coach acting as general manager: They are focused more on the short-term and less focused on having a long-term plan in place. Having just beaten the Patriots and Bills, I think—and I know I continue to be in the minority—the Eagles will not only win the division but also be a tough out in the playoffs.
In case you haven't been paying attention, the business of the NFL is the NFL. The above is a sample of the never-ending political, emotional and financial drama that keeps us talking about the league long after the season's final whistles have blown.