Upsetting Developments
From Peyton Manning's mood in light of HGH allegations to the toppling of nearly all of the NFL's top teams, it was upset Sunday in more ways than one. Here is the Broncos QB's emotional response, plus analysis of the coin-flipping, perfection-puncturing, playoff-puzzling action of Week 16
Upset Sunday actually began with Upset Saturday Night. That's when the Peyton Manning/Al Jazeera story broke. And if you thought you'd ever see "Peyton Manning" and "Al Jazeera" in the same hemisphere, never mind as neighbors in a sentence, well, you're smarter than I am. (Sayeth an indignant Mike Ditka on ESPN: "Al Jazeera is not a credible news organization! They're out there spreading garbage!")
Upset Sunday. That was defined later by Pittsburgh losing in Baltimore, Seattle losing to the Rams for the fourth time in four seasons, and, of course, previously 14-0 Carolina losing in Atlanta. But earlier, on Sunday morning inside the Denver Broncos' practice facility, Manning was the personification of it.
"Yeah, I'm upset," a rehabbing Manning said after a spirited throwing session with receivers. "I'm pissed off. I was throwing so hard this morning I think I broke some fingers out there."
In a 15-minute conversation from Denver, Manning was alternately angry and emotional and strident and impassioned and defensive about the investigative report by the Qatar-based Al Jazeera—a quite credible and respected international news organization (contrary to Ditka's assertion), the CNN of the Middle East spreading its news-gathering around the world in recent years. Al Jazeera used an undercover former Olympic hurdler to ferret out the use of performance-enhancing drugs in global sports. Part of the investigation connected the hurdler, Liam Collins, with a former intern at an anti-aging clinic in Indianapolis that Manning used in 2011 when he was rehabbing from neck surgeries. The intern, Charles Sly, said the clinic mailed HGH to Manning's wife, Ashley Manning, to avoid connecting HGH to Peyton Manning. Sly last week recanted this admission, and there is so much smoke around Sly and the report and … well, we'll get to an increasingly cloudy path to the truth.
But first, Manning, blowing off steam.
"I can promise you this is a total fabrication," he said over the phone, his voice rising and sometimes shaking. "I simply do not understand how somebody makes up something like this and it becomes a story. And then the guy admits he made it up and it's still a story. How exactly does that work?"
It works because of Sly, and that could turn out to haunt the credibility of the story. The Al Jazeera reporter on the story—a documentary called "The Dark Side: Secrets of the Sports Dopers" that aired on Al Jazeera on Sunday night—told me Al Jazeera met with Sly for six days. Reporter Deborah Davies said the network had "approximately 20 hours of footage … hour upon hour of recordings" of Sly discussing the work of the Indianapolis clinic and of doping. Then, in the past several days, with the airing of the documentary looming, Sly recorded a statement recanting "any recordings or communication that Al Jazeera plans to air … there is no truth to any statement of mine that Al Jazeera plans to air."
At the base of the dispute between the Manning camp and Al Jazeera is Sly's employment history at the Guyer Institute in Indianapolis. When he recanted his testimony over the weekend, Sly said he worked for founder Dale Guyer of the anti-aging clinic in 2013, not in 2011, when Manning was a patient. Guyer, in a statement issued Sunday afternoon, said: "I would emphasize that Mr. Sly was never an employee of the Guyer Institute and his brief three-month internship occurred in 2013 during which time Peyton was not even being treated or present in the office."
"That is not what the clinic told me," Davies said after Guyer's statement was issued. She called the clinic on Dec. 1, asking for employment verification dates for Sly, and the clinic said Sly began working there on Oct. 17, 2011, according to a transcript of the call.
I emailed Guyer, asking him for a response to Davies' claim about the 2011 dates. On Sunday night, he responded thusly:
"The information you have been provided is incorrect. Charles Sly was never an employee of The Guyer Institute. At the relevant time, Mr. Sly was a pharmacy student in Nevada who emailed us a request for an internship. Arrangements for his internship, including the specific start and end dates, were made through his school advisor. Mr. Sly began his unpaid student internship with us on February 18th, 2013. He had no patient responsibilities at any time. Further, he had no affiliation with our office prior to February 18th, 2013, and has had none subsequent to the conclusion of his internship in May of 2013. Hope this helps to clarify the dates in question."
Back to Davies. Late Sunday, I asked her if Al Jazeera stood by the 2011 dates for Sly at Guyer. "Absolutely," Davies texted. "We have the transcript of the call I made." 
These stories are never very easy. This one won't be either.
* * *
Between February 2010 and September 2011, Manning underwent four neck procedures, the final one a single-level fusion. On Sunday, he said that soon after that he and the Colts began sifting through therapies that doctors and athletic trainers thought might speed up the healing process and the nerve regeneration.
"We didn't really know what would work in addition to the regular rehab I was doing every day at the Colts," Manning said. "We were looking at a lot of different things, and it turned out [the Guyer Institute] had some things we wanted to try."
Manning said he did three things at Guyer: regular use of the hyperbaric chamber, with concentrated oxygen treatments; intravenous nutrient therapy, involving vitamins and minerals; and Enhanced External Counterpulsation therapy. As the Guyer website explains, EECP uses oversized blood-pressure cuffs strapped to the legs and buttocks that are synched to the pulse of the heart, helping push blood through the body, ideally to speed healing. Manning hoped it would expedite nerve regeneration.
• PETER KING'S MAILBAG: More on the Peyton Manning accusations in The MMQB Wednesday mailbag.
"I was a good patient," Manning said. "Basically, they told me I had to do this an hour a day, Monday through Friday, for 35 consecutive [week] days. Every day I'd start there before I went to the Colts facility. So that's how long I did it, every day. I remember I watched a lot of Hoda and Kathie Lee.
"Every treatment I did, I did with the knowledge and cooperation of the Colts. Never did I do anything outside the rules. Damn straight I'd never do anything outside the rules. I know how hard I've worked to play in this league for 18 years. For this jerk [Sly] to insinuate I cut any corners, I cheated, I took shortcuts, is outrageous. Damn outrageous.
"I'm getting emotional now. But I know what I did. And I did nothing illegal."
Al Jazeera reported the transport of HGH was from Guyer to Ashley Manning, who has not commented on the allegations. Peyton Manning said the insinuation that HGH was shipped to his wife to disguise that he was getting it "sickens me." He said her medical information was personal, and he would not discuss it.
"I'm not worried," Manning says, "because this is a flat-out lie."
Davies didn't speculate on Peyton Manning's HGH use. She said: "I feel confident in what we said in our program—that HGH was shipped to Ashley Manning in Florida."
Although HGH (human growth hormone) is most commonly linked to illicit use in athletes to speed healing and create more efficient and powerful workouts, it has uses outside of athletics. A 2014 Redbookmagazine story called its use a possible "secret fertility weapon."
Two other points to make: The NFL likely will look into the charges by Al Jazeera, though, as Pro Football Talk'sMike Florio reported on NBC Sunday night, because there was no agreement between the league and players on HGH testing until 2014, it's unlikely the league could do anything unless it was proven Manning used the performance-enhancer. And on NBC Sunday night, I reported that Manning, asked if he would sue Al Jazeera over the report, said, "Yeah, I probably will. I'm that angry."
But the threshold for public figures to prove defamation of character is very high, and Manning's past will be pumped to the depths if he does choose to pursue legal action. He sounded intent on it Sunday, but who knows? With his recently hired crisis PR counselor, former White House press secretary Ari Fleischer, on board, it's doubtful Manning will make any emotional moves dealing with this.
Finally, I asked Manning if he was worried about the effect of the charge on his legacy. Once stained, can a reputation, even one that is cleared of serious allegations, ever be fully clean?
"I'm not worried about that," Manning said. "I'm not worried because this is a flat-out lie."
* * *
A strange weekend of football
The 10 stories that hit me over the head Sunday:
There's one head-to-head division title game in Week 17, and it will be game 256. Minnesota (10-5) at Green Bay (10-5) was flexed to the Sunday night game next week, meaning the last game of the regular season will be a second straight frigid Sunday night game in the Great North. Forecast for Green Bay next Sunday: no snow, wind chill of about 10 degrees. But will the friendly confines help? Green Bay, trying for its fifth straight NFC North title, is 4-5 since Halloween (and would be 3-6 if not for Aaron Rodgers' Hail Mary of all Hail Marys on Dec. 3 at Detroit). Incredible to think the team that started 6-0 with visions of home-field through the playoffs is now one loss away from traveling to Washington to play a wild-card game in two weeks. "We will bounce back," said Green Bay coach Mike McCarthy. "That's the way we are wired." Perhaps. But the Packers haven't looked like the Packers since September, and it's too late to think McCarthy can just flip a switch and life will return to normal.
Pittsburgh? Really? My Pittsburgh friends shrieked "Tomlin must go" after Sunday's totally embarrassing 20-17 loss at Baltimore, which made Pittsburgh's playoff chances sub-50 percent. For the Steelers to make the postseason, they'd need to beat the Browns Sunday while Rex Ryan beats the Jets … or while Denver loses Monday night to the Bengals and next week to the Chargers, both games at home. Who knows? Rex would trade five years off his life to keep the Jets from the playoffs, so we shall see. But the Steelers were my fifth-ranked team last week, and to see them dominated by first-time Ravens starter Ryan Mallett was a stunner. The Steelers forgot this was a rivalry game, and Ben Roethlisberger was surprisingly mediocre, with his second touchdown-less game in the last three weeks.
• THE FINE FIFTEEN: A new team sits atop Peter King's power rankings, plus what the Broncos' Monday night defeat of the Bengals means for the playoff picture.
Pop the corks, Dolphins. For the 43rd straight season, there won't be a perfect NFL team. Formerly 14-0 Carolina is now 14-1 Carolina. This one felt different for the '72 Dolphins, though, because coach Don Shula's son Mike is the Carolina offensive coordinator, and Mike Shula said his dad wanted Carolina to be unbeaten more than he (Mike) did. But Carolina was flawed for the second straight week. Last week they gave up a 28-point lead to the Giants before pulling out a late win; this week they were flat, and Cam Newton played his first average game in a while. Carolina could still lose home-field in the NFC with a loss to Tampa Bay and a Cardinals win over the Seahawks on Sunday.
Did Cam open the MVP door a bit for Carson Palmer? I discuss below, but it's not impossible.
There's a difference in the J-E-T-S Jets Jets Jets. It's called offense. Against the best team in the AFC on Sunday, New York rushed for 143 yards, threw three touchdown passes, protected the quarterback serviceably against a good Patriots pass rush, and drove 80 yards to start overtime after New England coach Bill Belichick chose to begin OT by giving the ball to the Jets. In all, the only thing that could have made the day better for the Jets would have been Rex Ryan losing.
LaAdrian Waddle—yes, that LaAdrian Waddle—could all of a sudden be a key player for the Patriots. Waddle, waived by the Lions and picked up by New England two weeks ago, became the fifth left tackle for the Patriots in 15 games Sunday when Sebastian Vollmer went out against the Jets with an ankle sprain. New England is the black hole of injury reporting, so no one knows how bad Vollmer is … and then Waddle went out with what appeared to be shoulder or neck injury. Cameron Fleming finished the game on the left side. Waddle and Fleming combined to give up five pressures, according to Pro Football Focus, and Tom Brady was pressured, sacked or hit 17 times against the Jets. Seemed like more.
Adrian Peterson has a 64-yard lead on Doug Martin for the rushing title with a week to go. Peterson (308 carries, 1,418 yards) has an easier game in the finale, at Green Bay, than Martin (273 carries, 1,354 yards), who has to play at Carolina, which will be trying hard to win after a poor performance Sunday at Atlanta. The Pack is 21st against the run and Carolina fifth. Peterson is aiming for his third rushing title, and he got warmed up for it (poor choice of words with 3-degree wind chill in Minnesota) with a 104-yard game against the Giants on Sunday night.
It's Brandon Weeden's world, and we're just living in it. Two appearances, two wins, verging on a home playoff game, better quarterback rating (107.7) in Houston than the season-long numbers for Cam Newton and Tom Brady and Carson Palmer. "He's a professional football player," said Texans coach Bill O'Brien, and I can tell you that's actually a pretty good compliment from O'Brien.
• UNLIKELY QBS IN THE AFC PLAYOFFS: Andy Benoit breaks down Tom Brady and the five otherwise ordinary QBs that make up the (likely) AFC playoff bracket.
He's not too bubbly, but Anquan Boldin joined an exclusive club Sunday. On the first snap of yet another Niners loss (in Detroit), Boldin caught a five-yard toss to the left from Blaine Gabbert for his 1,000th career catch. He's the 13th man in 96 NFL seasons to reach 1,000, and the third one this year. "To be honest with you, it means nothing," Boldin said from Detroit. "For me, I don't like to think about those things during the season." It'll mean something someday.
Arizona is a juggernaut. Imagine outgaining the Green Bay Packers by 203 yards—in eight fewer plays. The Cardinals have a chance to lead the league in scoring, and in scoring defense. They're first with 483 points scored, 21 points more than second-place Carolina. They're in a bunch with five teams on defense to be the stingiest. Flip a coin right now for the game's best team, Arizona or Carolina. The Cards are certainly better lately, and in their first test without Tyrann Mathieu, I'd say they passed, holding Green Bay to eight points.
• Play FanDuel risk-free this week. Win cash on your first entry or you get refunded! New users only. Sponsored by FanDuel
* * *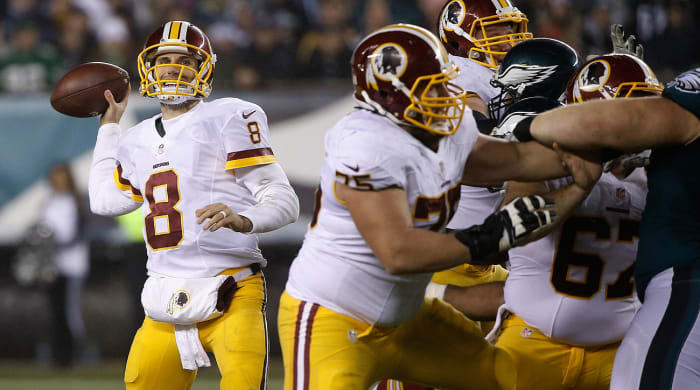 Decision of the Year
Washington's Jay Gruden is not winning coach of the year. Coaches of 9-7 or 8-8 teams don't win that award. But he made the call of the year, one that paid off Saturday night when Washington beat Philadelphia to clinch the NFC East title and lock in the fourth seed in the NFC—with one week to play.
Six days before the opening game of the season, Gruden stepped to the podium for his Labor Day press conference and announced that he had picked Kirk Cousins as his starting quarterback, over Robert Griffin III. Coming off a 4-12 rookie season last year, Gruden then moved all his chips to the middle of the table. He said he was giving Cousins the job for the season.
That call, which I'd consider the Decision of the Year, put Gruden on the tightrope of all tightropes. Which he chuckled about amidst the celebration early Sunday morning in the locker room in Philadelphia.
"Coaching football, you're always walking a tightrope," he said. "Tightropes exist for every coach, really. Except Belichick."
I credit Gruden because sometimes a coach has to look at his team and decide what's best for it, and sometimes he has to be willing to lose his job over it. And that's what Gruden was willing to do. He knew that the owner, Daniel Snyder, was partial to Griffin and wanted him to have one more real chance to be the long-term quarterback in Washington. And Gruden planned to give him that chance. But then training camp and the preseason games and the summer practices happened, and he thought Cousins was better.
• THE BOOKS OF COUSINS: On the Washington QB's constant quest to better himself
Did any coach make a better lineup decision this year than Gruden handing the job to Cousins? It's easy to say that now, of course, because Washington just clinched the NFC East title Saturday night at Philly. But look at the accuracy of Cousins (.695) in 15 starts, and look how he's cut down on his mistakes (14 turnovers in 15 games). Cam Newton has 14 turnovers in 15 games. Philip Rivers has 14 turnovers in 15 games. I like what Gruden's predecessor, Mike Shanahan, said to SI.com's Don Banks on Sunday about the decision: "There's one thing that you know as a coach that you don't know maybe as an analyst or being a coach of a different team. You don't know what a guy is like until you spend time with him. You don't know the intangibles. You don't know his preparation. You don't have a gut feel on how he handles himself 24 hours a day. And it didn't take long to figure out Kirk was a guy who was a perfectionist, who loved the game and had passion for the game."
Early Sunday morning, Gruden explained why he did it, and why it worked.
"Number one," Gruden said, "I thought Kirk earned it. I announced Robert in the off-season, but on the tape and the reps and the practices and the classroom work, we thought it was clear. We decided to go all in with Kirk, to see if he could make the transition. We thought if we gave him the reins and we told him he didn't have to look over his shoulder, that would give him the best chance to succeed. We felt like he deserved it. And it couldn't be a temporary thing—the fans here were divided, and probably deservedly so. Kirk had to handle it all, and if it got a little shaky, I didn't want to just pull the plug.
"Look, you've been around. This is a unique deal here in Washington. You know how it is around here. Robert was an excellent player in his rookie year, and then with the injury and everything, he got a little off track. But Kirk rewarded us big time.
"Robert is a good person. He's obviously not happy with the decision, but it's pro football and he's taken it like a man. I told him this year, 'You're 25 years old, and you're going to play till you're 38 and have a really good career.' He's been able to take a step back, and still compete and not bitch about it. I'm proud of him."
On Saturday night, Cousins (31 of 46, 365 yards, four touchdowns, no picks) repaid Gruden's faith from the start. He threw a perfect play-action touchdown strike to tight end Jordan Reed up the seam to open the scoring. His prettiest throw, I thought, was the dime he dropped into Pierre Garçon in the fourth quarter, 26 yards in the air, just beyond two defenders, in a perfect spot: Garçon's waiting arms. The ball couldn't have been thrown better. An assist here to offensive coordinator Sean McVay too, because McVay's the day-to-day teacher, and Cousins loves him.
So Gruden and Cousins, for now, are living happily ever after, the bond between them strengthened by a September decision. Sometimes you've got to make the call and ignore the noise. That's what Gruden did, and he's happy he did.
"In today's world," Gruden said, "if you worry about what anybody thinks about your decisions, you're going to drive yourself to a problem. A big problem. Alcohol, or something. You just gotta put your nose to the grindstone and believe in yourself, believe you're making the right call and just go."  
* * *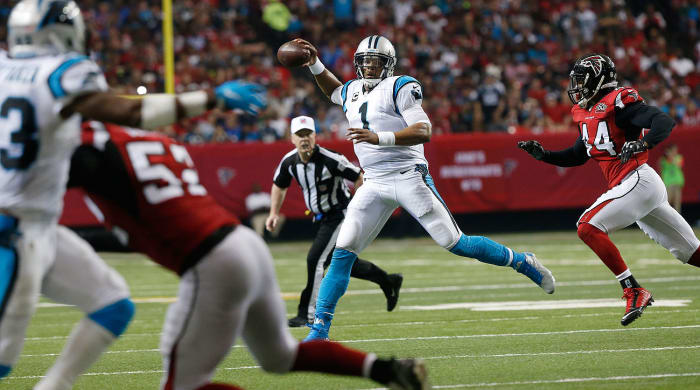 MVP Watch: Week 16
The one gripe I've always had with the vote for the MVP award by the Associated Press—and I've aired this with Barry Wilner of the AP—is the fact that you vote for one person for each award. So there's no nuance, no credit to several players when it's very close for first place. But that's the way it's been. All or nothing. So even in a year like this one, when Tom Brady is dealing with a makeshift line and injuries galore to key guys and still is tremendous, and when Carson Palmer is having the best year of his life for a 13-2 team, you get one vote, due after the final games of the regular season next Sunday. How I see the race with a week to go:
1. Cam Newton, quarterback, Carolina. (Last week: 1.) It's probably not over, but it's close. The Panthers, even after the narrow loss in Atlanta on Sunday, likely will finish with the best record in football, Newton's four wideouts are pedestrian, and he's accounted for 41 touchdowns rushing and passing (to Carson Palmer's 35 and Tom Brady's 39 … though Brady and Palmer, in passing and rushing yards combined, are each more than 300 yards ahead of him). Maybe, just maybe, Newton's first bad game in a while (he was 0-for-7 on third and fourth downs against Atlanta, a mediocre defensive team) opened the door a crack for Palmer or Brady, who currently are in a close race for second place.
2. Carson Palmer, quarterback, Arizona. (LW: 3.) He's 29-8 as the Cardinals starter, including 13-2 this year, his comeback year from ACL surgery. Boy, is that impressive.
3. Tom Brady, quarterback, New England. (LW: 2.) With an offensive line that seems to get re-invented every week, and with key injuries to receivers and running backs, Brady is having one of the best years of the one of the great careers of all time—even with Sunday's understandable hiccup in New Jersey.
• UNLIKELY QBS IN THE AFC PLAYOFFS: Andy Benoit breaks down Tom Brady and the five otherwise ordinary QBs that make up the (likely) AFC playoff bracket.
4. Andy Dalton, quarterback, Cincinnati. (LW: not rated.) I understand—he's done for the regular season and will have missed (most likely) the last three regular-season games. But he moved back ahead of Russell Wilson and Ben Roethlisberger today, to me, because he led the Bengals to 10 wins in 13 starts, and the Seahawks and Steelers are 9-6. I have considered records of teams significant in MVP voting. It's not everything about the MVP, but it's significant.
5. Ryan Fitzpatrick, quarterback, New York Jets. (LW: not rated.) My upset pick here. I chose Fitzpatrick by a hair over Brandon Marshall, who achieved his sixth 100-catch season Sunday. I did it because week in and week out, Fitzpatrick gives a very strong Jets defense precisely what it needs out of the offense—just enough punch (3,724 passing yards, 29 touchdown passes, 12 picks)—and provides New York with the leadership it sorely lacked at quarterback with Geno Smith.​
• THE FINE FIFTEEN: A new team sits atop Peter King's power rankings, plus what the Broncos' Monday night defeat of the Bengals means for the playoff picture.
* * *
Dearly Departed Alert: Part III, the Raiders.
In the span of eight days, the three teams that are candidates to move to Los Angeles—the Rams, Chargers and Raiders—played their final home games of 2015. And, perhaps, their final games ever in St. Louis, San Diego and Oakland. Last Wednesday, I asked two men to speak for the fans in two cities: lead FOX NFL play-by-play man and St. Louis-raised Joe Buck represented St. Louis, and longtime Chargers center Nick Hardwick, now the team's radio sideline reporter, addressed the San Diego side of the story. This morning, following Oakland's last home game Thursday night, comes the final piece of the puzzle—and I mined the Black Hole to find it. Here are the words of Dr. Death:
Dr. Death, aka Ray Perez
Sacramento State student, 28. Co-founder, Forever Oakland
Dec. 24: Raiders 23, Chargers 20 (OT), O.Co Coliseum, Oakland
I went to my first Raider game when I was 7, with my dad. I went to Disneyland a lot as a kid, and Raiders games blew Disneyland out of the water. As I grew up, we really didn't have the money to go to a lot of games, so I began to collect recyclables to raise money for tickets. That's how much I loved it. Later, I would see all the people who dressed up and were big fans in the Black Hole—the gorilla, the Violator—and I decided I wanted to be like that. So for the past five years, I put on silver face paint, shoulder pads and I'm in the parking lot by 8 or 8:30 a.m., dressed as Dr. Death, seeing all the other members of my family. That's what I consider Raider fans—my family.
I have always gotten upset at the portrayal of us as criminals or thugs. We are not criminals. We are not thugs. We do fundraisers for important causes. We did a big event for Mothers Against Drunk Drivers last year. In a few weeks we'll have 200 of us from the Black Hole doing a fundraising event for veterans in Oakland. We care about the community, and we care about each other.
I think Raider fans, especially those of us in the Black Hole, feel like we're a little different. We're renegades. The Raider logo is our family crest. At the game, no matter our religion, our politics, our lifestyle, our background, we all love one thing. Even when we lose, we're still Raiders. I couldn't think of any other sensation in the world like being at the games. It's a natural high.
• SEE YA, SAN DIEGO AND ST. LOUIS? On the potential last home games for Chargers, Rams
For the game the other night, I got to the parking lot about six hours before the game. It was pouring, but it was packed there. Christmas was in the air. No one was scared that this was it. We're either oblivious or overconfident, but no one said we're as good as gone. I brought a Charger buddy of mind from 'Save Our Bolts,' and as we walked around the parking lot, he was welcomed. It was like, 'Want anything to eat? Want a drink?' It was a great night, even with the weather. Lots of hip hop, MC Hammer, Oaktown's 357, Too Short … Filipino food, Mexican food, ribs. People were roasting a pig in the parking lot. Fried turkey. If you're walking around, and you're Raider family, you are welcome.
We still can't figure out why the NFL would allow Mark Davis to move this team. Why would the NFL allow the two least-rich owners in the league, from San Diego and Oakland, to have the L.A. market and keep a billionaire, [Stan] Kroenke, in St. Louis, a place he doesn't want to be? I feel like we've done our part, we sold out here. I gave Mark a petition of 10,000 signatures of fans wanting the Raiders to stay. I said, 'I'll go to City Hall and fight for you, but you've got to do your part too.'
At the game, we saw hundreds of 'Stay in Oakland' signs. On one of the video boards, we saw a sign for 'Get your season tickets for next year now.' They haven't shown that all year. The game wasn't great, until the end. When we won, Charles Woodson came out. We love that guy. He comes out, gets on the microphone and the crowd, all synchronized, perfectly, serenades him with RAAAAAAAAAIIIIIII-DERRRRRS. I saw grown men cry. There was nothing about the stadium, nothing at all, that would have made anyone guess we were moving anywhere.
• 'WHO IS FRIGGIN' TOUGHER THAN CHARLES WOODSON?' Remembering the soon-to-be Hall of Famer's career
After the game, we stayed maybe 45 minutes. It's Christmas Eve, and no one wants to leave. Finally we go out to the parking lot. Music's blaring, it's freezing, maybe 40 degrees. We're blaring our music. OUR music. Loving OUR team. Drinking, eating.
Our last game here? No. No way. No way.
* * *
The nation reacts to 'Concussion'
The long-awaited Hollywood movie about the Nigerian-born neuropathologist who worked tirelessly to discover the cause of brain damage in some deceased football players debuted across the country on Christmas Day, and reactions were swift. I asked readers of The MMQB to check in with their thoughts. America speaks:
I came out of the theater fired up about the evil of the NFL and the dangers of football. Then I did some research. Some key storylines were made up. I won't spoil the movie for you and I wouldn't want to discourage you from going to see it. In fact, I highly recommend it. But based on my research into the true story, the NFL has good reason to call foul. Because of the filmmakers' abuse of dramatic license, the NFL has reason to dismiss the story as Hollywood hype. But here's the NFL's problem: 99.9% of the people who see "Concussion" will walk out thinking the NFL is an evil corporation made up of owners who did their best to destroy a doctor trying to save the lives of the men who had made them billionaires. It's hard to imagine any mother coming out of  "Concussion" wanting her young son to play football.
—John S., Pittsburgh
• THE NFL'S 'CONCUSSION' PROBLEM: Here is the league's reaction to new movie
Players coming up and playing football will need to be more disciplined and responsible than ever before. Using fundamental skills is more essential than ever for preventing possible brain damage. Players are aware of what the dangers really are now, so it's up to them to protect themselves as well as their football brethren from potential dangers of the game.
—Brandon B., Harwich Port, Mass.
I saw "Concussion" yesterday in Chicago. I found the film to be intriguing and thought-provoking. Of course it oversimplifies the complexity of Bennet Omalu's research and the opposition he faced, but that's Hollywood. It also oversimplifies the opposition the scientific community posed to his research, but again, it's a movie. The actors who portrayed the players, especially David Morse as Mike Webster, showed just how devastating CTE can be, and Peter Landesman was effective in showing the NFL as the ruthless entertainment business it is. It is an important movie.
—Jo K., Rock Hill, S.C.
• THE MMQB REVIEWS 'CONCUSSION': A critique of the film that bills itself as 'the movie the NFL does not want you to see'
My reaction is pretty simple. The NFL lied. So did the movie.
—Justin, Miami
It's a movie made by Hollywood. While it is based on a true story, that means nothing to Hollywood. They are about the bottom line, which is money. They are not interested in the truth or bringing to light an awful truth about the sport we love. I think the media is aggrandizing this entertaining semi-biopic into damning evidence against the NFL. It's ridiculous considering that all the studio was really doing is piggy-backing off America's love of the NFL! You don't believe me that Hollywood would sensationalize real events to make the story more compelling, especially when it's a story about beloved football?! Ask Michael Oher how he feels about "The Blind Side."
—Jonny, Dallas
"Concussion" was a revelation. It put one of the world's biggest businesses under a microscope so we could see the extent that it would go to continue to profit. As a fan of the NFL, it is sad to see a company that has millions of loyal fans turn its back on its employees from fear that the fans will turn on them. But the one thing that disturbs me the most is the hypocritical nature of us NFL fans watching this movie. We fret about the concussion issue, but every Sunday when that quarterback drops back half of us want a defensive end to run straight through him. The NFL put profits over ethics.
—Tre T., Atlanta
I thought the movie was well produced and acted. Unfortunately, I did not learn anything new about CTE. As a father of children who play tackle football and an NFL season-ticket holder, I still have many unanswered questions about what causes CTE. Is it caused by a few concussions, several concussions, multiple concussions close together or culmination of years of minor head impacts (like slaps)? Is there any predisposition to CTE from heredity? Is there any correlation between steroid or drug use and CTE? Does hydration while practicing and playing make a difference? Can helmets be improved? I hope the movie can result in increased research through awareness and pressure on the NFL so that concerned parents, participants and fans can get real answers.
—Troy A., Racine, Wisc.
• WE WATCHED 'CONCUSSION' WITH 70 RETIRED PLAYERS: The special screening brought out plenty of emotions. And for many, it was a panic-inducing horror flick.
I've been a football fan for 40-plus years. My friends and I made believe we were Brodie, Stabler, Washington, Casper, et al. I can no longer, in good conscience, support a league that disposes of its workforce so callously and easily. The NFL is literally sacrificing humans for profits.
—James E., Los Angeles
Just saw the movie. I played Division I football 30 years ago and coached high school and middle school football most of my life. I almost cried three times during this movie—not that it is a tearjerker film but because I've been there. Damn the NFL for not doing more sooner. Two knee replacements and other injuries and I still love football for how it can teach young men the value of hard work, teamwork and how to overcome adversity. The movie is clear—we have to take the head out of the game. No game is worth what the head injuries cause. Not Oscar-worthy, but a film that should be seen by every fan, player, parent and coach.
—Dave, Arlington, Texas
* * *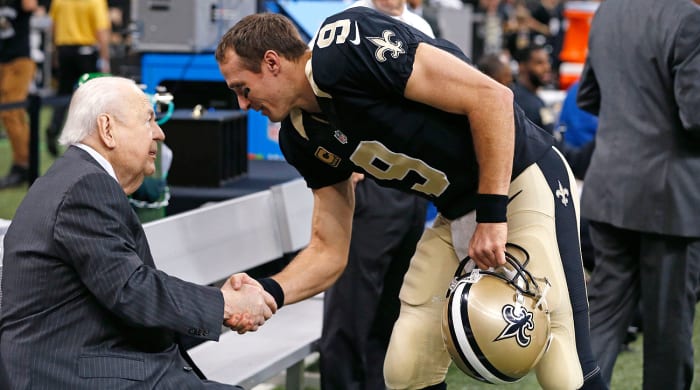 Quotes of the Week
I
"I am not selling either team. That is not in my makeup. I am not retiring or stepping aside, while I do appreciate all of the sincere concern for my health. The legacy of both these teams are still yet to be written and my legacy can be discussed when I am long gone, which by the way is not that important to me right now. What is important to me is getting both our teams back to winning and challenging for championships."
—New Orleans owner Tom Benson, in a statement issued after the Saints' win Sunday … on the heels of the New Orleans Times Picayune on Sunday morning urging Benson to sell both the Saints and NBA Pelicans.
II
"We got our asses kicked. To a lot of degree, we deserved it ... I'm talking with a mirror in front of my face."
—Carolina quarterback Cam Newton, after the first Panthers loss of the season Sunday in Atlanta. Carolina is 14-1.
III
"This is Chip's fault. He cut me."
—Washington wide receiver DeSean Jackson, walking off Lincoln Financial Field on Saturday night, on Eagles coach Chip Kelly's decision to cut Jackson after the 2013 season.
• THE CHIP KELLY FIRING: Peter King on why the Eagles missed out on an opportunity.
IV
"Standing on the sidelines before games … The National Anthem, just really listening to it, listening to the words … You know, this is a great, great country that we live in to be able to play this great game. I'll miss that moment … I'll miss away games. I'll miss packing up, gathering what you need, the players that you need. That's all you have. You take it, you go on the road and you're going in there into someone else's stadium trying to win a game at their home. I'll miss that."
—Oakland safety Charles Woodson, who announced last week that this would be his last season playing football, responding to a question about what he'll miss about playing football.
V
"He tried to show physical toughness, but he really revealed mental weakness."
—Former NFL linebacker and current CBS analyst London Fletcher, talking Sunday about Giants wide receiver Odell Beckham Jr. Beckham's petulant behavior (though well prompted by the Panthers) during last Sunday's Carolina-Giants game got him suspended for New York's game Sunday night at Minnesota.
* * *
The Award Section
OFFENSIVE PLAYERS OF THE WEEK
Drew Brees, quarterback, New Orleans. Playing on a torn plantar fascia in his right foot, Brees capped his 10th home season in New Orleans—the Saints are at the Falcons next week—with one of his best individual games: 25 of 36 for 412 yards, three touchdowns and no interceptions in a 38-27 win over Jacksonville. I don't know what Brees' fate will be—his $30-million cap number is probably untenable for the Saints—but someone's going to want him if the Saints can't renegotiate a new cap number in 2016. Wouldn't you think a quarterback with these 14-game numbers would be a hot property: 68 percent completions, 4,557 yards, 31 touchdowns, 11 interceptions … even a quarterback who turns 37 in January? Also, it's significant to me that Brees has played so well since hurting the rotator cuff in his throwing shoulder in September. He's really shown a lot of resourcefulness, even in a lost season. "The only thing I can compare it to is when you have one of your senses taken away from you," Brees said after Sunday's game, regarding overcoming the problems created by his shoulder injury. "You have your five senses. Someone who cannot see has their sense of smell and taste accentuated. You take away something like that and everything else becomes heightened. You focus on what you can and can't do. Nothing changes the way that you play the game, but it makes things more defined." Smart guy.
Brandon Marshall, wide receiver, New York Jets. At 31, Marshall is rapidly turning this season into one of the two or three best of a very good career. His 13th receiving touchdown set a career high Sunday in the overtime win over New England. He has 1,376 receiving yards now, second-most in his career. And his 101st catch gave him the league record for 100-catch seasons (six); Jerry Rice had four. He also broke the Jets' 27-year-old record for receptions in a season, eclipsing Al Toon's mark of 93 set in 1988. That was a huge win for the Jets on Sunday … and illustrated how valuable the trade was that brought Marshall from Chicago. GM Mike Maccagnan dealt the Jets' fifth-round pick for Marshall and a seventh-rounder. Such a deal.
• THE CASE FOR ADAM GASE: After getting the best out of Jay Cutler, the sharp young offensive mind won't be passed over for head-coaching jobs again.
DEFENSIVE PLAYERS OF THE WEEK
Dwight Freeney, pass rusher, Arizona. Interesting how much pressure the Cards were under to do somethingabout a shaky pass rush before the trading deadline, and Bruce Arians and GM Steve Keim took a shot at not breaking the bank for a rusher but rather seeing if they could get a good half-season out of Freeney. It has worked. In 10 games, he's had seven sacks; his three against the Packers on Sunday included a strip sack of Aaron Rodgers returned for a touchdown. Not bad for a 35-year-old guy who could have been signed by any team in the league in the first five weeks of the season.
William Hayes, defensive end, St. Louis. Lost among all the big stars and high picks on the Rams defense, Hayes (2008 fourth-round pick out Tennessee, 103rd overall) has become a valuable piece to the pass-rushing puzzle. He was a part of four sacks at Seattle (two solos, two half-sacks, for a total loss of 26 yards), plus a four-yard stuff of Christine Michael. Hayes is a great illustration of a team with depth at pass-rusher that will always be able to afford an injury at defensive end (Hayes has been great insurance for Chris Long going down this year) and be set to play strong defense late in the season.
SPECIAL TEAMS PLAYER OF THE WEEK 
Marquette King, punter, Oakland. For one of the best halves of football a punter has had. In the second half Thursday night, King punted six times for a gross average of 50.5 yards, and a net average of 50.1 (that's right: the Chargers' punt-return yardage in the half was two), with all six punts landing inside the 20. King's punts: 39 yards, to the San Diego 13; 50 yards, to the San Diego 8; 51 yards, to the San Diego 9; 53 yards, to the San Diego 14 (returned two yards); 46 yards, to the San Diego 10, and 65 yards, to the San Diego 12. So the Chargers' average field position after the six punts was their own 12.5-yard line. San Diego scored three second-half points. What a night for King—overall, eight punts for a 50.0-yard average.
COACH OF THE WEEK
Gregg Williams, defensive coordinator, St. Louis. Playing against the hottest quarterback in football, in front of the toughest home crowd in the league, Williams' game plan penned in Russell Wilson and held the Seahawks to 10 points and 275 total yards in the first 58 minutes of a 23-16 victory at St. Louis.
• THE HIRING LIST: The MMQB's list of the 10 hottest head-coaching candidates in football.
Jay Gruden, head coach, Washington. A 4-12 coach in 2014, Gruden is an 8-7 coach so far in 2015 … but that's not the reason he's the coach of the week. He has that prestigious honor for two reasons: Washington, picked last in the division by most prognosticators with pulses four months ago, clinched the NFC East with a decisive 38-24 victory Saturday night in Philadelphia. And, as I explained above, Gruden made a gutsy call that could have backfired and got him fired—starting Kirk Cousins over Robert Griffin III. Sure looks like a good call now.
• THE CHIP KELLY FIRING: Peter King on why the Eagles missed out on an opportunity.
GOAT OF THE WEEK
DeMarco Murray, running back, Philadelphia. The NFL has to fix the way it credits fumbles, but that's a story for another day. How Sam Bradford is charged with the fumble on the pitch to Murray that broke open this game Saturday night is silly. The situation: Philadelphia, down 23-17 late in the third quarter at its 29-yard line, had a third-and-two, and Bradford pitched to Murray. Replays showed Murray, who clearly had both hands on a football that was pitched perfectly, looked up to calculate the hole he'd try to run through, and the ball bounced off his hands onto the ground. DeAngelo Hall scooped it up and ran 17 yards for what turned out to be the clinching touchdown.
• Play FanDuel risk-free this week. Win cash on your first entry or you get refunded! New users only. Sponsored by FanDuel
* * *
Stats of the Week
I
Two most accurate kickers in the NFL since opening day 2014:
| | | |
| --- | --- | --- |
| Kicker, Team | FGM-FGA | Pct. |
| 1. Adam Vinatieri, Indianapolis | 52-55 | .945 |
| 2. Stephen Gostkowski, New England | 67-71 | .944 |
Vinatieri kicked 10 years for New England.
Vinatieri is in his 10th year in Indianapolis.
Gostkowski replaced Vinatieri.
Gostkowski is in his 10th year in New England.
II
In the past eight seasons (including 2015), the winners of the NFC East have been:
| | |
| --- | --- |
| Team | Division Crowns |
| Dallas | 2 |
| N.Y. Giants | 2 |
| Philadelphia | 2 |
| Washington | 2 |
* * *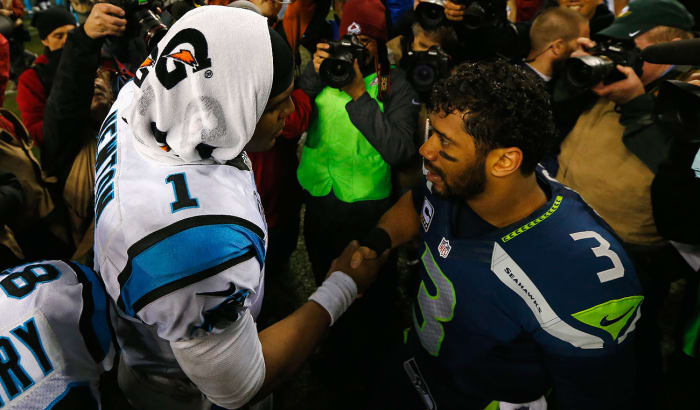 Factoids of the Week That May Interest Only Me
I
For the schedule nerds, we know a lot about the 2016 slate with one week to go in this regular season. Ten 2016 scheduling factoids you might like:
1. Some very good matchups you don't see very often involving the favorite to the win the 2015 Most Valuable Player award: Carson Palmer at Cam Newton. Philip Rivers at Cam Newton. Aaron Rodgers at Cam Newton. Cam Newton at Derek Carr. Cam Newton at Russell Wilson.
2. Falcons at Seahawks. Or former Seattle defensive coordinator Dan Quinn at his mentor, Pete Carroll.
• DERRICK HENRY'S DRAFT PROSPECTS: And unusually big back who carried an unusually big workload, how does the Heisman winner's skills translate to the NFL?
3. Tom Brady and the Patriots will play their first regular-season game ever (and first game of any kind if they don't make Super Bowl 50) in the Niners stadium in Santa Clara, 22 miles from Brady's boyhood home. And the Patriots will play their first regular-season game in Glendale, Ariz., after playing in two Super Bowls there.
4. J.J. Watt's Lambeau Field debut is slated to happen, which has to be big news in his hometown of Pewaukee, Wis. Andrew Luck's Lambeau Field debut is slated to happen. Luck at Aaron Rodgers promises to be fun.
5. In the first NFL game ever at a rugby grounds, Twickenham Stadium in London on Oct. 23, the Rams will host the loser of Week 17's Giants-Eagles game. (The Rams are matched in a home game against the team finishing in the same position in the standings in the NFC East next fall; the Rams are locked into third place, and the New York-Philly loser will be the third-place team. Ergo, Rams versus that losing team.) Interesting, though: We still don't know if the Rams' other seven home games will be in California or Missouri.
• THE HIRING LIST: The MMQB's list of the 10 hottest head-coaching candidates in football.
6. Washington travels to Baltimore for only the second time in the 21 regular seasons of the Ravens' history in Maryland. Just another example of the inanity of the NFL scheduling rules. Instead of making Washington-Baltimore a prized rivalry, the Ravens play Washington once every four years, which means they play at Washington once every eight years—and vice versa. With the two stadiums (FedEx Field and M&T Bank Stadium) 31 miles apart, it's ludicrous that Washington and Baltimore play as often as Washington plays Oakland.
7. Eli Manning at Lambeau. Aaah, memories. January 2008 at Lambeau: Eli beats Favre, NFC title game. January 2012 at Lambeau: Eli beats Rodgers, NFC divisional playoff.
8. Sexy non-division home slate for Steelers: Cowboys, Giants, Patriots, Jets.
9. Gregg Williams at the Superdome for the first time since Bountygate … assuming Williams is still coaching for the Rams in 2016.
10. Super Bowl 49 rematch in Foxboro: Seattle at New England. Russell Wilson's first game in New England since his North Carolina State team was drubbed by Boston College 52-20 in 2009 in Chestnut Hill. You don't recall? A refresher: Wilson scored the same number of touchdowns that day (one) as Boston College wideout Billy (nephew of Doug) Flutie.
II
San Francisco wide receiver Anquan Boldin joined Larry Fitzgerald, his former Arizona teammate, on the 1,000-reception list Sunday, making his 1,000th reception at Detroit. In the 96 seasons of the NFL, 13 players now have caught at least 1,000 balls.
• Fitzgerald, in 185 games, has caught 1,012 passes.
• Boldin, in 185 games, has caught 1,004 passes.
* * *
Mr. Starwood Preferred Member Travel Note of the Week
I was one of the minority of Americans not traveling for the holidays. In fact, I had the quietest Christmas I can recall, and thanks to my daughter Mary Beth, I was exposed to some of the best TV I have ever seen: the eight-part BBC series from 2011 called "Human Planet." A pretty good way to spend four or five hours, watching the culture of food-gathering and surviving and life by so many different people around the world. Sperm whale-hunting in Indonesia … Greenland shark-hunting through a hole in Greenland ice, and then getting this massive shark up through the ice … Little boys hunting tarantulas and then eating them in Venezuela … Herding reindeer in Norway across a big body of water, with the reindeer swimming to survive … Netting fruit bats with a device that looked something like the nets set up behind football goal posts in NFL games—and then the hunters eating the bats … Climbing trees in the jungle in the Congo to gather honey while getting stung by hundreds of bees.
That was some phenomenal TV, and made for a different, relaxing Christmas.
* * *
Tweets of the Week
I
II
III
The Cardinals infielder, on the death Sunday of longtime star baseball writer Joe Strauss of the St. Louis Post-Dispatch. Strauss died at 54 of leukemia.
IV
The former Minnesota running back and outspoken player advocate, on the way Duerson was portrayed in "Concussion."
Director Peter Landesman, responding to criticism by the Duerson family in The New York Times, said last week in this column he felt "very peaceful about [Duerson's] portrayal." But that's not likely to assuage the critics who claim some of the dramatized encounters between Duerson and former players are over the top.
V
You mean, except for 9,500-word Monday football columns?
VI
* * *
Ten Things I Think I Think
1. I think this is what I liked about Week 16:
a. This story from The MMQB'sRobert Klemko about a woman's tough decision after being assaulted by her boyfriend, an NFL player. In case you wonder about the pressures that buffet a person deciding whether to come forward after domestic abuse, this story tells you exactly why … and tells you about how the NFL's new procedures work as the league investigates such cases. We kept the woman's name and the player's name anonymous. Why'd she come forward? As she told Klemko: "I think, maybe, if there had been an article, I might have read it and saved myself." Valuable reading.
b. Case Keenum: much better than I thought. He showed poise and presence.
c. Frank Gore's touchdown run, the first TD of the day at Miami. That's a classic Gore touchdown run, breaking three tackles and illustrating his great balance.
d. Timmy Jernigan, tossing aside two Steelers linemen and nailing Ben Roethlisberger.
e. Matt Ryan to Julio Jones. Excellent throw. Better (wrestling) catch.
f. Jets defense. Patriots' first third-down conversion came at 3:21 p.m. ET … two hours and 16 minutes after the start of the game.
g. Jarvis Landry, with a Beckham.
h. Beckham catch, I mean. Precisely like his old buddy from LSU.
i. Regarding Johnny Manziel: some good (108 rushing yards), lots of bad (13 of 32 passing) … but give him a little break. The Chiefs badgered him consistently in the pocket and out, but he took no sacks despite the pressure, and he did lead the Browns to 368 total yards.
j. Todd Gurley. Did you see his mega-leap over one of the great safeties in football, Earl Thomas? He is going to be a huge problem for the teams of the NFC West for years. (Hold on to the football, though.)
k. Rams: 4-1 in the NFC West, the best record of any team in the division. About to be 5-1, unless the Niners get 93 percent better in the next six days.
l. Speaking of backs who are big and bowling-ball-like, I give you Karlos Williams. What a load of talent he is.
m. The catch along the left sideline, and getting in both feet, by Pierre Garçon, a picture-perfect display of how concentration can be so vital for a good receiver.
n. Washington's unknown outside rusher, Preston Smith, the second-rounder from Mississippi State, turnstile-ing all-pro left tackle Jason Peters for a key late-first-half sack Saturday night.
o. The ability of Connor Barwin to sniff out screens.
p. Fletcher Cox, one of the best players in football we're just getting to know.
q. Great instant analysis by Ian Eagle on NFL Network on Saturday night on the awful kneel-down by Kirk Cousins at the end of the first half, preventing what would have been an easy field-goal try by Washington before halftime: "He did take a knee … He did not spike the ball! They have butchered this! He had a brain freeze!"
• THE CASE FOR ADAM GASE: After getting the best out of Jay Cutler, the sharp young offensive mind won't be passed over for head-coaching jobs again.
r. Ever hear of Deshazor Everett? Washington's rookie undrafted free-agent corner from Texas A&M made a terrific open field tackle of Darren Sproles on a punt return that was just getting underway, trapping Sproles at the Philadelphia 10-yard line early in the second half. Great play.
s. Houston GM Rick Smith finding quarterbacks. The two active quarterbacks of the AFC South leaders arrived in Houston on Nov. 19 (Brandon Weeden) and Dec. 22 (B.J. Daniels) via waivers and a claim off Seattle's practice squad, respectively.
t. Oakland linebacker Malcolm Smith, with perhaps his best game since the MVP night in Super Bowl XLVIII: 14 tackles and a forced fumble in the Raiders' overtime win over the Chargers.
u. The classic Raider drive for the winning points on Christmas Eve: 15 plays, 67 yards, plus five penalties for 35 yards, for a grand total of 102 yards traveled to the winning Sebastian Janikowski field goal.
• Play FanDuel risk-free this week. Win cash on your first entry or you get refunded! New users only. Sponsored by FanDuel
2. I think this is what I didn't like about Week 16:
a. The Ravens taking Timmy Jernigan out of the game on third down. At least some of them. You don't want his penetration on third down?
b. Tyrod Taylor's dumb, up-for-grabs interception in the red zone in the closing seconds of the first half against Dallas.
c. Atlanta defensive back Phillip Adams dropping a sure pick against Cam Newton. Granted, he had a jostle from Philly Brown, but Adams has to catch that ball.
d. Oakland's offensive play-calling against San Diego. Sheesh. Use some imagination.
e. Seven Philadelphia fumbles against Washington. Seven!
f. Nelson Agholor, with the easiest touchdown pass he'll ever drop.
g. Sam Bradford, missing an incredibly open Zach Ertz in the first half with what should have been the go-ahead touchdown pass against Washington.
h. Really dumb delay-of-game penalty on Eagles cornerback Walter Thurmond late in the first half, giving Washington another chance to score with six seconds left in the second quarter …
i. … which Kirk Cousins promptly botched by kneeling with no timeouts left instead of spiking the ball. Cost his team three points that, luckily, Washington ended up not needing.
j. Chip Kelly's challenge of a Riley Cooper incompletion. You're telling me that Kelly's eyes upstairs, telling him when or when not to challenge, didn't see the ball clearly on the ground when Cooper rolled over?
k. Hard to fathom how bad the Philadelphia defense is with so much talent in the front seven. That secondary is awful. I said it at the time of the signing and will repeat: Six years and $63 million for Byron Maxwell, a complementary corner but absolutely not a shutdown one, was a terrible contract.
l. Chip Kelly the GM. I realize I'm jumping on the pile here, but the Eagles have to either delegate personnel back to Howie Roseman or start a search for a real GM. Today. (Update: Kelly was fired on Tuesday. Read Peter King's reaction here.)
m. For Matt Hasselbeck's own good, I wish the Colts would stop putting him on the field. The guy looks shot—totally beat up, unable to protect himself. He left the field in Miami with his right shoulder in a sling Sunday, and I sincerely wish he wouldn't try to pull a Favre and get scotch-taped together so he can play at home Sunday against Tennessee.
n. The Titans. Is it possible they're the 33rd-best team in football?
o. What I'd hope for the Titans: Some team, desperate for one of the draft quarterbacks, throwing a bunch of picks at GM Ruston Webster (assuming he survives) so Tennessee can further fortify a bad roster.
p. The Cowboys look so bad … but I do not believe it's time to can Jason Garrett. He deserves one more year, at least, with Tony Romo. They've got great chemistry, and Jerry Jones shouldn't be starting over.
q. The Steelers, with two three-point losses to their rivals the Ravens this year. On Sunday, they lost to the Triple-A Ravens affiliate. It's like they lost to the Norfolk Tides.
3. I think I have no issue with the Patriots kicking to start overtime against the Jets. A few points: Belichick did it against Denver in New England in 2013 and won the game; Minnesota's Mike Zimmer did it in Week 9 this year against the Rams and won the game. Clearly Belichick trusted his defense to stop the Jets from scoring a touchdown more than he trusted his offense and the embattled Tom Brady to drive 80 yards for a touchdown. Keep in mind: you don't want to kick a field goal to start overtime because the opponent has a shot on the next series to win with a touchdown or continue the game with another field goal. At the start of overtime, the team that wins the toss can either kick off, receive or choose which goal to defend. And when Matthew Slater chose for the Pats to kick off—even though he was bemused and confused by the ref not allowing him to choose which goal to defend—of course he should have chosen which goal to defend, because the Jets would have taken the ball to start the extra period. But in the end, it didn't matter. None of the plays the Jets used to drive the length of the field for the winning touchdown in overtime was wind-aided or wind-affected.
4. I think this is why the draft is so maddening, and gets so many personnel guys fired, and prompted Ron Wolf to once tell me he'd be happy batting .333 in draft hits: On Saturday night, the 102nd overall pick of the 2012 draft outplayed the first pick in the 2010 draft. And it wasn't particularly close. Kirk Cousins outplayed Sam Bradford clearly and definitively, and on the road.
• THE BOOKS OF COUSINS: On the Washington QB's constant quest to better himself
5. I think the most interesting upshot of Week 16 is this: The New York Giants have made the playoffs once in the past seven seasons. For a team that has won two Super Bowls in the past nine years, that just seems so odd … and it could be hazardous to Tom Coughlin's coaching future.
6. I think the Ravens found their 2016 backup quarterback Sunday. Ryan Mallett has a great arm, possibly more physical tools than Joe Flacco, and he's exceedingly grateful that the Ravens took him off the NFL scrap heap. I think he'd sign for 2016, no questions asked, and the Ravens—who know he's not the smartest player and might not have the emotional equilibrium they'd prefer in a backup to Flacco—would like to have him. He's not afraid.
7. I think Green Bay's got to figure out what's eating Aaron Rodgers, and why he and his receivers are oil and water right now. I know a big part of the problem is the injury-wracked offensive line. But great quarterbacks can make plays even under consistent fire, and the chemistry between Rodgers and the wideouts is terrible right now.
8. I think if I were Pete Carroll, I'd consider having a fumble-recovery drill at practice this week. Every day.
9. I think I wouldn't include any Super Bowl-winning coaches on any postseason list of potential hires for head-coaching vacancies. First: I wouldn't hire a coach who's been living the fairly good life for nine years, like Bill Cowher (last season: 2006). I work with Tony Dungy (last season: 2008), and he has no desire to coach again; he loves his life at NBC and as a well-rounded dad and person. Then there's Jon Gruden (last season: 2008), and I was convinced he'd return to the game a year or two or three after he got whacked by the Bucs in January 2009. But the longer he's out, the more he likes the life. Of the three, I'd think Gruden has the best chance to return one day. This is what Gruden said to the Broncos' website the other day: "I always have the itch … I miss the players. I miss the scoreboard. But I'm undefeated the last six years." We'll see, but I'd overlook them all this January.