'Game Over. Nope.'
Hail Mary heaves, coins that don't flip and a play Bruce Arians had been saving for two years: Everything from the Cardinals-Packers playoff game for the ages. Plus a look at the wins by Carolina, New England and Denver, title game previews and more
A day later, it still felt unreal to Bruce Arians. All of it. Since 1967, Arians has played high school and college football, then coached college and pro football … 48 years altogether … and on Sunday morning in Arizona, he considered this question: Of all the games you've ever played and coached, where does Saturday night's overtime win over Green Bay rank?
Forty-eight years now. Keep that in mind. Coaching under Bear Bryant, coaching Peyton Manning and Ben Roethlisberger and Andrew Luck and now Carson Palmer and Larry Fitzgerald—14 coaching jobs in all.
"That probably was the most dramatic up-and-down, end-to-end game and finish of my life," Arians said. "We stop 'em on fourth down. Game over. Nope. We got 'em fourth-and-20 way back at the goal line. Game over. Nope. We blew that one. Then they throw a Hail Mary on the last play of the fourth quarter and we get good pressure. Game over. Nope.
"And then overtime. They can't even flip a coin. Then Larry makes that first play—unbelievable—75 yards, thought he was going to score. And then the play I've been saving for two years. I love that touchdown play."
• WHEN AN UNLIKELY PLAY DECIDES AN UNBELIEVABLE GAME: Carson Palmer's playmaking answered Aaron Rodgers' Hail Mary in a playoff game for the ages
Very good weekend of football. Start with the very slow hurry-up offense by the Chiefs, trying in vain to catch New England. Then Arizona 26, Green Bay 20, in overtime. Then bizarro world hits Charlotte. First half Sunday: Carolina 31, Seattle 0. Second half: Seattle 24, Carolina 0. Finally, in what looked like it might be The Last Game of Peyton Manning's Life, Denver rallied late and survived the Steelers. Oh, and happy birthday, Deflategate. You're 1 today.
If we go over every crazy thing, it'd be a novella. I will bypass Carson Palmer throwing the inexplicable end-zone pick to Damarious Randall, and Fitzgerald playing Gumby to stretch for the last few centimeters of a 13-yard gain on a second-and-13, and the ping-pong Fitzgerald/Randall/Michael Floyd touchdown connection, and Rodgers throwing the fourth-and-five pass to James Jones about 4.9 yards but just not enough, and Jeff Janis catching two passes from Rodgers for 101 yards:
• In 55 seconds.
• ​On the same drive.
• Both times with two defenders hanging all over him.
• After having 95 yards receiving for his career entering the game.
• After not having a 100-yard receiving game since getting 230 yards against Northern Michigan for the Saginaw Valley State Cardinals in 2013.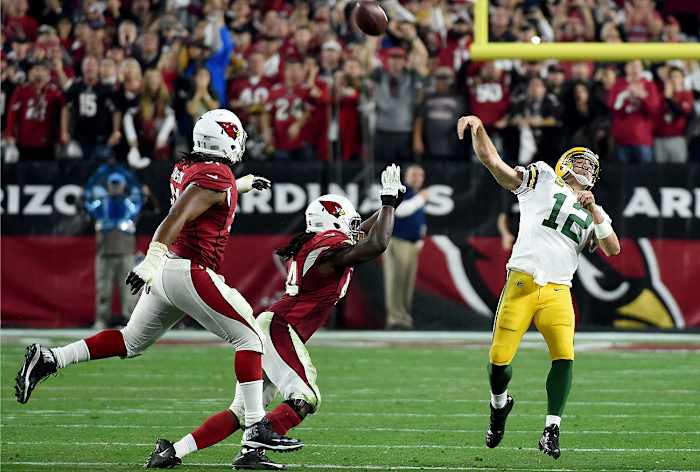 And then the overtime coin flip, when the coin didn't flip, and on the spur of the moment, despite there being nothing in the rule book about it, ref Clete Blakeman picked up the heavy gold coin that did not flip and decided to just flip it again—which, probably, was the most judicious thing to do, and lucky for him the coin came up heads both times and the Cardinals got the ball, and …
Remember that story I did on Carson Palmer learning and absorbing and putting into action a game plan? And I wrote about this play called Pistol Strong Right Stack Act 6 Y Cross Divide? On the first play of overtime, its cousin got used.
"We used your play!" Larry Fitzgerald said Sunday. And the Cardinals did—almost.
• CARSON PALMER: A QB AND HIS GAME PLAN: PART I & PART II
In Pistol Strong, the play is designed to get one deep receiver isolated in a mismatch. When I wrote about it in November, the deep man was Fitzgerald, on Cleveland safety Donte Whitner. Fitzgerald had Whitner beaten by a couple of steps, but the ball fell about four to six inches past the receiver's lunging dive. This time John Brown and Michael Floyd started from the left, Brown streaking to the post in the Fitzgerald role, and Floyd running the deep cross. Tight end Darren Fells was Palmer's hot man, just beyond the flat, and Fitzgerald, from a tight right spot next to the right tackle, flashed across the formation, underneath the two deeper routes.
"We called it earlier in the game," Arians said, "but Carson audibled to a run. This time I told him to stay with it—I thought something would be there. That's the 'divide' play. You're going to get an open man."
"That's Bruce," Fitzgerald said. "A savant. He just knows."
One problem: Palmer got flushed to his right immediately, and looked like he might have to throw it away or dump it off. "But the good thing about Carson," said Fitzgerald, "is that even when he's flushed, he keeps his eyes downfield, looking to make a play."
And there was Fitzgerald, all alone, stuck in a hole in the zone. Sometimes these things happen. You can't explain them. Someone on defense errs, and leaves a Hall of Fame receiver open in overtime of a playoff game in one of the biggest and costliest mistakes a defense could ever make. Palmer flung it across the field and Fitzgerald caught it and headed up the left sideline. "Sam Shields was converging on me pretty quick," said Fitzgerald, "and he thought probably I would just go out bounds. I just put my foot in the ground, changed directions a little and said, 'Heck with it. I'm going for it.' "
He was tackled at the Green Bay five. Gain of 75, on what looked like it would be a sack.
On TV, it sounded like the NBC truck in Glendale had to muffle the sound or it would pop eardrums. That's how crazy the place was going.
Second-and-goal from the five now.
"Since the start of training camp last year, we've had this play we've practiced I'd say almost every week," Fitzgerald said. "I bet we've practiced it 30 to 40 times. Bruce was just waiting for the right time."
Palmer in shotgun. Brown in motion from left to right. Quick snap. If the defensive end bears down on Palmer, he flips to Fitzgerald, who tried to find a crease in the line so he can burrow into the end zone. If the flow goes to Fitzgerald, Palmer keeps and throws a fade into the end zone.
"There are plays you just save for times like this," Arians said. "I thought they would pay so much attention down there to [running back] David Johnson, and they'd never seen this on tape, Larry taking it."
"Why Bruce picks this time, I don't know, but he just knew," Fitzgerald said.
Snap, flip to Fitzgerald, Lyle Sendlein and Mike Iupati pave the way, and it's not even that hard. Larry Fitzgerald has never taken a Favrian flip from the quarterback in the middle of the line of scrimmage and run it through the line for a touchdown. It's not just the imagination of a play like that. It's the shock of it. The timing, the situation. Practice made perfect. It looked so natural, like they'd rehearsed it 30 to 40 times over the past two years. That's because they had. That's what great play-callers with great players do.
The greatest touchdown pass of Carson Palmer's professional life, the one that won him his first playoff game of a distinguished 13-year NFL career …
Thrown left-handed. About three yards in the air.
And that's one of about 67 reasons why Saturday night's playoff game—Arizona 26, Green Bay 20, overtime—is one none of us will ever forget.
* * *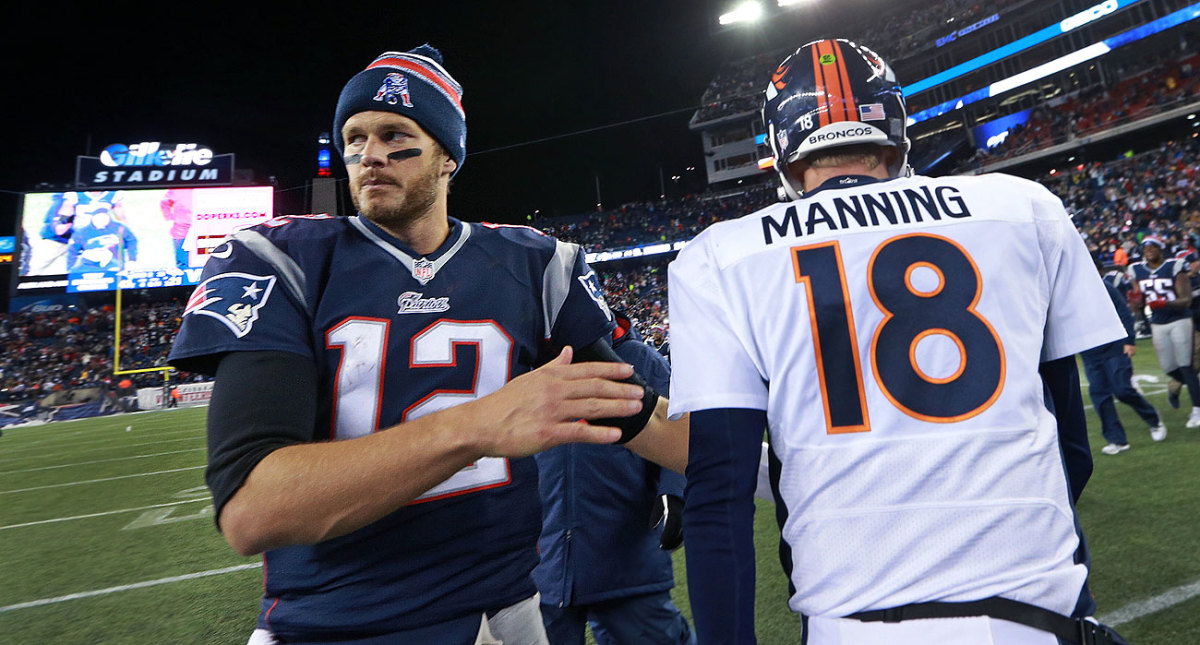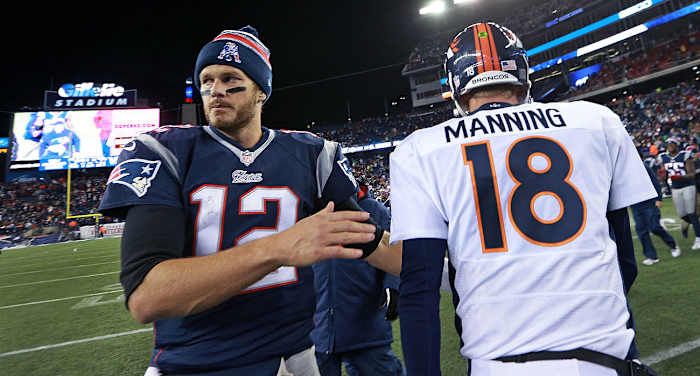 What is NOT in this column:
• Stuff on the Panthers from my trip to Charlotte on Sunday. I'll write about the Panthers later this week, focusing on Ron Rivera's philosophical remake of the team.
• Why the Rams got to move to L.A., the Raiders didn't and the Chargers might. My analysis is coming this week, with a few surprises as to how in the world the league could have turned in the matter of four hours from being pro-Carson to voting 30-2 to let KroenkeWorld get built in Inglewood. (See? Lots of teasers for The MMQBhere.)
• A deep dive into Peyton Manning-as-complementary-player is coming to The MMQBon Tuesday, so I will leave much of that to Robert Mays for his story.
• Dirk Koetter and the Bucs, Doug Pederson and the Eagles, Mike Mularkey and the Titans … all coming soon. Today, I'm covering Hue Jackson in Cleveland and the Giants' Ben McAdoo, who almost went 88 miles south down the Jersey Turnpike to Philly.
Now a quick early preview of Sunday's championship games. Interesting so far. On wild-card weekend, road teams won all four games. On divisional weekend, home teams won all four games.
Victory margins in the past seven games, after the playoff-opening 30-0 Kansas City rout of Houston: 2, 1, 17, 7, 6, 7 and 7.
First time since 2004 each conference has a second seed-at-first seed championship game, by the way. That year, New England also won on the road, beating previously 16-1 Pittsburgh and rookie quarterback Ben Roethlisberger 41-27.
AFC Championship Game: No. 2 New England (13-4) at No. 1 Denver (13-4), Sports Authority Field at Mile High, Denver, 1:05 p.m. Mountain Time (3:05 ET), CBS.
I'm not going to be much into the myth-making this week, because Brady-Manning 17 is far different from almost every one of the previous models. I will give you this little bit of history, from Gary Myers' book about the two quarterbacks: Brady-Manning I was Tom Brady's first NFL start. It came in September 2001, two games after 9/11. Before the game, Myers writes, Manning walked from his side of the field to Brady's and stuck his hand out. "Hey, Tom," said the first pick in the 1998 draft to the 199th pick in 2000. "Peyton." Manning threw three interceptions that day and was yanked for—ready for this?—Mark Rypien. The Patriots rolled, 44-13. Fourteen years and four months later, they meet for what might be the last time; this could be it for Manning, 39, in Denver. He realizes this is not going to be a match of him versus Brady. It's much more Brady vs. Denver D. "Our defense has been outstanding all season," Manning said Sunday evening, after Denver 23, Pittsburgh 16, when the kicker scored all but eight of the Denver points. "They have led us to this point—let's make that clear. Offensively, we did just enough to win." I'll give a slew of praise later in the column to the New England offensive line and its coach, Dave DeGuglielmo, because the line was phenomenal in the win over Kansas City. But it's going to have to be equally strong against Denver. The Broncos got four sacks and 20 hurries of Ben Roethlisberger (according to Pro Football Focus) on Sunday, with rising star Derek Wolfe beginning to justify his $36 million contract, signed last week, with a sack and five hurries. The Patriots will have to be stout on the edges, as they were against the Chiefs, for Brady to have the kind of time he needs to have a big day in his fifth straight AFC title game.
• TOM BRADY'S GUARDIAN ANGELS: Protecting Tom Brady has required a different approach in New England this season. Check that—a stunning 37 different offensive line combinations that can be chalked up to one thing: The Patriot Way.
NFC Championship Game: No. 2 Arizona (14-3) at No.1 Carolina (16-1), Bank of America Stadium, Charlotte, 6:40 p.m. Eastern Time, FOX.
The Carolina locker room was abuzz with talk about what they'd seen Saturday night in Arizona's 26-20 overtime thrill ride over Green Bay. "What a game!" Ron Rivera said. And this from Josh Norman on the 32-playing-like-25 Larry Fitzgerald: "The guy is crafty. What's the saying? The older you get the finer the wine. Is that what it is? The man is ballin', and he's doing it at a high level." Carolina's a strange team, capable of being dominant like no other, then letting teams off the hook. First half Sunday: Carolina 31, Seattle 0. Second half: Seattle 24, Carolina 0. "My fault," said Rivera. "I've got to make sure we retain that sense of urgency." Maybe … but the trend is concerning. Over the past six weeks, Carolina's defense has surrendered 22 (New Orleans), 28 (Giants) and 24 (Seattle) points in the second half. The offense is always good enough to outscore people—all but once this year. Green Bay's pressure packages got to Carson Palmer on Saturday night, so look for Carolina's diverse and deep group of interior and exterior rushers—defensive tackle Kawann Short is growing to be a superstar before our eyes—to be turned loose by defensive coordinator Sean McDermott in Charlotte on Sunday. That makes shorter routes by Fitzgerald and emerging receiving weapon David Johnson (23 targets the past three weeks) important for Carolina to monitor. But Arizona coach Bruce Arians is going to call six or eight deep throws for Palmer, because that's what he does. So Norman had better be ballin' at a high level too.
• CONFERENCE TITLE GAME BREAKDOWN: In the AFC, Edelman and Manning are back this time around. In the NFC, Carolina's ground game and Arizona's aerial account. The full X's and O's breakdown.
* * *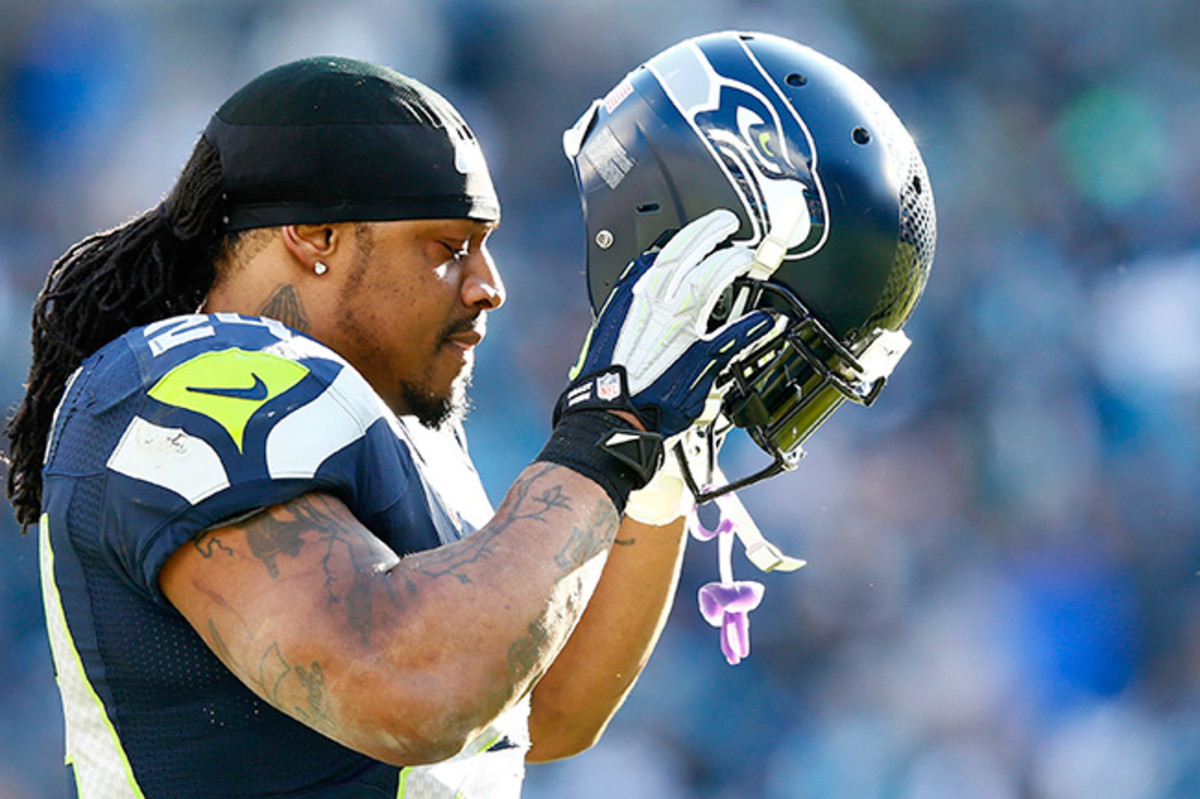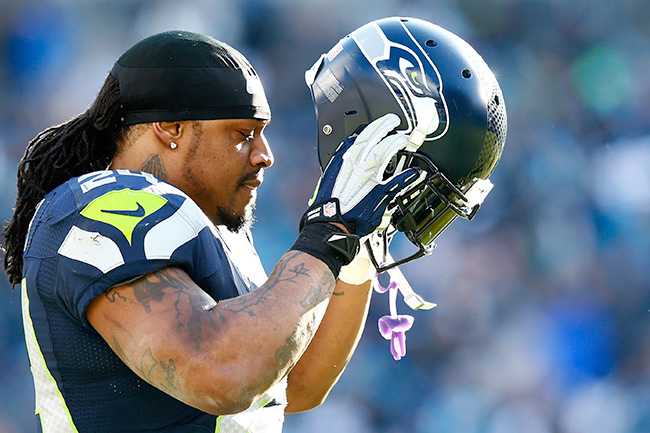 Memo to teams 5 through 8: You're not far away
What should be on the to-do lists of the weekend's four losers:
Kansas City: The Chiefs will have an offensive coordinator job to fill, and odds are that Andy Reid will tab quarterbacks coach Matt Nagy to replace new Eagles coach Doug Pederson … Reid, likely, will keep calling the plays. He needs someone on his staff to challenge him about clock management. The hurry-up offense exhibited against New England was stuck in concrete Saturday. Sometimes a head coach is so all-powerful that staffers are reticent to speak up and tell him when something's wrong. Well, something in the hurry-up is very, very wrong … Very big free-agency year, with elder statesmen Derrick Johnson and Tamba Hali, drafted 11 and 10 years ago, respectively, both on the market. GM John Dorsey's not likely to keep both. Or either. I would think he'd be more inclined to spend for 28-year-old corner Sean Smith and 27-year-old safety Eric Berry, who had a very good bounce-back year after his treatment for cancer.
Pittsburgh: The Steelers won't get slugged in free agency, with no stars on the market. They could re-sign versatile inside/outside cornerback William Gay and guard Ramon Foster … It's time for the Steelers to invest a high draft choice in a tight end to become the sort of offensive threat the Chiefs have developed with Travis Kelce and the Bengals with Tyler Eifert—and one the rival Ravens think they have with Maxx Williams. Ben Roethlisberger has enough deep weapons. Now he needs an athletic intermediate weapon … If I were the Rooneys, I'd be very encouraged looking at my team. The defense is getting rebuilt on the fly under a new coordinator who had a good year, Keith Butler, and the offense is potent and fun and put up 396 yards on the best defense in the conference without Antonio Brown on Sunday … Steelers need a backup quarterback to challenge Landry Jones, with Mike Vick likely not in the plans … Pittsburgh shouldn't lose its edge, nor should it back down from opponents. But having an assistant coach like Joey Porter mouthing off to even the most obnoxious of foes is not a good look for a proud franchise … It's amazing to say, but the Steelers should bring back James Harrison at 38 next year.
Green Bay: I'll probably disagree with the common green-and-gold wisdom here, but I don't think Green Bay has a crying need at receiver. How do you not like the competitive zeal of Jeff Janis, the 2014 seventh-rounder who came up so big in the playoff game at Arizona? With Jordy Nelson back and the pressure off Randall Cobb, Janis (strong and unafraid on balls he has to fight for) and Ty Montgomery and Davante Adams are certainly capable of filling out a wideout depth chart … James Jones is a free agent and might be a luxury Thompson decides he can't afford … Someone's got to get to Eddie Lacy. His long run against Arizona was more something to cringe at than to celebrate. Lacy is overweight, slow and unfocused. If I were Ted Thompson, I'd draft his replacement, sign James Starks in free agency, and make Lacy come back and earn his playing time … Green Bay needs to invest in a pass-rusher. Julius Peppers turns 36 today.
Seattle: Even the most ardent Marshawn Lynch fan has to see it's over for him, with the Seahawks needing cap space to sign cornerstone players. They'd save $6.5 million if they cut him, and Thomas Rawls, if he rehabs well, is a good and cheap candidate to replace him … GM John Schneider has bigger problems than the public outcry when he lets Lynch walk. No longer can Seattle have the attitude that Tom Cable can fix everything on the offensive line. It was too consistently a sieve, and Schneider needs to spend multiple draft picks fixing it this spring … Of course, he also has a big decision to make on a player who's supposed to be a franchise left tackle, Russell Okung. He's actually average to good … The reason the line's probably more important than anything else: Russell Wilson bounced up from every hit this year, and there were some monstrous blows. But that can't last forever, and Wilson is far and away the most important player for this franchise … It'll be interesting to see if Schneider address Kam Chancellor's contract, or Michael Bennett's, with two years left on each … I remember how high the Seahawks were in training camp on rookie corner Tye Smith. Now will they figure they can let Jeremy Lane walk and give Smith a shot at the full-time corner opposite Richard Sherman?
• WHAT MARSHAWN MEANS TO SEATTLE: A subpar, injury-plagued season has Seahawks fans talking about the 29-year-old's future and his true value
* * *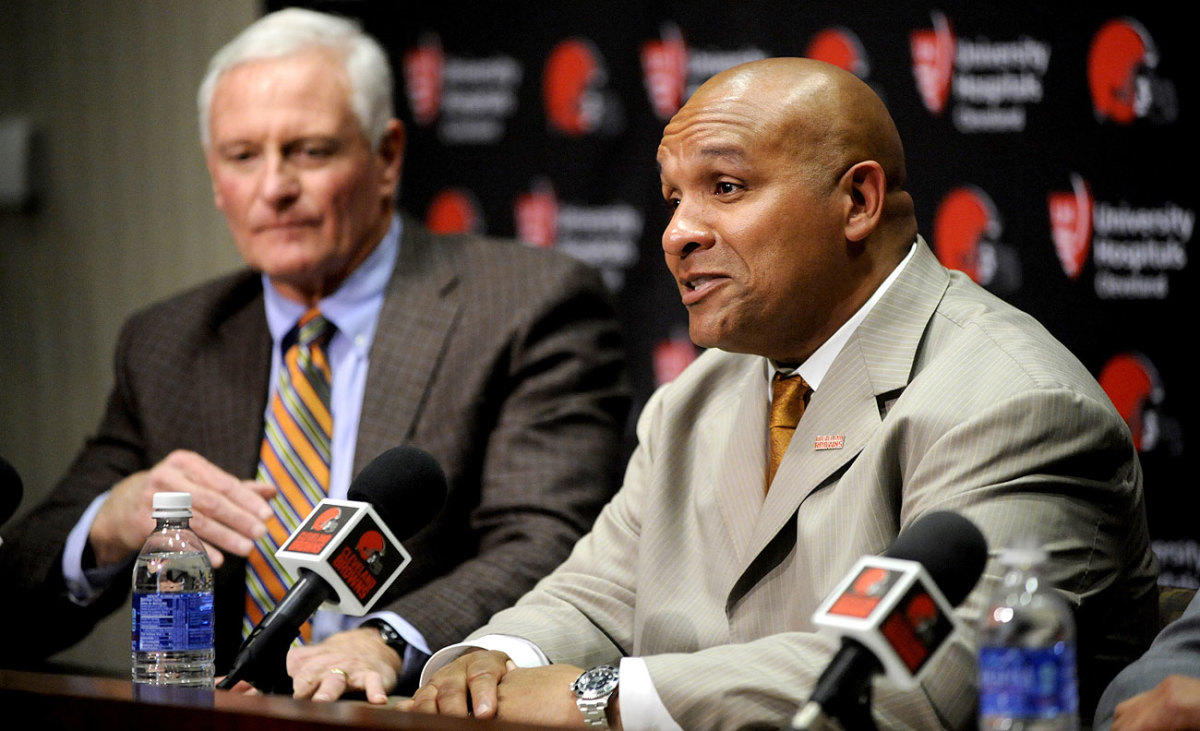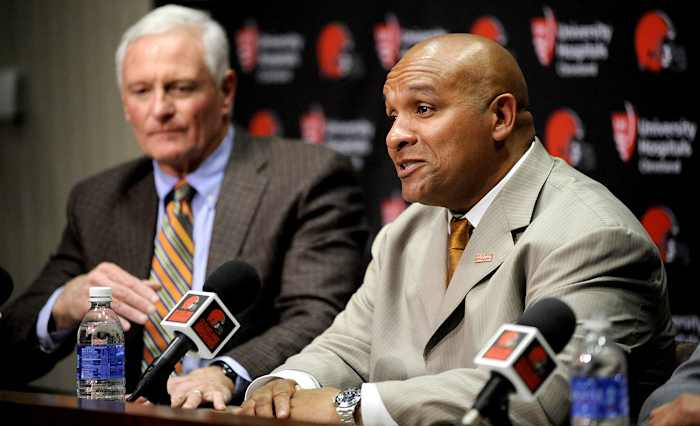 From Paul Brown Stadium to Paul Brown's old team, in four days
Last week's journey of former Cincinnati offensive coordinator/current Browns head coach Hue Jackson from the time he left Paul Brown Stadium after midnight on Sunday until the time the Browns rolled him out to meet the press Wednesday evening, and then for his first meeting with the staff Thursday:
Sunday: By his recollection, Jackson got 45 minutes of sleep, then was up preparing for his two interviews: San Francisco at 9 a.m., Cleveland at 3 p.m. Both happened in a conference room at Paul Brown Stadium, courtesy of Bengals boss Mike Brown. Jackson did about five hours with the Niners (CEO Jed York, GM Trent Baalke) and four hours with Team Browns (owner Jimmy Haslam, wife Dee, EVP of football operations Sashi Brown, chief strategy officer Paul DePodesta). "Good meetings," Jackson said. "I already knew the 49ers guys. And I had a great dialogue with the Browns." What of DePodesta, the longtime baseball/Moneyball outside-the-box guy? "He's really involved," said Jackson. "Very smart, obviously. I couldn't tell he wasn't a football guy. Asked a lot of questions about football."
• CAN A MONEYBALL MAVEN SAVE THE BROWNS?: Desperate to address organizational chaos, Browns owner Jimmy Haslam reached into the world of baseball analytics and hired Paul DePodesta.
Monday: Finishing Bengals business. Exit interviews for the players. Jackson's mind was elsewhere, but he told the players he thanked them for competing hard for him. "I really thought I was going to get a job," said Jackson. "I didn't know where. But I just felt something good was going to happen. The interviews were good, and you just know." The Giants reach out. There may be an interview in the offing on Wednesday or Thursday in New Jersey. Andy Dalton thanks Jackson for everything he's done for him—and Jackson does the same.
Tuesday: Browns call. Jimmy Haslam will miss the big NFL meeting on Los Angeles in Houston because he wants to get the coaching gig right. He dispatches his wife to vote in Houston. Then he, Brown and DePodesta fly to Lunken Airport on the east side of Cincinnati to meet privately with Jackson. Second interview. It goes well. "They made me feel really good in both interviews," Jackson said. "They made me feel like I mattered. I really liked the feeling I was getting from them." Haslam said he'd get back to Jackson either that night or Wednesday morning. Meanwhile, Jackson tentatively planned to fly to New Jersey to meet the Giants on Wednesday night or Thursday. No word from Haslam that night.
Wednesday: No word from Haslam in the morning, at least early. "So, I mean, I've got a job," said Jackson, "and I went to work." He went into his Bengals office and got some work done. At about 11:45 a.m., his phone rang. Haslam: "Do you want to be the head coach of the Cleveland Browns?" Jackson: "Yes." Things happened quickly. By 5 p.m., he was in Berea, Ohio, at the Browns' training facility, with all club employees ringing the lobby to greet him with an ovation. "We got a lot of work to do, but we're gonna chase greatness. That's for sure," Jackson tells them. At 6:30, he met the press.
• REVOLVING DOOR IN THE FACTORY OF SADNESS: What's the key to building a winning franchise? Joe Thomas: 'Continuity.' LeBron James: 'Consistency.' Two words never associated with the Cleveland Browns
Thursday: Haslam calls a staff meeting for everyone in the organization to introduce Jackson formally. Those in the room were stirred by Jackson's speech about competition and excellence. "We're all working together," was Jackson's recollection of his words to the group. "I am here to serve, just like you are. We're competing against the teams in the AFC North—Cincinnati, Pittsburgh and Baltimore. I compete against the other coaches. You compete against the people who do your jobs. We're all in it to be great, and to win. We have to have a singleness of purpose."
The hard questions, about things like structure and authority in a reconfigured organization ("It's going to be a collaborative effort," Jackson said) and the dim Cleveland future of Johnny Manziel ("We'll study it and figure it out as an organization"), could wait. "I can't worry about what's gone on here," Jackson said Saturday, after cleaning out his office back in Cincinnati. "We have to look forward. But if we can pull it off, wouldn't that be great? Wouldn't that be miraculous? Wouldn't that be one great story?"
Final question: What's your message to Cleveland fans, who appear to be on the verge of giving up, who have had one playoff season in 17 years since the Browns were reborn, who watch the franchise churn through coaches and quarterbacks like butter in Iowa.
Pause.
"I hear you," he said, "and that is … well, that is not good. You always hear when a guy takes over a new program, 'We're rebuilding,' or 'The time is now.' Those don't fit this situation. What I would say is this:
"Just watch. You're going to see the change of a culture."
* * *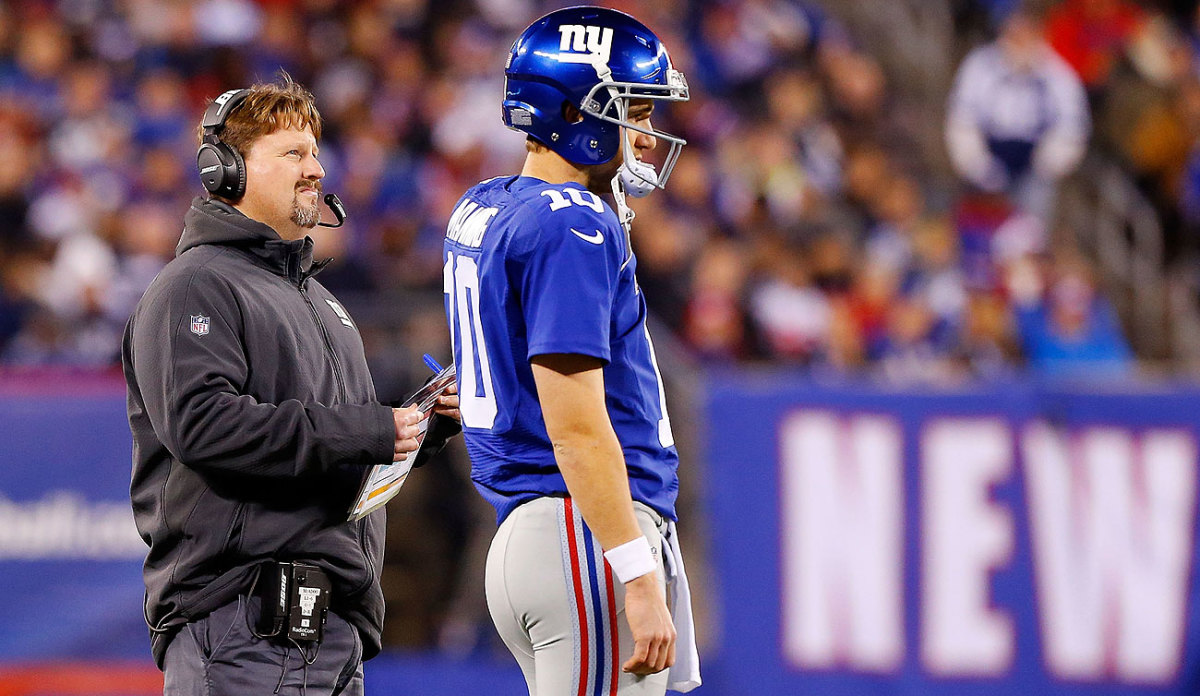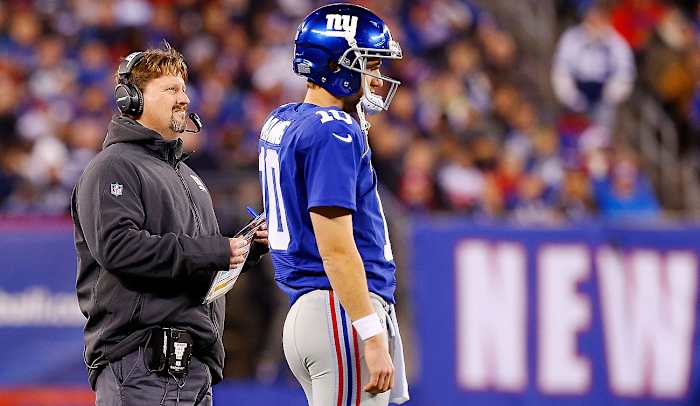 Four Questions with Ben McAdoo
I have no idea if Ben McAdoo, the 17th coach in the history of the New York Giants, will succeed where Tom Coughlin failed in trying to build a competitive defense and offensive line after a slew of shaky drafts by GM Jerry Reese and his staff. I do know this son of western Pennsylvania (Homer City, Pa., to be exact) will put in the time. Thirteen years ago he was an assistant coach at Fairfield (Conn.) University, and the school dropped football. He needed a job. He was told New Orleans might have a low-level quality-control position open, and a friend of a friend knew Mike McCarthy on the Saints' staff, and McCarthy called him. And that is where our little interview will begin.
The MMQB: And so what made you get in your car and drive to the scouting combine in Indianapolis right about then?
McAdoo: Well, Mike McCarthy told me the job might be open, but he wasn't sure—he thought [Saints head coach] Jim Haslett might have filled it. But he said he'd talk to me when he got back from the combine in Indianapolis. So, you know, I don't have a job. I don't have many prospects right then. I jumped in the Daewoo. It's February. I start driving, hit a snowstorm, and it was wild. I didn't think I was getting out of West Virginia alive. They declared a state of emergency and told everyone to get off the roads. I mean, that snowstorm had a name to it, it was so big. It took 23 hours to get there, about. So I got to Indy, and set up in the lobby of the Canterbury Hotel, where the Saints were staying, and I've got all my coaching binders, and my coaching books and tapes in a big duffel bag. Then I see McCarthy and [line coach] Jack Henry and Jim Haslett walk through the lobby. You should have seen the look on their face. I honestly don't know if they thought I had guns in the bag or what. Anyway, I didn't get the job, but Jack Henry got me a quality-control job at Pitt instead.
The MMQB: Moral of the story?
McAdoo: Sometimes you gotta kick the door down. Anytime anyone ever tells you, 'You can't do that,' thank 'em. You'll find out a lot about yourself. The way I was raised was to dream big and don't be afraid to work.
The MMQB: You worked for the Packers for eight years. What lessons did you take from working with Aaron Rodgers—the last two years as his position coach in 2012 and '13?
McAdoo: Every play is its own story. You better be on top of your game every practice, every day, every practice. Because he is. Similar to Eli [Manning].
The MMQB: You're taking the coaching job of one of America's great sports franchises, the New York Giants. Gifford, Tittle, LT, Simms, Harry Carson, Parcells, Coughlin … You're a guy from a tiny town in Pennsylvania, very unassuming. What's going through your head about taking such a big job?
McAdoo: To be honest with you, I don't think that way. If I did, no way I'd be here. It'd be too big. My only job is to take care of today and prepare for tomorrow, and focus on what I can control. I've got a great group around me, helping me. I think being around here for awhile helps. Working with Coach Coughlin helped. When I came in and interviewed for the [offensive coordinator] job a couple of years ago and we started talking, I found out we had a lot in common. Respect, humility, dedication, ball security, blocking, tackle. It's football.
* * *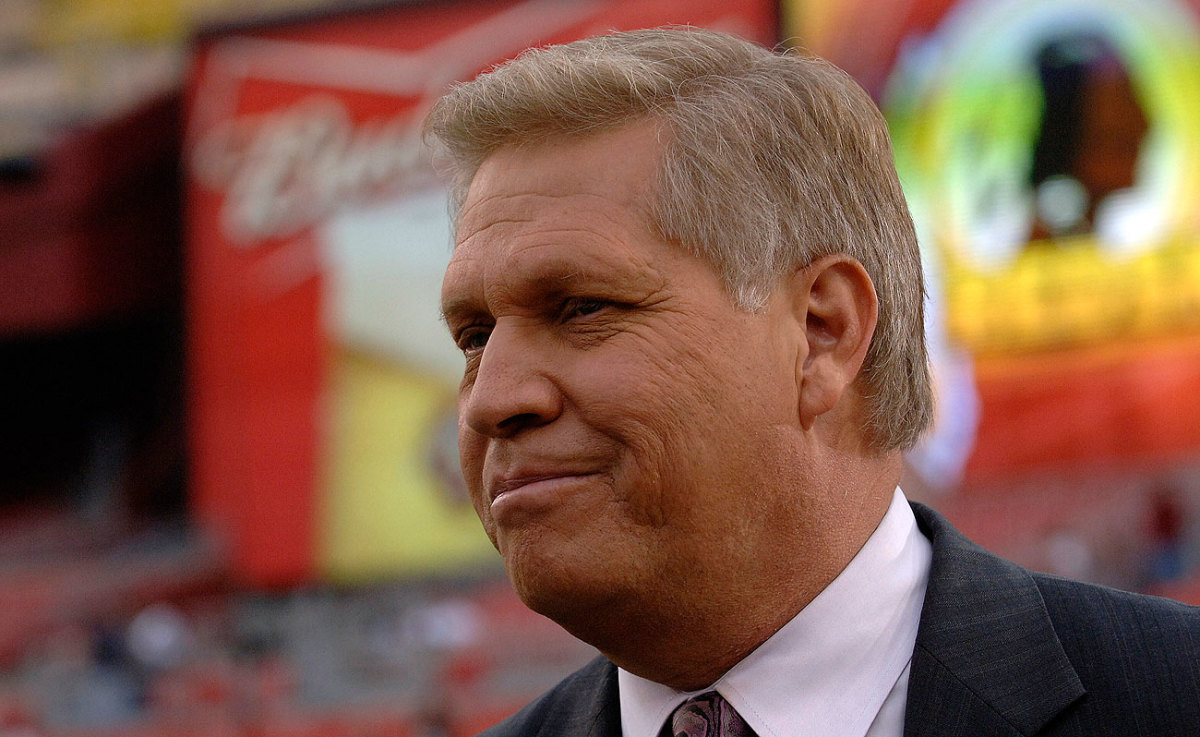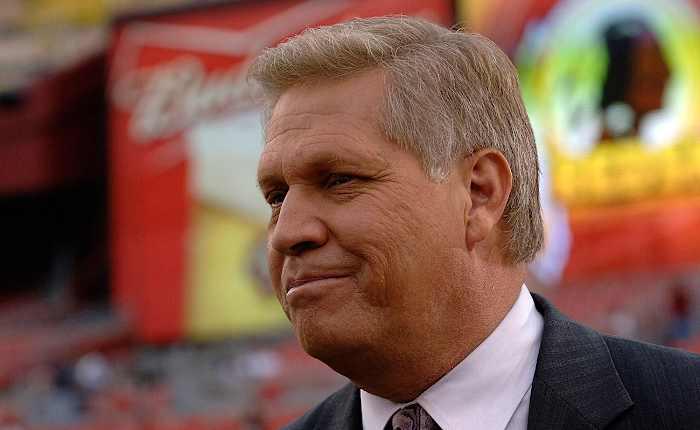 Get well, Chris Mortensen
Today's a day I hope we can pause and send our best wishes and prayers to information maestro Chris Mortensen of ESPN. Mort announced Friday he was taking a leave of absence from on-air work covering the NFL to fight throat cancer. "More than a week ago," he said in a statement, "I was diagnosed with a Stage IV throat cancer. The initial diagnosis was confirmed Friday and there is another test remaining that will determine the best possible treatment plan that will commence in the very immediate future … I have many inspirational examples of men, women and children who have faced this very fight … I have a peace about this and look forward to the battle."
Mortensen will be treated at MD Anderson Cancer Center in Houston for what has been described as a treatable form of cancer. Before starting treatment, he did have one great family moment, being in Arizona for Alabama's 45-40 national championship victory over Clemson. His son Alex is a graduate assistant coach on Nick Saban's staff, and father and son got to take a picture together on the field after the game.
When I think of the 63-year-old Mortensen, who has been at the pinnacle of the NFL information game for two decades, I think of two competing traits that don't always mesh, but in his case they do: ardent competitor, incredibly nice person. "We've been going at it in this business pretty much every week since 1999," said Jay Glazer of FOX, "and you know me—I enjoy the fight. So does he. But while this business has gotten so much more competitive, and lousier, he's never gone there, once. I mean, I'm his main competitor, and there were times I'd call him and ask for professional advice, and he'd call me back as quick as he'd call back his best sources. He's the epitome of a good person."
Mortensen is respected in the business, and by the players he covers. That showed Saturday after the breathless end to Packers-Cards, when Larry Fitzgerald, the hero of the game, was interviewed onfield by ESPN and said, "Mort, want to tell you we're thinking about you. Fight baby. Love you."
"He's the best in the business," Tony Romo said via text on Saturday. "He's reached out to me during the good times and bad. If we talked 30 times he's probably only used it on air twice. He just likes to catch up and cares about the people he knows. He's as genuine a person as I know in the business."
Then Romo said what a lot of people who know Mort were saying over the weekend.
"We are praying for him."
• ED WERDER'S FAMILY FIGHTS ON: The ESPN reporter has handled an onslaught of hard news concerning his daughter and her husband
* * *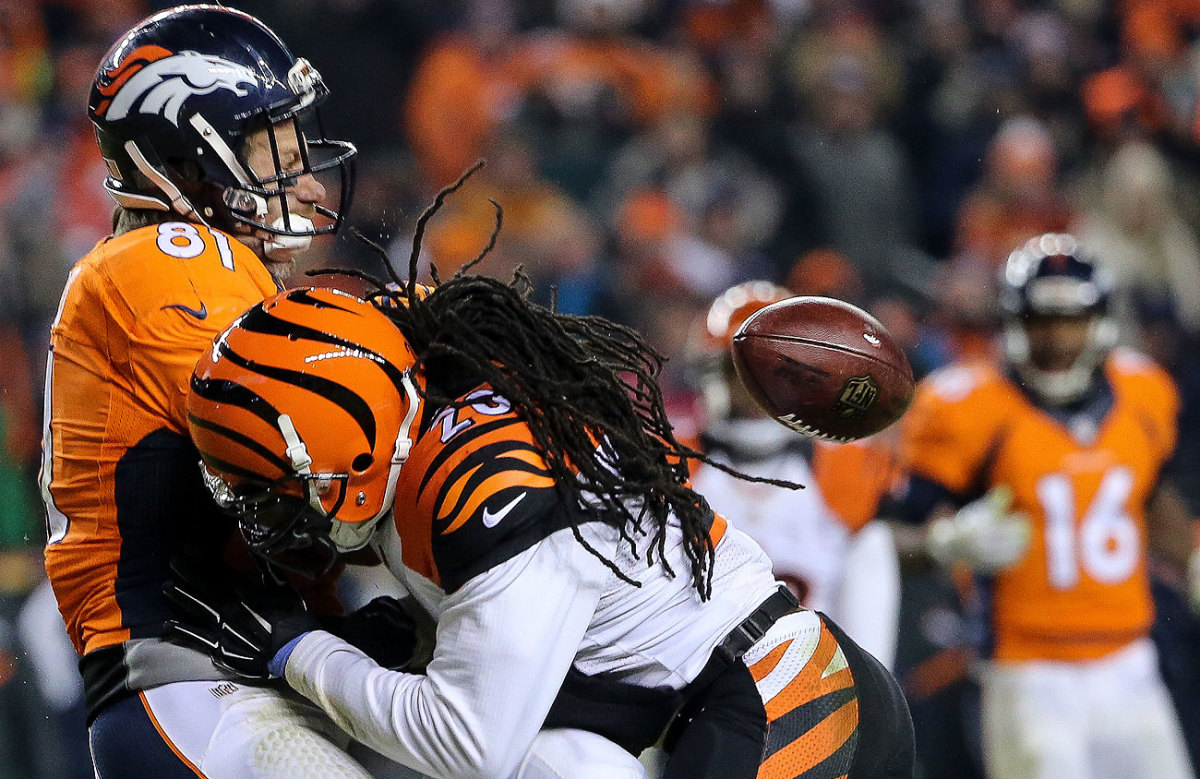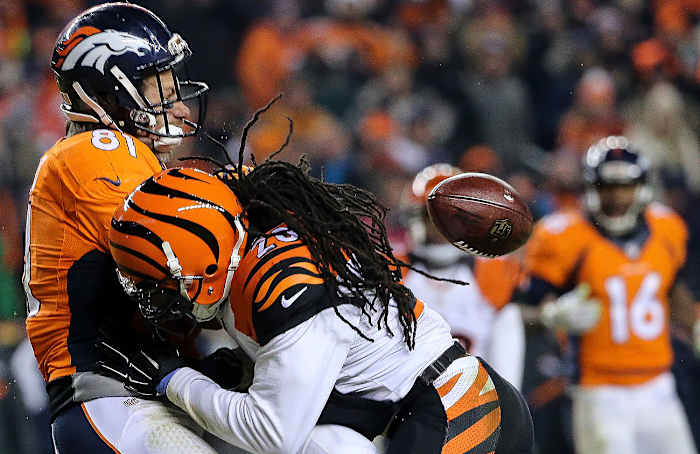 About that open letter …
One of the things that drove me to write my open letter to NFL players Tuesday was a series of three conversations I had a couple of weeks ago with the principals in an important play in Denver's Week 16 victory over Cincinnati. In overtime, Denver quarterback Brock Osweiler threw deep down the middle to tight end Owen Daniels, and Cincinnati safety Reggie Nelson sprinted in, lowered his shoulder and blasted into Daniels' upper right arm and torso. The ball fluttered to the ground, incomplete. No penalty.
The next day, sitting in a hot tub at the Broncos facility, Daniels tweeted this:
It got a lot of attention, because players have been hurt on similar plays. It was a great display of sportsmanship, by all accounts.
I spoke to Daniels and Nelson, and then to Bengals coach Marvin Lewis. I was holding their interviews until after the season, but it seems apt now.
"The more I thought about the play," Daniels said, "the more I appreciated what Reggie did. People like big hits. It's one of the reasons football's so popular. Reggie could have really done some damage to me. I just wanted to point out after this huge hit that I appreciated what a clean play it was. I just gave a shoutout to a guy who played the game the right way."
Nelson: "When I heard about it, I said, 'Wow. What a classy guy.' When the play was happening, you don't really have time to think. I was just thinking, 'Oh no! He catches it, game's over!' But the other thing that goes through your mind is what we have been taught here. Marvin [Lewis] preaches it all the time. Hit the body. We've had to adjust. If you don't, they're gonna keep fining and flagging you. You'll be out of the league."
Daniels: "Football's a violent game. But it can be violent and fun and relatively safe at the same time."
Lewis: "Reggie has been exceptional at this. He has really improved in the last couple of years. Safeties and linebackers are really at the tip of the spear. It's so often bang-bang for them; they don't have time to think about it, so it's got to be ingrained in them—go for the body. What we coach is how to make the play safe for them and safe for the guy they're tackling. Take the head out of it. It can be done. Safeties can attack with the shoulder through the numbers. We just tell them: The head can't be the spear anymore. Those days are over. The most difficult thing is that because we don't practice like that very much, you don't have the ability to practice that full-speed much. But no question it's possible to adjust—in most cases. But the fact is, not all guys are getting it."
Keep in mind I talked to Lewis long before Vontaze Burfict laid the cheap hit on Antonio Brown, and shortly before Burfict's over-the-top dirty helmet hit on Maxx Williams of the Ravens in Week 17. But clearly Nelson could teach Burfict something.
I asked Nelson if he felt the game was changing at all, if players were thinking more the way Nelson did before this hit—hit the torso, hit the numbers.
Nelson: "I think it is. Most definitely the league has changed the game dramatically. It took me a while to learn, because I love to hit. But I think it's better for us. We have to take care of ourselves out there. We're in the game to compete and win, but we're one big family out there on the field."
* * *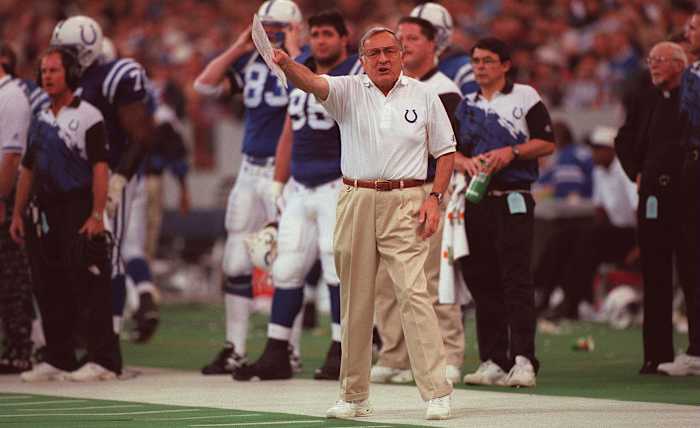 The death of the Belichick-whisperer
The NFL lost a very good man Saturday with the death at 84 of Ted Marchibroda, who had two head-coaching stints covering nine seasons (a 73-71 record) with the Colts—and gave Bill Belichick his first job in the NFL in 1975 with the Baltimore franchise. Marchibroda coached Bert Jones. His first Colts team went 10-4 and was the first playoff victim for Pittsburgh on the way to the Steelers' second Super Bowl title. In fact, Marchibroda coached Baltimore playoff losses to Pittsburgh (twice) and Oakland in his first three seasons as the Colts coach. Later, as a Bills' assistant for five seasons, Marchibroda taught Jim Kelly the no-huddle offense, christened the K-Gun and made the Bills a major Super Bowl contender led by Kelly and Thurman Thomas and Andre Reed. And even later, he was Ray Lewis's first head coach in Baltimore. That's how nice a guy and how well-respected he was: He coached the Colts in Baltimore, then had a second stint with the Colts in Indianapolis, and finished his career by going back to Baltimore as the first coach of the Ravens. When it comes to football, there's generally not a lot of love for Indianapolis in Baltimore.
Forty seasons ago, Belichick earned $25 a week breaking down film and doing other projects for the coaching staff in a cinder-block office next to Baltimore Orioles manager Earl Weaver's space in the bowels of old Memorial Stadium. Belichick has always credited Marchibroda for giving him a solid start in football.
Last January, Jenny Vrentas of The MMQBtalked to Marchibroda about Beilchick's humble beginnings for a story she was writing about the Belichick football library at the U.S. Naval Academy in Annapolis. "I knew his father was coaching at the Naval Academy," Marchibroda said. "One of the reasons I did hire Bill was the fact he was very impressive in the interview, and I thought, if he made any mistakes, his father was there to correct him, early on. His job was to do the defensive breakdowns. We lived in a hotel together near the Baltimore airport. Four of us stayed in the hotel together and traveled to work. Billy picked up everything that was going on. When we would drive to work in the morning, it was about a 30-minute ride, we would be talking football. This is where Billy picked up a bit of the early stages. He was all wrapped up in doing the defensive breakdowns.
• INSIDE BELICHICK'S LIBRARY: The hundreds of books, many collected by his father, that played a role in shaping the strategies and philosophies of the head coach
"He did a great job for us. He really did. We went from 2-12 to 10-4. You could notice as the season went along, he started talking to the players. They wanted to know from him if there were any questions. When you put him in a room, you didn't see him until his job was through."
* * *
Lawrence Phillips: Born 1975. Died 2016.
Lawrence Phillips died in his California prison cell, a suicide, on Wednesday while he served a 31-year sentence for domestic abuse and assault with a deadly weapon, among other things. Phillips had a rough upbringing, living in a juvenile home for a time, in the foster-case system starting at 11, and for awhile not attending school at all. When Phillips enrolled Nebraska, trouble followed. He was arrested for assaulting a woman there, then entered the NFL draft in 1996 as the most talented running back coming out that year. Owner Art Modell of the recently relocated Baltimore Ravens (having moved from Cleveland) wanted new GM Ozzie Newsome to draft Phillips to help the Ravens sell tickets. Newsome politely but firmly said no and chose Jonathan Ogden number four overall. Phillips went sixth, to the Rams. The next year I chronicled Dick Vermeil's first season back in football after a long absence. There were three parts of the story that had to do with Phillips, and they might help explain what happened to this talented player that would lead him to live a life as marked by turmoil and tragedy as it was by football.
July 17, 1997, Macomb, Ill. (training camp): The coach has organized a large support system for Phillips: front-office people, a psychotherapist, lawyers and peers. Rams vice president Lynn Stiles devoted much of the off-season to helping Phillips resolve his myriad legal problems and schedule his community service. Kevin Warren, another Rams vice president, has just joined the team and is also on the Phillips watch. And late yesterday, hours before veterans were to report to camp, Warren spirited Phillips out of his dorm and drove him to St. Louis. Today Phillips will complete the 80 hours of off-season service he was ordered to perform after his probation violation. He presents himself at the city morgue to do manual labor. He and Warren are ushered into a room where the coroner unzips a body bag. Inside it lies the corpse of a woman riddled with 16 bullet holes, most around the groin. She was shot outside a riverboat casino, reportedly by an angry boyfriend. Phillips has never seen anything so gruesome. "Her poor family," he says. He and Warren see other bodies—one of a man who overdosed on heroin and another, badly decomposed, of a man found in the woods. Warren and Phillips skip lunch. On the way back to camp in the afternoon, Warren pulls into a McDonald's drive-thru. Phillips orders nothing. Still too shaken.
Aug. 31, 1997, St. Louis (after the opening game of the season): The day is close to perfect. The Rams win, and Phillips rushes for 125 yards and three touchdowns. In the locker room the coach's lip quivers. "Gimme the ball," Vermeil says, palming the game ball. "Game ball goes to one man. I'm so proud of this guy. He's been through so much. I've been to jail with him, and we've talked about everything. Now his life's turning around. It's all looking up for him now … Lawrence Phillips!" The players pump their fists and yell "WOO-WOO-WOO!" All eyes are on Phillips. He takes the ball, casts his glance toward the floor and says quietly, "Can't do it without the linemen." That's it. A wet blanket over the moment.
Nov. 16, 1997, St. Louis: The Rams lose to Atlanta 27-21. Compounding the problem: the I.V. line stuck in Phillips's arm. Vermeil says the running back has the flu. What he has is the alcohol-related flu. Already getting fined daily for being eight pounds over his prescribed playing weight of 225, Phillips is still dehydrated after a Friday night of drinking. Adding the drinking bout, in violation of a rider Phillips signed to his rookie contract, to the approximately 20 fines he has accumulated this year for mostly minor infractions, Vermeil knew he had to do something. Vermeil calls Phillips and tells him that he isn't sure what he's going to do, but that this accumulation of black marks will have some consequences. "When you go to practice today," Vermeil says, "you'll go out as Jerald Moore's backup." The coach sees no difference in Phillips's demeanor. He doesn't get the apology he wanted.
Finally, Vermeil says, "Lawrence, tell me something. What would you do if you were me?"
Phillips thinks for a moment. "Coach," he says, "I'd cut me."
The next day, Vermeil cuts him. Phillips shows no sadness, no anger. Nothing.
Over the next six years, Phillips was released by Miami and San Francisco of the NFL, Florida of the Arena Football League, and Montreal and Calgary of the Canadian Football League. In 2005, while wanted in connection with two domestic violence incidents, he drove his car into a crowd of three teenagers after a dispute during a pickup football game. Last Sept. 1, incarcerated in California, Phillips was charged with choking to death his cellmate. 
* * *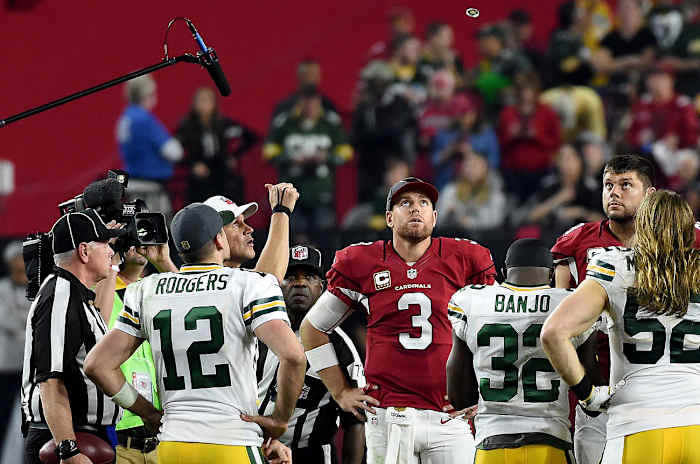 Quotes of the Week
I
"Being the elder statesman on this team, the longest-tenured guy, I put a lot of responsibility on myself to make plays and elevate my teammates. That's what I tried to do today."
—Larry Fitzgerald, after he rose to the occasion and led the Cardinals to a dramatic overtime win over Green Bay.
II
"I don't know what the hell a catch is anymore."
—A peeved Green Bay coach Mike McCarthy, after Fitzgerald's controversial second-half sideline catch was upheld on review.
III
"It didn't flip! It didn't flip!"
—Referee Clete Blakeman in the Green Bay-Arizona game before overtime, when he tossed the coin in the air, and it just floated, and when it landed on the ground (NBC had the slow-motion replay of the coin floating in the air without turning over) Blakeman said it had to be re-flipped. It was the right call … and after the second flip came up in Arizona's favor again, the Packers never saw the ball. Arizona scored a touchdown on the first possession to win the game.
IV
"Everybody loves to talk about who's going where, who's hired, who's fired. You forget about these guys over here [coaches' families]. There's a bunch of them out there; they just all have different faces. From coaches that are coming, coaches that are going, families that have to move, buying and selling houses, kids changing schools. At our house, a family meeting usually meant, 'Pack your suitcase.' It meant, 'Mom is throwing away half your keepsakes' … because she doesn't hoard anything. We're not taking much with us, we can travel light. But as [oldest daughter] Kaylee said, this family meeting was a good one. We're staying in Tampa."
—Bucs coach Dirk Koetter, chosen to replace Lovie Smith in Tampa, at his first press conference as coach on Friday.
V
"It's been a long road back. We made it."
—Rams owner Stan Kroenke, in a public appearance in Los Angeles on Friday, three days after NFL owners voted 30-2 to allow the Rams to return to Los Angeles after a 21-year absence.
VI
"They want a wrestling match! They want a wrestling match! We gonna give to to 'em!"
—Cincinnati linebacker Vontaze Burfict, during the Bengals-Steelers wrestling match, as captured by NFL Films and aired on NFL Network.
The more I think about Burfict, and the more I think about his career of over-the-line, cheap NFL hits, the more I realize he's a guy I'd never want on my team.
VII
"Brady … surgical."
—CBS' Ian Eagle, late in the third quarter of Chiefs-Patriots, as New England quarterback Tom Brady was, well, being surgical.
First Grade Empathy Quote of the Week
"KEEP ON TRYING! PUPPIES ARE CUTE!"
—One of the notes from a first-grader at Northpoint Elementary School in Minneapolis, where students welcomed Vikings kicker Blain Walsh—he of the crucial 27-yard missed field goal in the 10-9 wild-card loss to Seattle four days earlier—with a barrage of sympathetic notes telling him to keep his head up. Walsh visited the school Thursday to thank the kids for their support.
* * *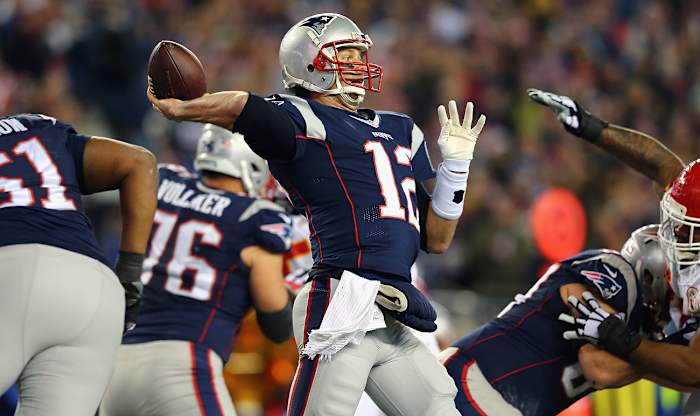 The Award Section
OFFENSIVE PLAYERS OF THE WEEK
Larry Fitzgerald, wide receiver, Arizona. For playing a game neither he nor any of us will never forget. In January and February 2009, Fitzgerald had a marvelous postseason, with 16 catches and five touchdowns in the NFC title game and Super Bowl alone, but Super Bowl XLIII ended in the loss to Pittsburgh. Saturday's game ended with a 75-yard pass from Carson Palmer to Fitzgerald to start overtime, followed by a five-yard shovel pass that dissected the Green Bay defense and clinched the mesmerizing 26-20 victory for Arizona. After halftime, Fitzgerald amassed seven catches for 170 yards and had the greatest game of his home career.
Sebastian Vollmer, left tackle, and Marcus Cannon, right tackle, New England. This was supposed to be a Kansas City landslide—at least in terms of the pass rush. It wasn't. The battered New England front line was a tower of strength for the Patriots on Saturday night. On Tom Brady's 48 pass drops (42 passes, six scrambles out of the pocket) his two offensive tackles allowed zero sacks, zero quarterback knockdowns and just one pressure apiece, per Pro Football Focus. A tremendous game by the line as a whole, and particularly on the edges, where Kansas City pressure was nonexistent. (In fairness, Justin Houston was a non-factor, mostly because of a knee injury, and played only eight ineffective snaps.)
Aaron Rodgers, quarterback, Green Bay. Amazing game from an amazing player—even in defeat. Rodgers threw for 101 yards on the game-tying drive at the end of the fourth quarter, managing a stunning 60-yard fourth-and-20 conversion after spinning out of trouble in his own end zone, then, on the last play of the fourth quarter, a 40-yard Hail Mary touchdown while bracing for a huge hit from Arizona pass-rusher Markus Golden. Rodgers has had 100 better statistical games in his life than this one—24 of 44, 261 yards, two touchdowns, one pick, 77.9 rating—but as great players must be, he was great at the most important time of the game.
DEFENSIVE PLAYERS OF THE WEEK
DeMarcus Ware, outside linebacker, Denver. Two huge plays by Ware in the fourth quarter sealed Denver's trip to the AFC title game. With Pittsburgh leading 13-12 and 10 minutes left, Ware recovered a Fitzgerald Toussaint fumble, leading to a seven-minute Denver drive and touchdown. On the ensuing Steelers drive, on fourth-and-five with Ben Roethlisberger desperately trying to make a game-saving play, Ware dropped him for a 13-yard sack. That's a couple of big plays from a player brought to Denver by John Elway for exactly these occasions.
Kawann Short and Star Lotulelei, defensive tackles; Mario Addison, defensive end, Carolina. Their stats stunk—in fact, Addison had zero tackles—but I picked them to represent the tone set in the first half, when Carolina broke out to an insurmountable 31-0 lead … and Seattle's six possessions ended in two punts, two Russell Wilson picks, a failed fourth-down conversion and a missed field goal. It happened from the first Seahawk offensive snap of the day. On that play, Lotulelei burst through the line and stoned Marshawn Lynch on Lynch's first carry in two months; loss of three. Tone set. On the next snap, Short did what he's been doing all year—he created havoc in the backfield by pressuring and corralling Wilson, forcing an interception that Luke Kuechly returned for a touchdown. On the first Seattle play after Carolina went up 21-0, Addison hurried Wilson into another interception at the Seahawk 29; soon it was 24-0. And Seattle just couldn't catch up, as gallantly as the Seahawks tried in the second half.
SPECIAL TEAMS PLAYER OF THE WEEK
Brandon McManus, kicker, Denver. He became the 10th player in NFL history to kick five field goals in a playoff games—his were from 28, 41, 51, 41 and 45 yards—and on a day when 25 of the 39 points scored came from kickers, McManus did as much as anyone on the Broncos to boost them to the AFC Championship Game.
COACH OF THE WEEK 
Dave DeGugliemo, offensive line coach, New England. For a month or more, the biggest question around the Patriots was the New England offensive line, which DeGuglielmo and offensive coordinator Josh McDaniels have juggled for two months. New England used six left tackles in the regular season, for instance. And Saturday, the New England offensive line kept Brady incredibly clean against a very good pass rush, a defense that held foes to 11.6 points per game over its 11-game winning streak. New England's line allowed zero sacks with two quarterback knockdowns on 48 Brady pass drops (42 passes, six scrambles). How great must DeGuglielmo feel? Consider this: born in Cambridge, went to college at Boston University, coached at BU, Boston College and UConn before entering the NFL ranks—and imagine the pressure taking the reins from one of offensive-line all-timers, the retired Dante Scarnecchia? All in all, a good night and a very good two seasons for DeGuglielmo.
• TOM BRADY'S GUARDIAN ANGELS: Protecting Tom Brady has required a different approach in New England this season. Check that—a stunning 37 different offensive line combinations that can be chalked up to one thing: The Patriot Way.
GOAT OF THE WEEK
Fitzgerald Toussaint, running back, Pittsburgh. Big games can contain thrills of a lifetime, and can provide a nightmare to haunt your sleep. Toussaint, 37 minutes after scoring the first touchdown of his life and the only one for Pittsburgh all day, had the ball dislodged by Denver cornerback Bradley Roby with 10 minutes left as the Steelers drove to extend their one-point lead. This wasn't as stark or obvious as the Blair Walsh miss last week, but there's a very good chance it cost the Steelers a shot to play New England for the AFC title.
* * *
Stats of the Week
I
Jeff Fisher will enter his 22nd season as head coach in 2016, working in his second organization. He will be coaching in his sixth home stadium. Pretty odd, for someone who has worked for two teams. The roll call of his home fields:
| | | | | |
| --- | --- | --- | --- | --- |
| Years | Seasons | Team | Stadium | Record |
| 1994-96 | 3 | Houston Oilers | Astrodome (Houston) | 16-22 |
| 1997 | 1 | Tennessee Oilers | Liberty Bowl (Memphis) | 8-8 |
| 1998 | 1 | Tennessee Oilers | Vanderbilt Stadium (Nashville) | 8-8 |
| 1999-2010 | 12 | Tennessee Titans | Multi-named stadium (Nashville) | 115-88 |
| 2012-15 | 4 | St. Louis Rams | Edward Jones Dome (St. Louis) | 27-36-1 |
| 2016 | -- | Los Angeles Rams | L.A. Coliseum (Los Angeles) | -- |
Coaching seasons: 21. Venues: 6. Record: 174-162-1.
II
Just for the record, the Rams were born in Cleveland in 1937. Follow the bouncing franchise:
• Seasons in Cleveland: 8. (No team fielded in 1943 due to World War II.)
• Seasons in Los Angeles/Anaheim: 49 (34 in L.A., 14 in Anaheim).
• Seasons in St. Louis: 21.
How odd that the Rams, if they so choose, will celebrate their 50th season in Southern California this year.
* * *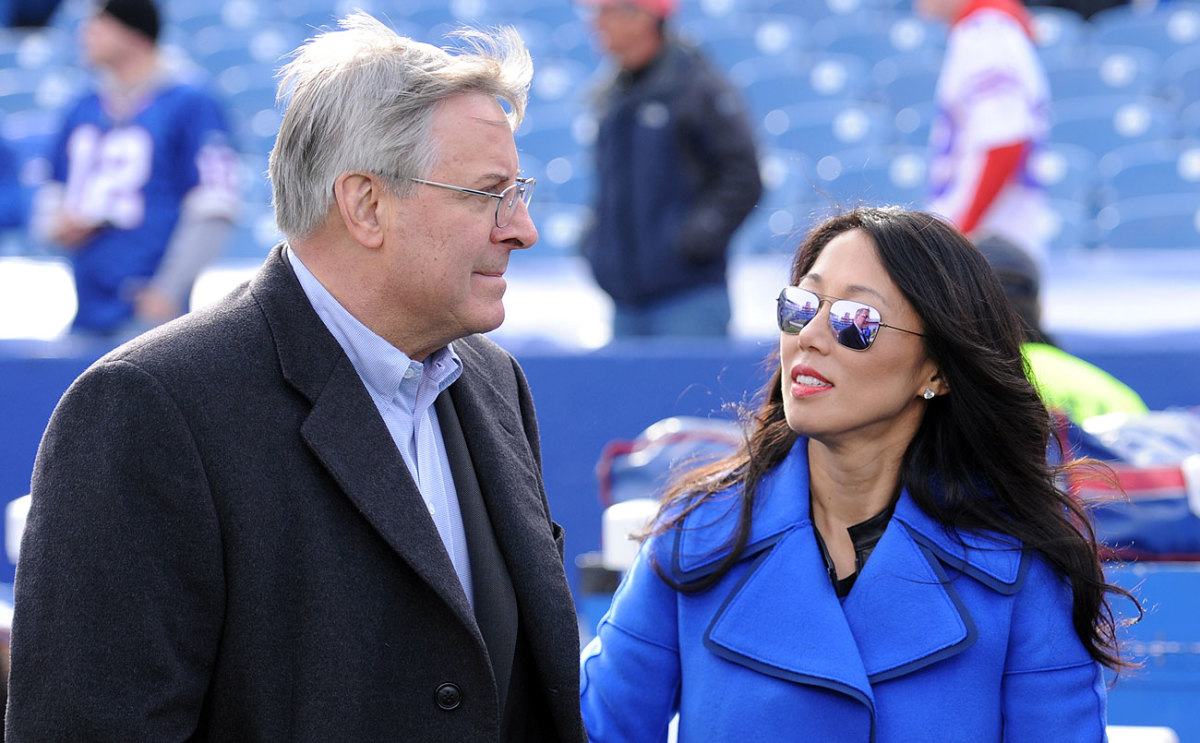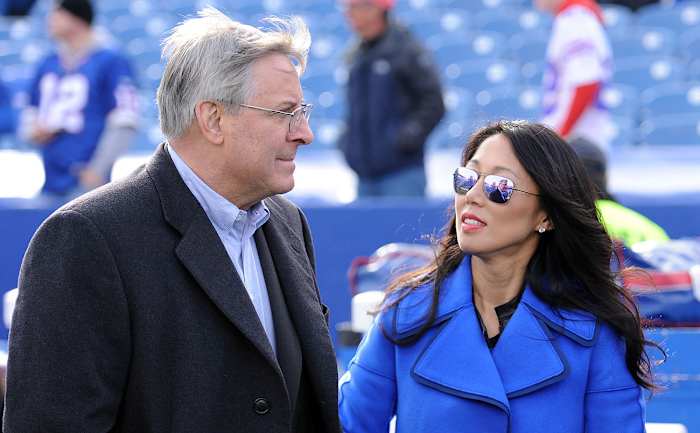 Factoids of the Week That May Interest Only Me
I
Sometimes when I finish interviews, I ask the subject, "Anything else you want to say?" Sometimes there's something, sometimes there's nothing. But last week I asked one well-connected official at the NFL meeting in Houston: "Anything else interest you about what happened? Anything else notable in your mind?" And this person said, "Women."
What he meant was, the number of women, voting and advising, in Houston was the most anyone in the league could remember at a meeting of this significance. Among them:
Detroit: Owner Martha Ford, widow of longtime owner William Clay Ford, voted.
Cleveland: Dee Haslam, wife of Jimmy Haslam and co-owner of the Browns, voted in his absence.
Buffalo: Kim Pegula, co-owner of the Bills, voted with husband and co-owner Terry Pegula.
Indianapolis: Carlie Irsay-Gordon, eldest daughter of owner Jim Irsay, consulted in the room with Irsay, who voted.
Cincinnati: Katie Blackburn, daughter of Bengals owner Mike Brown and the likely heir to take over the team one day, consulted in the room with Brown, who voted.
One other majority owner of a franchise, Amy Adams Strunk of the Tennessee Titans, did not attend the meeting. President and CEO Steve Underwood represented the franchise with roots in Houston.
II
You Can't Keep Browns Fans Down Dept.: Forty hours after the press conference introducing Hue Jackson to the Cleveland media and fans, a T-shirt with these words on the front rolled off the presses and was on the shelves in a suburban store:
III
After a 37-year absence, the Rams will resume playing football games in the Los Angeles Coliseum next fall. The winning quarterback in the last NFL game played by the Rams in the Los Angeles Coliseum, in 1979?
Archie Manning.
Saints 29, Rams 14.
IV
There is something stunning about this. Not sure exactly what it is.
In the 16-year Belichick era, the Patriots have made the playoffs 13 times, and in all 13 seasons have opened the playoffs with a home game.
They are 11-2 in those 13 playoff openers, with wins over nine of the other 15 AFC teams.
* * *
Mr. Starwood Preferred Travel Note of the Week
Column editor Dom Bonvissuto had a fun 24 hours over the weekend, taking advantage of living within driving distance of Las Vegas. He left his home in Long Beach, Calif., at 6:30 Saturday morning and drove 233 miles to meet friends at the Westgate Las Vegas SuperBook to watch the two divisional games. Not a gambler, but taking the when-in-Vegas attitude, Bonvissuto placed five bets:
• Pats, minus-5, against the Chiefs. (Winner.)
• The over on Pats team total of 24. (Winner.)
• The under on Alex Smith 227.5 passing yards. (Loser.)
• Cards, minus-7, against the Packers. (Loser.)
• The over on Aaron Rodgers 1.5 TD passes. (Winner.)
That last one paid out, obviously, because of Rodgers' Hail Mary to end regulation. That play epitomized the history-book finish of Packers-Cardinals, which had so many swings in the betting action, Bonvissuto said grown men were laid out on the casino floor in both agony and ecstasy. The crazy OT finish allowed the point spread to factor, too, as it went from a push at 20-13 for anyone playing either side to a Packers plus-7 win at 26-20. It was the perfect game for Bonvissuto to experience in Vegas, which can be a thrilling place to watch sports, with the gambling adding another layer to the fun. 
* * *
Tweets of the Week
I
II
III
This was sent out after the 49ers named Chip Kelly their 20th head coach on Thursday. Kelly likes to play fast-break offensive football.
IV
V
This tweet describes the role of Super Bowl I hero Max McGee in the historic Green Bay victory over Kansas City. This is one thing I love about Pro Football Focus. Imagination. Who would have thought to chart this game like a modern game? What a great job—and a cool piece of history to clarify and explore.
* * *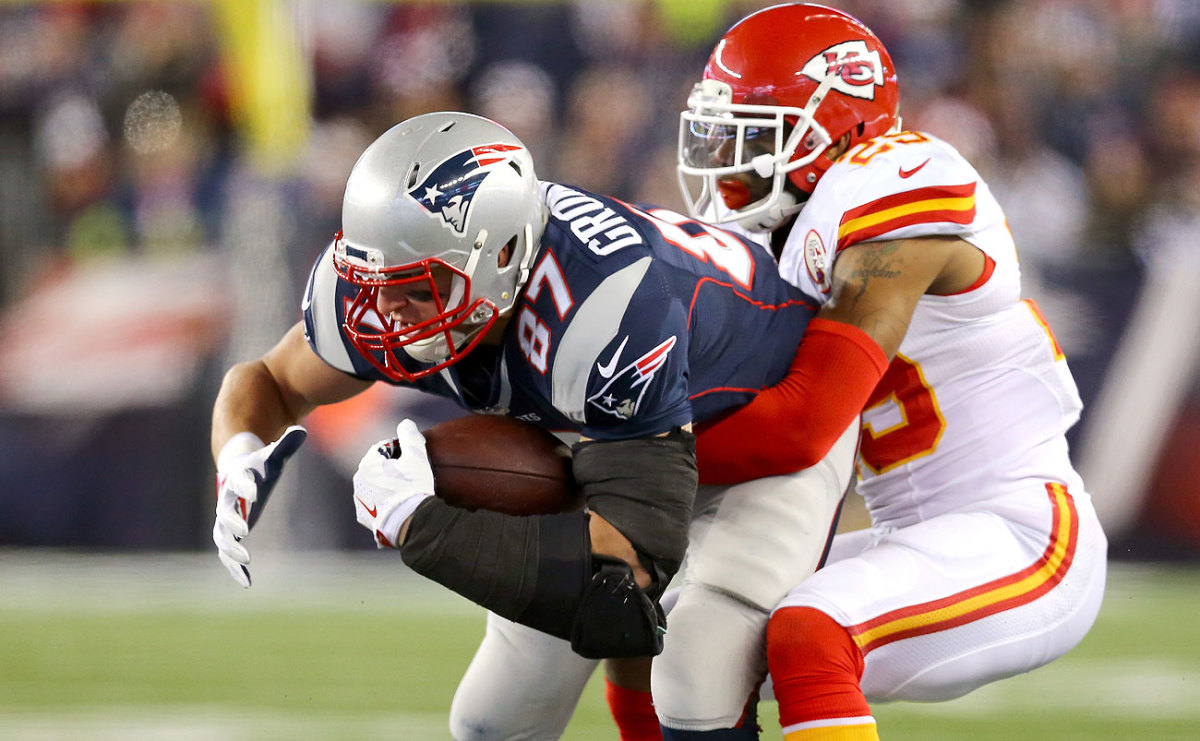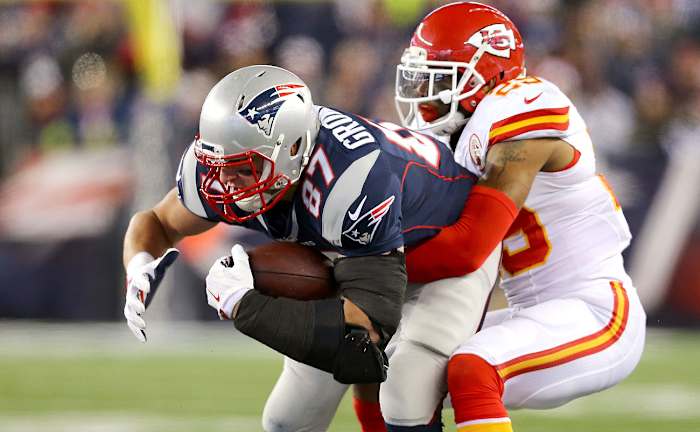 Ten Things I Think I Think
1. I think this is what I liked about the divisional weekend:
a. The Carolina offensive line. Much better group than anyone thought it would be at the start of the year. Really good job by line coach John Matsko with than group.
b. Carolina offensive coordinator Mike Shula's first-half play-calling, which always found the hole in the Seattle D.
c. The most perfect half in the Rivera Era: 31 points against what has been the stingiest scoring defense in football for the past three years. In fairness, Russell Wilson handed Carolina a pick-six and a short field on another interception. But still, 31-zip on the two-time defending conference champs? Big.
d. The noise in Carolina. Really surprising to me. Never heard it like that before.
e. K.J. Wright and Bobby Wagner, combining for 27 tackles—although the Seattle D did have a donut hole in the middle for much of the first half.
f. Gary Kubiak's coaching job, with all the issues he's had to deal with this year.
g. Pittsburgh's Jordan Berry with the biggest punt of the weekend, a 50-yarder in the final three minutes of the first half, pinning struggling Denver at its 5-yard line.
h. No problem with Clete Blakeman re-flipping the coin—and no problem with the Packers not getting a second chance to call the flip. First: The NFL rule book does not refer to anything about a coin that doesn't flip; there are some things that are impossible to account for. Blakeman, according to NFL spokesman Michael Signora, decided that in the interest of fairness the coin needed to be flipped in order to be valid; a team gets one choice to declare heads or tails, Signora said.
i. Mike Daniels, such a disruptor in the middle of the Green Bay line. He ruined Arizona's last drive of the first half with a sack of Carson Palmer.
j. Good job, Mason Crosby: 20 straight made postseason field goals.
k. Great job, Arizona secondary, keeping the Packers out of the end zone on a play that Aaron Rodgers, by my watch, had 8.13 seconds to throw and couldn't find a receiver.
l. Good job, Rodgers, finding Jeff Janis on the same drive a couple plays later.
m. Rodgers, and the scramble drill.
n. The instincts of Kansas City rising defensive star Dee Ford.
o. Eric Berry wrestling Rob Gronkowski. Fair fight—honest.
p. But the terrific fake by Gronkowski, leaving Berry in his wake, on his third-quarter touchdown catch. And a just-as-terrific pump by Tom Brady, causing Berry to jump the route … mistakenly.
q. First 11 plays of the divisional weekend: 11 Patriot passes, 80 yards, touchdown … against a team that had allowed 15 touchdowns in its previous 11 games. On Saturday the Chiefs allowed one touchdown in the first five minutes.
r. The first two New England touchdown drives: 11-80 and 11-98. Maybe the stuff about the Chiefs' schedule softness was legit.
s. First running play of Chiefs-Pats came 7:28 into the game. Not sure why I like that, but I do.
t. Brandon Bolden with a jarring second-quarter punt-team tackle. That will make him very likeable in the film room this week for New England.
u. Three great catches by Chiefs wideout Jason Avant. Best catches of the day by the visitors. I daresay Avant had the best hands of the weekend.
v. The nimbleness of the Giants, moving quickly to hire Ben McAdoo when it was clear the Eagles were about to.
w. This is what I call NFL symmetry: Dirk Koetter was Mike Smith's offensive coordinator in Atlanta. Now Mike Smith will be Dirk Koetter's defensive coordinator in Tampa Bay.
x. The Ravens adding Joe Cullen, one of the best defensive line coaches in football, to the coaching staff. He'd been with Tampa Bay.
• CONFERENCE TITLE GAME BREAKDOWN: In the AFC, Edelman and Manning are back this time around. In the NFC, Carolina's ground game and Arizona's aerial account. The full X's and O's breakdown.
2. I think this is what I didn't like about the playoff weekend:
a. Seven job openings. Seven go to offensive coaches. Josh McDaniels has been the offensive coordinator for the Patriots for the past four years. Over that four-year period, New England is the highest-scoring team in football (30.22 points per regular-season game). Josh McDaniels didn't get an interview.
b. McDaniels went 11-17 in his only NFL head-coaching trial. Then he went into coach purgatory for a year and a half. Then he took over as Patriots offensive coordinator, and made whatever contributions he made to the team with the most wins in football (54 regular-season and postseason wins) since 2012.
c. There are numerous examples of the relationship between McDaniels and Brady, and between McDaniels and Bill Belichick. See the bro hugs between Brady and McDaniels after Brady's quarterback sneak for touchdown Saturday night? Did you watch the NFL Films special last spring, with Belichick talking about McDaniels' ideas? The mutual respect in both relationships is obvious. Read about it in my column eight days after the last Super Bowl win. Said McDaniels: "We identify how we want to play an opponent, and then we design a game plan to do that, and it might be the exact opposite of the game plan we had the previous game. But we give it to the players. We told them in this case to stay patient and not panic, and to practice the way we planned. It was an incredible example of the harmony between the players and the staff, and to Bill's leadership making it all work, and the players buying into it, and just believing. Believing in the plan is so important, and they believed—never more than this game."
d. Belichick after the 27-20 win over Kansas City: "I thought Josh [McDaniels] and the offensive staff did a tremendous job this week game-planning and play-calling. Josh was magnificent. I thought he really had everything dialed in. Pretty much everything he called, it came out the way we thought it would. As we were breaking the huddle, we could already see we had what we wanted, and Tom and the offense executed it perfectly."
e. Let's say there's some reason you don't want to hire McDaniels. Why not do what Al Davis would do every time he had a coaching opening—interview the assistants on the best team in the league, to fact-find and steal info about your biggest foes?
f. I'm not saying Mike Mularkey (18-39 as a head coach) absolutely shouldn't get the Titans job. I'm just saying you're the last team standing and you don't interview everyone available who might be a strong candidate to coach Marcus Mariota for the next X number of years? You have a former Patriots scout, Jon Robinson, as the new GM and you don't even allow him to interview to his strength?
g. I mean, it's crazy.
h. Just not Randall Cobb's year. How do you drop a ball right in your hands, crossing the middle, then make a miracle catch (that doesn't count) one-handed? What a strange and unfortunate year for Cobb.
i. Arizona: five first downs in the first 35 minutes. I know Green Bay's defense was really good, but the Cardinals are too good on offense to have anyone hold them to five first downs in two quarters-plus.
j. Come on, B.J. Raji. Stupid late hit on Darren Fells.
k. I shouldn't criticize Eddie Lacy on a 61-yard run, but he looked like he was running in quicksand, with 18 extra pounds holding him back, and he kept looking around near the end of the run, as if to say, "Help me! Somebody! Anybody!"
l. Awful throw by Carson Palmer, on the pick by rookie Damarious Randall.
m. And Palmer did it again, on the interception that should have been, by Sam Shields. Palmer has picked up his mates many times this year—and Saturday, his mates picked him up.
n. I don't know exactly what happened to New England's Chandler Jones eight days ago that caused him to wind up, incoherent, at the Foxboro Police Department. But he does deserve due process, which he'll get. The optics are awful, though, and the reality may be bad too.
o. Julian Edelman: three drops in the first 20 minutes of Pats-Chiefs. He did have a productive day, but it was bumpy.
p. Seattle's ball security. A rare half of carelessness by Russell Wilson, trying too hard to make too many things happen.
q. Peyton Manning's arm. Man, is he limping to the finish line.
r. Seven Denver drops in the first nine Peyton Manning incompletions. He didn't have his 2009 fastball Sunday, but he didn't have much help either.
s. Loved the Super Bowl I show on NFL Network Friday night. Didn't love the massive studio involvement. Didn't need all those voices talking over some of the greatest moments in the first Super Bowl. There's something called letting a great show breathe, and NFL Network didn't do it. More was not better in this case.
3. I think there won't be enough momentum for the league to change overtime to a guaranteed possession for each team—though it is the best way to ensure overtime will be the most egalitarian way of settling ties after four quarters. Including Saturday night's game, there have been 22 overtime games in the NFL this year. Five have ended with a touchdown on the first offensive possession, meaning that the team on defense to start overtime never possessed the ball in overtime. Some would say, "Defense is half the game; if you want to win an overtime game, you've got to play defense too." I get it. Why, then, in the past 10 years has it happened just twice that the team winning the toss at the start of OT chose to kick off and play defense first? If it was such an equal system, why wouldn't half the time a team choose to play defense first? I agree with the strident calls that defense needs to be a bigger part of the discussion about the future of overtime. But it's not going to change that there's an inherent advantage in winning the coin toss, and that's why most times a flip winner will take the ball and not choose to kick.
4. I think if you follow the logic, it's quite possible that the speed of the owners' decision regarding the Los Angeles franchise shift last week played a role in the balance of power of the NFC East. So the NFL scheduled a two-day meeting to determine which team or teams would move to Los Angeles, on Tuesday and Wednesday, in Houston. But the meeting lasted only one day, and the owners, most of them, flew home late Tuesday night. On Wednesday, with one of the six NFL L.A. Committee members, Giants CEO John Mara, back in the office, the Giants could pay full attention to the coaching search. Mara told GM Jerry Reese to schedule a second interview with offensive coordinator Ben McAdoo for Thursday. Reese called McAdoo, who was in his home office in New Jersey preparing for his second interview on Thursday with the Eagles. You know what second interviews mean—usually but not always they mean a job offer is forthcoming. McAdoo had a strong feeling that was going to be the case. He told Reese he would be in Philadelphia on Thursday morning. Reese then told Mara the news, and Mara said they should move the second interview for McAdoo with the Giants up to Wednesday—like, in a matter of a couple of hours. McAdoo came in, they worked out the deal, and he was the coach of the Giants, not the Eagles. One more amazing part of this story: I believe the Eagles would ultimately have been fine with either Tom Coughlin or McAdoo as coach, and neither took the job. Coughlin, I'm told, wasn't enthusiastic about forming a brand new coaching staff at 69 (70 next August) and wasn't sure how his working relationship with Eagles football czar Howie Roseman would go. So the Eagles chose Andy Reid disciple and former quarterback Doug Pederson. At the end of the process, Mara said: "I'm not going to lie. It would have been like watching Bill Parcells walk out with the star on his shoulder. [Parcells coached Dallas years after leaving the Giants.] It was tough to see at the time and that would have bothered me. I want Tom to be happy, but I certainly didn't want to see him happy in green."
5. I think this is the most interesting thing I heard on the non-coaching, non-playoffs beat in the past few days: Tony Romo is currently weighing whether to do something surgically on his right collarbone to try to ensure he doesn't crack it again in 2016. There's a good chance he will do something, mostly because neither the Cowboys nor Romo want the team's 2016 fate to be solely dependent on the structural strength of one player's collarbone. No assurances yet that surgery will make the collarbone less likely to break, but Romo is investigating it. The great thing about doing something this winter, obviously, is that Romo would have five or six months to heal before needing to throw passes in training camp to get ready for the season.
6. I think Calvin Johnson is going to retire.
7. I think it was a very good week for Kevin Clark of the Wall Street Journal, writing imaginative things about interesting people—and people fans and readers care a lot about. The first was about Tom Brady's intense and meaningful games of catch with his receivers, and with other adults he finds along the way. Clark writes: "[Brandon] LaFell said that before 1 p.m. games on Sunday, Brady holds his throwing sessions with receivers at the exact spot on the field where the sun will be in the receivers' eyes when they look back for the ball—and intentionally throws it to a spot that forces them to look into the sun so their eyes are used to locating the ball in such situations come game time." Then Clark's story on how Chiefs safety Eric Berry, while undergoing chemotherapy last offseason for lymphoma, worked out like a crazy man. Said the Atlanta doctor who treated Berry, Dr. Christopher Flowers: "The fact that he was able to go through this and exercise and work out is truly amazing and astounding." And on Saturday, Clark's piece on why the Packers have only two players among their 53-man roster drafted by other teams. Good work by Clark, one of the most original and thoughtful writers covering the NFL.
8. I think I don't want to beat a story to death that's been throttled now for eight days, so let's put a bow on the end of the Bengals-Steelers game thusly: When Vontaze Burfict slammed into Antonio Brown's helmet, it started a chain reaction of events that influenced the outcome of that game and the next one. (By the way, I would increase the suspension of Burfict from three games to four because Brown had to miss the playoff game in Denver on Sunday due to lingering effects from the concussion caused by the Burfict hit.) Brown's absence Sunday was critical in a game decided in the final two minutes. Adam Jones got into the ensuing fracas and bumped an official and was penalized 15 yards, giving the Steelers a much easier field goal to win that playoff game. Steelers linebacker coach Joey Porter, who had no business being on the field during the post-Antonio Brown scuffle, was fined $10,000 for his role in it. That means, clearly, there was plenty of evidence to suggest Porter should have been flagged too, which would have negated the Jones penalty as an offsetting one. These kinds of calls and non-calls, as you can see, have far-reaching implications.
9. I think the Incendiary Coach/Player Relationship of 2016 is very likely to be new Cincinnati linebackers coach Jim Haslett and incumbent ball of trouble Vontaze Burfict. It'll be interesting to see how long it takes before Haslett has to be separated from Burfict in a practice or a game. My over/under date on the first conflagration is about Sept. 15.
10. I think these are my non-football thoughts of the week:
a. "Conflagration." See, I like to give you a word every couple of weeks or so to expand your vocabulary.
b. Welcome back to freedom, Jason Rezaian. He's the Washington PostTehran bureau chief held by the Iranians since 2014 on espionage charges. He was released Saturday.
c. Good dog, Jethro! And good story, Steve Hartman.
d. How many other presidential candidates are going to blame The New York Timesfor something in this campaign?
e. My philosophy: If they're screaming about you, you're doing something right.
f. There was a horrific car accident in New Hampshire in late December involving four Secret Service agents. An unlicensed driver crossed over the double-yellow line in icy conditions and struck the agents' car head-on. One of the agents, Garrett FitzGerald, was paralyzed from the chest down and is receiving treatment at a rehabilitation hospital in Boston. On Jan. 9 he married his fiancée, Joan, in his hospital room two months before their scheduled wedding date. Rob Freed, one of the best men at FitzGerald's wedding, set up a GoFundMe campaign to assist the couple. "There's no doctor saying it, but knowing Garrett and his personality, he will do everything in his power to walk again," Freed says. "Garrett was never the tallest, never the fastest, never the strongest, but he will outwork everybody. He's always been like Rudy Ruettiger, from the movie 'Rudy.' He's relentless." FitzGerald, 30, is from Suffern, N.Y., and attended Manhattan College in the Bronx, where he was a founding member of the school's rugby team. He recently joined the Secret Service as a second career, having previously worked as a mechanical engineer for Boeing. "He switched careers because he wanted to feel good about the work he does," Freed says. Donations to the #GarrettStrong campaign can be made here. What happened was tragic. I just thought such a noble cause should be brought to your attention.
g. The Mets have to sign Yoenis Cespedes. That team has killed 80 percent of its momentum with an invisible offseason.
h. Can't play goalie in the NHL much better than New Jersey's Cory Schneider (38 saves) played it Saturday in the 2-0 noon start win at Arizona.
i. Coffeenerdness: Tom Brady said the other day on WEEI in Boston, "I never had coffee … I just never tried it." I am … without speech, as Elaine Benes once said.
j. I must see "Zoolander 2." I howl every time I see the preview with Will Ferrell yelling, "Where is my damn latte?!"
k. This is not something that ever garners any attention, but it should, and the decision of a currently unemployed college assistant coach named John Lilly should be lauded. Nothing epitomizes the lack of nobility in college football more than the flood of college assistants who annually skip to the NFL in the 48 hours after national signing day, after luring recruits to sign a binding agreement. Former Georgia assistant John Lilly chose to avoid that path this off-season. He turned down the chance to be co-offensive coordinator at Miami for Mark Richt, as he exclusively wanted to pursue an NFL job. He couldn't stomach taking the Miami job, only to leave a few weeks later if an NFL job surfaced. Lilly has an extensive résumé at Georgia and Florida State, but his proactive choice not to game the system might be most impressive.
l. Charlie Whitehurst and Jewel. Who knew?
m. Good luck to Steve Gleason and Team Gleason this week in Utah. Very big week for the former Saints special-teamer, who has become a major American figure in the fight against ALS while being afflicted with it himself. Gleason is the subject of a documentary, "Gleason," being premiered at the Sundance Film Festival in Park City, Utah, next Saturday. The documentary has taken so many twists and turns in the five years of its filming, and the 1,300 hours of footage. Gleason is a heroic man himself, and he has surrounded himself with others determined to tell the tale of ALS through the experiences of one person, hoping that will make a major difference in finding a cure one day soon.
n. RIP Andrew Smith. A crushing story, this 25-year-old former Butler center dying of cancer last week. His widow, Samantha, spoke at the tribute for him Saturday at the Butler-St. John's game, and it just broke your heart. "We were supposed to come here together today," she said to the crowd at halftime. The tribute was wonderful, as was the caring visit just before Smith's death by former coach Brad Stevens.
o. Finally, happy 100th birthday to my Aunt Bert, Bert Crombie, in Enfield, Conn., next Sunday. A great, giving, unselfish lady, full of class and good deeds for her entire life. I'm lucky she's been in my life.
* * *
The Adieu Haiku
'Nother game, you know.
It will be played in Charlotte.
Newton-Palmer III.
Series tied, 1-1. Carson Palmer's Raiders lost to Cam Newton's Panthers in 2012. The next season, Palmer, a Cardinal beginning in 2013, beat Newton 22-6.
• Question or comment? Email us at talkback@themmqb.com.