Brady vs. Manning Episode XVII
Tom Brady and Peyton Manning will meet for the 17th and possibly final time on Sunday, and the stakes couldn't be higher. Here's what fans on both sides of the storied rivalry are thinking going into the AFC title game
The MMQB asked fans of New England and Denver to share what the Brady-Manning rivalry means to them. Here are some of our favorite responses.
PATRIOTS FANS: 
I recently watched Brady vs. Manning Episode I. Mo Lewis' jarring hit on Bledsoe the week before blasted Brady into the starting role. It was the prodigy vs. the college backup. It was the first overall pick vs. pick No. 199. It was the sure thing vs. the complete unknown. It was What's-His-Name? vs. The Manning. It was the contending 2-0 Colts vs. the woeful 0-2 Patriots. Final Score that day: Patriots 44, Colts 13. By the end of the 2001 season, Brady was heading to Disney World as the man who conquered the Greatest Show on Turf while Manning's Colts finished a lackluster 6-10.
Brady vs. Manning I wasn't an epic or a classic like so many after it. It wasn't a game that we will tell our children or grandchildren about. It was, however, was the start of the greatest individual rivalry the sport has ever seen. As a fan, nothing compares to it. As a fan of the Patriots, no man standing a few feet behind center strikes more fear in me than Peyton Manning. He has been the ultimate rival for a decade, never failing to put on a show. As his arm decays and his ball floats, Manning seems ripe for the picking. But if we've learned anything from the first 16 match-ups, it is to never count either man out.
— Connor Ford
* * *
We should have known that it wasn't over. After Brock Osweiler led the Broncos to a snowy, overtime win against the Patriots back in November, most fans felt that the book had closed on the legendary rivalry between Brady and Manning. Yet here we are, with the Lamar Hunt trophy hanging in the balance.
This rivalry has been so important, not just because of the two all-time greats under center but because the rivalry has represented the battle for AFC supremacy over the past two decades. Nearly each of the previous 16 meetings between these two teams has had playoff positioning on the line or was the final game of the season for one of them. The annual Brady-Manning showdown has been a New England tradition since 2001, but we know it can't last forever.
For us Bostonians, it's always been our guy vs. theirs and the general story line has always been that Peyton holds the records and would win a quarterback challenge competition, but Brady holds the rings and beats Manning when it counts. While that is probably still mostly true, the Patriots haven't beat Manning in the playoffs since the 2003-04 season and Peyton's teams have bested Brady's two out of the three times they've met in the AFC Championship.
Come Sunday at 3:05 p.m., we could truly be seeing the end of an era. For Peyton, this game represents the opportunity to close out his Hall of Fame career by defeating his archrival and winning a second and final Super Bowl before riding off into the sunset. For Brady, it's only fitting that Peyton Manning stands between him and a potential fifth Super Bowl ring–which would be one more than his childhood hero Joe Montana. Winning in Denver would be an added bonus for TB12 as he could exorcise the demons that have haunted his Patriots at Mile High throughout his career.
Like any great rivalry, these two have brought out the best in each other over the years and forced the other to be a better player. If this is the last meeting between number 18 and number 12, it's safe to assume that neither one wants to see the other leaving the field with a shiny new tee-shirt, hat and piece of hardware for the trophy case. But if these quarterbacks have taught us anything over the years it's that nothing is over until it's over, and for that reason, I'm marking Brady-Manning Episode XVIII on my calendar for next fall–you know, just in case.
— Chris South
* * *
Once every generation we are presented with a transcendent sports rivalry that stands the test of time.
Nicklaus and Palmer.
Ali and Frazier.
Bird and Magic.
Roger and Rafa.
We take the memories that these rivalries provide, cellar them, and appreciate them as they mature over time. They provide the narrative for impassioned water cooler discussions about who was better and lead to claims (fact or fiction) that, 'I was there.'
This Sunday, at Sports Authority Field at Mile High, the greatest rivalry of our generation, Tom Brady and Peyton Manning, will close the books (maybe) on an epic 17-round heavyweight title fight of their own.
For Patriots fans like me, we've enjoyed the highs (11 of them!) and experienced our share of lows (the collapse in the 2006 AFC Championship Game; the failed fourth down conversion in 2009). But above all, we've been lucky enough to bear witness to a storied rivalry that will be mentioned in the same conversation as those listed above. And that, to me, is greater than the wins and losses.
So if you're not a Patriots or a Broncos fan (or a Colts fan), I can understand that you may be dreading the talking heads bloviating about Brady and Manning ad nauseam this week. But don't dismiss the match-up itself because you've seen it before. Instead, take a moment to appreciate this rivalry, file away the memories that they've created over the years, and be thankful that these two great quarterbacks are back on the big stage for one final encore.
— Alex Benton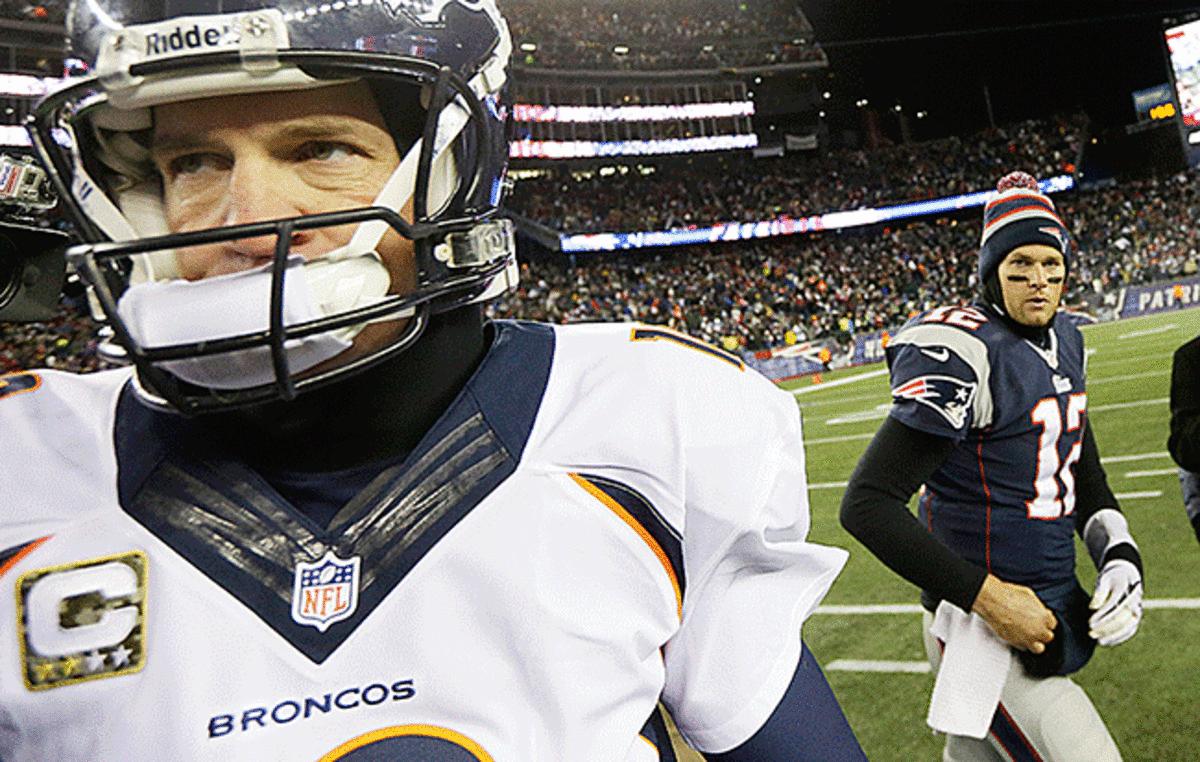 BRONCOS FANS:
Can this please be the end of Manning vs. Brady? Please?
Peyton, will you please read the obvious writing on the wall and realize that this should indeed be your final season?
The Final Time. Then, in years to come we can put this oh-so-tired narrative to rest and not have to hear about it outside of the droning reminisces of announcers as they fill otherwise dead air whilst returning from commercials. Then, hopefully, perhaps the focus can shift to more "deserving" subjects to occupy our football consciousness: Things like Deflategate? Or Bountygate? Should Clete Blakeman have given Aaron Rodgers a chance to re-call the coin-toss? Where will RGIII end up next season?
Oh, never mind. Give me Manning vs. Brady Chapter 17!
It's easy to see why we fixate so heavily on this matchup. In a league that so rarely sees any level of sustainable consistency or success, the fact we have two of the greatest modern-era quarterbacks facing off, again, is a much more palatable subject of water cooler conversation than the Ideal Gas Law.
Quarterback rivalries are a bit of a manufactured phenomenon; the two will never actually be on the field at the same time, playing head-to-head, so I've always thought it was a bit of a misnomer. Quarterback rivalries are always a bit of an indirect contest of skill and ability, as much mental as physical in some respects. Like most things in life, age and experience deepen our understanding and appreciation of many things. I think Manning vs. Brady is no different.
Think about it, in the early years of the rivalry, we didn't attach too much importance to it because so much of its history was unwritten. Much was made of Jameis Winston and Marcus Mariota's first game against each other this season. Two young quarterbacks simply trying to score more points than the other team, their play marked as much by their physical ability as their mental acuity. And, ostensibly, we were more concerned with the points on the board and the excitement of throw and catch than any esoteric value of watching two quarterbacks who might someday be leading candidates in GOAT conversations. Was any more importance attached to Manning and Brady's first meeting? Will we someday look back at Winston vs. Mariota Episode I as the beginning of the next great quarterback rivalry? Only time will tell. It's not until after layers of history have been added to a quarterback rivalry that we can really start to enjoy it for what it is: Two great field generals, marshaling their troops, trying to out-play his opponent in a proxy war chess match.
The spectacle of Manning vs. Brady has now seemingly come full circle. In a season that seemed destined to deny us the final chapter of Manning vs. Brady, instead we have what may be the biggest matchup in the series. I really don't think the importance of this meeting can be understated. Think about what is on the line: the AFC title and a trip to the Super Bowl; vindication for Manning, proving that he can still get the job done; the career narrative for each quarterback (multiple rings for Manning, a record fifth for Brady). And for Manning, perhaps the chance to close out his career as a Super Bowl champion. Yes, this game probably means more for Manning than it does Brady. But, if this is the final installment of this rivalry, we tend to remember the person that won the final matchup as perhaps the "final victor."
With all the subplots going on, all the career-defining implications, this one, this maybe (probably?) last time, will Manning be able to go out on top against the other great quarterback of his generation?
And just like that, I've forgotten all about the trivial mundaneness of the filler items that dot the NFL news when there are only a couple games each week. I've forgotten all about the infuriating inanities of listening to the same thing over and over again on the sports networks. I have visions of footballs zipping to orange-clad receivers amid swirling snow in Denver and Peyton Manning raising his hand in victory, one more time. Will it be the last time? Probably, but I hope Manning gets to follow the example of his boss, John Elway, who got to pull off the greatest exit in the NFL.
Can this please be the end of Manning vs. Brady? Please? But only if Manning gets to make it count.
— Zach Furlow, 37, Tempe, AZ
* * *
Not often in sports do you get to see two future Hall of Famers at the twilight of their careers face off in a game with so much on the line. In this week's meeting between Peyton Manning and Tom Brady they will be making sports history by going head to head against each other one more time, and possibly for the last time, with a trip to Super Bowl 50 on the line.
This will be the meeting number 17 for the two quarterbacks. Brady leads the series 11-5, the last meeting was a Brady win in New England in 2014. In playoff matchups the quarterbacks are 2-2 against each other, both winning on their home turf. If history says anything, it suggests that Manning has the advantage playing at home this weekend. Broncos Country needs to be out in full force to make this the best home field advantage in football.
The stakes this week couldn't be any higher. This could be Peyton Manning's final ride with the Broncos, or in the NFL, and there's no way he wants to end his career with a loss to Tom Brady. Manning should make a John Elway-like exit, going out at the very top. He needs two more wins to accomplish that, and must go through his longtime nemesis along the way.
This is the perfect setup for the last chapter of the Peyton Manning biography. This is the chapter written about how Peyton Manning got the last laugh at the expense of Tom Brady and continues on to the Super Bowl while Brady goes home to a lifetime supply of Uggs.
This rivalry represents the good with professional football and professional sports. This is a rivalry like Magic vs. Bird, Russell vs. Chamberlain, and Ali vs. Frazier, Hall of Fame players competing at the peaks of their careers. Manning vs. Brady will go down as the most historic NFL rivalry between two individuals. This isn't a bitter rivalry by any means, but two quarterbacks who love winning. Manning is a five-time NFL MVP. Brady is a four-time Super Bowl winner.
The most gratifying win in this rivalry was the 2014 AFC Championship. None of these wins come easy against Tom Brady, with all of the chips on the table for a trip to the Super Bowl. This game was a classic. The Broncos took a 20-3 lead into the fourth quarter and there was no way Tom Brady was going to go whimpering into the night. Scoring 13 points in the fourth quarter he made sure to make the game interesting, but when it mattered Peyton Manning and the Broncos put the game away and earned a trip to the Super Bowl.
The stakes this time are the same as 2014, but with the added weight of this possibly being Manning's final game. No one knows for sure if this will be his final season, but if it is, there is no better way for his career to end than a win over Brady and a trip to Super Bowl 50 with the chance to bring the Lombardi Trophy back to Denver for the first time since 1998. However this game turns out you can bet that this will be another classic. Broncos players will be doing everything they can to get Peyton Manning a win and send him out on top. There is no doubt Brady will bring his "A" game. Will Manning do the same? Those of us in Broncos Country would love nothing more than to beat the Patriots twice in the same season and earn another trip to the Super Bowl.
Bring on the skydivers. Bring on Thunder. Bring home another AFC Championship! Sunday can't come soon enough.
— Brad Reed, 33, Missoula, Mont.
* * *
While much will be made of this being the 17th edition of Brady vs. Manning, for me, as a lifelong Broncos fan, this game is first and foremost about the Patriots and the Broncos. Long before Manning brought his talents to the Mile High City, Broncos-Patriots was already must see TV. From Shannon Sharpe calling for the National Guard, to the Broncos being one of the few teams holding their own against the most dominant team of this millennium (Prior to Manning joining in 2012, the Broncos were 6-5 against the Patriots since 2000), any game between Denver and New England meant a little bit more to this Broncos fan.
While I will undoubtedly be watching the game from a Denver perspective, I appreciate great football and will feel considerably lucky to watch two of the all-time greats square off against each other again. I have never been one to get caught up on the name on the back of the jersey, but what these two quarterbacks have done over the course of their careers is something every fan of football, and sports in general, can appreciate.
I can't deny that the chance to cheer the Broncos on to win their eighth AFC Championship on Sunday is what truly matters to me, but to have the chance to do it with Peyton Manning playing against Tom Brady for the 17th, and quite possibly last time, will make for an unforgettable game regardless of the outcome.
— Brad Downey, Beaufort, S.C.
• Do you have fan story? Email us at talkback@themmqb.com