Manning 'gets job done' in Broncos' epic AFC Championship win over Pats
Peyton Manning and the Denver Broncos defeated Tom Brady and the New England Patriots because of one simple reason: Manning's surrounding cast was much better. 
DENVER—There were two gray hats on the podium and another on the four-year-old behind it, because Peyton Manning had brought his son, Marshall, to his press conference. At one point Marshall hugged his daddy, who continued to answer a question. At another, a reporter started talking into a microphone and Marshall turned and faced him, as though he were being addressed. Politeness runs in the family.
Someday, Marshall will hear and read about the game he just watched, and maybe then he will understand. Maybe then we all will. The Denver Broncos' 20–18 win over the New England Patriots was an epic that belongs on the shelf next to the great playoff games in NFL history. Yet in the end, it simply came down to this:
Peyton Manning's team was better than Tom Brady's.
Wildest moments from Broncos' win over Patriots in AFC Championship
Brady was more prolific, and in some ways more impressive, but over and over the Broncos were inside his chest protector from the snap. Brady kept pushing his team downfield, any way he could, but the Broncos forced him into two critical interceptions, the kind we have often expected from Manning in these games.
Manning did what his team needed. He didn't rack up big numbers, but he was efficient and smart. He took what New England gave him, and he won the game, which is what Brady fans have always said is the whole point, right?
This is what it came to, at the end of what should be the last game of the best quarterback rivalry in history. In the end, Tom Brady was Peyton Manning, and Peyton Manning was Tom Brady. And that is a heck of compliment for both.
BANKS: Super Bowl 50 matchup is a fitting battle of the No. 1 seeds  
***
Earlier while Marshall Manning doodled on the whiteboard in the Broncos' locker room, Peyton put on his suit, bent his knees so he could look in a mirror in his locker, and took extra care to comb his hair properly. It was the simplest thing, but the way Manning crouched and walked around, you could tell he was moving better than he has after a lot of games the last two years.
Manning missed seven games late in the season because of plantar fasciitis, and it was fair to wonder if he could even help the Broncos if he came back. He admitted Sunday that the time off helped: "As frustrating as it is to have an injury in a certain part of your body and miss time, it can be a positive in other parts. I feel good."
Peyton Manning's Super Bowl history
The time off seemed to help him adapt to his new role, too. At his peak, Manning always looked like he thought the game was a puzzle he could solve by himself, with all those checks at the line and throws into tight windows and 300-yard games. Usually it worked out magnificently well. Sometimes his desire to determine the outcome resulted in a painful mistake at the worst moment. But that was a deal his coaches were happy to make.
Now? Well, he has thrown 78 passes since he returned in the second half of the Broncos' regular-season finale. He has not thrown any interceptions. Against New England, I don't think he forced a single throw. These Broncos have the best defense in the NFL, and they need a quarterback to be wise, not great. Sunday, Peyton Manning was wise.
"My role has been different," he said. "And my contributions are different. I'm fortunate and grateful that I have the opportunity to contribute in some way."
Meanwhile, Brady was trying to carry his team. The Patriots' offensive line has been decimated by injuries, and against Denver it was atrocious. The Pats looked like they couldn't block a Twitter follower, let alone Von Miller. It was amazing that Brady didn't get hurt. The Patriots' running game vanished a few weeks ago, and in this game their running backs rushed for 31 yards. They had to ask Brady to win it by himself.
He almost did. Well, not quite by himself—Rob Gronkowski, who will go down as the best tight end in history if he stays healthy, caught eight passes for 144 yards. The last two Brady-Gronkowski completions were preposterous—a 40-yarder on fourth-and-10, and a four-yarder for a touchdown to pull New England within two. But the Pats' potential tying two-point conversion was no good, as Brady's throw was deflected into the hands of the Broncos' Bradley Roby.
So Manning will head to his fourth Super Bowl. Was it really just two weeks ago that we were wondering if he should even start over Brock Osweiler?
Poor protection, bad throws doom Brady, Patriots in loss to Broncos
"Brock is my brother, Peyton is my brother," Manning's leading receiver, Emmanuel Sanders, said afterward. "But Peyton wants to go out…if he does go out…I'm not saying he is going to retire, but still: I know he wants another Super Bowl. We've got an opportunity. Ever since I touched down in Denver, I've been saying, I'm playing for Peyton. I want him to win another Super Bowl because I know how much the game means to him."
Then Sanders launched into a fantastic bit of statistical cherry-picking that could land him a sports-media gig someday:
"The critics say he doesn't have it, but you want to talk about a guy who started out the season 7–0, and now he is going to the Super Bowl, at age 39 or 40 or 70, or whatever he is. He just gets the job done."
Never mind Manning's 17 regular-season interceptions and nine touchdowns. He just gets the job done.
But you know what? Manning is now 3–2 against Brady in the playoffs, which puts a little dent in the argument that Brady always outperforms Manning in the clutch.
This might put a dent in the argument, too:
Brady's career postseason passer rating: 88.7.
Manning's career postseason passer rating: 88.1.
GALLERY: Scenes from Patriots-Broncos AFC Championship Game

Scenes from the 2016 AFC Championship Game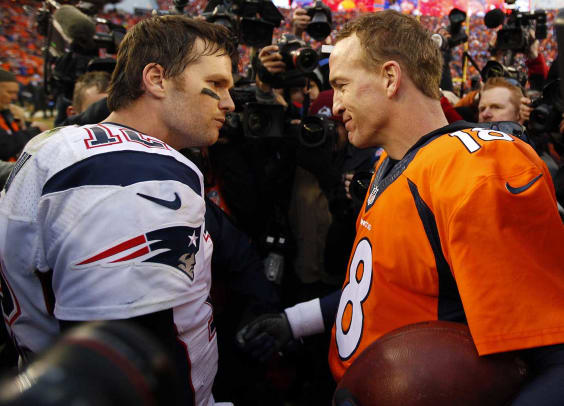 Any comparison of Brady and Manning inevitably diminishes one unfairly; argue long enough, and you might forget that they are two of the best players in NFL history. If you had either one on your favorite team in the last 16 years, you were a very lucky fan.
Any comparison is hard, too, because they did not play their careers in a vacuum. Brady has played in six Super Bowls and won four, while Manning is heading to his fourth and has won one.
But Brady played for one head coach, who happens to be the best of his generation. Manning has played for five. Brady's early teams did not ask as much of him as Manning's early teams. But then, some of Brady's teams did not give him the chance to compile the stats that Manning racked up. For years, Manning threw to potential Hall of Famers Reggie Wayne and Marvin Harrison; Brady had Randy Moss for a spell and Gronkowski lately, but sometimes had to win with pedestrian receivers.
Tom Brady vs. Peyton Manning: The definitive all-time box score, updated
Manning surely wasn't thinking about any of this stuff as he packed up a football to take home Sunday, after what could be the last home game of his career. His team had won the game. What else mattered?
Two years ago, after another AFC championship win over the Patriots, Manning talked about how hard it was to make the Super Bowl. Everybody talked about winning the Super Bowl, he said. But it was hard just to make it. Then the Seahawks crushed the Broncos in the Super Bowl, and nobody wanted to hear about how nice it was to make it.
Now he is heading back to the Super Bowl, and he appreciates the accomplishment, whether we do or not. And Manning knows he is not the biggest reason his team won. That was the defense, one of the best in recent league history.
"The No. 1 defense on the planet," Broncos running back C.J. Anderson said. "Everybody says defense wins championships."
Actually, they used to say that. They don't say it much anymore. Now we say quarterbacks win championships. And what we really should say is what Sanders said: "It's a team game, it's a team sport. The whole team came through in the clutch." So simple, so obvious. Why do we forget?